Grand Canyon camping should be an experience you remember for a lifetime. The Grand Canyon is the second most visited National Park in the country for a reason. Its beautiful, expansive viewpoints and dramatic landscapes attract 6 million tourists every year.  However, for some a quick peek over the canyon rim isn't enough. With incredible camping opportunities and some of the best hiking America has to offer, the Grand Canyon National Park is something you have to experience first-hand to fully appreciate.
How to Make Your Grand Canyon Camping Trip Unforgettable
The Grand Canyon showcases the unrivaled scale of the American West. While millions of people flock here each year, few actually get the time to take in the entire experience. Consequently, camping the Grand Canyon is one of the best ways to allow full access to it's beauty. What's more, camping opens up access to secluded viewpoints, trails, activities, and more. Want to really be sure you're prepared? Read to the end for our Grand Canyon Camping Bucket List, and be sure to print it and fill it out for your next camp-out! 
If you're looking for areas to camp at check out our guide on the Grand Canyon Campgrounds, as each will bring something memorable to your camping adventure. Afterwards, come back here to plan out your trip and find the best recreation that the Grand Canyon has to offer.
There's a Few Things You Should Know First….
Large, in-charge, and never-ending. It's no wonder the Grand Canyon is considered one of the Seven Wonders of the World.
Here's some fun facts to brag about while you're out camping the Grand Canyon:
1. The Grand Canyon is HUGE
Sizing in at 1904 square miles, the Grand Canyon is large enough to house the entire state of Rhode Island, and then some!
2. There's tons of caves!
Grand Canyon houses an estimated 1,000+ caves, with only 336 currently mapped out. However, if you're hoping to go spelunking, your options are limited. The Cave of Domes is currently the only publicly available Grand Canyon cave.
3. It's pretty busy
Grand Canyon camping can get tricky, as it's currently the second most popular national park in the United States. Wanna know which park takes first place? Smoky Mountains National Park in Tennessee. 
4. Your Most Likely to be Attacked by a Squirrel
While the Grand Canyon hosts a huge array of wild-life, it isn't the bears or coyotes you need to worry about. Notably, the Rock Squirrel is currently the apex predator over unsuspecting tourists. Every year, dozens of Rock Squirrel attacks are reported from Grand Canyon visitors.
5. There's some deep history here
The Grand Canyon National Park almost wasn't. In 1903, President Theodore Roosevelt visited for the first time and was floored at the magnitude and splendor of the Canyon. Roosevelt feared that man may build upon it and mar it's beauty. Consequently, in 1906 he declared it for game reserve, and 2 years later as a National Monument.
6. Respect your elders
As one of the oldest geological features in this hemisphere, Grand Canyon is considered an old-timer with rocks at the bottom dating back to over 2 billion years ago.
7. An ecological masterpiece
The Grand Canyon is also a wildlife oasis, housing at least 250 different types of birds, 25 reptilian varieties, 70 species of mammals, and 5 amphibian types.
Camping in the Grand Canyon is Never a Boring Experience
Since it's one of the most popular parks world-wide, it's clear that camping in the Grand Canyon is well worth the effort. There's tons to do here and as a result anybody can find an activity to enjoy here. For example, the Colorado River snakes through the canyon's length, providing access to world-class fishing, white water rafting, and much more. Additionally, thousands of miles of trails cross, wind, and extend for canyon hikers and campers. What's more, surrounding them is the familiar embrace of billion-year old red rock and desert foliage as far as the eye can see. Can you really blame them?
Here's our favorites Grand Canyon camping activities and recreational must-dos:
Where to Hike in Grand Canyon National Park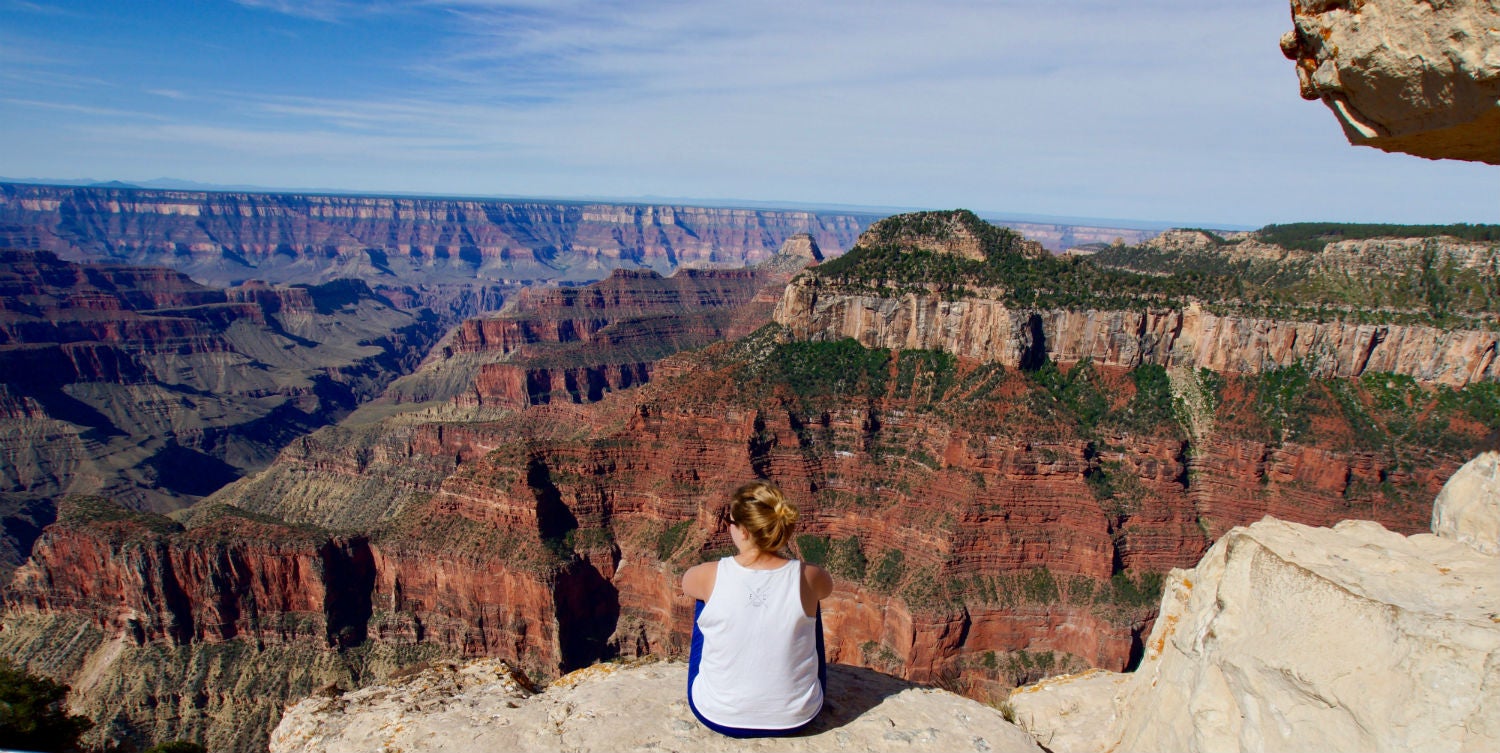 Whether you're a novice or an expert, it's a safe bet you'll find a hiking trail to fall in love with at the Grand Canyon. There are hundreds of miles of maintained hiking trails, and thousands more in the back country. Regardless of departure (South Rim or North Rim) you'll have to hike to get to an area suitable for Grand Canyon camping. Consequently, we suggest you plan ahead, and check out our Grand Canyon campgrounds guide to ensure you've planned out your routes in advance. Here's some of the best Grand Canyon hiking trails available to the public today:
Grand Canyon South Rim Trails
An 8.2 Mile medium difficult trail beginning at Hermits rest and descending down. You should hike prepared with strong legs, as the trail descends 4,340 feet (which you have to ascend back!)
The most exposed rim-to-river trail anywhere on the South Rim, this dramatic hike is known for its teetering cliff edges, sheer drops, and spectacular panoramic views of Yuma point.
Once used by natives to get down to the (now) Indian Garden, this 9.5 mile trail is extremely popular today. Similarily, like the hermit trail don't skip leg day, as there is an elevation gain of 4,460 feet. This makes a great Grand Canyon day hike.
This 7 mile hike offers the single most direct route to the Colorado River. However, there is no running water, nor camping available on the way down. Consequently, this is best utilized for people looking to recreate on the Colorado river who simply want to get there and start their day.
Grand Canyon North Rim Trails
Known for its rim-to-rim path, this is one of the most famous hikes on the Grand Canyon North Rim. However, at 21 miles long, you need to be prepared for the journey that awaits. With mellow cliff side trails and expansive views of the San Francisco Peaks, this trail is sure to give you something to put on your instagram.
For more trails, check out our trail guide on Grand Canyon North Rim Hiking!
Enjoy an (Exhilarating) view while rafting the Colorado River
If you're planning on a multi-day rafting trip Grand Canyon camping is made a little more difficult. The Colorado River claims an impressive 225.9 miles of the Grand Canyon floor. Starting at Lee's Ferry, Grand Canyon campers planning on rafting should have an idea of what they are getting into before starting their trip. However, rafting here is something that isn't for the faint of heart. It's known for its ferocious white-water and various high-class rapids throughout. Subsequently, throwing overnight camping in the mix means securing your gear, waterproofing it, and ensuring you have a group with you in case of emergencies. Please note, there are laws regarding Grand Canyon campers obtaining river rafting permits. To learn everything about the legalities of rafting here, check out our complete guide to Grand Canyon river permits.
While not a complete Grand Canyon mile-by mile river list, here's some of the whitewater highlights from various mile-points throughout:
Lee's Ferry is the only place on the Colorado River where rafters can directly put-in from their vehicles. If you're wanting to traverse the entire river, this is the place to start! 
Class III-IV rapid. The best option here is to scout first on the left and feel out the waves if worried about the intensity.
Almost always Class IV+, and largely considered one of the hardest Marble Canyon rapids. The water pulls strongly towards the left wall which forces you over a sandbar and a hole at the end of the current. Stay left until clearing the wall, then go right as quickly as possible to avoid beaching in the hole.
Miles 26.7: Start of Roaring 20's
Classes I-III. Aptly named, this section is a series of rapids along the Colorado that still need caution, but offer more intimate views of the various Grand Canyon features, without the same level of intensity as house rock.
Standard Class III Rapid that marks the end of a the three part rapid series starting with President Harding Rapid.
Class III-IV rapid. No room to portage here so most people will be forced to run this in their rafts or boats. The rapid narrows towards the end which causes a sharp increase in water pressure and speed, so stay center and avoid the walls as much as possible.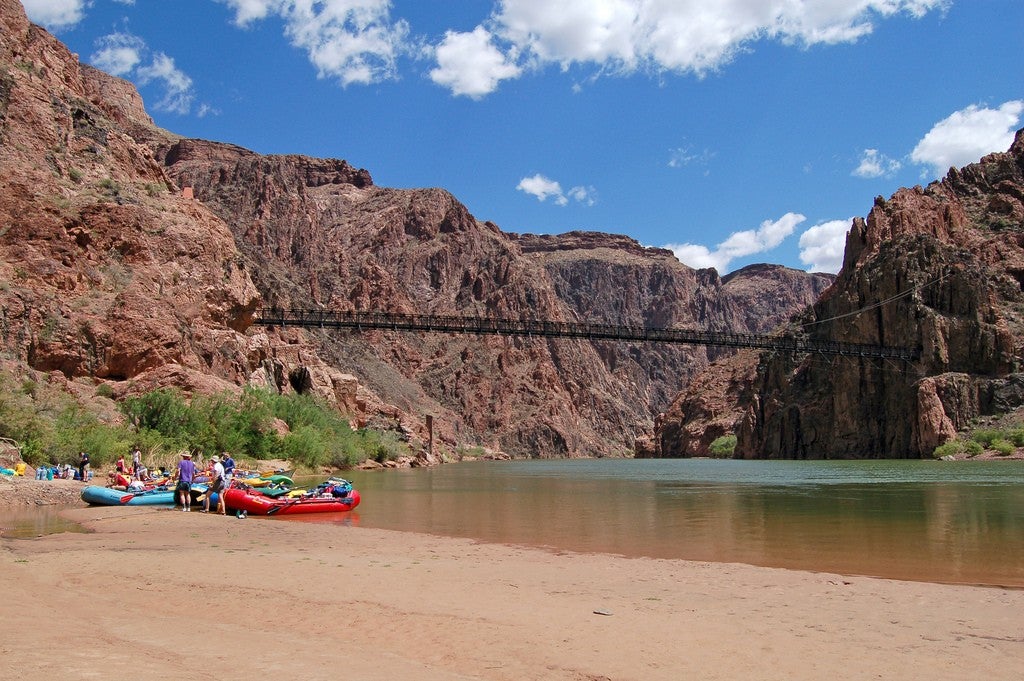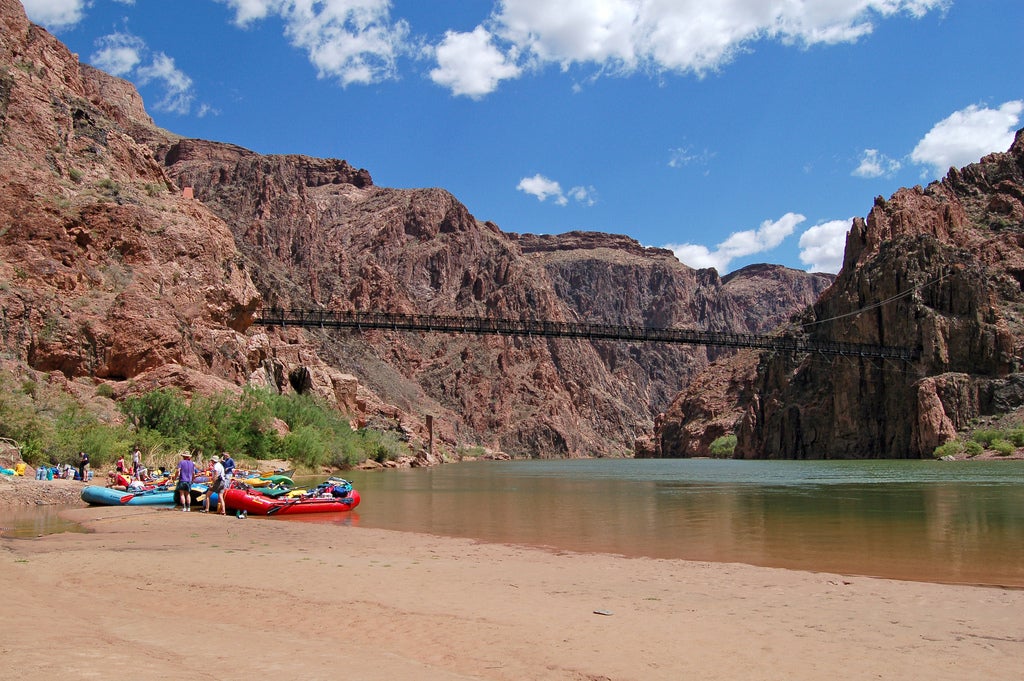 This is the most popular spot for Grand Canyon Campers to exit and take a break from the hustle and bustle of whitewater rafting. Just below Kaibab bridge, this exchange point allows you to break up your rafting trip and locate camping in the Grand Canyon nearby. Furthermore, it also gives you the option to hike out from Phantom Ranch to the South Rim. Also important; if you'd rather avoid the more difficult rapids at the start, you can put in here rather than Lee's Ferry.
A class III-IV rapid located to the side of Crystal Camp. There are good camping options here thanks to Crystal Camp. To navigate this rapid, hug to the right of the river tongue to avoid getting caught or potentially flipping your raft. This is one of the last difficult rapids for miles.
Mile 105.2: End of Gem Rapids (
Ruby Rapid
)
Ruby Rapid marks the end of a series of "Gem Rapids", named for the geological formations (each named after different gems) on either side of the river.  There are no major hurdles here to navigate. Consequently, consider taking in the scenery and remark at the history of the various formations throughout.
This Class IV rapid can prove to be challenging for Grand Canyon campers, however if you follow the river's current through the tongue you should have no issues getting through. S.S. Boatman Deubendorff was a crew member with Julias Stone and Nathan Galloway on their 1909 Colorado River Expedition. This was known as the first river expedition taken purely for pleasure. His remarkable efforts and accolades were honored with this rapid's namesake.
Ranging from class II-IV, this rapid can make or break you. During low water, this rapid is made extremely difficult as a right-leaning gravel sandbar prevents normal travel. If water is higher, it's generally easy to stay right which leads to a smooth exit over the sandbar. In either case, Canyon campers should especially heed caution as the center of the river has a gigantic hole that can flip your raft in the blink of an eye. You don't want to get caught drying your tent out, so avoid this center hole at all costs.
Mile 171.9: Gateway Rapid/
Havasu Creek
The Gateway Rapid is small in size, however the real feature here is Havasu Creek. With reservations, Grand Canyon campers can park their rafts and hike up this expansive creek full of waterfalls and vibrant nature reserves, just outside the village of Havasu. Most famously known for the Havasu Falls.  
Weighing in well above Class IV (Grand Canyon Class 10) these notorious rapids need extensive research before attempting. However, rather than trying to explain, we suggest you read this guide on navigating these rapids, and watch as many Youtube videos as possible. If you haven't flipped, tipped, scraped, or bumped over yet- this may very well be the place to do you in.
Surprisingly, even something as remote as the Grand Canyon houses a helipad. The Whitmore Helipad is a great stopping point as there is a small area for camping, recreation, and resting on the base of the island. In short, if you happen to be rich enough to own a helicopter, or if you are leaving from a 7-Day helicopter excursion, this will be your pull-out point.
Mile 225.9: Diamond Creek (Take Out Point)
For most Grand Canyon campers, this will mark the end of their rafting journey. Diamond Creek is the first pull-out/exit point for rafters since Lee's Ferry. However, it's generally not suggested to go beyond this point, as Mile 232 lies up ahead, infamous for the death of Glen and Bessie Hyde.
To get here, take Route 66 (AZ) to Peach Springs and head north into towards the Grand Canyon. After 18 miles of unpaved road, you should reach this take-out point.

The road can occasionally wash-out, making this take very difficult to access. Call ahead to determine if conditions are suitable. Grand Canyon Campers looking to pick up rafters should anticipate at least one hour from Route 66 to arrive.
What else can you do at the Grand Canyon?
After you've experienced the trails, the views, and the colossal force of the Colorado River, what's next? If you're looking for other things to stay busy while you're here, you're definitely not alone. Luckily, we've got a few more place to check out and things to do before you end your trip.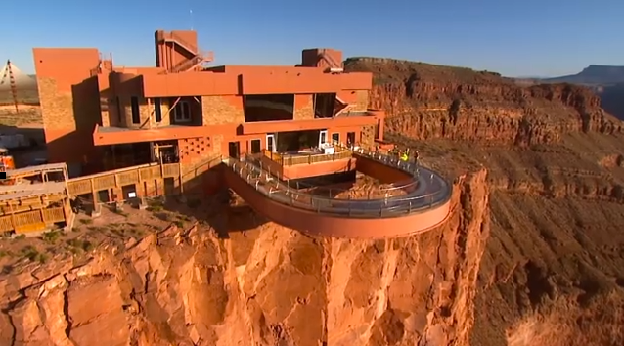 Uniquely, thanks to the Skywalk you can now mockingly loom over the Grand Canyon and remark of its beauty from 70 feet in the air. Built and maintained by the Hualapai Tribe on tribal lands, this is the most popular attraction at the Grand Canyon. Grand Canyon campers can access it from Route 66 on the west side of the Canyon Rim. The Skywalk is reached by vehicle and wheelchair accessible. Consequently, this is a great activity for anyone who wants to be amazed by the Grand Canyon's splendor.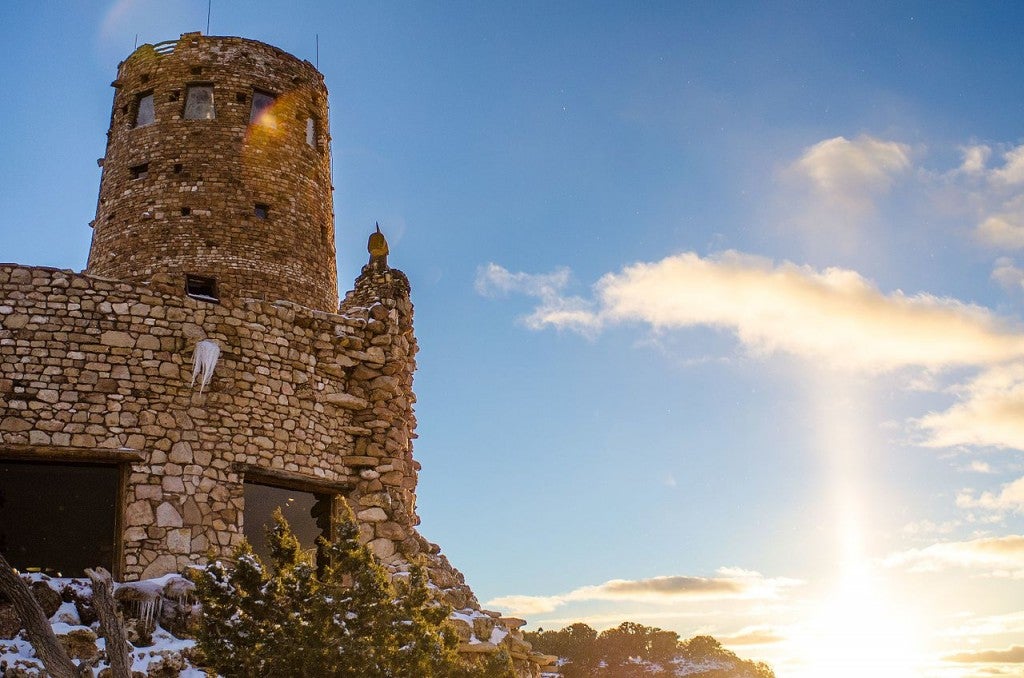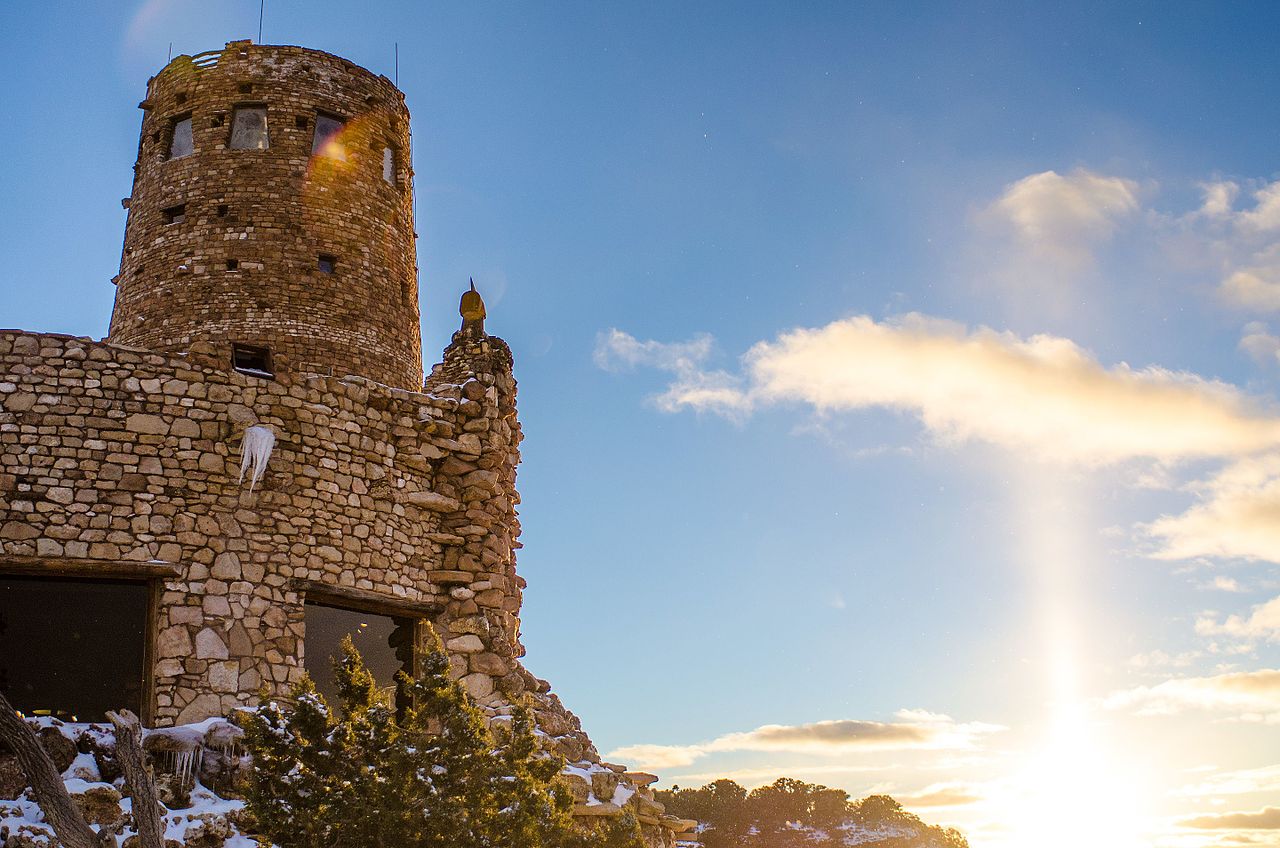 Designed by renowned architect Mary Jane Colter, this 70ft tall stone watchtower gives you access to panoramic views of the Grand Canyon that campers cannot obtain anywhere else. Additionally, nearby lies picnic tables, park benches, and shades alcoves for your relaxation and enjoyment. After your campout come check out this historic Grand Canyon attraction.
Explore the Ancient
Tusayan Ruins
and Museum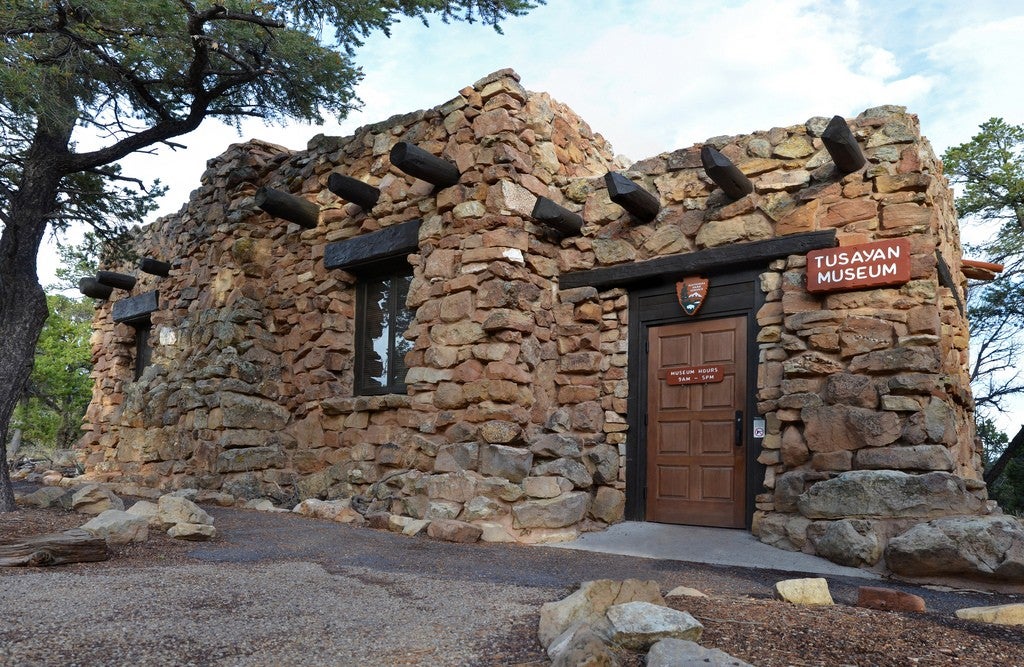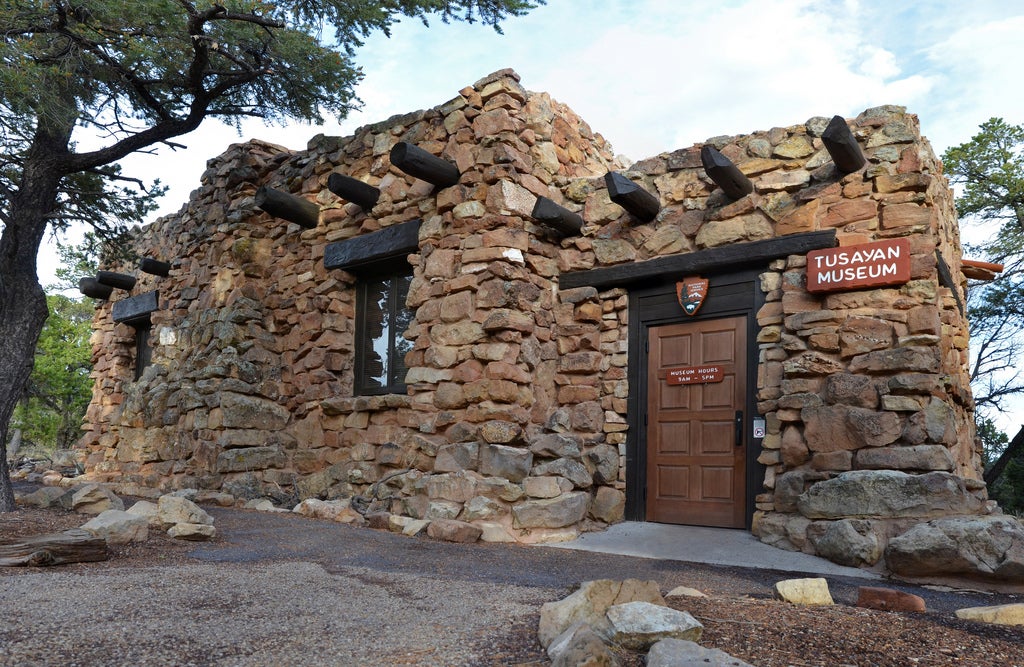 Built over 800 years ago, the Pueblo-Indian Tusayan Ruins are a profound piece of history that campers are fortunate to be able to visit year round. Surprisingly, this site appears not to be anything at first. However, upon closer inspection you'll find a small u-shaped. Incredibly, this pueblo is complete with a living area, a place to store ancient things. Furthermore, there's even a Kiva (a spiritual room used for worship by ancient Pueblo-Indians.) After, stop in the Tusayan Museum and learn about the rich culture and struggle of the Pueblo people.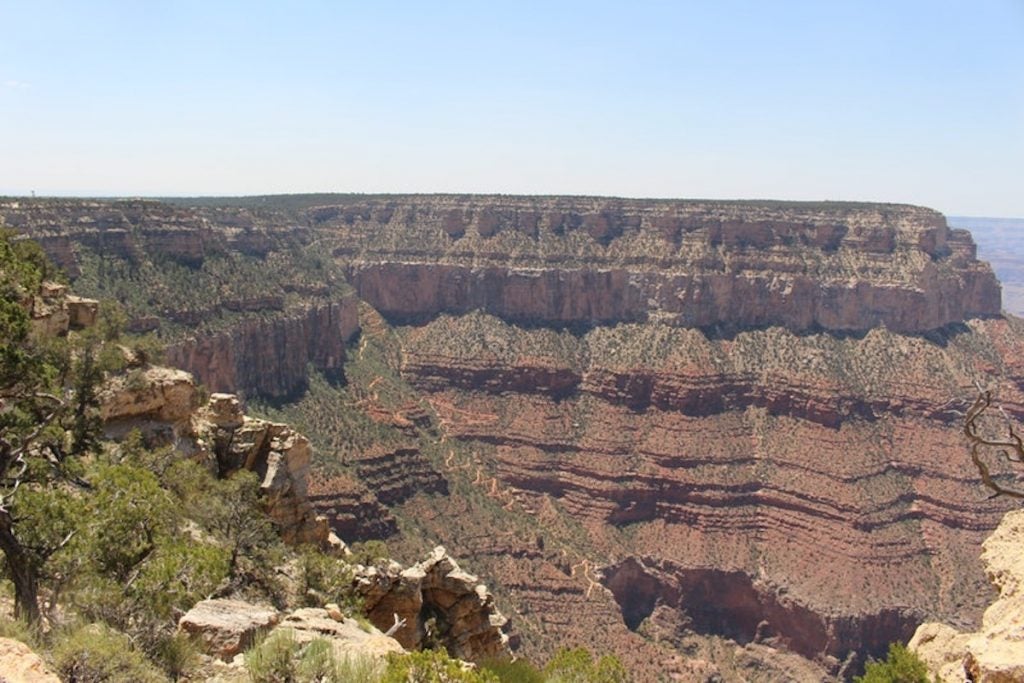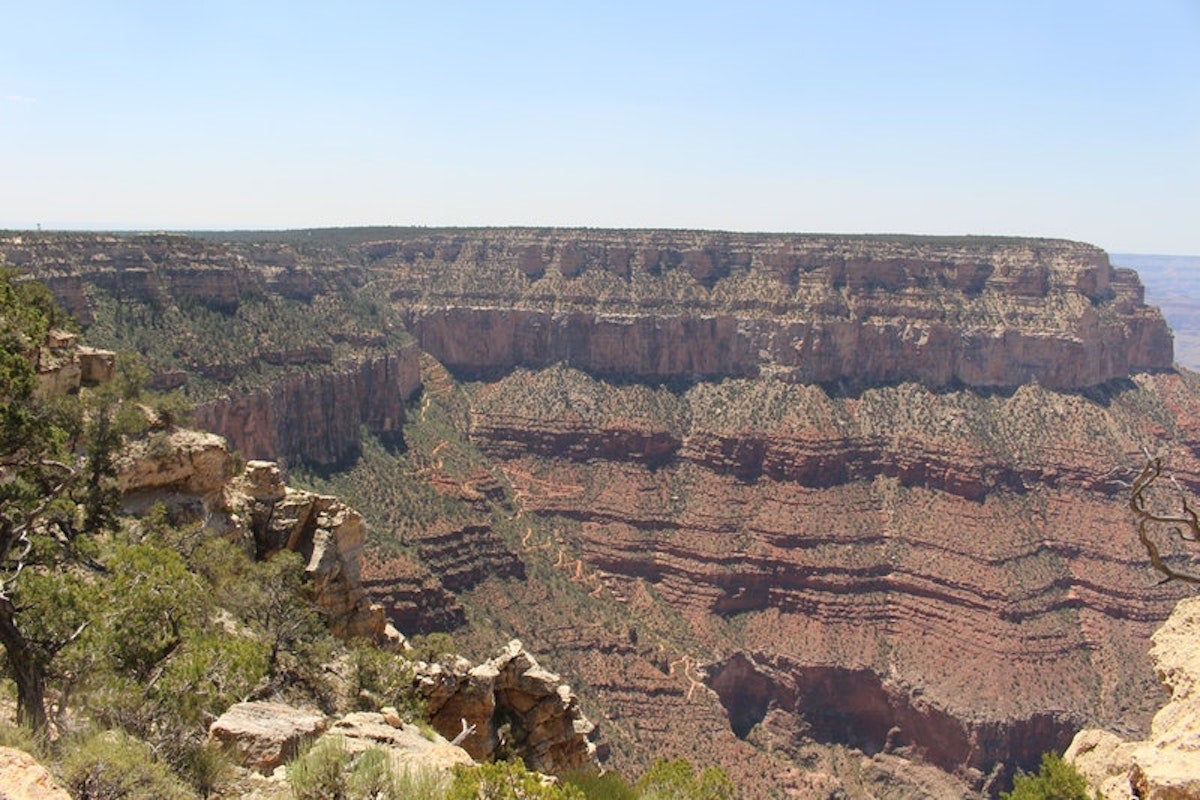 – Photo from The Dyrt Camper Erin G.
Use our Checklist to Prepare for your Camping Trip
Grand Canyon camping yields beautiful, vibrant landscapes that lend to perfect photo opportunities at every corner. There is no better place in the world to capture desert photography. Photography changed the way America saw National Parks , so we know it will change the way you see this rich, expansive geographic wonder. 
There's all kinds of things you may need if you're planning a trip to the Grand Canyon. Consequently, every single Grand Canyon camping trip is going to be unique. Thankfully, we've created a downloadable/printable bare minimum Grand Canyon camping checklist. You can use it to ensure you have everything you need before going. Of course, be sure to include anything else not listed here that might be applicable to your trip!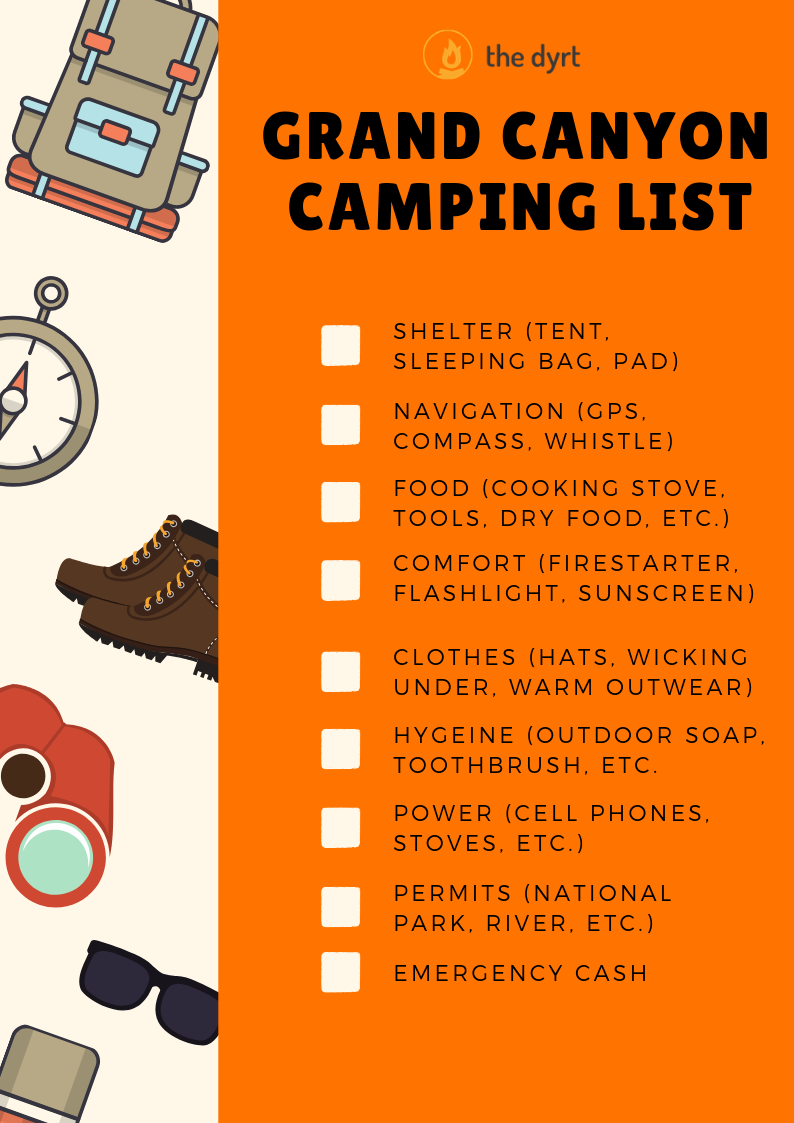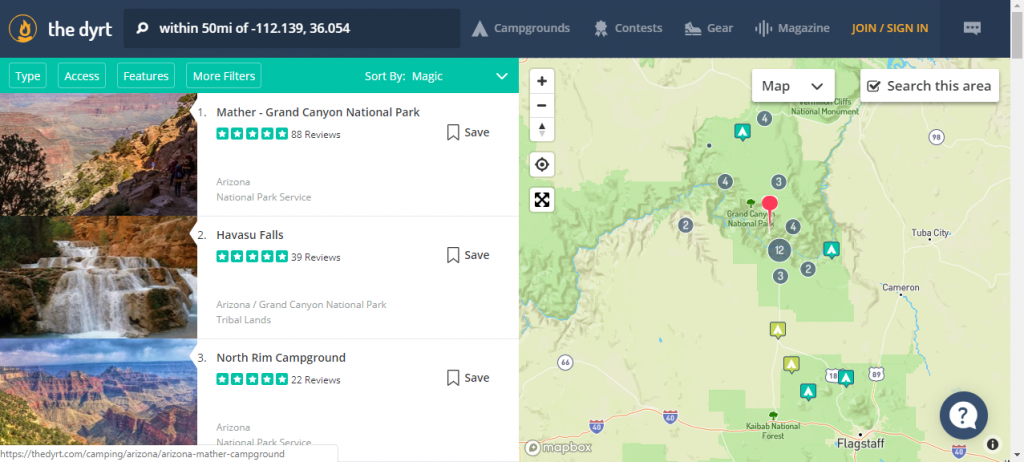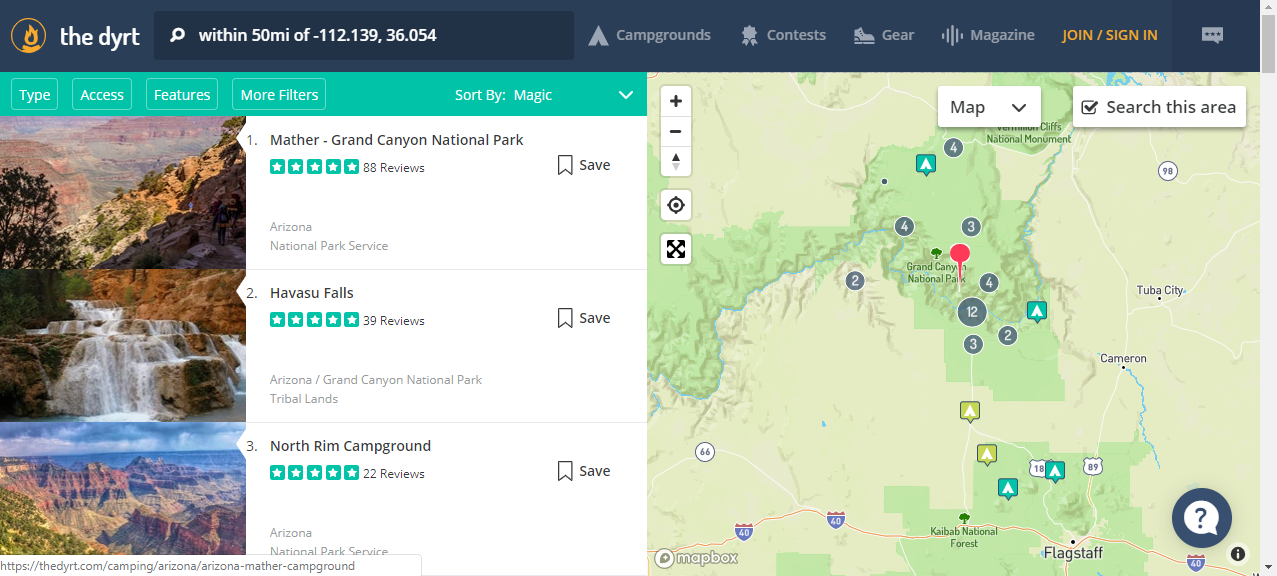 The Dyrt is the best way to stay in touch with everything camping and the outdoors. We help connect campers like you to the best campsites and campground located near them, or their dream destination. If you want to read more experiences from other campers just like you, check out our Grand Canyon camping database, and see what else you can find to do on your next stay!
---
Related Campgrounds:
Popular Articles: