Camping Mesa Verde is unlike any other National Park. With rich, pueblo heritage and the Mesa Verde Cliff Dwellings spanning various caves throughout, there's never a dull moment here. Looking to camp in the Mesa Verde National Park? Then look no further– we're bringing you  some of the best camping in Mesa Verde National Park, plus tips to enjoy your stay from campers at The Dyrt.
What Makes Mesa Verde Camping so Popular?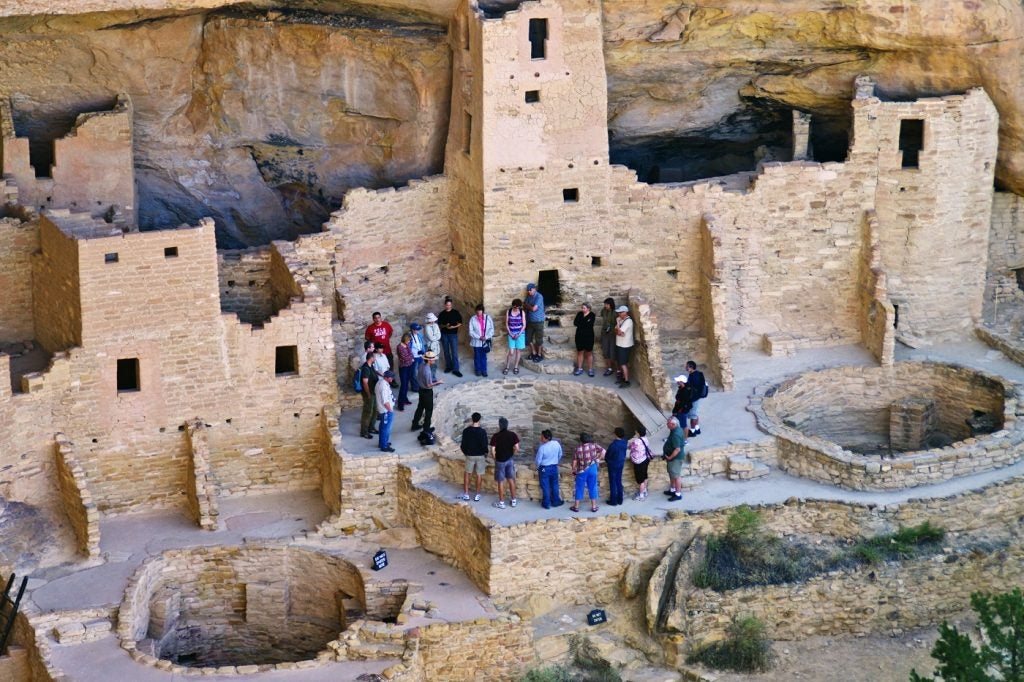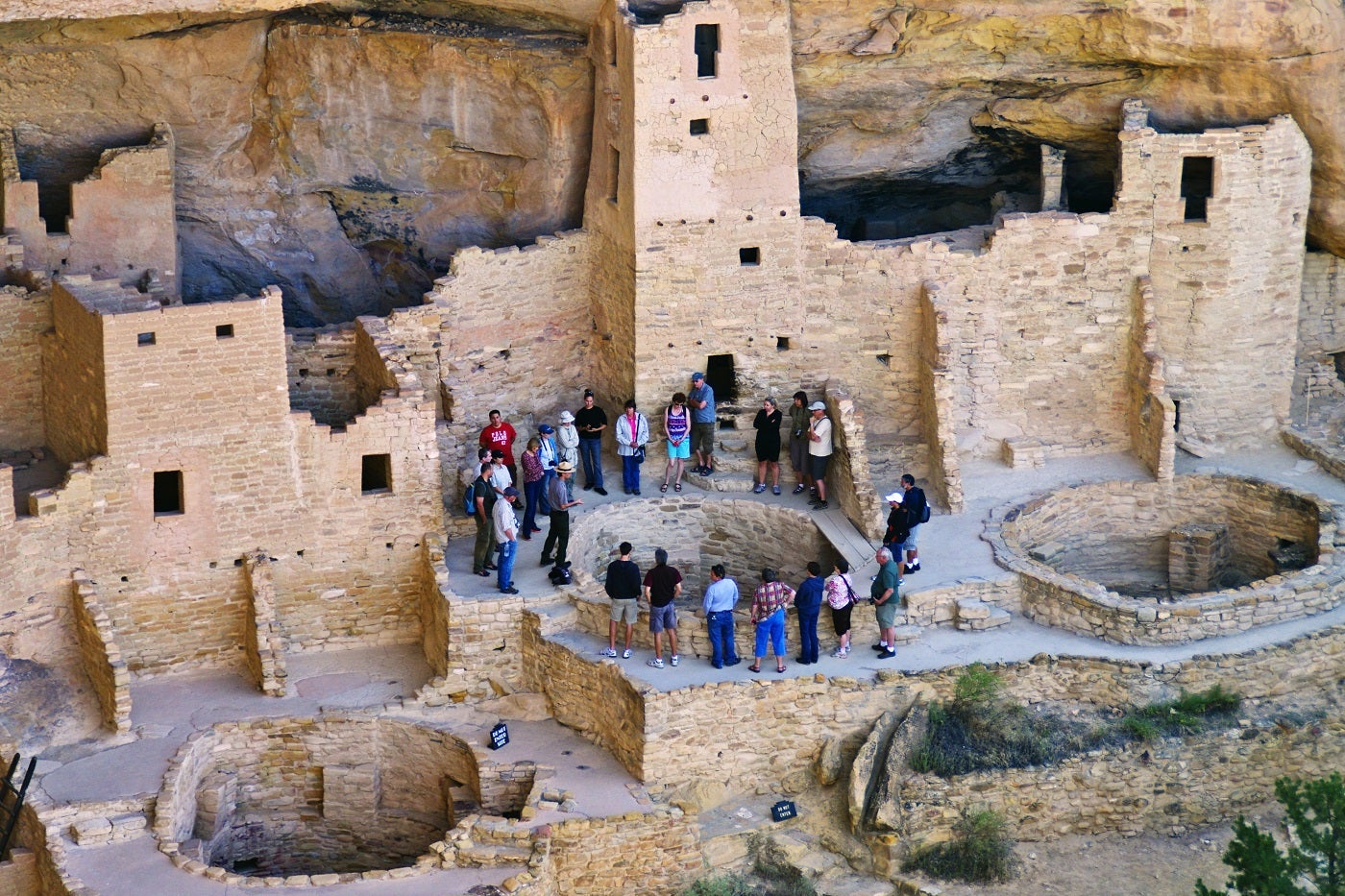 Mesa Verde National Park is home to numerous geographic oddities. There are over 5,000 established Pueblo archaeological sites. It's a popular camping destination in Colorado due to the archaeological history and trails throughout. When it comes to things to do, there's very few National Parks that offer this amount of recreation and designated programs for visitors.
If you're planning on camping Mesa Verde, you should start with the perfect campground.
Picking the Perfect Mesa Verde Campground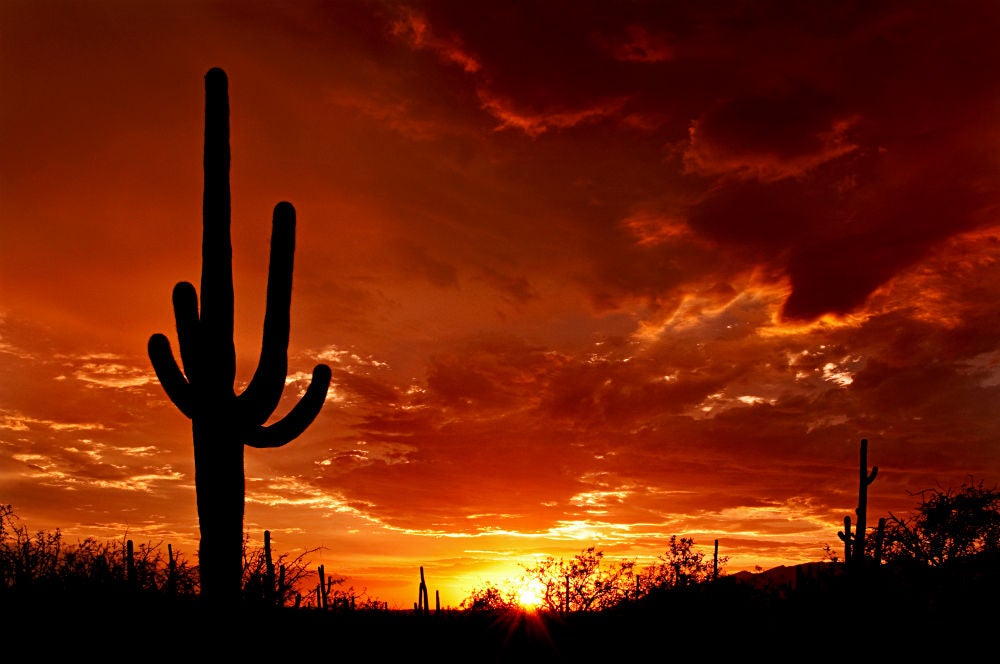 Steeped in mystery and natural beauty, Mesa Verde National Park offers a truly unique camping experience. This fascinating and slightly eerie area is not like anything else. Remember, just because a campsite here is well-frequented doesn't mean it's spoiled. These three campsites are the most popular for a reason. Each one brings an entirely new adventure that is going to be yours and yours alone.
1. Morefield Campground
If you're after a no-frills camping experience that isn't too rustic, then Morefield Campground is for you. This quiet campground serves as the perfect base for exploring the beautiful and historic Mesa Verde. And for campers with an interest in history, be sure to stop by the amphitheater to hear the ranger talks. This campground is complete with free showers, coin laundry, and a general store,
2. Cortez/Mesa Verde KOA
Featuring a ton of amenities and located a mere 15 minutes from the entrance to Mesa Verde National Park, this campground is both comfortable and convenient. The sites at Cortez/Mesa Verde KOA can get a little tight, so don't expect too much privacy. However, it's worth it– this campground offers views of the National Park from multiple locations.
3. Haviland Lake Campground, CO
While Haviland Lake Campground is an hour's drive from Mesa Verde National Park, it doesn't disappoint when it comes to picturesque campsites in a pristine mountain setting. With an 80-acre lake offering excellent boating, canoeing, and fishing opportunities, distance should not be a deterrent.
There's Tons to do at Mesa Verde National Park
If you're planning a camping trip to Mesa Verde, then it goes without saying that you'll need things to do. Aside from hiking and cycling the trails throughout, Mesa Verde offers a few other unique activities as well.
Explore the Mesa Verde Cliff Dwellings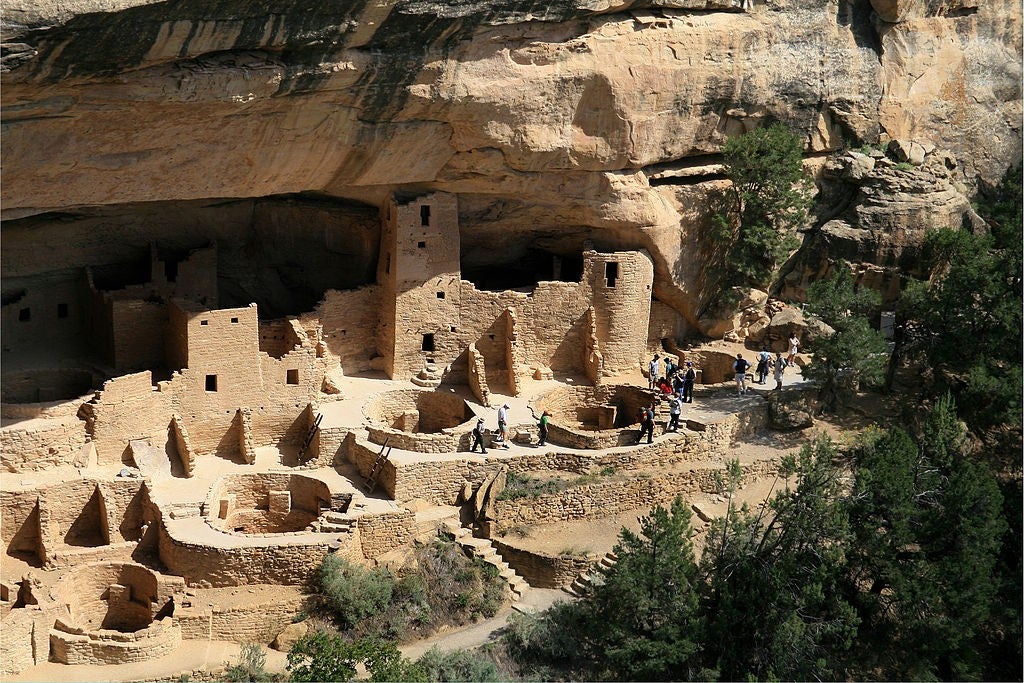 The Mesa Verde cliff dwellings are one of the most popular attractions frequented at this National Park. Sometime around the 1190s, ancient Pueblo humans decided to move from the mesas on top of the rock formations to the caves and overhangs that naturally existed below. Some of the structures were as small as a bedroom, while others were large enough for entire villages. While living below in these Alcoves, the ancient Pueblo citizens would farm the land on the Mesa's above. By the 1270s most of the Pueblo population began migrating south to New Mexico and Arizona, however their dwellings remain as one of the best preserved examples of human history anywhere in the world.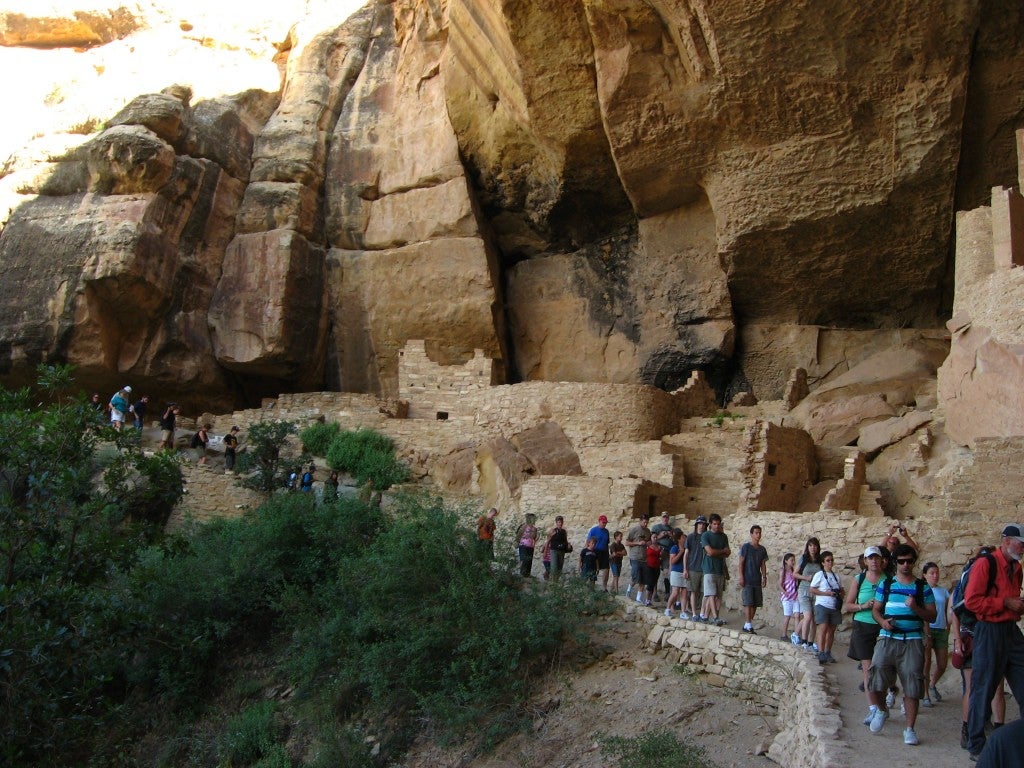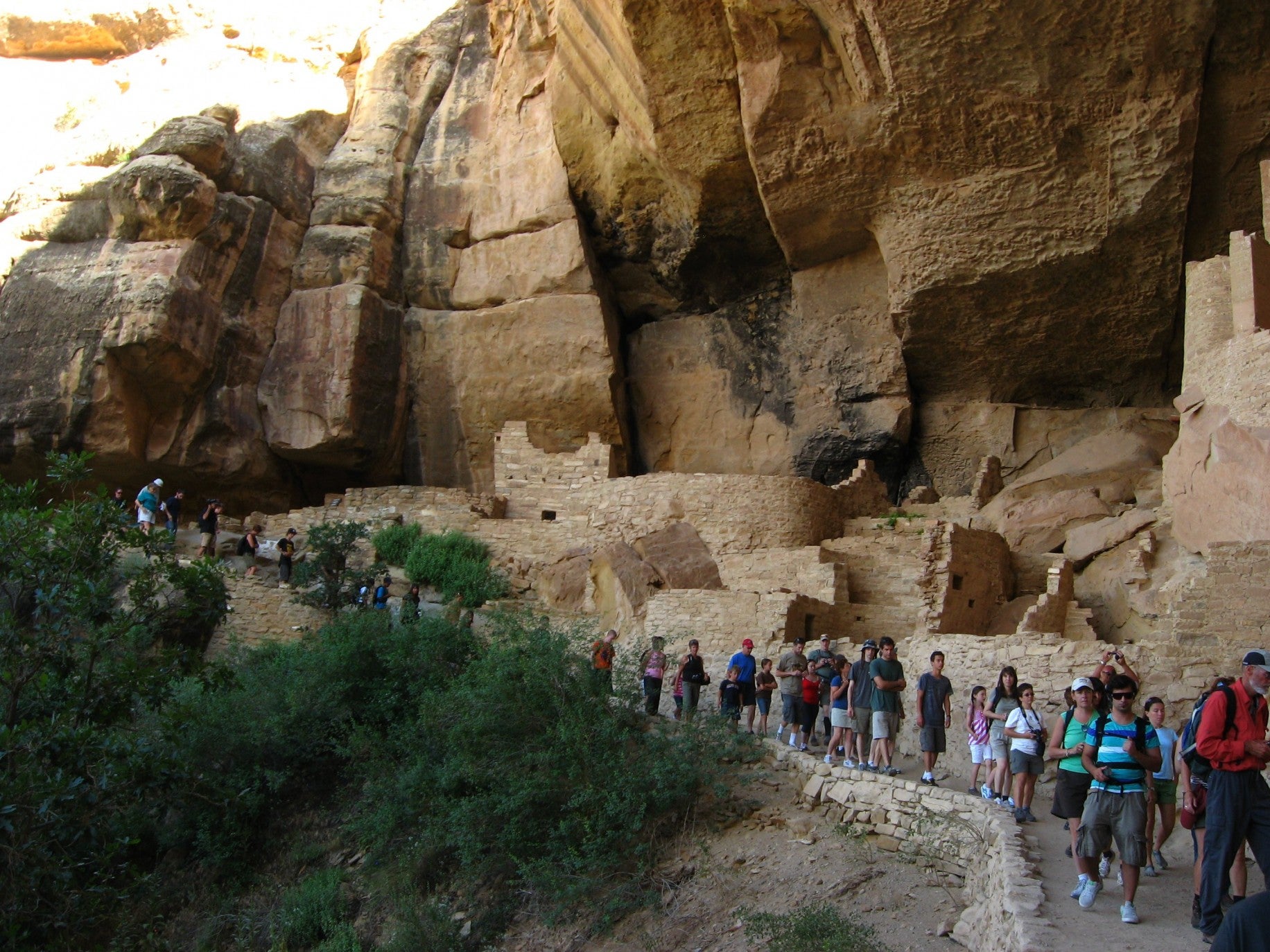 Mesa Verde tours remains a popular attraction for the many visitors that frequent this Colorado National Park. While there are private tours available, the National Park Service also offers regular tours throughout the various archaeological sites within this park. There are no height or age restrictions, however if bringing children they must either be carried, or be able to keep pace with the group.
Visit the Mesa Verde Cliff Palace
The Mesa Verde Cliff Palace is an ancient city within a moderate hiking loop which gives access to beautiful photo ops of the overhangs below as well as Balcony House and one of the largest Pueblo villages at the time. Cliff Palace is known for it's sandstone and mortar walls, as well as the numerous ancient living establishments within.
Don't Miss out on Mesa Verde Camping
Not only is Mesa Verde fascinating, but it is unique among American national parks in that its focus is on maintaining this civilization's cultural relics rather than it's natural treasures. Camping amongst such mystery and unspoiled beauty in a glorious canyon setting is an experience like no other.
The Dyrt's Rangers have put together this incredible video to document their firsthand experience in Mesa Verde with the hopes of improving the visit of others.
The Dyrt Ranger Tip: Chapin Mesa is worth a visit, but also try to make it to the less-visited Wetherill Mesa. The Hike and Bike Tour is a great way to explore this area and ask many questions in a small group guided by a ranger.
And, in case you still (somehow) need convincing to fit this park in your summer itinerary, we present Mesa Verde National Park's Cliff Palace:
Popular Articles: