Sometimes we all just need to get a little desert in our hair. These Arches National Park hikes will do just that.
A few months ago I spent three glorious days in Utah's desert, hiking in and around Arches National Park. I didn't shower. I poured red sand out of my shoes. I filled up a jug of water from a natural spring on the way to Fisher Towers. We sat around the campfire, counted the stars, and thought about Edward Abbey. He was living right.
"I sometimes choose to think, no doubt perversely, that man is a dream, thought an illusion, and only rock is real. Rock and sun." -Edward Abbey
A few days in the desert will have you feeling some type of way. Like, only rock is real.
And you're going to want to embrace that rock and sand. And feel it under your feet.
Hiking in Arches National Park opens your eyes to ecological wonders. Did you know that a full grown Saguaro cactus can store up to 200 gallons of water at one time? Or that cryptobiotic crust contains Nitrogen and other organic materials, and is dubbed the "desert glue"? Spend enough time staring at the Wingate Sandstone towers and your philosophical wheels may hit terminal speeds.
5 Arches National Park Hikes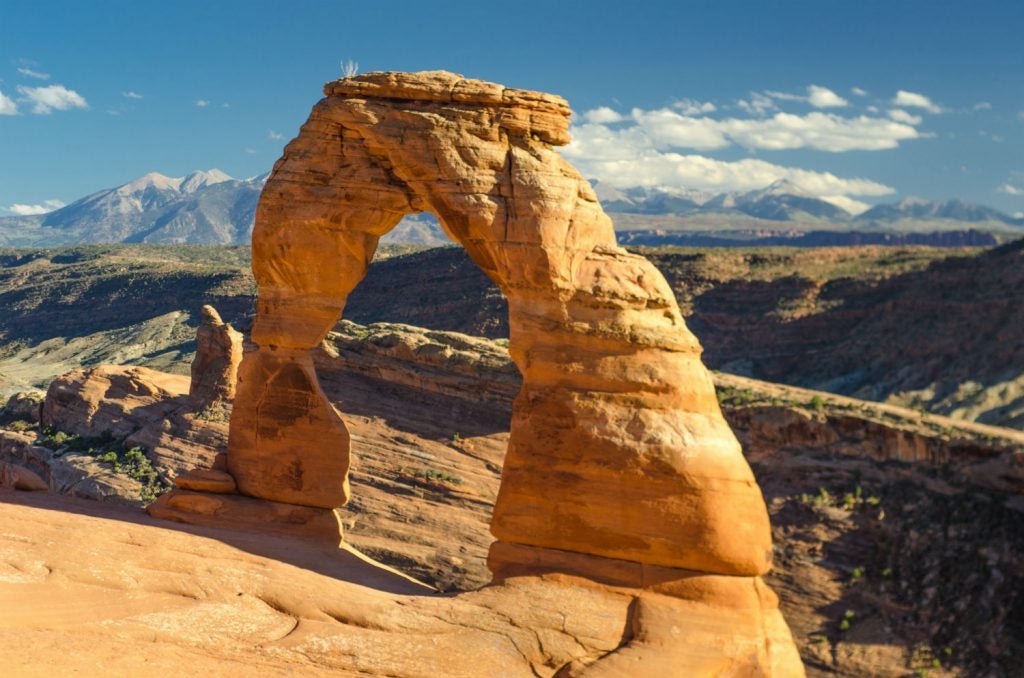 If the desert is calling your name, hit the road towards Arches National Park, and revel in the majesty of more than 2,000 natural sandstone arches throughout the park. These 6 trails will introduce you to the wonders of the desert. And remember, when hiking in the desert each person should carry 1 liter of water for every hour on the trails.
1. Delicate Arch
Without a doubt, Delicate Arch is the most popular Arches National Park hike. It represents Utah on the state's license plates, stands proudly on highway billboards, and welcomes you at many state lines. Three miles out and back on a heavily trafficked trail, and almost 600 feet of elevation gain makes this a great hike for families and individuals alike.
Getting there: From the main entrance, follow Arches Scenic Drive through the park and make a right turn on Delicate Arch Road. There are signs for the Delicate Arch Trail along the way, so it's hard to miss! There's parking on the left hand side of the road. For those who want to see the arch without making the trek, there's a viewing area about a mile past the trailhead for Delicate Arch.
2. Devils Garden Loop Trail
If you don't have a lot of time and want to get the most bang for your buck, head to Devils Garden Loop trail. This 7.8 mile hike with 1,072 feet of elevation gain passes six different arches: Tunnel Arch, Pinetree Arch, Landscape Arch (the fifth longest natural arch in the world), Wall Arch, Partition Arch, and Navajo Arch.
Getting there: After 16.3 miles inside the park, keep right on Devils Garden Road. The trailhead begins at the dead-end parking loop.
3. Double Arch Trail
The Double Arch Trail is short and sweet: it's about a quarter-mile from the parking lot, and only requires 29 feet of elevation gain. Because of this, Double Arch is one of the most highly trafficked Arches National Park hikes, and best visited early in the day or late in the evening.
Getting there: About 9.5 miles from the visitors center take a right on The Windows Road (just beyond Balancing Rock), and follow it 2.5 miles to the loop at the end of the road.
4. Fiery Furnace and Surprise Arch
One of the most coveted hikes in Arches National Park, the Fiery Furnace requires a permit which often sells out during the high season (March-October). Permits are obtained at the visitors center for $6 (children and seniors for $3). Each hiker must also watch a brief safety video before hitting the Fiery Furnace labyrinth.
Getting there: Follow Arches Scenic Drive for about 14.5 miles until you come upon the parking lot on the right.
5. Sand Dune Arch Trail
Highly trafficked, the Sand Dune Arch Trail leads hikers to a hidden arch that kind of looks like a crow. With a total mileage of just .4, and elevation gain of 101 feet, this hike is perfect for visiting Arches in the middle of summer when stepping out of the car into 100-degree heat is its own feat.
Getting there: Take Arches Scenic Drive for 16.2 miles until you come to the Sand Dune Arch Trail parking lot on the right hand side of the road.
If you're visiting Arches National Park for the first (or fifteenth) time, booking a tour can be a great way to see as much as possible in a short amount of time. Our friends over at MountainBased provide multi-day tours of Utah's Mighty 5 National Parks and would love to introduce you to Utah's canyon country.
---
Related Campground
Popular Articles: