Have you ever wished you could be perched high above nature, cradled in a hammock and gently rocked to sleep in the treetops? Thanks to the "ZZZs in the Trees" program at Panola Mountain State Park, you can make that dream a reality.
Campers visiting this state park in Georgia can sign up for a unique program that takes you up a tree (anywhere from 15-50 feet high) to an elevated sleeping pad, where you'll drift away to sleep high in the branches of either a red oak or a willow tree.
Editor's Note: Due to dam construction at the park, the campsites, both lakes, and a portion of the Lake Loop Trail are closed and expect to be reopened in mid-summer 2019.
---
How "ZZZs in the Trees" Makes For An Awesome Alternative Camping Trip
Panola Mountain State Park is located just 15 minutes outside is one of three unique rock formations, called monadnocks, that circle Atlanta (Arabia Mountain and the famous Stone Mountain are the others). But Panola is the only one that has remained in the same natural condition for centuries, protected by its status as a state park. The park's setting, including the groves of willow and red oak trees, allow for the ZZZs in the trees program to attract visitors from all over the Atlanta metro area.
While it's only a 15 minute drive away from the city, Panola Mountain State Park's ZZZs in the Trees program offers a quick getaway that will (literally) elevate your next camping trip.
ZZZs in the Trees Offers Camping With a Unique Perspective
Using a Georgia willow or red oak as a bunk bed is about as close to nature as you can get for a night. Brian Lanier, tree climbing director at Panola Mountain State Park, explains that most people are drawn to this connection with their outdoor environment.
"In the spring and summer you're up there. right in the middle of the trees, branches, and leaves…It's thrilling, peaceful, and calming when you're swaying with the tree," Lanier said. "The tree doesn't move too much because it's big, but you are one with the tree, so to speak."
Lanier reminds those interested that sleeping in Georgia's treetops at Panola Mountain State Park is for any skill level, not just experienced tree climbers. "I try to make this available to everyone. We teach you how to climb and pick your bunk. People can request [a ZZZs in the trees reservation] and I'll put one together forthem."
The first reservations for ZZZs in the trees open in April,and carry on through the regular camping season until October. Call 770–389–7801 with questions and to make reservations.
It's Actually a Treetop "Bivouac" Camp
Putting your trust in sleeping suspended from branches may sound more stressful than relaxing. But you can rest assured that your treetop bivouac is secure.
"I like to call them tree boats," Lanier said. "They're made of a very heavy-duty waterproof canvas, and they have four points so there's no pivot point like a regular hammock."
Campers can have confidence that the material, stability, and experience of the climbing director will keep them safe while they sleep at night—Lanier has been sleeping in treetops for the past decade. And for the duration of every ZZZs in the trees overnight stay, there's a staff member on the ground and in the tree.
Panola Mountain's Trees Have Personality
When you're sleeping in the trees at Panola Mountain State Park, you're not just resting on any old tree; the premiere tree at Panola Mountain State Park is a grand red oak that stands at 100 feet tall, and is nicknamed "Naomi." As the park's crowning tree, Naomi provides sturdy boughs for climbers and tree sleepers alike.
Unfortunately, Naomi is located in an area that's currently under construction in Panola Mountain State Park, but the ZZZs in the trees program continues in one of the park's willow trees, unofficially nicknamed "Sam" in honor of Panola Mountain State Park's late archery instructor, Samantha Randle.
You Can Explore the Trees Before You Sleep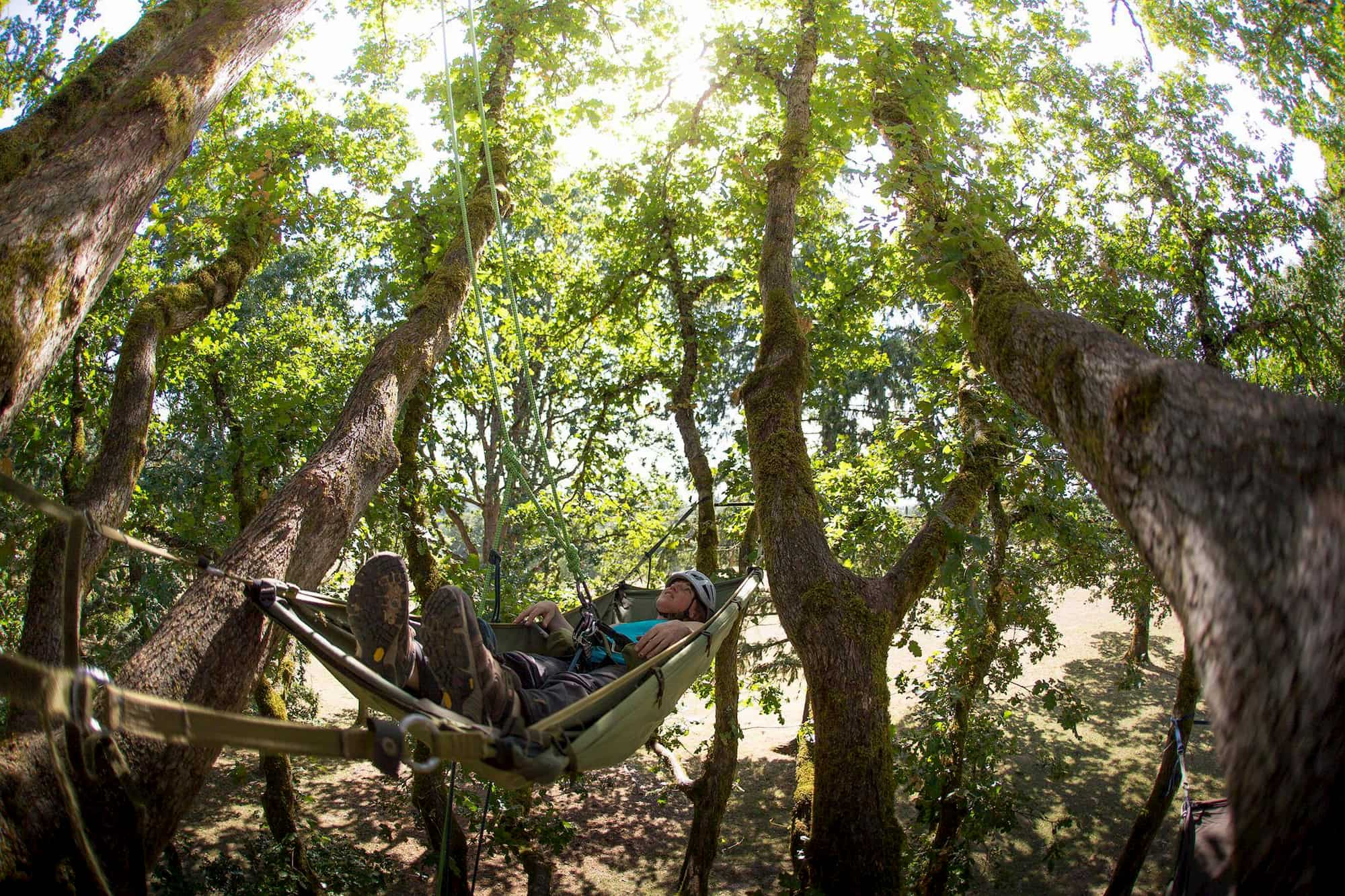 If the act of sleeping suspended from the heights of a tree just isn't your thing, but you're still looking to see what it's like from the treetops, there are plenty of daytime activities and programs put on by the climbing team at Panola Mountain State Park.
Once a month, the tree climbing team hosts introduction climbs. This climb takes place over the course of one Saturday afternoon per month, and are meant to be easy and fun, perfect for the nervous-but-curious first timers. All participants should register beforehand, and the team recommends that all climbers be eight years or older.
Need a bonding outing for your office? Or maybe a daytime campground wedding activity? No matter who makes up your group, you can all enjoy a climb together by registering for the group event climbs. As part of your climb, you can request a treetop station for journaling and scientific observation.
If you like the idea of hanging out in a tree at night, but don't want to fall asleep aloft in one, then the night climbs will suit you perfectly. During the night climbs, you may spy some native nocturnal species, like the fluorescent lichen and the resident barred owl.
Wild Climbs take the training wheels off of treetop canopy climbing. In this program, climbers leave the regular climbing groves at Panola Mountain State Park, and venture into swamp trees and lesser explored forest. These climbs are ideal for scientific observation of wildlife in their natural habitat.
You Can Also Camp at Ground-Level Walk-In Sites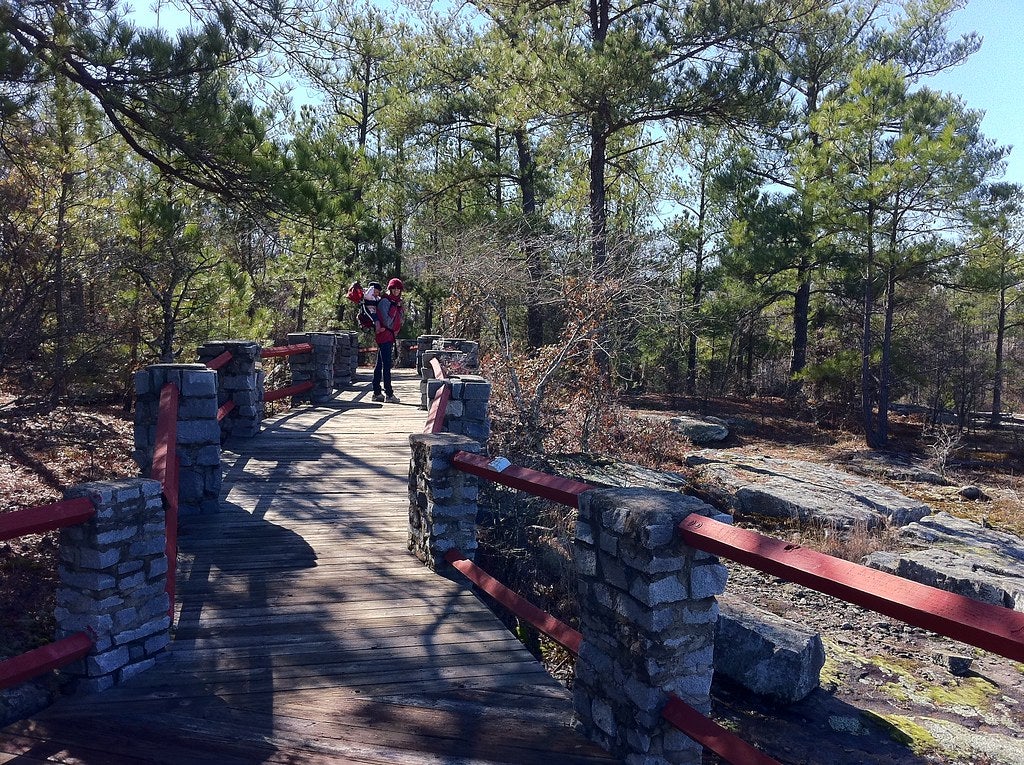 If you'd like to avoid the trees entirely, Panola Mountain State Parks offers countless activities and a handful of prime camping options for your enjoyment. There are five walk-in only primitive campsites on Panola Mountain. But it's not a long walk, the campsites are somewhere around a half mile from where you'll park. Campsites are equipped with tent pads, a fire ring, and grill. There is also a water source at the parking lot.
Once you're set up, you'll find plenty of wilderness around to explore or appreciate. Two lakes, an open field, a nature center, hiking trails and wildlife are all within close reach to the campsites. Although there are 25 miles of hiking paths throughout the 100-acre Panola Mountain area, a ranger-led hike is necessary to access the summit of Panola Mountain itself.
---
Related Campgrounds:
Popular Articles: