There are 61 national parks in the United States. For many who wish to visit them all, Alaska's national parks are the most daunting to reach—and likewise, often the last. Perhaps that's appropriate, saving the best for the end?
National parks in Alaska boast iconic geographical features and outstanding beauty that drive thousands to explore its landscapes, despite remote locations, long flights, and… bears. But if you're willing to tackle the preparation and planning required to reach Alaska national parks, you will not be disappointed.
With superlatives such as America's tallest mountain, glaciers the size of the state of Connecticut, and wildlife in splendid abundance, it's easy to get lost in the daydream of a summer vacation spent roaming Alaska's wild acreage.
Exploring and Camping in Alaska's National Parks
In this guide to Alaska's national parks, you'll find park highlights, guided tour options, suggested hiking trails, outdoor activity suggestions and information on camping. And of course, we've also included tips for safety along the way.
While Denali is heavily trafficked and received over 600,000 visitors in 2017, Gates of The Arctic received only a bit over 11,000 in the same year. Getting off the beaten path does require knowledge of backcountry and survival skills, but it's within the realm of possibility, and we've got your back.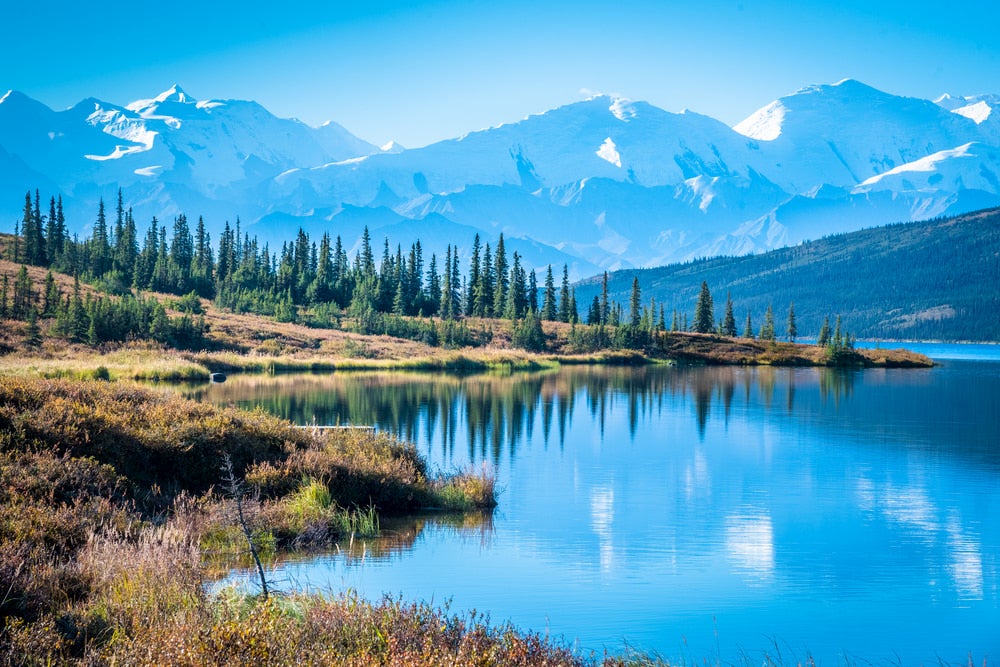 Denali National Park is infamous for its namesake peak, the tallest mountain in North America which stands proudly at 20,310'. Laying eyes on this monster is well worth the visit, but after you've checked that off your bucket list, there is so much to experience in the 6 million acres of this Alaska national park. Hike the park's incredibly scenic trails in summer or get an adrenaline-rush from dog mushing in the winter.
[accordion title='Things To Do']
Day Hiking
Like most national parks in Alaska, the majority of hiking is done off-trail. Denali provides ample opportunity to give off-trail hiking a shot if you've been curious about it. Hiking off-trail in Alaska's remote wilderness is a challenging experience, but is rewarding and empowering when done correctly. If you decide to give it a go, doing as much research as possible and talking to rangers can help provide clarity for your day hike. Tips for Off-Trail Day Hiking: Practice your orienteering skills before you head out on the trip. When hiking through national parks in Alaska, avoid pockets of spruce forest and alder to make navigation easier. The Park Road is still visible in view, even after several miles or hours of hiking, so can typically orient yourself If you want to hike on maintained trails, most of the marked trails in the park are about 2 miles or less in distance and near the park's entrance. We suggest these maintained hiking trails from the map above:
Horseshoe Lake Trail: 3.2 miles RT – This trail travels around the entirety of Horseshoe Lake.
Roadside Trail: 1.8 miles RT – This hike travels from the The Denali Visitor Center to the sled dog kennels where you can meet the dogs if they are not busy mushing.
Savage River Loop: 2 miles RT – Scenic hike that travels through Mount Margaret and Healy Ridge. Whether you decide to do a hike on a marked trail or gather the knowledge and courage to go off trail, take a shuttle to one of the stops along the road. Eielson Visitor Center or Toklat River are common starting locations for hiking. Make sure to check the shuttle schedule to plan your trip around the park.
Backpacking
While day hiking off-trail can be intimidating, backpacking off-trail requires much more planning and preparation. The path you choose to explore is totally and completely your own, and is a challenging yet exciting feat to complete. When backpacking off-trail in Denali, visitors are often encouraged to be well-informed, but also to let their interest in certain landscapes and beauty be their guide, rather than follow a specific route. To prevent any area of getting too overcrowded in the summer, the park is divided into 87 sections using a "unit system". Make sure to plan which unit you want to camp and backpack in before heading out on your trip.
Tips for backpacking
Plan well. Decide the season want to travel, the length of your trip, your bus ride into the park, and plan diligently for the types of terrain you want to encounter. Bring high calorie foods, bug spray, a tent, gaiters, trekking poles, proper layers, bear spray, and make sure to rent a bear canister. Practice your orienteering skills before you arrive and bring a GPS and topo map. Plan your food. Outside of the park, there are several general stores, where you can purchase supplies, but most shopping should be done in Anchorage or Fairbanks, where more supplies will be available. Once you're in the park, you should first acquire your permit. Talk with the ranger about your trip and buy any needed maps or bus tickets before you begin the journey.
Flight Tours
Flight seeing is an incredible way to see the park. Visitors can see a variety of the park's landscape including glaciers, huge mountains, roaring rivers, or even see mountaineers on an epic trek. Many flight companies are in communities surrounding the entrance of the park such as Talkeetna, Denali Par, Healy, and Kantishna. You can also opt for a flight tour that includes landing on one of the park's glaciers to ski or enjoy an overnight glacier trip.
Dog Mushing
Dog mushing is a tradition in Denali that began in 1922 as a means to patrol the park's boundaries, and to preserve Denali's unique terrain. These dogs are reliable, know the landscape and have a low impact on the park's ecosystem.The huskies also help create trails for winter visitors to explore Denali by skis, snowshoes, or their own dog team. You can visit the kennels where the dogs live located 3 miles inside in the park, or if you'd like to take a dog sled expedition, check out Denali Dog Sled Expeditions.[/accordion]
[accordion title='Guided Tours']Alaska.org serves as a great resource to book any adventure tours including flightseeing, road excursions, backcountry excursions, rafting and kayaking, jeep and ATV tours, guided hiking, zipline tours and dog sledding.[/accordion]
[accordion title='Getting There']You can get to Denali by car, train or plane. By car, you can reach Denali at Mile 237 on Highway 3. The entrance is about 240 miles north of Anchorage and 120 miles south of Fairbanks. By train, the Alaska Railroad, which connects Anchorage to Fairbanks, runs directly through the entrance of Denali. By plane, you can travel to Anchorage or Fairbanks from other parts of the country, but then you'll have to use a car, bus or train to get to the park. [/accordion]
[accordion title='Weather']Generally, winter temperatures range from 15 to -50ºF. Temperatures begin to rise in March and rivers begin to melt in mid-June. July is typically the warmest time of year with highs in the 60s and 70s. Check weather here.[/accordion]
---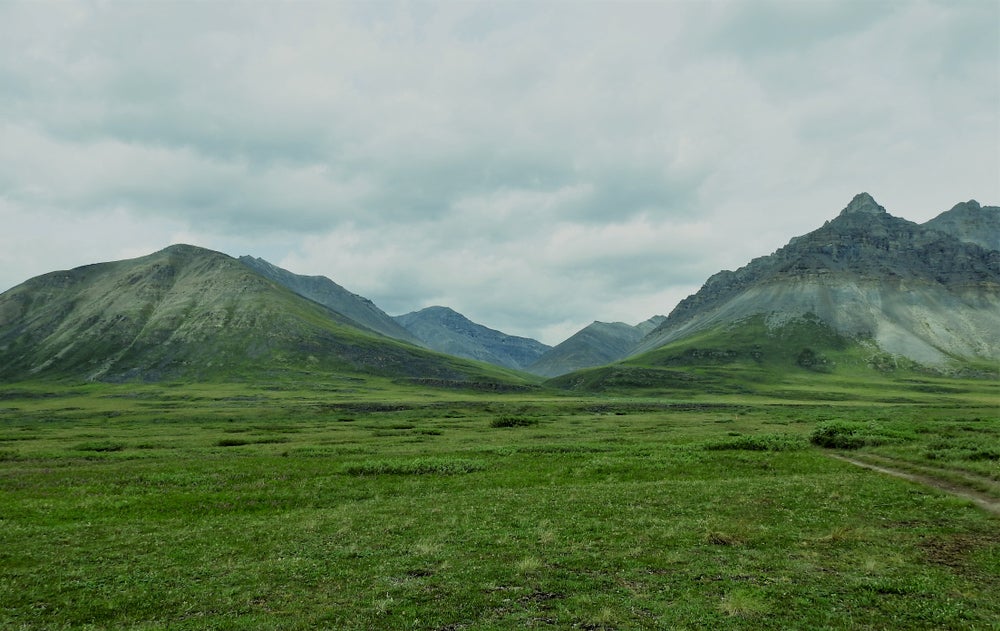 The Gates of the Arctic National Park (abbreviated as GOA) is the northernmost national park in the U.S. and the most remote national park in the entire U.S., as it receives a mere 11,000 visitors each year. This seems especially drastic compared to the 11.3 million yearly visitors of Great Smoky National Park, the most visited national park in the U.S. This Alaska national park is particularly remote because of its location and difficult access. There are no roads to the national park and it is only accessible by floatplane.
Although seemingly intimidating because of its remoteness, the opportunity to discover the 8.4 million acres of expansive wilderness is well worth the expedition. Upon exploring this faraway and exquisite land, you'll find six wild rivers that carve through the rugged Brooks mountains range, the chance to see the aurora borealis, and a myriad of wildlife that makes this national park in Alaska one of the last truly wild places on Earth.
With great remoteness comes great responsibility. So remember to plan well for zero designated campgrounds, no established trails, and no roads into or inside the park. There are also no visitor services, so travelers to the park must be self sufficient. But that leaves a lot of room for flexibility and creativity.
[accordion title='Things to Do']
Day Hiking / Backpacking / Camping
Hiking and Backpacking in this Alaska national park allows for recreation in solitude and a natural quiet like no other. Lakes and gravel bars also provide limitless camping opportunity.
This is not an area for someone new to orienteering. Hikers and backpackers should be well equipped with maps, compasses and GPS devices. Plan and prepare effectively. If you are not an expert in orienteering, a guide service is recommended.
Plan to do less mileage than usual as a backpacker. Because of the boggy ground, alder thickets and rugged terrain, backpackers typically only travel between 5 or 6 miles each day.
There are also several rivers in this area and likely that you will have to cross one or more during the journey. Water levels fluctuate continuously throughout the spring and summer season, so check with a ranger to make sure they are safe to cross during a hiking or backpacking trip.
Hiking / Backpacking Tips
Walk above the treeline to avoid bushwacking or being slowed down.
Walk in streambeds if the water level is low.
Using a topographic map and a high quality compass or GPS device
Use game trails when possible to minimize impact on vegetation and for ease of travel.
When not hiking on game trails, use fan formation rather than single line to minimize impact.
Bring trekking poles
Floating
If you enjoy rafting, there are several rivers to choose from. The most popular choice is a float down the Noatak River. Alaska Alpine Adventures offers guided rafting tours and is well renowned for doing so.
[/accordion]
[accordion title='Guided Tours']Alaska Alpine Adventures offers 3 major trips including a variety of backpacking, hiking, and rafting opportunity.
[/accordion]
[accordion title='Getting There']A common route to get to GOA is to fly into Fairbanks and take two flights on float planes. From Fairbanks, fly into Bettles, then from Bettles, fly to Noatak River.[/accordion]
[accordion title='Weather']Generally, winter temperatures range from 15 to -50ºF. Temperatures begin to rise in March and rivers begin to melt in mid-June. July is typically the warmest time of year with highs in the 60s and 70s. Check weather here.[/accordion]
---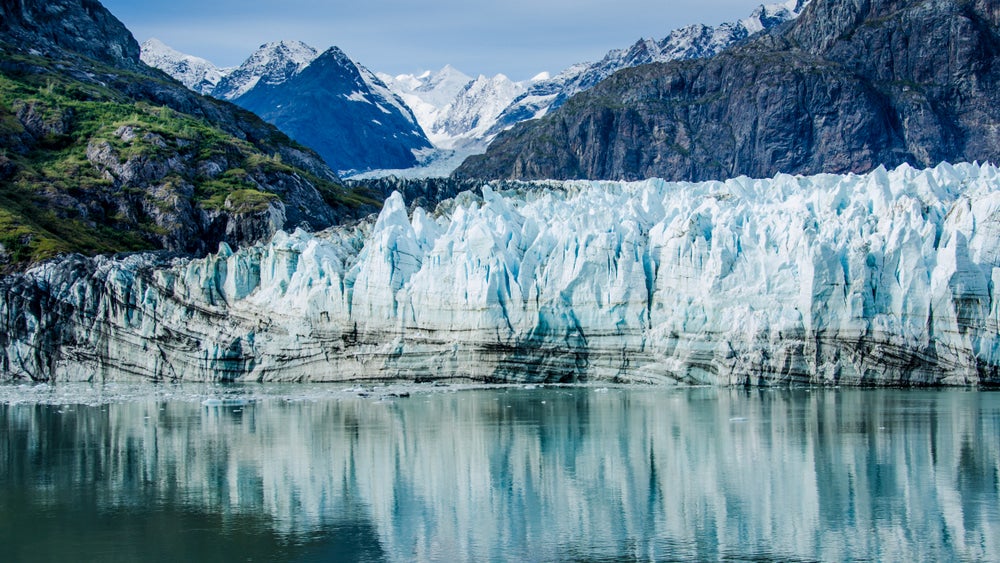 Glacier Bay National Park is located in the midst of emerald green forests and pristine waterways that make up southeast Alaska. It is known as a "spiritual homeland" for the Huna Tlingit, the indigenous people of Glacier Bay that have created and maintained sacred traditions in this territory.
This 3.3 million acre national park and UNESCO World Heritage Site has a rich landscape and is filled with biological and physical wonders including over 1,000 glaciers and 15,000 foot peaks. Glacier Bay boasts classic Alaskan beauty like massive mountains and glaciers, but is a unique national park in Alaska for its wild coastlines, fjords and a temperate rainforest. The variety in landscapes gives you the chance to boat or kayak through deep glacial fjords and inlets or hike through emerald green forests.
For the science lover, Glacier Bay is known as being a "living laboratory" and is one of the largest biosphere reserves in the world. This is due to the park's retreating glaciers that have exposed land that is filled with marine and terrestrial life. These areas are carefully preserved for scientific research. Scientists of multiple disciplines conduct research in this "living lab" for management and ecosystem research.
[accordion title='Things to Do']
Camping
The only maintained campground in the park is Bartlett Cove Campground and is only accessible by foot. It is located in a scenic forest with views along the shoreline where visitors often see and hear whales. Fire pits with firewood are available at the campground. A permit is required to camp here and available is at the visitor center.
"Make sure to bring everything you need, including water and bear protection, and definitely stop into the ranger station to learn bear safety and to secure your spot. This campsite had so much character. I think it'd be a great way to introduce kids or adults to backpacking, it adds some backcountry feel but you're not all that far from your car and civilization if needed. Highly recommended!" –The Dyrt camper Justin S.
Other that Bartlett Cove, there are no designated campgrounds in this Alaska national park, so you are free to roam. Camping in Glacier Bay's backcountry also requires a permit. You must attend an orientation to obtain the free permit. Check in with a ranger for more information on where you'd like to explore.
Hiking
The few designated trails in the national park begin from Bartlett Cove. Their difficulty levels range from easy to moderate, and a few off the chance to explore the shoreline. You can see several of the hikes below. Tip: Shoreline and gravel stream beds provide easier terrain and routes.
Kayaking
Glacier Bay is infamous for its water, so kayaking is one of the most popular and idea activities to partake in here. Kayaking is an incredible way to see the inlets, fjords and glaciers that makes this national park in Alaska so special. Visitors typically launch from Bartlett Cove, or boats can transport kayakers through a camper drop off service provided by the National Park System. Glacier Bay Sea Kayaks also provides guided, overnight kayak and camping trips for multiple nights if desired. Kayak rentals are also available in Gustavus.
Boating
The vast majority of visitors experience Glacier Bay by boat. Travelers will have the chance to see the tidewater glaciers, as well as inlets, lagoons, and islands. There are private vessels available for rent, cruises, and tour vessel options.
Indoor Lodging
If you would like to enjoy an indoor lodging experience, Glacier Bay Lodge offers a beautiful wilderness view with cozy rooms, a restaurant and tour boat that leaves daily from the lodge[/accordion]
[accordion title='Guided Tours']We recommend Glacier Bay Sea Kayaks for your guided kayaking experience and Uncruise for an intimate, small-cruise tour.[/accordion]
[accordion title='Getting There']Glacier Bay can only be reached by boat or plane. By flight, first fly to Juneau which is easily accessible from Seattle and Anchorage. From Juneau, fly to Gustavus. Alaska Airlines offers daily flights between the two towns. Visitors can then rent a car or catch a taxi to Bartlett Cove where there is lodging and visitor center to begin the trip. You can also take a ferry via the Alaska Marine Highway System from Juneau to Gustavus.[/accordion]
[accordion title='Weather']Glacier Bay mild winters and cool summers. It is very rainy, especially in late summer and fall, so good rain gear is essential. Check current conditions here.[/accordion]
---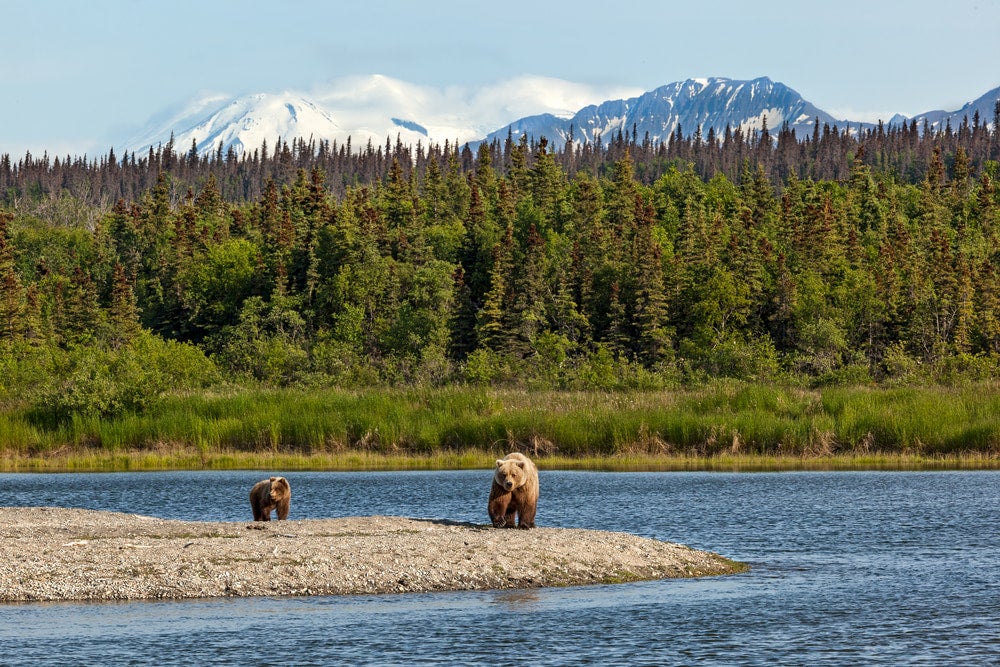 This Alaskan national park is 4 million acres of geological phenomena. It is home to the world's largest and most powerful volcanic eruption of the 20th century – the 1912 Novarupta. Because of this, Katmai was established as a national monument in 1918 to protect the volcanically devastated region.
Katmai is famous for being an important habitat for sockeye salmon and thousands of brown bears. At Katmai, you have the opportunity to study and view the bears in their natural habitat. There is also an important spawning and rearing ground for sockeye salmon within the park, which helps sustain one of the largest and economically significant salmon runs in the world.
[accordion title='Things To Do']
Bear Viewing
Katmai National Park is one of the premier brown bear viewing locales and serves as a preserve for these beloved creatures. There are 2,200 bears in this region, an important feat in preservation due to the world's declining bear population. There are unrivaled viewing opportunities in Katmai, but remember to keep your distance and respect the bear's space. See chart below for the best places and times of year to view the bears.
Valley of Ten Thousand Smokes
The 1912 eruption of Katmai's Novarupta Volcano caused the landscape to change drastically. This eruption left 40 miles of land covered volcanic deposits 700 feet deep. This eruption was 10 times more vigorous Mount Saint Helens' eruption in 1980. You can now tour this area take a scenic drive to an overlook with valley vistas and wildlife view opportunity. Katmailland offers tours to hike down to the valley with a guide and explore the pumice valley floor if desired.[/accordion]
[accordion title='Guided Tours']Book sportfishing tours, bear viewing tours, lodging and more with Katmailand.[/accordion]
[accordion title='Getting There']There are air taxi flights to the park from Anchorage, Dillingham, Homer, King Salmon, Kodiak, and other nearby towns and villages. Alaska Air offers regularly scheduled flights to the park from Anchorage as well.[/accordion]
[accordion title='What To Bring']
Waterproof rain gear
Extra food – weather may delay pick-up from chartered aircraft for days
If properly prepared, it's possible to wait out bad weather
Backcountry travelers should have a satellite phone or satellite based text messages in case of emergency
Make extra time for delays and have a backup plan
[/accordion]
[accordion title='Weather']On average, the spring, summer and fall are wet and cool. In the summer, temperatures range from 30 ̊ to 80 ̊ Fahrenheit. Winters are typically dry and cold. Winter temperatures and conditions vary with temperature varying anywhere from -35 ̊F to 50 ̊F.[/accordion]
---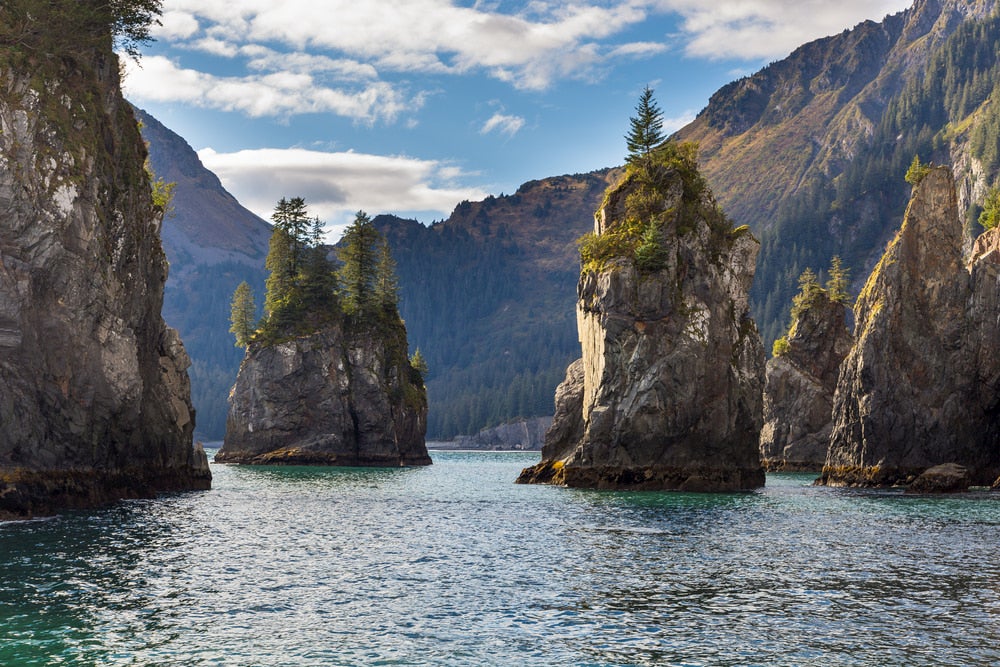 The Kenai Fjords are known as a place where mountains, ice, and ocean meet. Almost 40 glaciers drift from Harding Icefield, the park's showpiece. This infamous icefield is 714 square miles of ice, and one mile thick. It feeds dozens of glaciers flowing from the surrounding mountains. In this Alaskan national park, you'll also find mammoth mountains shooting from glacial inlets and gorgeous views of the Gulf of Alaska.
The Kenai Fjords offer wildlife in abundance as well. There are over 20 species of seabirds, including the objectively precious puffin. You'll find bald eagles swooping to find dinner and falcons hunting along rugged coastlines.
[accordion title='Things to Do']
Camping and Hiking
The Kenai Fjords offers many beautiful coves and shorelines that are accessible by kayak or water taxi, and are great for camping. The National park system advises visitors to be aware of clues in the environment when deciding on a campsite. For example, they advice, "when choosing a landing or camping site, use clues such as driftwood accumulation, beach steepness and cobble size to judge what the wave action is likely to be in storm conditions." Avoid beaches within two miles of any tidewater glaciers and remember to practice LNT among delicate vegetation. We recommend these designated campsites:
You can also stay in one of two backcountry Public Use Cabins in Aialik Bay. If you are interested in hiking the park, we recommend Harding Icefield Trail. It is a popular 8.2 round trip hike which begins at the Exit Glacier.
Sea Kayaking
Sea kayaking is an unforgettable way to explore the Kenai Fjords. You'll be able to explore the tidewater glaciers and have the chance to check out some incredible tidewater mammals like porpoises, sea otters, and various whales. For inexperienced paddlers, a guide is strongly recommended. The fjords are exposed to the Alaska Gulf and the waters are not for beginners as landing often involves surf. Summer storms can bring in large swells and the wind and rain can be excessive. If you have multiple days, check out Resurrection Bay and visit Caines Head and Thumb Cove.[/accordion]
[accordion title='Guided Tours']
Sea Kayaking
For a sea kayaking guide, we recommend the Seward Paddling Association.
Boat tour
Major Marine offers boat tours. The tours depart from Stewart Bay daily during the summer months. Make sure to make reservations well in advance.[/accordion]
[accordion title='Getting There']
By Car
The national park is located just outside Seward, Alaska. Seward is accessible year-round via the Seward Highway, a National Scenic Byway. The 130-mile drive Anchorage to Seward offers spectacular views.
By Train
Alaska's state-owned railroad connects Anchorage to Seward during the summer months (May – September).
By Plane
Air travel to Anchorage (ANC) is the easiest entry to Alaska. Then travel via car, bus, or train to reach the Kenai Fjords. Charter flights may be available to Seward. Contact the Seward Chamber of Commerce for more information[/accordion]
[accordion title='Weather']Weather in the Kenai Fjords is unpredictable and can change rapidly. This, like many Alaska national parks typically has a maritime climate. Summer temperatures range from mid 40s to low 70s F. Winter temperatures range from 30s to -20 F and the park accumulates 200 inches of snowfall annually.[/accordion]
---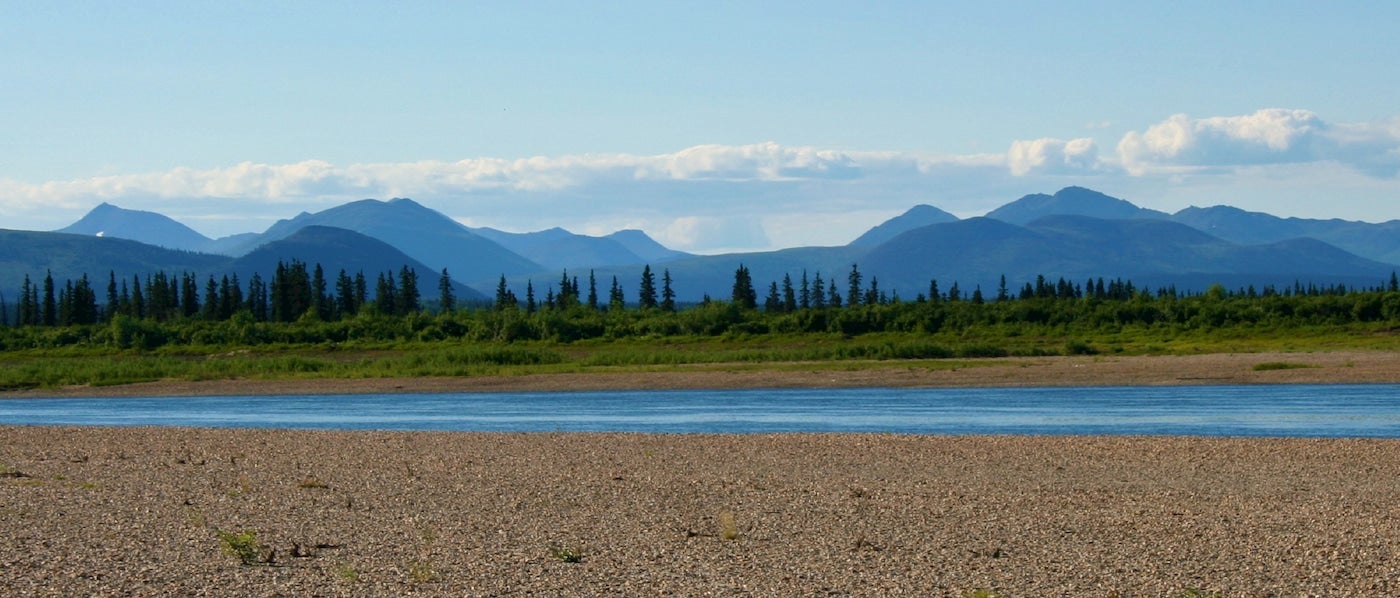 Kobuk valley is one of two U.S. national parks located in the arctic circle. It is abundant in wildlife, famous for its rolling sand dunes and home to an astounding caribou migration.
While wandering among Kobuk Valley, you may be able to see the tracks of the 500,000 caribou that migrate through this area twice each year. If you visit in spring or fall, you may even be able to find the migrating in action.
When visiting this Alaskan national park, you'll likely visit the iconic Kobuk Sand Dunes. They rise unexpectedly from a large forest, and are laid next to the roaring Kobuk Valley. They are the largest "active" dunes in the arctic. Along with Little Kobuk Sand Dunes and Hunt River Sand Dunes, there are a total of 30 miles of dunes placed in the center of the arctic.
On the fringe of the dunes, you'll find black and grizzly bears, wolves, foxes, porcupines and moose.
Visit the Northwest Arctic Heritage Center. There are no facilities in the park itself, but 80 miles southwest, you'll find the heritage center. The center provides information to visitors about the park, orientation, and travel logistics. You can rent bear canisters here as well.
[accordion title='Things to Do']
Camping
Camping in Kobuk Valley provides the opportunity to get away from civilization and soak up the unspoiled wilderness of Alaska. Although camping here is unforgettable, it requires a great deal of planning and orienteering. Come with a map, a compass and a GPS as well as the knowledge to use them. This is also bear country, so remember to rent a bear canister if you do not have your own. The most popular camping in this Alaskan national park is on the Great Kobuk Sand Dunes. Onion Portage on the north bank of the Kobuk river is also a popular destination for camping. In early September, caribou can be found swimming across the river during their migration.
Hiking
Hiking includes exploring tundra and the opportunity to climb peaks in the Baird Mountains or roam among the sand dunes. The mountains are a long distance from the valley, so getting to higher elevations requires trekking through tundra and forest. Plan for short mileage days – 5-6 miles due to rough terrain.
Boating / Floating
A float trip is another great way to see the park. There are 61 miles of river that pass through the park. Collapsible canoes and kayaks are a good option for floating in the park due to traveling by small bush plane. The water is mostly low gradient and slow, and can be difficult to measure flow rates, but the NPS estimates a 5-7 day float from Ambler to Kiana for water flow reference. The Salmon River is another float option. 70 miles of this river floats through this national park, more than any other Alaska national park, with its headwaters in the Baird Mountains. Book a commercial float guide if you do not have your own gear.[/accordion]
[accordion title='Guided Tours']There are a variety of outfitters in Kobuk Valley Air Taxi services, boat services, and hiking and backpacking guides.[/accordion]
[accordion title='Getting There']You can get to Kobuk Valley via Anchorage or Fairbanks, Alaska. From Anchorage, fly to Kotzebue via Alaska Airlines or another commercial airline, then hire an air taxi in Kotzebue for an overflight or drop off/pick up in the park. From Fairbanks, fly with a scheduled air service to Bettles, then hire an air taxi in Bettles for an overflight or a drop off/pick up in the park.[/accordion]
[accordion title='Weather']Summer temperatures in Kobuk Valley ranger from mid 60°s F, with 70s to 80° for highs. Winter lows can range from -8°F to -50°F. However, in summer, visitors can see snow, near-freezing temperatures, and long periods of clouds, wind, and rain, so be prepared.[/accordion]
---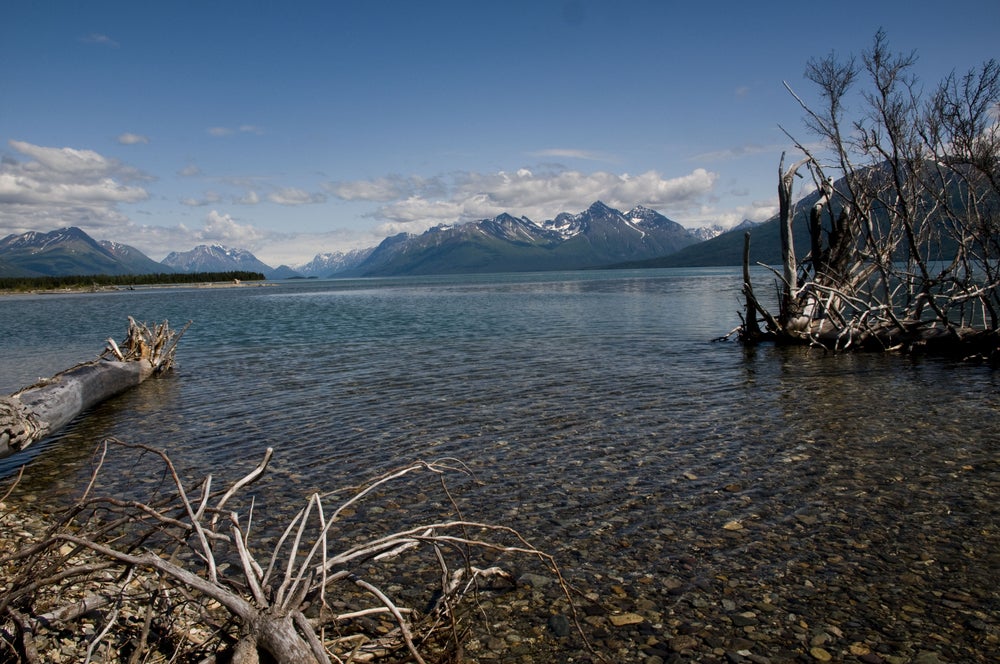 Lake Clark is an Alaskan national park of unrivaled beauty. You'll find yourself in awe hiking amongst volcanoes, witnessing salmon runs, or soaking your feet in glorious, emerald rivers.
Lake Clark is also home to a rich, indigenous culture. The ancestral Dena'ina people walked the lands of Lake Clark, a traditional hunter gatherer group with a matrilineal system. The Telaquana Trail system in the park is a route that is culturally significant to the Dena'ina people as it memorializes the social, economic and ceremonial practices created on this route.
[accordion title='Things To Do']
Port Alsworth Village
Port Alsworth is a small village accessible by bush plane with access to hiking trails and lakes. It is a great homebase for any backcountry adventures following your arrive in Lake Clark. The national park's visitor center is here as well, so this is where you'll obtain a backcountry permit. Port Alsworth is family-friendly. There are several lodges and lakeside adventure opportunities for the whole family. Tanalian Falls is a great place to go hiking or fly fishing, or you can camp at Kontrashibuna Lake. We recommend kayaking from Port Alsworth to Tommy Island.
Hiking and Backpacking
Hiking and backpacking is very popular in this area. However, the only developed trails in the park are part of the Tanalian Trails network near Port Alsworth. So, like many Alaskan national parks, hiking is allowed anywhere not claimed by public use. This calls for a great deal of preparation, especially when fly-in backpacking. You are completely on your own for resources. Tip: Plack plenty of food, water and supplies before getting on the plane or other form of transport. Bear containers are required in most areas and bear deterrent is encouraged.
Suggested Backpacking / Hiking Routes: Telaquana Route – 5-7 days Hope Creek Route – 1-2 days Low Pass Route – 1-3 days Upper To Lower Twin Lakes Route – 10 miles Fishtrap Lake to Snipe Lake Route – About 10 miles. Depends on the route.
Camping
Kontrashibuna Lake is a great place to start on a backpacking trip for this Alaska national park.
"…we hiked with our gear out to Lake Kontrashibuna, past Tanalian Falls, and to Lake Kontrashibuna. There are no designated sites, but some areas that were clearly used for that purpose. Ours was nestled along the lake, with great views and perfect hammock trees for napping." –The Dyrt campers SwitchbackKids
Pro tip: Bring a battery pack. Batteries die quickly in the cold in Alaska, even the summer. So bring an extra pack and keep batteries warm by your side.
Kayaking / Canoeing
There are numerous lakes and rivers in Lake Clark. Kayaking, canoeing or rafting its waterways can be a peaceful and unique way to enjoy this and many other Alaska national parks. Because access to this Lake Clark is mostly by plane, this creates challenges for kayakers and canoers. According to the NPS, "a full-size boat, people, and gear won't fit in a smaller plane." Inflatable kayaks and canoes are a good alternative option for a small plane. Talk to the air taxi service you'll be using to make sure they can accommodate your trip. Hiring a guide may also be a good alternative and can allow you to travel lighter. Renting gear from local shops may be more convenient as well, as they specialize in gear that fits in small planes.
Rafting
There are three National Wild Rivers in Lake Clark, popular for floating. They are swiftly paced rivers with some sections of whitewater, but are not the best riverways if you are looking for endless whitewater.
Rivers
Tlikakila National Wild and Scenic River River rating: WW III – WW I Best time of year: July – September Common trip length: 70 miles Mulchatna National Wild and Scenic River River rating: WW III – FW Best time of year: June – September Common trip lengths: 100 to 230 miles Chilikadrotna National Wild and Scenic River River rating: WW III – FW Best time of year: June – September Common trip lengths: 70 to 200 miles when combined with Mulchatna on its lower end (only the first 12 miles are listed as wild). Safety for all floating and paddling experiences:
Keep calm and pay attention to the weather
Waves that are small in the morning and afternoon can become large waves within a couple hours
Be prepared and bring layers for the frigid water and windy / wet weather conditions.
Always wear a personal floatation device
[/accordion]
[accordion title='Guided Tours']Check out Alaska Alpine Adventures guided kayaking or hiking tours.[/accordion]
[accordion title='Getting There']Lake Clark National Park and Preserve is located north of Katmai National Park, 65 air miles northwest of Homer, and about 120 air miles southwest of Anchorage. There are daily flights to the park from Anchorage. The park is not located along the road system, so you have to travel by plane or air taxi to begin your adventure. Make sure to decide the intent of your trip because all planes are different. The intent of your trip will make a difference if you choose a plane or air taxi.[/accordion]
[accordion title='Weather']The coast and the interior have differing climates. The coast is typically foggy and wet with an annual rainfall of 40 to 80 inches, while the interior as an annual rainfall of 17 to 26 inches. The coast has mild winters, whereas the interior can get down to -40 F.[/accordion]
---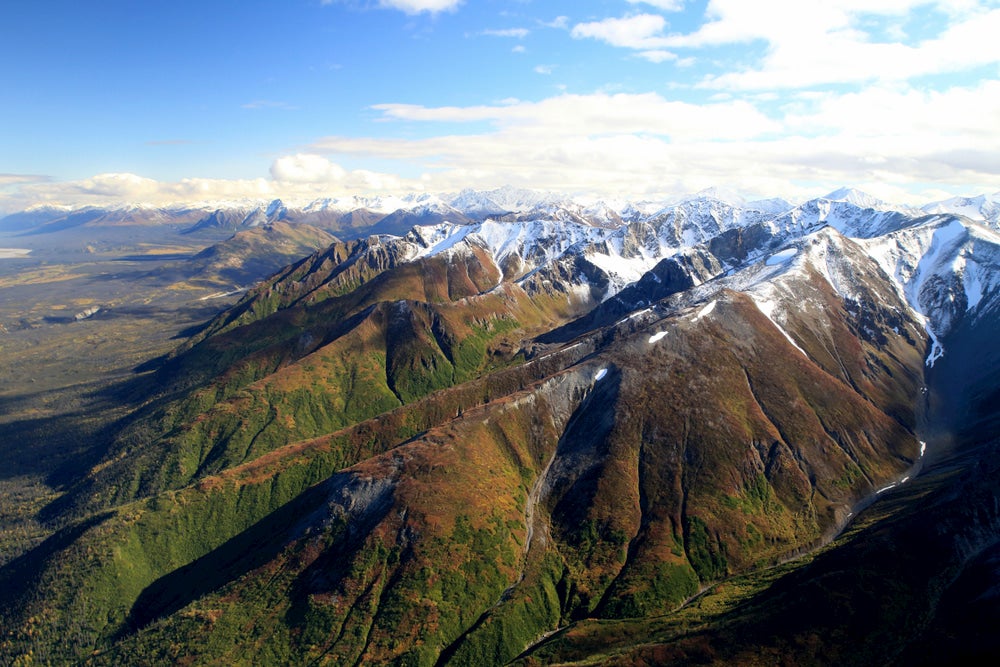 Wrangell-St. Elias is a land of superlatives. It is the largest national park in the entire United States. For scale, it can fit six Yellowstones within its boundaries. It also contains 16 of the tallest peaks in the United States. The Hubbard Glacier is the largest and most active tidewater glaciers in North America. So, everything considered, it's massive, rugged and beckoning for you to make a leap to adventure in its grandeur.
Visiting this land of extremes allows you to sample Alaskan wildlife, hike its tall mountains, float the rivers in the park, see the geological phenomena by flight, or ski its glaciers.
Caribou and Moose roam the park, sea lions and seals play along the coast, salmon and a variety of fish swim its rivers, and migratory birds rule the air.
[accordion title='Things To Do']
Kennecott Copper Mine
This copper mine operated from 1911 to 1938 and tells the story of ingenuity of the early 1900s in the last frontier. The copper from the mines was used to to build railroads and supplies for WWI. The mine extracted ore from surrounding mountains and processed the mill in the the town. At its peak, Kennecott employed 500 to 600 men. During its operation, $200 million worth of copper was processed here – that's $3.6 billion in 2019 dollars. By 1938, declining profits and increasing cost of railroad repairs led to the closure of the mine. The Kennecott mine is remote, even by Alaskan standards, and is only accessible by small plane or the McCarthy Highway, but a beautiful and historic landmark in this Wrangell-St. Elias.
Day Hiking
There are plenty of day hiking options in Wrangell-St. Elias. We have organized them by access area.
Nabesna Road Area:
Caribou Creek Trail: 6 miles round trip, 800' elevation gain Skookum Volcano Trail: 5.5 miles, 2,800' elevation gain McCarthy Road Jumbo Mine Trail: 10 miles round trip, 3,400' gain
The Wagon Road: 9 miles round trip, easy day hike Yakutat and Coastal Area Harlequin Lake Trail Situk River Trail
Backpacking
We've come up with a couple of trails for you to enjoy on your backpacking adventure. It is important to be safe, so remember to follow food storage regulation. These trails require intensive planning and often there are no marked trails. Hiring a local guide may make your trip more convenient, safe, and enjoyable. Near Nabesna District: Soda Lake Trail – backpacking (25 miles) Trail Creek – Lost Creek Loop (21 miles) Near Kennecott District Nugget Creek Trail – 30 miles round trip Donoho Basin – 7 miles round trip
Camping
We recommend camping amongst gorgeous, towering mountains at Jumbo Creek.
"Camping here requires a 1.5 trek to and from your site everyday, but if you can get past that, your time here will be unforgettable. Our site here provided possibly the best view we ever had while camping all across the U.S. last year." –The Dyrt campers SwitchbackKids[/accordion]
[accordion title='Guided Tours']The National Park System provides a list of guided tours and other services.[/accordion]
[accordion title='Getting There']The park is broken up into 5 areas with different activities and services than be found in each district. Travel times between these areas can be much longer than smaller national parks, so planning your visit carefully is important.[/accordion]
[accordion title='Weather']Because this national park is so huge, there are multiple climates within the park's boundaries. Most of the park however has a continental climate, which has long, cold winters and short, warm summers. Check out more information on seasonal weather in this Alaskan national park on the park's NPS website.[/accordion]
---
Related Campgrounds:
Seward RV Park, Seward, AK
K'esugi Ken Campground, Denali State Park, AK
Seward Alaska RV Park, Seward, A
Alaska Acres, Seward, AK
Tulchina Adventures, Alsworth, AK
Popular Articles: