Picture this: The blue sky, the trees, and the mountains frame two people who stand smiling in front of their friends and family. Their wedding vows are spoken over the sound of leaves rustling gently in the breeze. The dresses and tuxedoes, or mud boots and raincoats, fit perfectly with the natural surroundings. In the background, a few tents are visible through the trees. A camping wedding can look like any outdoor wedding, until you realize the bride's dressing room was an RV and the reception dinner is bubbling over a dutch oven on a nearby open fire.
Our favorites kinds of love stories happen in the outdoors. And a wedding at your favorite campground is a great way to share your passion for all things outdoorsy with your friends and family.
A Camping Wedding Is Better—And Easier—Than You Think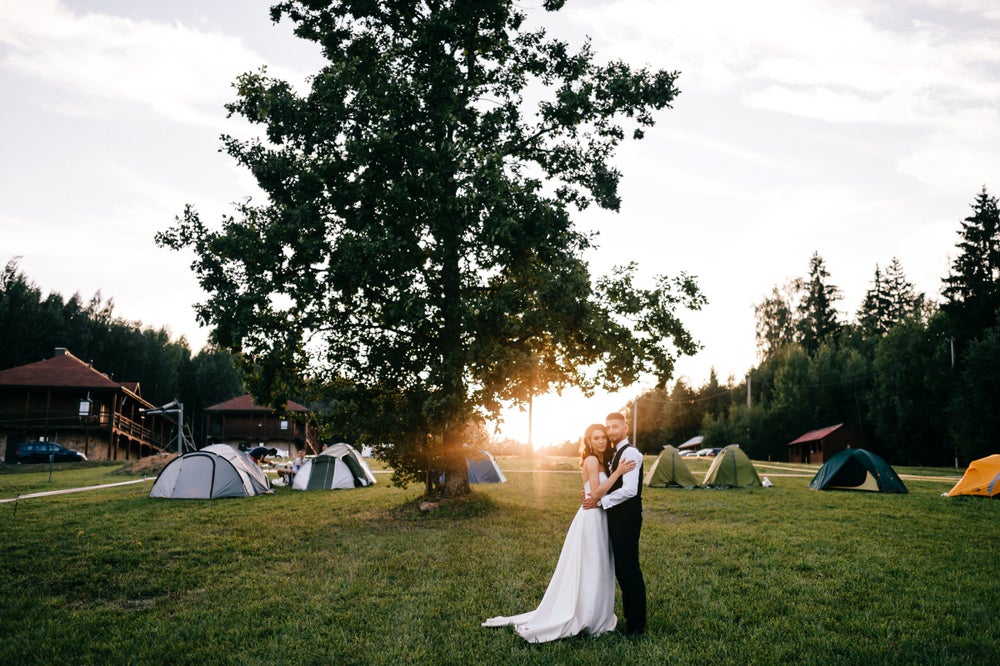 A campground can be a canvas for a unique wedding that reflects the things you really love. Forget a stuffy reception line and neon laser lights. There are so many ways to make a campground wedding your own. Bring on the quirky campfire traditions and cozy footwear. Tell the stories and the jokes that only work with the stars in the sky above you.
1. First, Make Sure You Want A Camping Wedding
We know that most of our readers are passionate, experienced campers. Yet, planning a camping wedding can seem overwhelming, even for the most experienced outdoors-people. You might be experts on fixing a hole in your tent during a rainstorm and crafting the perfect s'mores, but when you add all of your friends and family to the mix, and the high expectations of your special day, things can get a little more complicated.
Ask yourself:
Are you OK with the unpredictability of the weather?
Can a campground accommodate the elements that are most important to you, like a dance floor or comfortable places for older family members to sleep?
Will your guests already have the gear they need, or can you make it accessible to them?
If some guests don't love camping, will you provide other options nearby?
There are lots of different elements to consider when planning a camping wedding. Still, we think it's worth it, to celebrate a special day in a place that's truly special to you. Plus, campgrounds tend to be a whole lot cheaper than more traditional wedding venues.
2. Tailor the Guest List Accordingly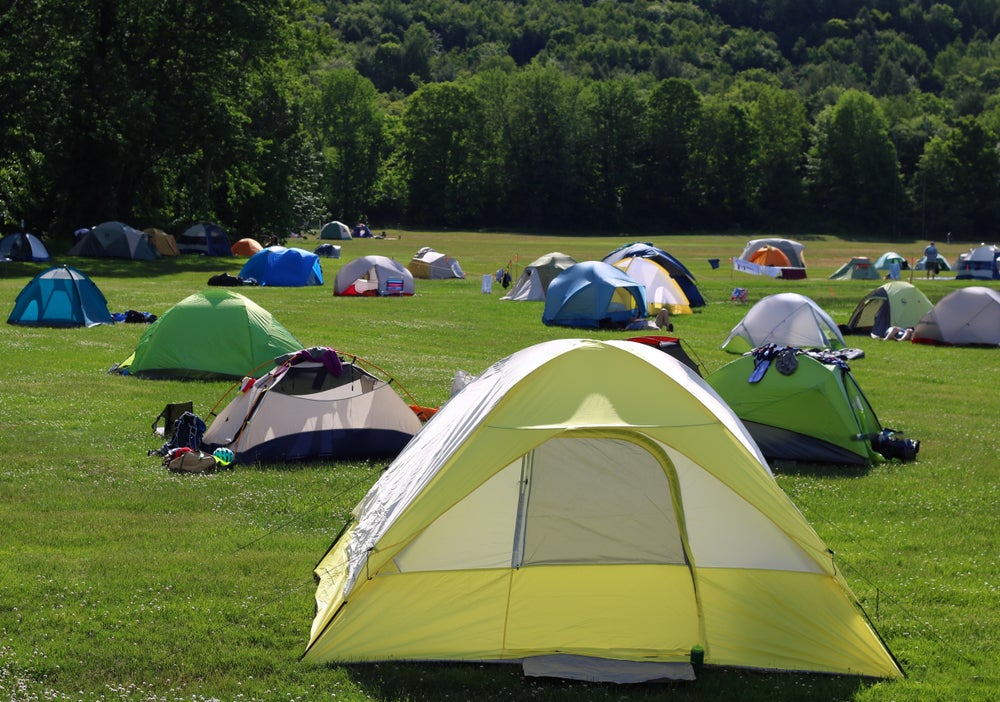 Once you have chosen to host your wedding at a campground, establishing the guest list is one of the very first steps. The size of your guest list will dictate what size campground you'll need to find, how much space you'll need to reserve, and what type of activities and food will be manageable.
The guest list decisions for an outdoor wedding can be one of the most stressful. The people you invite will have an impact on every other decision you make in the planning process. Not only should you consider who you'd appreciate in your party, but who could handle the involvement you're looking for at a campground wedding? This DIY wedding approach works best when everyone helps out.
Many people who are determined to have a camping wedding discover that they have to trim the list again and again. Make sure that the people you invite will feel comfortable and come with the right expectations for the experience.
If you are torn by the need to invite everyone, but can't make it work, consider throwing a celebration party after the wedding for those who may not be comfortable in the outdoors.
3. Align Expectations with Invitations
For a camping wedding, communication is crucial (and we're not just talking about using walkie talkies at the campground). On your invitations, or in some other way, clearly explain the conditions which guests can expect. Maybe find a cute way to say it's ok to wear sneakers, or that they should all bring a rain jacket just in case.
Will guests be staying in tents, cabins, or nearby hotels? How much of the day or the weekend will be outdoors? Be thorough in your details.
Make sure that your directions to the campground are 'out-of-town' proof, and if guests are going to lose cell phone reception, give them a heads up. You might want to provide a map of the area and the campground.
If guests know what they are getting into ahead of time, they are much more likely to enjoy themselves. And if it doesn't sound like their cup of tea, they'll send a polite no, and both of you will be happier.
4. Considerations for Choosing a Venue/Campground
Choosing a venue for many means starting with a significant location—this is no different when thinking about a campground wedding. A favorite state park or trailhead, or maybe a local ranch are the places to begin.  After you have a dream list of destinations for a successful camping wedding, you need to face some tough choices. Ask yourselves:
Do they allow weddings?
There are several public lands campgrounds that don't allow for weddings or other events. This is often because of abuses from past users, but be sure to call campground owners and managers to check.
Does it have good accessibility?
Depending on who you plan to invite, you need to acknowledge that not everyone may be able to access the campground. Is there an airport within reasonable driving distance, or will you need to rent a shuttle? Do any of your guests need ADA access?
How big is it?
Again, this goes back to the guest list. How many sites do you hope to have available? What about RV hook-ups for dressing rooms? Will any guests require nearby hotels? Make sure that any group site you reserve is ready to allow as many guests are you are hoping for.
What is the bathroom situation?

If you and your partner are used to cat-holes and groovers, vault toilets may be a luxury. The question is, will they be enough for your guests? Go a day early to check up on the conditions of these facilities. If they are less than desirable, consider bringing some backup options. It might not be the most desirable part to plan, but you and your guests will be thankful.
What season/weather will your venue expect?

The elements are your biggest variable in a camping wedding. Depending on the date, you may be up against heat, summer storms, humidity, bugs, or very cold nights, wind and even snow. The more variable the weather, the more extensive the preparations you need to make. Picture what the worst-case scenario would be for that time of year, and make sure you are okay with that.
5. K.I.S.S. (Keep It Simple, Stupid)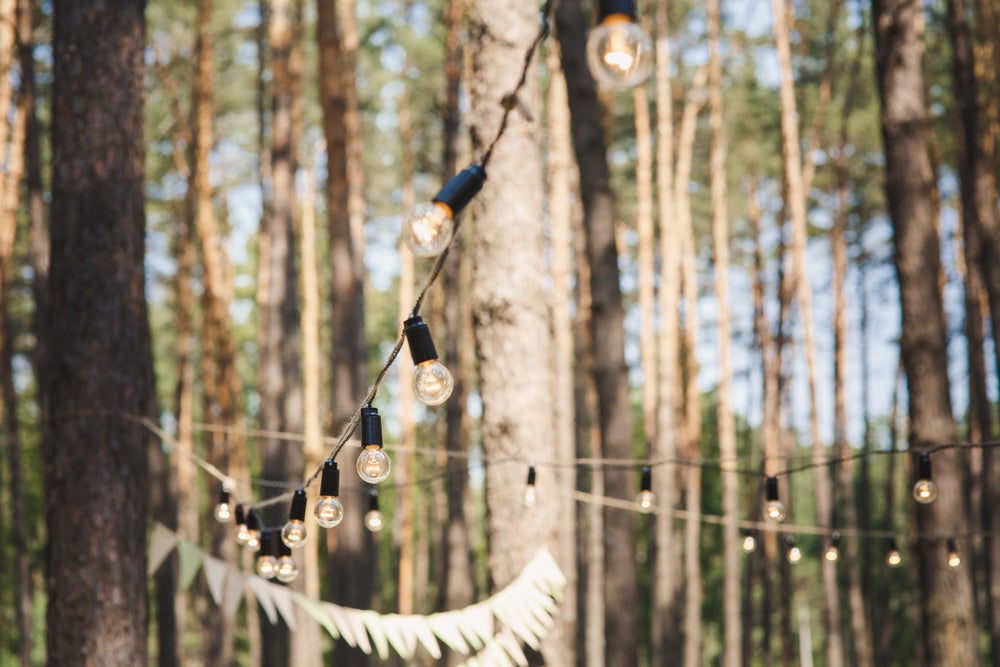 You chose a camping wedding because you love the simple pace of the outdoors. Remember this as the planning progresses, and avoid the urge to complicate things. A camping wedding really shines when it happens in harmony with the outdoors. Here are a few ways to keep it simple.
Ceremony
Although you need to prioritize the traditions you value, keeping the ceremony short for a campground wedding really increases the chances of it being successful. The ceremony is the only time everyone really needs to be all sitting or standing still in the same place, so the shorter it is, the less likely it is that mother nature will find a way to complicate things.
BYOS (Bring-your-own-seating)
Chair rentals are ridiculously expensive, and often involve complicated logistics for bringing them to a remote location. Ask invited guests to bring camp chairs for themselves, and don't worry about a bride-and-groom-sided seating arrangement. Remember that you plan to keep the ceremony short, so the perfect rows of chairs you see in photos are not probably not necessary.
Decorations
You already chose the most beautiful place you could think of, so let go of the pressure to put something man-made on every surface. Remember that wind is the enemy of canopies, drapes, and tablecloths. Seasonal flowers are essential because hot-house imports will not last long enough for a whole ceremony.
Gifts and favors
For outdoor weddings, the favor should reflect the experience. Because the guests will have to find their way back to tents, consider something relevant like a mini flashlight engraved with the date. For the backpackers out there, maybe a bandanna for every guest?  If you do a traditional wedding registry, you will have to make a plan for getting all the 'stuff' from the wedding site back to your real-world life. More and more new couples are less interested in stuff and more ready to invest in experience. Set up a classy way for people to donate to your next big adventure!
6. Campground Reception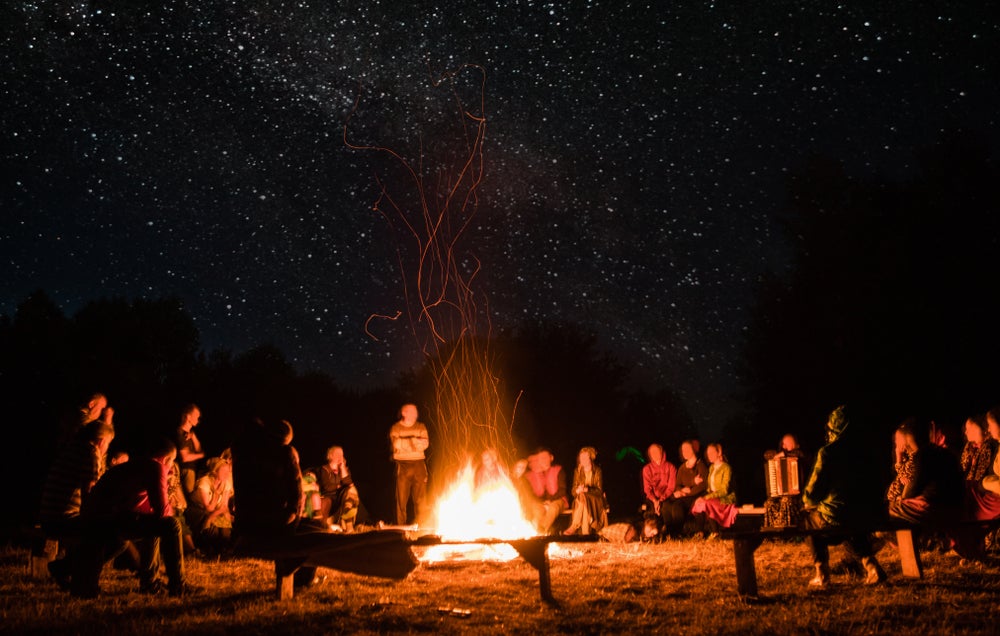 The reception can be one of the most daunting portions to plan, simply because trying to plan out what people will enjoy is a fool's errand. Here are a few considerations to keep in mind for the hard-to-plan parts at a campground wedding.
Music
Live music is a great option for a camping wedding, but again, remember to keep it simple. If you can't find or don't know of a band in your price range, load up some durable outdoor speakers with your favorite playlists and set to shuffle. One of your friends will inevitably end up DJ'ing anyway. The idea of a dance floor is nice, but getting one to your chosen site may be more trouble than it's worth. Again, just make sure to prepare your guests for the conditions. Research whether the campground you chose has 'quiet hours' which might conflict with some of the reception activities.
What to eat

Camping weddings are a great time to introduce your loved ones to your favorite local eatery with on-site catering. Food trucks can bring the dinner to you, and it takes away the complication of setting up a kitchen with all the necessary gear. For small weddings, maybe you do choose to bring out your favorite outdoor recipe. Remember that you will not, and should not, have the time to cook your own food. Ask one of your savvy outdoor friends to take over the cooking in lieu of a gift. Check out some of these great dessert recipes. A s'mores bar is always a hit with the kids, and the adults. Bring a mix of ingredients for stacking into this traditional campground treat, like cookies in place of graham crackers, or peanut butter cups for the chocolate.
Bonfire

Just as it is for any camping trip, a great campfire is the heart of the evening. Make sure to check fire restrictions and bring plenty of fuel. Set up a solar charging station for phones and other devices where guests can make sure their phone cameras are fueled up for the evening.
Share your big day with The Dyrt community by uploading wedding photos to your venue's campground page!
---
Related Articles:
Popular Articles: