Calling all powder-lovers and curious campers: we've rounded up some of our favorite spots for snow camping in 2022. Snow camping is a great way to try something new and keep the adventure going year-round—and there's nothing quite like feeling the cool air on your face as you snuggle into your sleeping bag.
Luckily, snow camping is entirely customizable for your desired level of comfort. The best way to stay nice and snug is to make sure you have all the proper gear—and be sure to check out our handy tips for staying warm. If you're not sure you want to go full send and try snow camping in a tent, you can try RV or van camping somewhere powdery, where you'll be sure to have a nice cozy bed at the end of the night. Before you head out, make sure to read up on road conditions, and bring chains or use proper snow tires for your vehicle.
Spring's around the corner, but there's still time to chase snow camping this season. When you're ready, you can find inspiration for your snowy adventure—and free camping—with The Dyrt PRO. Get access to our BLM and USFS land maps to find dispersed camping, plus more great tools.
Snow Camping in California
Named after its dramatic rock formations, Castle Crags is popular with local Californians, PCT through-hikers, and travelers heading along I-5. If you want beautiful views for your snow camping adventure, this park certainly delivers, with peaks ranging from 2,000 to 6,000 feet in elevation. You can even see Mt. Shasta on a clear day.
Castle Crags State Park is a great option for first-time snow campers. Aside from the chill, you won't be giving up many comforts of home with the campground's heated bathrooms with flush toilets, token showers, and fire rings for staying nice and toasty. The park was built before Interstate 5, and therefore some of the closer sites mean road noise—but luckily with snow camping in Castle Crags, you'll likely run into fewer visitors and have your pick of campsites.
---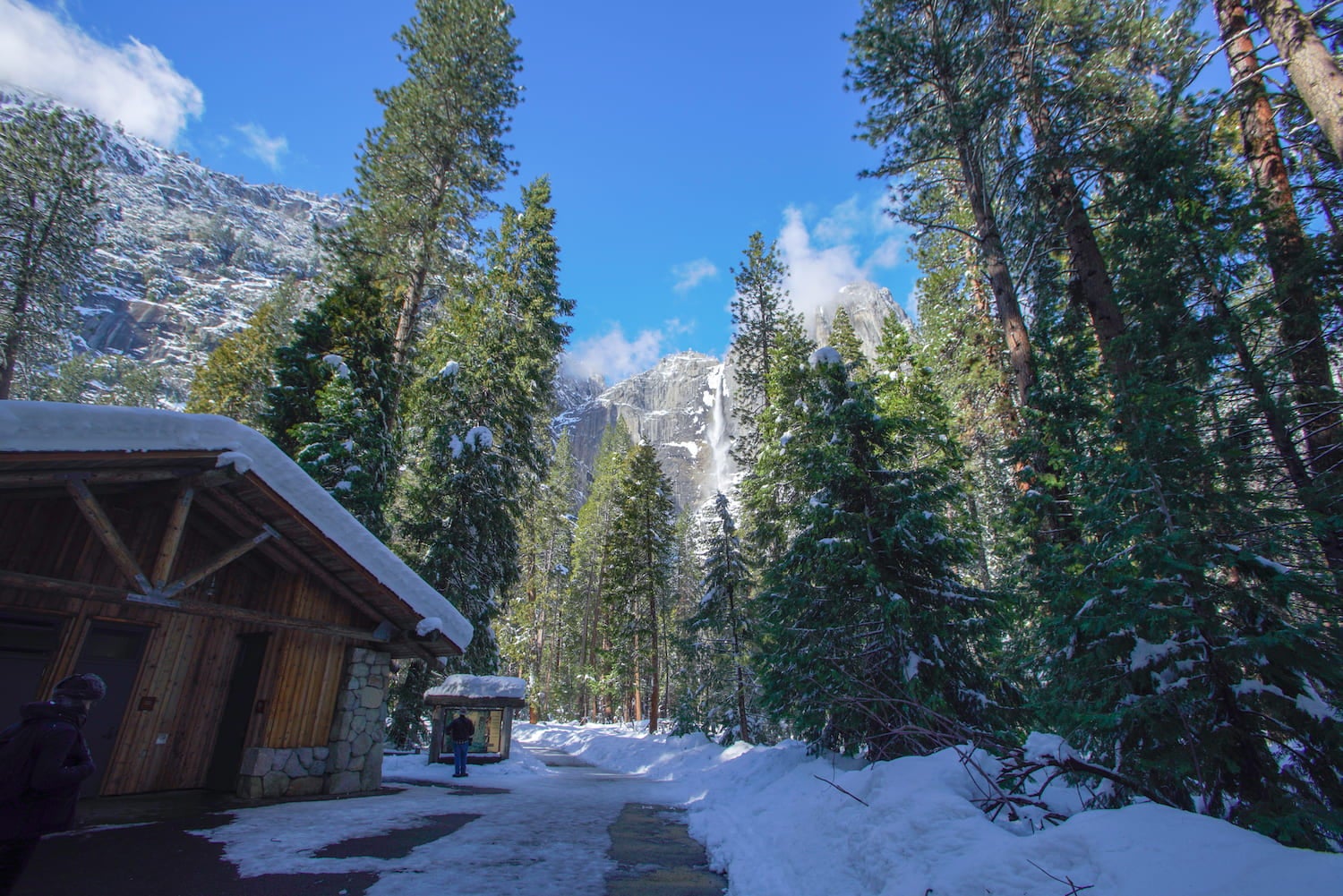 Speaking of having popular places all to yourself, snow camping in Yosemite is a great way to experience this world-famous park sans crowds. While Castle Crags affords a comfortable escape in an established campground, a wintertime visit to Yosemite is ideal for the adventurous at heart.
While certain areas of the park are closed in winter—Tioga Road and the Tuolumne Meadows area, Glacier Point Road, and Mariposa Grove Road—there are still plenty of ways to explore on a winter camping trip. In fact, it's quite the adventure, and not for beginners. Travel through the backcountry is done by snowshoe or ski, and with trails and markers often covered in snow, route-finding and navigation skills are a must. The Badger Pass Ski Area is a great option for snow camping in Yosemite for folks who want an easier alternative. Roads to this area are maintained and you'll find trails from beginner to advanced, all of which are marked with tree signs for visibility.
---
Snow Camping in Oregon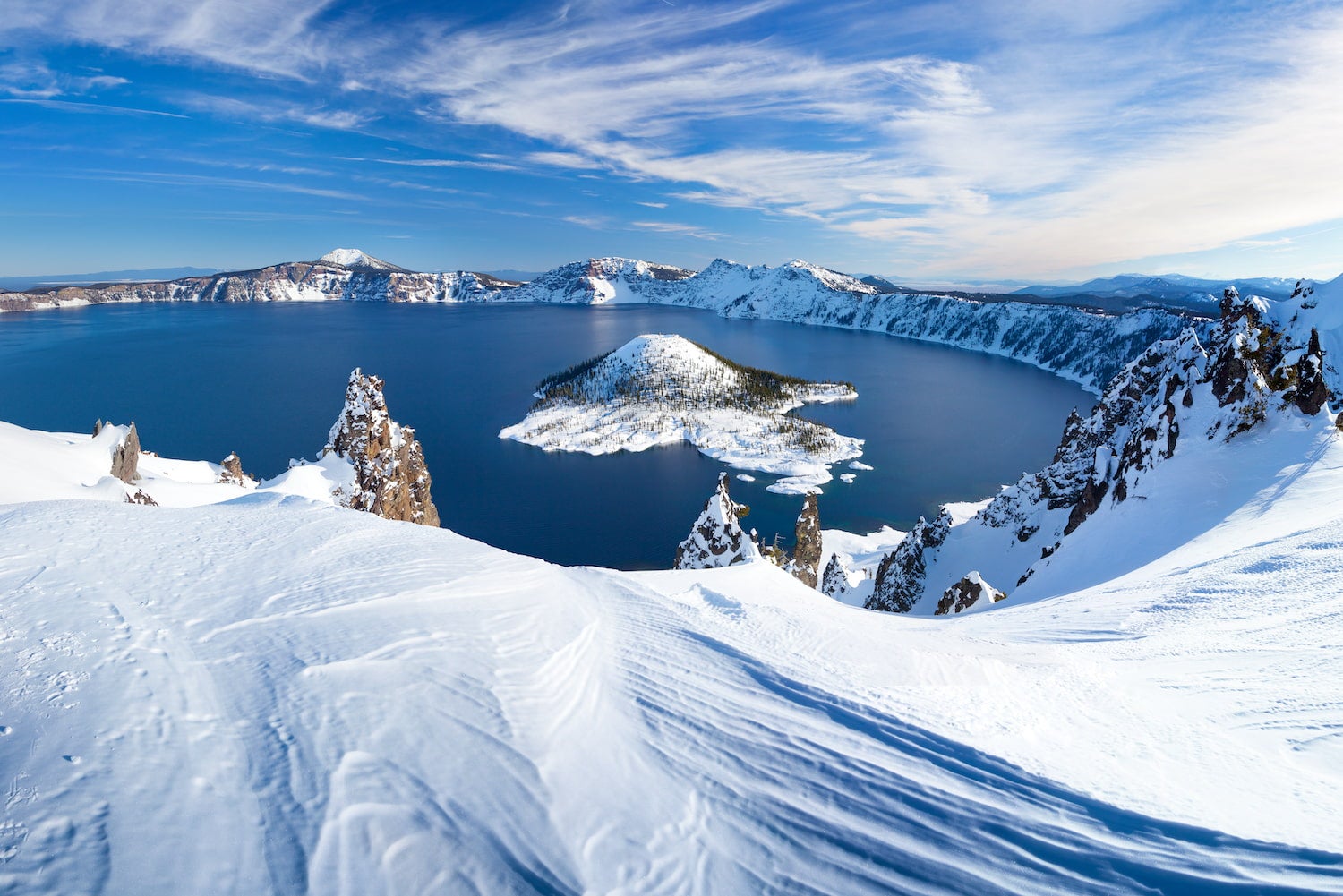 At 1,493 feet deep—the deepest in the United States—Crater Lake is absolutely a must-see regardless of the cold. While winters in the Pacific Northwest can often mean gloomy days, you'll find more wiggle room in Central Oregon. With 200 days of sun per year, you can plan around the weather to be sure you get those beautiful lake views.
Snow camping in Crater Lake National Park requires backcountry camping, as all campgrounds in the park are closed for the winter. There are several Sno-Parks about a 15- to 30-minute drive outside the park if you prefer the comfort of a van or RV, but road closures can mean a longer commute to and fro. If you're up for the adventure, grab your skis or snowshoes and hit the trail. You can camp along Crater Lake's rim—staying at least 100 feet back from the caldera—with a backcountry permit.
---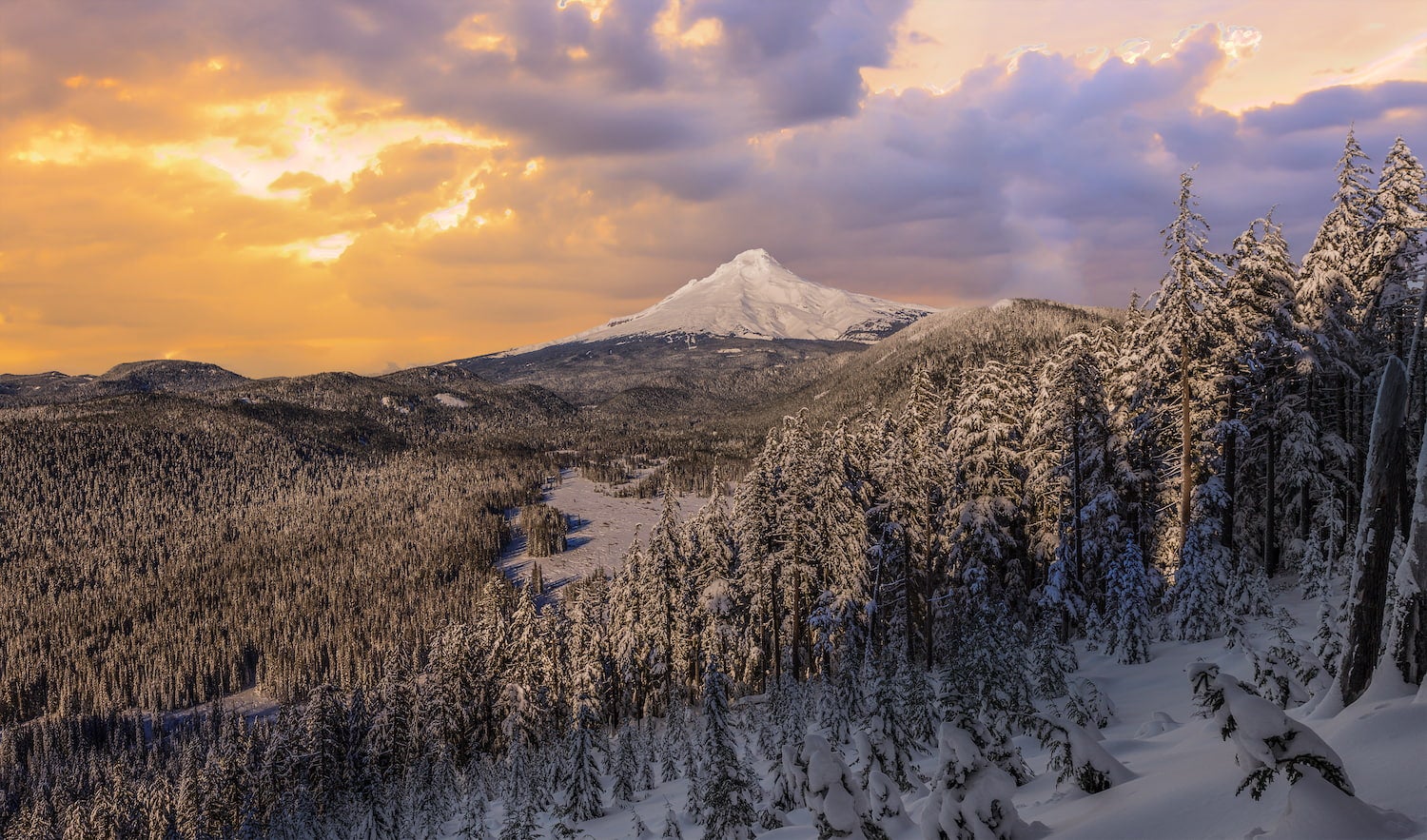 If it's those moody Pacific Northwest vibes you're after, you'll have better luck snow camping near Mount Hood. Here you'll find dense, lichen-covered pine forests, lakes, and waterfalls, many of which are a short drive away from your campsite, with lower elevations that allow for exploring. This national forest offers plenty of dispersed camping for RVs, tents, and vans, from inconspicuous pull-off spots to designated sites with fire rings.
With a Sno-Park pass, you can head to popular Trillium Lake, whether you're making a day trip from your campsite or snow camping in the parking lot. The trail is ideal for snowshoeing and cross-country skiing, and you can even walk or ski out onto the lake if it's properly frozen enough, or try your hand at ice-fishing. You just might even catch views of majestic Mount Hood from the lake.
---
Snow Camping in New York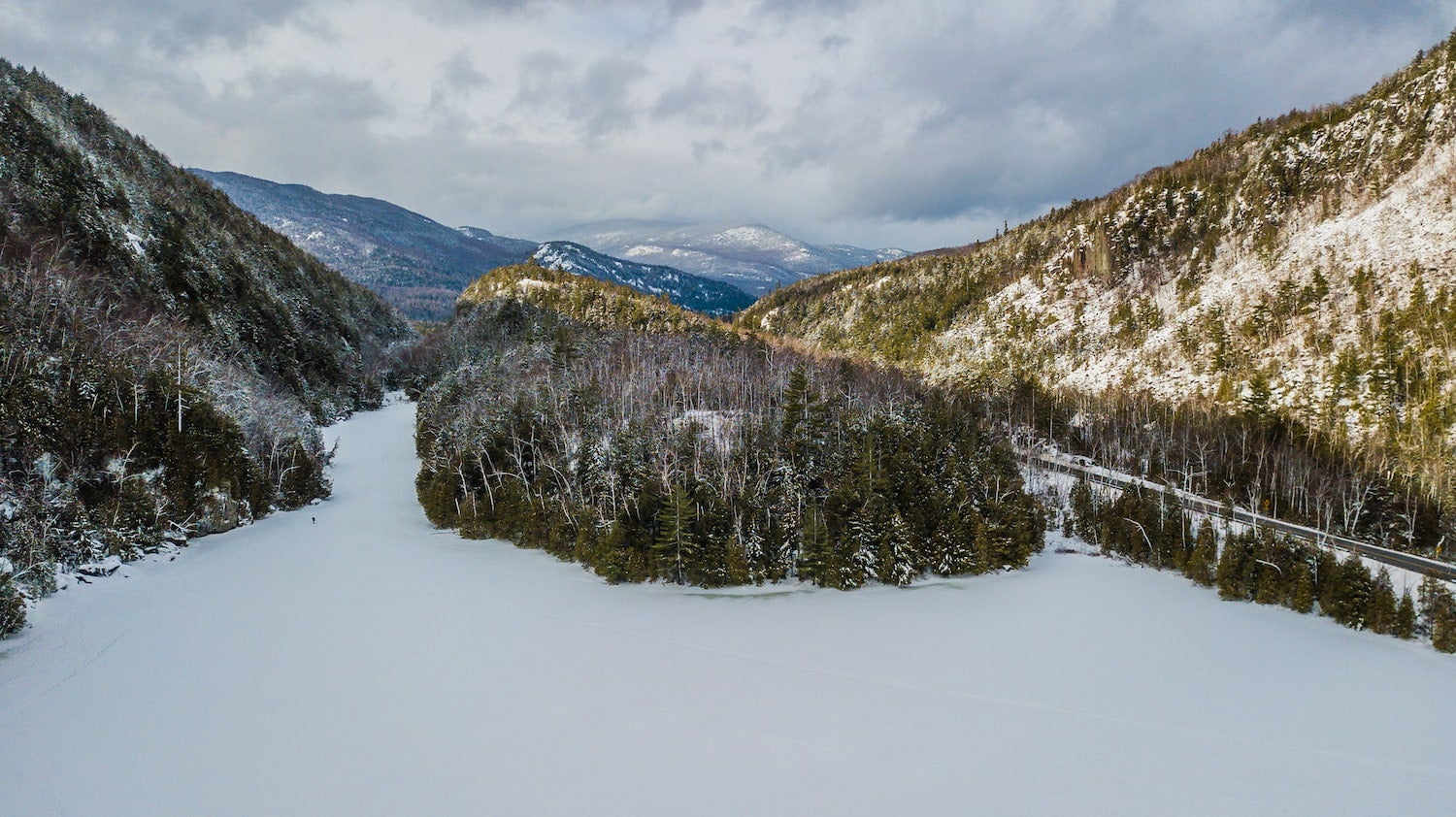 Snow camping in the Adirondack Mountains provides a unique winter experience: lean-tos! Typically, these three-sided log huts lean against the wall of a larger building, hence their name, although in this case, they're standalone huts. There are about 200 lean-tos in the Adirondacks, so with proper planning, odds are you'll come across more than one in your adventures snow camping in New York.
Try the dispersed campsites at Cranberry Lake, one of the largest lakes in the Adirondack region. Here you'll find miles of snowmobiling, skiing, and snowshoeing trails, perfect ice fishing conditions, and two lean-tos. These huts can sleep between seven and eight people, but be aware that you must share a lean-to with anyone else who wishes to use it (you probably won't run into many other folks while snow camping, though.)
---
The Catskills may be known for their ski resorts and summer camps, but the cross-country skiing terrain is certainly worth exploring on your New York snow camping trip. Any foot trail, horse trail, or snowmobile trail is fair game in the Catskill Forest Preserve, and cross-country skiing is a fun way to get from place to place on your winter backpacking trip.
Head to North/South Lake Campground for four miles of trails and the rare chance to enjoy the largest, most popular lake in the Catskills all to yourself. Enjoy the conveniences of the established sites with fire pits and picnic tables.
---
Snow Camping in Washington
If you're seeking a powdery adventure in the Evergreen State, we've got you covered. Snow camping at Lake Wenatchee State Park is your ticket to 30 miles of groomed cross-country skiing trails, a groomed sledding hill, 10 miles of marked snowshoe trails, and even dog sledding. Trails range from beginner to advanced, so there's something for everyone to enjoy.
Heated restrooms and warming huts allow for cozy breaks during your days of exploring—and with an average snowfall of 150 inches, you're almost certain to get your fix of fresh powder. Plan your Washington snow camping trip at one of the many campsites along the lake, complete with fire ring and beautiful views.
---
With 1.5 million acres to explore, it's no surprise that Colville National Forest has made the list of our favorite Washington snow camping. Although it's located east of the Cascade Mountains, this forest still exhibits the traits of its more westerly counterparts. Its three mountain ranges—the Okanogan, Kettle River, and Selkirk—lead into the Rocky Mountains and provide beautiful views.
Perhaps our favorite thing about this forest, though, is Snow Peak Cabin. We know, we know: some will say that this isn't snow camping in its truest form. But you can still ski or snowshoe your way to this rustic log cabin and that counts for something. Standing at 6,400 feet of elevation, this tiny cabin is equipped with a wood stove, solar lighting, sleeping cots, and more.
---
Snow Camping in Colorado
Whether you're escaping the city or just passing through, snow camping in Golden Gate Canyon is a must. Its prime location—only 30 minutes from downtown Denver—means that the park can be very busy during the peak season, although the winters usually see a lull.
Reverend's Ridge Campground is a great option to set up camp for your Colorado snow camping weekend. Here you'll find fire rings and drive-in camping, so you don't truly have to rough it (just be aware that the campground showers and dump station close during the winter.) If you're packing in any ice fishing gear, you can head to one of five fishing ponds that are open year-round.
---
When you think of snow camping, you probably aren't imagining sand, too—but that's what's so unique about Great Sand Dunes National Park. Great Sand Dunes receives snow from November through March, with the heaviest snowfalls typically arriving in December. You'll find all kinds of campsites to choose from within the park, whether you're bringing your RV or backpacking.
While it's more difficult to catch the snow on the dunes as it melts so quickly, worry not: many local gear rental companies supply sandboards, so you can still experience that downhill rush even if the powder is contained to the mountains. When it comes to snow camping in Colorado, Great Sand Dunes is a great, easy-to-access option with versatile camping opportunities.
Plan your snow camping adventure
Ready to chase the powder on your own? Access exclusive maps to find free camping and more with The Dyrt PRO.
Popular Articles: