Shoshone National Forest is an unexpected, must-visit camping destination—it might even replace Yellowstone on your camping bucket list. 
---
As we entered Yellowstone National Park, my wife and I felt a rush of adrenaline from being in such a world-renowned place. Mesmerized by geothermal steam clouds and bubbling mud holes, we almost missed the collection of cars pulled over on the side of the road.
Crowds of people were snapping pictures as a massive grizzly bear sauntered along a thin stretch of beach. As it ambled away, everyone jumped back in their cars and raced off, either to follow the bear or beat the masses to the next wildlife encounter.
This was a big moment for us; it was the first grizzly bear we had seen while together. Also, it solidified something we had been thinking for a while: it was time to leave Yellowstone and look for a more secluded campsite.
We drove east into the Shoshone National Forest, stopped at a visitor center, and asked a ranger for recommendations. He sent us to Wapiti Campground, at the far eastern end of the national forest. We don't remember your name, Mr. Shoshone National Forest Ranger, but we love you.
Shoshone National Forest is Your Peaceful Escape From Yellowstone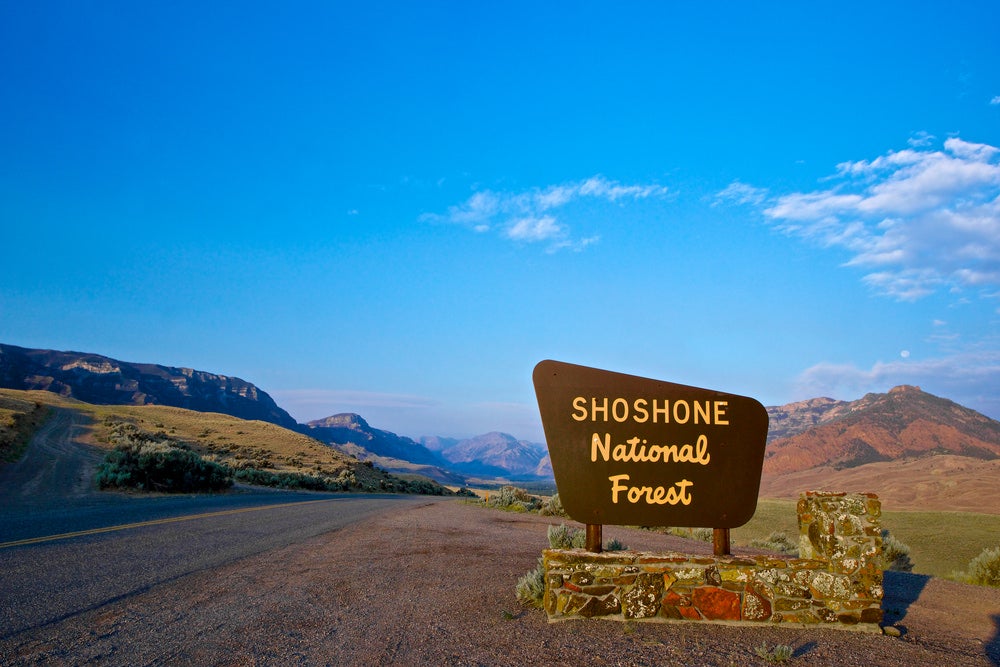 Shoshone National Forest surrounds the eastern boundary of Yellowstone National Park and weaves south towards the middle of Wyoming. It also borders the Bridger-Teton National Forest, separated by the Continental Divide, and Grand Teton National Park is to the west. Shoshone National Forest was the first federally protected forest in the United States. Since it was never heavily settled, the forest retains most of its wildness.
The national forest is home to grizzly bear, moose, cougar, tens of thousands of elk, and the largest herd of bighorn sheep in the country. The streams are also teeming with some of the best game species fishing available. With over 1,300 miles of hiking trails and 32 campgrounds, there are plenty of opportunities to experience the wildlife.
At 2.5 million acres, Shoshone is slightly larger than Yellowstone National Park, which comes in at 2.2 million acres. But the difference in traffic is significant—Shoshone gets about half a million visitors per year, while Yellowstone racked up over four million visitors in 2018. Yellowstone is truly a legendary park. But if you want to enjoy it without the crowds, Shoshone National Forest is a perfect place to set up camp.
What to Do in Shoshone National Forest
With such expansive terrain, there's an array of activities for Shoshone National Forest campers.
Climb Wyoming's Tallest Peaks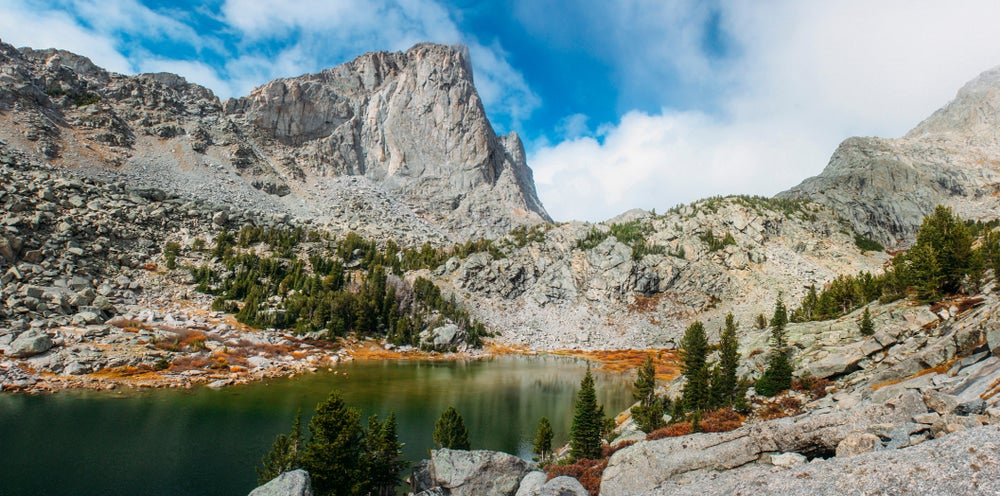 For mountain climbers, the southern section of the Shoshone National Forest is basically nirvana. Here, the Wind River Range has nine of the 10 highest peaks in Wyoming. Rock climbers could spend a lifetime scaling all the cliffs and sheer granite rock walls. If you want bang for your buck, the Cirque of the Towers contains several peaks, some of which consistently rank among the top climbs in the United States.
While there are some opportunities for amateurs, the major peaks and rock walls are for very experienced climbers only. No matter your level, consult local officials and climbing outfitters for best practices.
Next Level Trout Fishing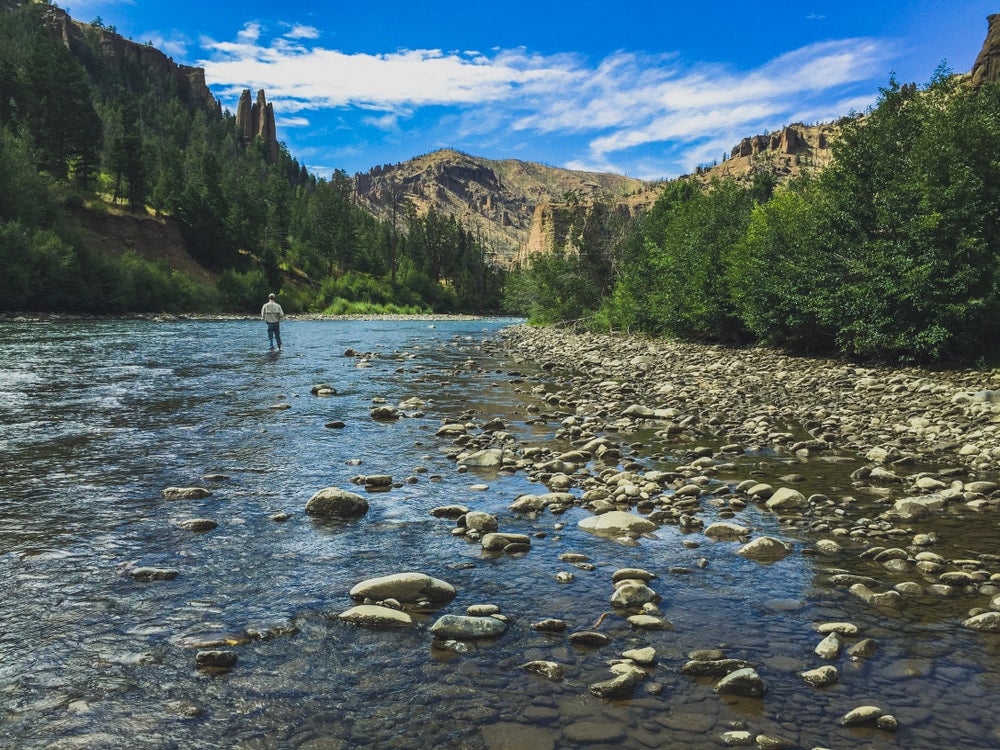 Shoshone National Forest has some of the best game species fishing opportunities in the United States. Most notably, trophy-level rainbow and Yellowstone cutthroat trout can be caught on the Shoshone River, the Greybull River, and the Clark's Fork of the Yellowstone. The latter is the only federally-designated Wild and Scenic River in Wyoming. There are over 1,000 miles of streams and over 100 lakes available for fishing. So even in the busiest of fishing seasons, you'll find room for casting and relaxing.
Explore the Massive Backcountry
The Shoshone National Forest includes five wilderness areas and three mountain ranges. With over 1,000 miles of trails there are plenty of day hikes, but also more challenging treks for backpackers. Many destinations like the Blackwater Natural Bridge, a natural arch located above 10,000 feet, can only be viewed from backcountry trails.
There is plenty of backcountry camping available, accessible by hiking or horseback. Consult updated maps and speak with rangers to learn about the best spots for backcountry camping at Shoshone National Forest.
Drive a Scenic Byway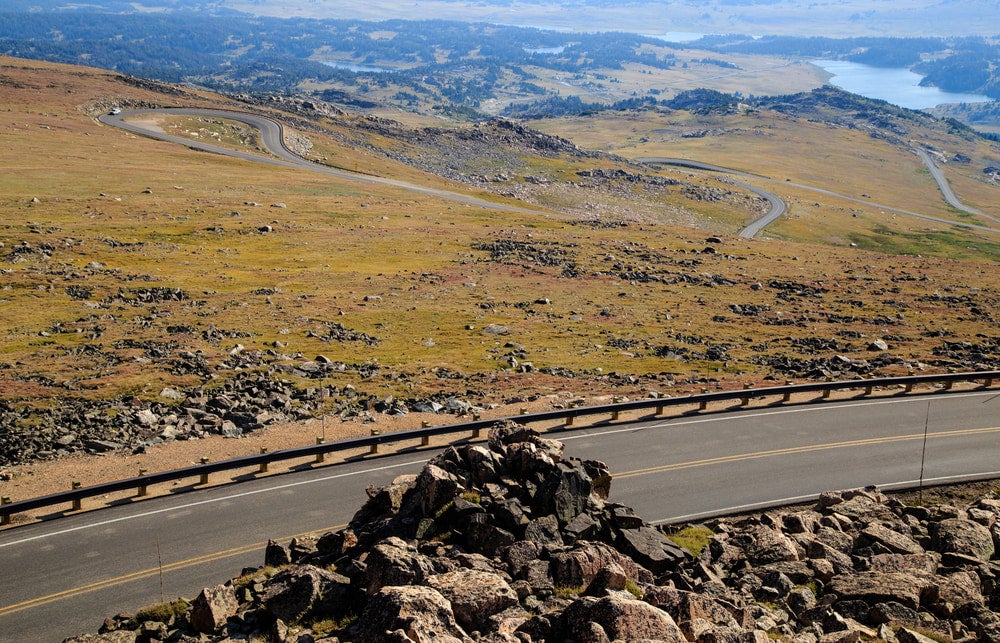 Not every Shoshone National Forest camper is game for getting lost in the wilderness, or dangling from a rock face hundreds of feet off the ground. If you're like me and have a small child or two in tow, sometimes all you need is a good scenic drive during nap times.
The Beartooth Highway is a federally designated National Scenic Byways All-American Road, which means that it's an awesome drive. While serving as the northeastern entrance to Yellowstone, it's also an exceptionally beautiful route through the forest, zig-zagging along the edges of mountains and valleys. Keep an eye on the weather report—It can snow in the middle of summer at Beartooth Pass, which is nearly 11,000 feet above sea level, and also attracts strong winds and severe thunderstorms.
Other nearby scenic roads include the Chief Joseph Scenic Byway, the Buffalo Bill Cody Scenic Byway, and the Wyoming Centennial Scenic Byway, all of which have been designated as Wyoming State Scenic Byways. So if you love a good scenic drive, or need something satisfying to do during nap time, opportunities abound.
Where to Camp in Shoshone National Forest
With dozens of developed campgrounds, and plenty of dispersed camping and backcountry camping, Shoshone National Forest is a quieter alternative to the crowds of Yellowstone National Park.
Wapiti Campground is about 20 miles from the east entrance of Yellowstone National Park, along Buffalo Bill Cody Scenic Byway. At $20 a night for single units with electricity, or $15 per night for single units with no electricity, it's a steal. Sites are reservable, and each have tables, campfire rings, and food storage lockers. There's potable water, vault toilets, and trash collection.
There are over 40 campsites at Wapiti, most of them just steps from the North Fork of the Shoshone River. Our campsite had direct river access just a few feet away. Across the river, foothills and mountains created a near-perfect view, and the rushing river was the background sound for getting one of the best nights of sleep I've ever had.
A trailhead at the campground leads into the Washakie Wilderness via Elk Fork Creek. Wapiti is the American Indian word for "elk," and there's a good chance you'll see some. You'll find hiking, backpacking, and fishing opportunities too.
The wild west town of Cody, Wyoming is 30 miles away. It's named after Colonel William Frederick "Buffalo Bill" Cody, and has become a hub for outdoor recreation. For a quintessential diner breakfast in Cody, stop at Our Place, a quirky café boasting home cookin' & 25 cent coffee.
On our way to Cody we saw a moose gingerly attempting to cross a rushing creek, and nobody else was around the entire time. It was a complete opposite experience to our Yellowstone grizzly bear.
"We stayed here for 6 nights and loved it, it's close enough to Yellowstone and Cody that you can go either way. Also near Buffalo Bill dam!" — The Dyrt camper Michelle Y.
Rex Hale Campground is even closer to Yellowstone, with 30 large sites along the North Fork of the Shoshone River. Visit popular destinations like Mummy Cave and Blackwater Trail, or the Firefighter Memorial a few miles west of the campground.
The fees are also inexpensive, at $15 or $20 a night, depending on your electricity needs. Potable water and vault toilets are available, and they have reservable sites. Just steps from the campground you can access hiking, fishing, and wildlife viewing.
"We were visiting Yellowstone and camped here, just 15 or so minutes from the northeast entrance. It was early June and we did not have a reservation, but we almost had the place to ourselves. It is a nice flat campground full of beautiful wildflowers and scrub bushes." — The Dyrt camper Tonya Y.
This slightly smaller campground is even closer to Yellowstone's east entrance. While it has hiking and horseback riding options, there are a few restrictions. Due to potential grizzly bear activity, tents and pop-up campers are not allowed—only hard-sided camping. Sites are first-come, first-served and there is no electricity.
Eagle Creek offers easy access to both Yellowstone and the Washakie Wilderness. Two nearby trailheads lead into the wilderness area, with corrals for public use. Cross the river on a beautiful footbridge to enjoy an abundance of juniper, fir pine, spruce, wild roses, and wildflowers. Vault toilets and potable water are available, and fees are only $15 per night.
"This campground, like others near the east gate of Yellowstone National Park, is a terrific alternative to the crowded campgrounds in the park itself. Most sites have both shady and sunnier spots. In early summer, the wild roses are beautiful." — The Dyrt camper Gretchen B.
Deer Creek Campground is a much further drive from Yellowstone, about two hours. However, the tiny campground with only six spread-out sites is ideal for Shoshone National Forest campers looking for a more private experience while still being able to day trip into Yellowstone. Plus, it's free.
The Deer Creek Trail leads into the Washakie Wilderness, and it's just a short hike to scenic Deer Creek Falls. The primitive campground does not have water or electricity, but does have vault toilets, and it's open year round. Campsites are not reservable and there is a 16-day stay limit.
"It's a 42 mile drive out of Cody to this campground so it was relatively quiet with few other campers. The sites are large and far apart. It's a great place to camp. Beautiful, private and free!" — The Dyrt camper Mark P.
Dispersed Camping in Shoshone National Forest
If you really want to get away from the Yellowstone spillover crowds, camping is free in the remote areas of Shoshone National Forest. You won't get toilets, drinking water, or tables, but you will get solitude.
Like most dispersed national forest camping, your site must be 200 feet from trails, lakes, or wet meadows, and 100 feet from streams or creeks. Dispersed camping is not allowed in the North Fork Canyon area, and includes the area half a mile on either side of U.S. Highway 14/16/20, between the boundary of the national forest and Yellowstone. In this area, all camping must be at developed campgrounds.
For more information on dispersed camping rules, regulations, suggestions, and best practices, see the Shoshone National Forest website.
---
Related Campgrounds:
Popular Articles: