Camping foods are traditionally heavy on the meat, with burgers cooked over the open fire, BBQ grilled chicken, bacon and eggs, and pork and beans all being campsite staples. However, vegetarian camping meals are also popular as easy, less-expensive answers to meat-heavy meals. What's more, vegetarian foods typically require less refrigeration, a bonus if you're in the backcountry.
12 Vegetarian Camping Meals You Can Make at the Campground
These 12 vegetarian camping meals are quick, easy and healthy (well, mostly…), and they all have a good balance of nutrients, keeping your body properly fueled for all your high-energy camping needs. Whether you're a carnivore or a strict vegetarian, these recipes will satisfy your cravings.
Vegetarian Breakfast Meals for the Campground
These vegetarian camping meals for breakfast will undoubtedly replace your bacon-and-eggs menu.
Chickpea Flour Breakfast Scramble
Chock full of protein, fiber, B vitamins and ridiculously good flavor, this breakfast scramble from Fresh Off the Grid is not only nutritious, it's vegan, and a little fancier than the typical camping breakfast. It'll definitely impress your campsite mates.
Chickpea Flour Dough Ingredients:
1 cup chickpea flour
1 cup (minus 3 tbsp) water
3 tbsp aquafaba* (liquid reserved from the can of chickpeas)
2 tbsp nutritional yeast
½ tsp turmeric
½ tsp cumin
¼-½ tsp chili powder, depending on spice preferences
¼ tsp kala namak, optional
Veggies:
¼ onion, diced
1 clove garlic, minced
½ green pepper, diced
1 small tomato, diced
1 tbsp neutral cooking oil
Veggie Hash with Eggs and Cheese
This is easy, healthy, nutrient-packed and just so dang delicious. If your camping
Ingredients:
Extra virgin olive oil (at least a few tablespoons)
1 each of your favorite root vegetables (try beets and sweet potatoes, or fingerling potatoes)
A few handfuls each of mixed green vegetables (try asparagus, broccoli, peas, zucchini, brussel sprouts)
Two generous handfuls of leafy-greens (try Swiss chard, spinach, kale, or beet greens)
Avocado (½ avocado per person)
2 eggs (per person)
8 oz extra sharp cheddar cheese, to taste
Additions that add flavor: onion, garlic, salt, pepper, crushed red pepper flakes, thyme, to taste
Directions:
Cube vegetables, and, if you're using alliums, dice garlic and chop onion. Drizzle a solid amount of extra virgin olive oil into a cast iron pan, and add salt, pepper, and herbs or spices of your choice. Stir well to combine. If you don't have garlic, onion, or herbs and spices, the simplicity of the vegetables together like this is still just as delicious. Next, add root vegetables, stirring to completely coat. Cook until beginning to tender, and then add green vegetables. At this point, cook until fully tender, add leafy greens and stir gently until wilted.
To cook eggs, form a small hole in the vegetables and drop an egg or two for sunny-side up eggs, or scramble eggs in separate bowl and pour over vegetables to create a vegetable hash scramble, mixing well. Remove from heat, top with cheese and cover until cheese is sufficiently melted. Add sliced avocado on the top and a sprinkle of salt and pepper.
Hot Griddle Pancakes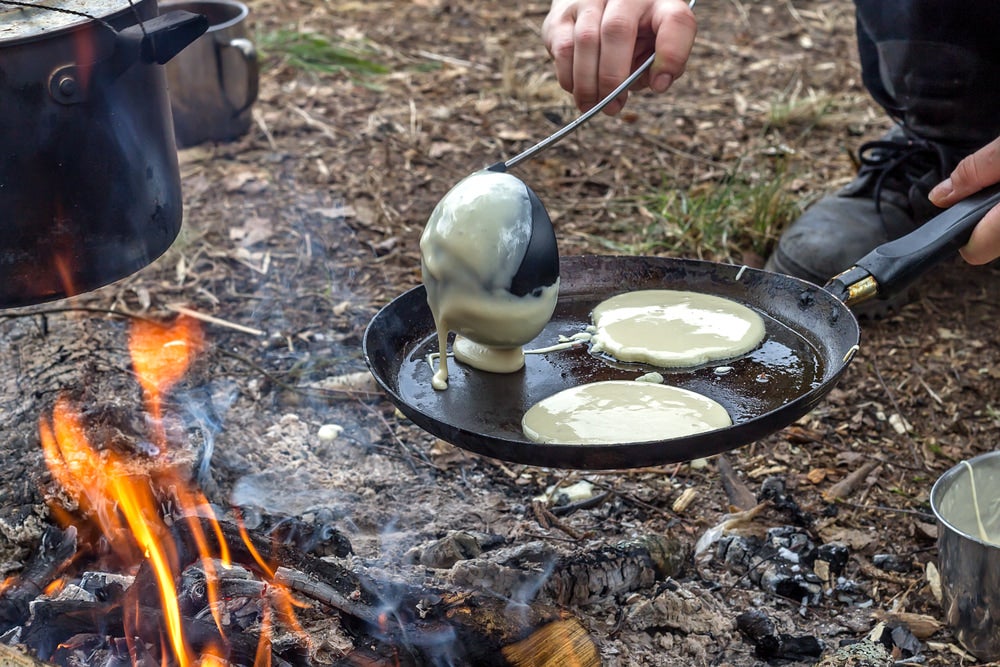 I like to beef up pancakes for extra nutrition by adding chia seeds, ground flax or hemp hearts to the batter. Topping with mixed berries, fruit and yogurt adds an extra punch, as well. Regardless of what you do here, this basic pancake recipe from Get Out With The Kids (with a how-to on cooking pancakes over the fire!) is easy and satisfying for a lazy morning next to the fire.
Ingredients:
½ cup of self-rising flour
1 tsp baking powder
A pinch of salt
2 eggs
⅔ cup of milk or buttermilk
Maple syrup, other toppings such as butter, berries, yogurt
Vegetarian Lunch Meals for the Campground
For mid-day meals around the campfire, these vegetarian camping meals are a hit.
Baked Beans and Fire-Roasted Veggie Dogs
One of my all-time favorite childhood camping comfort foods was a hotdog and baked beans. My family always ate healthy, and this was a treat that, regardless of the fact that I no longer eat meat hot dogs, I still dream about when camping. Good news for folks looking to work this into their vegetarian camping meals, it's easy to recreate sans-meat and it's far healthier and just as satisfying.
Ingredients:
1 can of your favorite baked beans
1 package of your favorite meatless hot dogs
Directions:
Heat your favorite vegetarian baked beans over the fire.
Roast your meatless hot dog of choice over the open fire.
Dig in.
Or, you can make this bomb recipe from Fresh Off the Grid for a five can campfire chili in place of your baked beans.
Veggie Cheese Melt on Sourdough
A quick and easy sandwich on a toasted sourdough baguette. Simple. Delightful.
Ingredients:
1 Sourdough baguette.
EVOO, enough to lightly drizzle on pan
Salt, pepper to taste
1 ripe avocado
1 zucchini, sliced in long pieces
4 mushrooms, chopped
1 small head diced broccoli, sliced into thin pieces
1 generous handful of spinach.
Cheese, to taste
Directions:
First, dice up your veggies. Drizzle EVOO into cast iron pan and add salt and pepper. Next, toss veggies in and cook until tender (start with the broccoli first, as the other veggies tend to cook faster). Once veggies tenderize, add cheese to melt. Set pan aside when your veggies are done and your cheese is melted, and rub your sourdough baguette with EVOO to toast over the fire, turning to brown evenly. Place the baguette on your plate, add your veggies, layer with avocado, and add a pinch of salt and pepper.
Campfire Nachos
Nachos are my go-to meal to make at home when I don't feel like cooking. You can do so much! Flavor the black beans, make your own fresh salsa, and top with massive amounts of avocado if you want (I always want). This one-pot campfire nacho recipe from Fresh Off the Grid is everything you could hope for when it comes to delish vegetarian camping meals.
Ingredients:
1 tbsp neutral flavored oil
½ lb tortilla chips
1 (7.75 oz) can El Pato hot tomato sauce, or equivalent
1 cup shredded Mexican cheese blend
1 (14.5 oz can black beans, drained)
1 large avocado, cubed
4-5 green onions, sliced
Handful of fresh cilantro, chopped
1 small lime, cut into wedges
Vegetarian Snacks for the Campground
To fight that afternoon slump, these three vegetarian-friendly snacks will offer that little pick-me-up you're needing.
Homemade Granola Trail Mix
For when you're on the trail, this Keto-friendly granola trail mix goes so well with cubed cheddar cheese and an apple. It's full of healthy fat and protein, and the apple rounds it out with fiber.
Ingredients:
3 cups total of chopped nuts, such as walnuts, cashews, almonds, pecans, hazelnuts, and brazil nuts.
6 tbsp melted, unrefined coconut oil
1 egg white
2 tsp vanilla extract
1 tbsp chia seeds
1 tbsp sesame seeds
2 tbsp ground flax seeds
1 tbsp hemp seeds
1 tsp nutmeg
2 tsp cinnamon
½ tsp himalayan pink salt
4 tbsp large shredded coconut flakes
S'mores 2.0
This might be more of a dessert snack, but it's also got protein and some healthy fats. Besides, who cares? You're camping. Eat chocolate if you want to eat chocolate.
Ingredients, per S'more:
1 whole graham cracker, halved,
1 vegan/vegetarian marshmallows,
2 squares of chocolate.
1 to 2 tbsp smooth peanut butter, or nut butter of choice
Sprinkle of granola trail mix, from previous snack recipe
First, make your base. Add a solid amount of nut butter to both graham crackers, sprinkle granola trail mix over nut butter and place chocolate bar over the top of that, pressing down a tad. Next, toast your marshmallow to complete your s'more. Just a fair warning, these are addicting.
PB&J Overnight Oats
This is one of the simpler vegetarian camping meals —from From My Bowl— and is highly portable, perfect for bringing along on a day-hike out of the campground. It's loaded with fiber and protein, and fat, depending on the type of milk you use (I love coconut milk here).
Ingredients:
1 tbsp creamy peanut butter
¾ cup filtered water
½ cup quick cooking or rolled oats
1 tbsp chia seeds
1 tsp maple syrup, optional
2+ tbsp chia seed jam
More peanut butter and jam, for topping (optional)
Vegetarian Dinner Meals for the Campground
If you're typically a meat eater, these three vegetarian camping meals are inspiring and loaded with flavor. Trust us when we say that you won't miss your cheeseburger one bit.
Vegan Sweet Potato Corn Chowder
I was salivating just reading the recipe from the Dirty Gourmet: Fire-roasted corn? Sweet potatoes? Cashews? Yes, yes, and yes. This camping corn chowder recipe would be delicious at home, let alone enjoyed fire-side.
Ingredients:
1 tbsp olive oil
1 medium onion, finely chopped
2 cloves of garlic, minced
1 large russet potato, peeled and diced into ½ inch cubes
1 large sweet potato, peeled and diced into ½ inch cubes
4 ears of fresh corn or 1 pound frozen corn
1 jalapeno chile
1 anaheim chile
4 cups vegetable stock, or equivalent bouillon
1 tbsp ground cumin
1 tbsp chili powder
½ cup cashews
Salt and pepper, to taste
Toppings, such as tortilla chips, avocado, and green onions
Loaded Veggie Fajitas
Super easy, packed with flavor and just a few ingredients make this one of the easiest and most crowd-pleasing vegetarian camping meals. Bonus: This is a gluten-free recipe for all of you who are avoiding gluten and meat. Add cheese if you'd like, but it's delicious without.
Ingredients:
Assortment of bell peppers (yellow, orange, red and green)
Extra virgin olive oil
Spices: salt, pepper, cumin, paprika, red pepper flakes, oregano
Black beans, rinsed and drained
Corn on the cob, fire-roasted and then sliced off the cob
Lime
Cilantro
Avocado
Tomato
Corn tortilla shells
Directions:
First, fire-roast your corn. Once cooled, you'll slice the corn off the cob, place it in a bowl and season with lime juice, cilantro, salt, pepper, paprika and cumin, all to taste. Set aside. Dice tomatoes and douse with lime juice, cilantro and salt. Set aside.
Next, slice peppers. In cast iron pan, drizzle extra virgin olive oil, salt, pepper, cumin, paprika, red pepper flakes and oregano. You'll add these spices to your own personal liking; trust yourself, here. You'll want to go with a more generous amount as you'll add the rinsed black beans once the peppers are just tender. Toss gently to mix spices, peppers and beans well. Set aside. Next, heat your tortillas, then layer your pepper and black bean mixture, corn and tomatoes on each tortilla. Top with slices of avocado, a drizzle of lime and cilantro.
Campfire Black Bean Burgers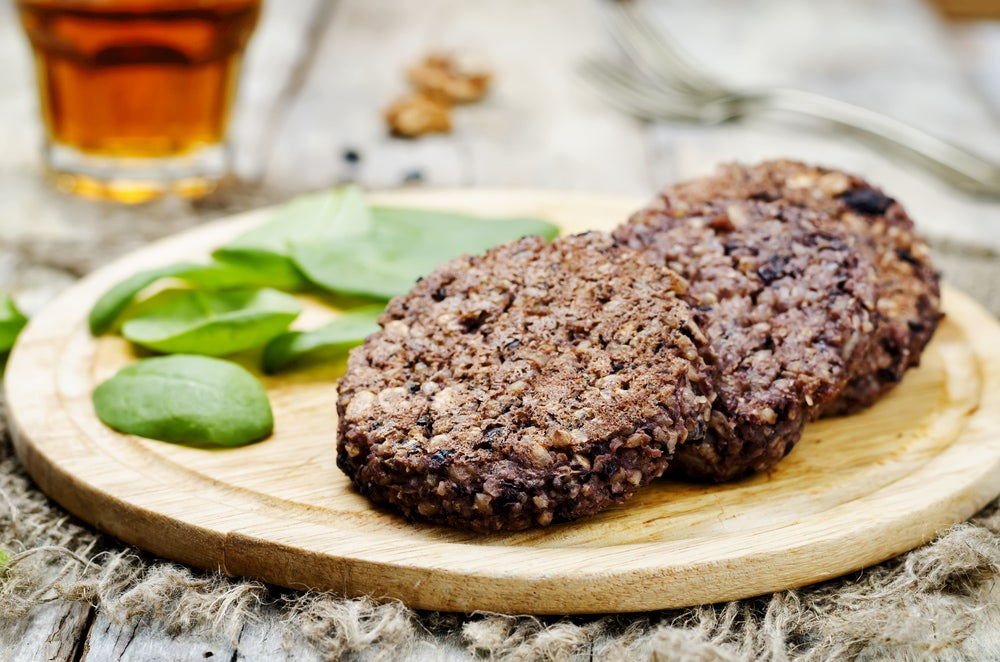 Okay, this recipe from The Endless Meal might require a little more ingredients and prep work than a typical meat burger slapped over the fire, but there will be way more flavor, way more nutrients, and all the protein, fiber, and yum you could want.
Ingredients:
1 tsp avocado oil
1 onion, minced
3 garlic cloves, minced
1 19-ounce can black beans, drained
2 cups quick rolled oats (GF, if needed)
1 ½ cups grated carrot
1 cup breadcrumbs (GF, if needed)
1 cup roasted sunflower seeds, chopped
½ cup roasted almonds, chopped
½ cup soy sauce (GF, if needed)
¼ cup parsley or cilantro, chopped
2 tbsp sesame oil
1 tbsp each: cumin, chili powder, and oregano
4 large eggs
Optional: ½ cup feta cheese
Popular Articles: