This article was brought to you by IceMule, the makers of beer backpacks that are waterproof, floatable, and designed with rivers, beaches, and all manner of summer fun in mind. 
---
Halfway between the music festivals and tech headquarters of Austin, Texas and the Spanish-colonial beauty of San Antonio is San Marcos. A rapidly growing city sometimes nicknamed "San Marvelous," for its increasing attractiveness. Newcomers, whether they're new residents or visitors, are discovering what some people have known for tens of thousands of years about this little oasis at the confluence of the San Marcos and Blanco rivers, not far from Guadalupe Mountains National Park.
River tubing the San Marcos  is extremely popular. Its also one of the best ways to enjoy  water that stay a cool 72 degrees year-round. Those looking for a challenge might be interested in the Texas Water Safari.
It's a 262-mile canoe race from San Marcos to the gulf that must take place within just four days and four hours, using only human power and whatever supplies competitors initially bring onboard. If that sounds like a bit much, however, you can take a chiller approach with river tubing:
Experience San Marcos River Tubing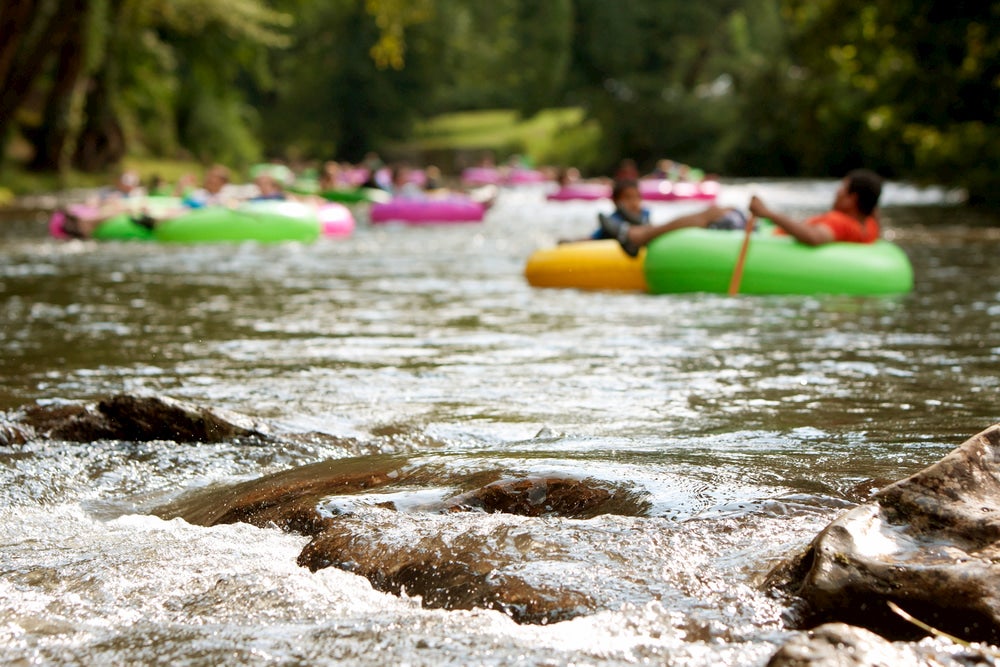 It's easy to see why San Marcos is one of the oldest continually habited sights in North or South America. In fact, recent archeological finds indicate indigenous people have inhabited the area around San Marcos Springs for 20,000 years. That spring, and the numerous rivers and creeks in this corner of Central Texas, are also what make San Marcos an ideal destination for anyone interested in paddle sports.
Where to Try San Marcos River Tubing
If you want to plan your own San Marcos River tubing adventure, it's almost as easy as showing up within the city limits. The San Marcos City Park, for example, is a popular and free put-in. If you don't already have a floatie of your own, the local Lion's Club rents tubes for a full day of fun. And the fees include an unlimited shuttle pass so you can run down to Rio Vista Park as often as you like.
There are numerous other outfitters, too. Including Texas State Tubes, Lonestar Float House, and Great Gonzo's Tubes— which rent gear for river tubing the San Marcos. If you want to stay overnight, several area campgrounds offer tent sites and easy river access.
Depending on where you start, the typical float trip is about an hour-long. If you choose to float from City Park to County Road 299, you can expect about a two-hour trip.
Floating beyond CR 299/Cape Road can be dangerous for inexperienced tubers. So it's best to take out and ride your shuttle back if you're still jonesing to float. Many tube rental companies and campgrounds offer all-day rates with shuttles included. But double-check with your outfitter beforehand to make sure you know how long you can stay out on the water.
What to Pack for a San Marcos River Tubing Trip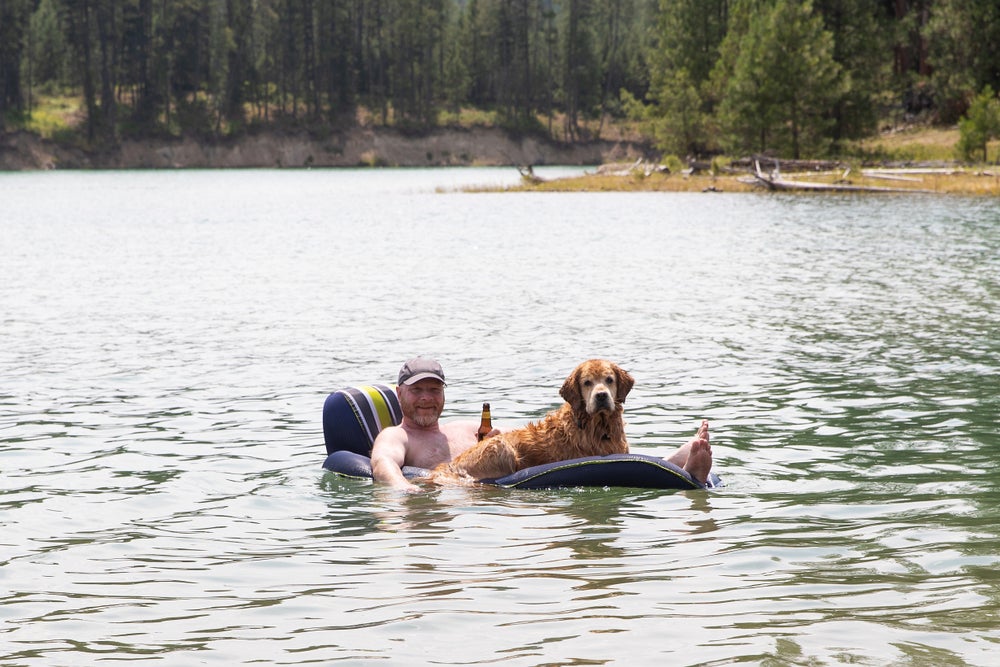 You don't need much to successfully tube down a river, besides the obvious inflatable device. But there's a few things that do make river tubing on the San Marcos more comfortable and fun.
An adult beverage: Sipping something cold and fizzy to maintain a buoyant day buzz is not only allowed while tubing the San Marcos River, it's practically the default. There's nothing like playing a game of Lone Star bottle caps with friends as you bob downstream. Just be sure to bring a coozy for your cans and definitely skip the glass— and as always, drink responsibly.
Sunscreen: This is Texas, after all, one of the sunniest places in the United States. The water might feel cool while you're in it. But that burn is going to feel hot long after the sun goes down if you don't take care of your skin. Pick a reef-safe sunscreen formula even though you're miles from the ocean— after all, the San Marcos and Guadalupe Rivers do eventually reach the Gulf of Mexico.
Good sandals: Bring water shoes or sandals like Chacos that securely attach to your feet. There's nothing worse than having to step on sharp, hot river rocks when you come ashore because your flip flops got lost in the current
A drybag for your phone: if you choose to bring any electronics along, keep them safe and dry in a product like a Lok Sack or other purpose-made drybag. For extra peace of mind, slip that smaller drybag in your beer backpack so your phone will have double the protection.
Where to Camp for San Marcos River Tubing
There's plenty of good camping in Texas along the Guadalupe River and other waterways around San Marcos. But it's extra nice to camp right along the water during your San Marcos River tubing trip. Here are four spots where you can do just that, and really make the most of tubing the San Marcos River.
The private campground and San Marcos River tubing destination stands out in the area for being both family-oriented and Christ-centered. There's an on-site Cowboy Chapel which comes in handy for the church camps San Marcos River Retreat frequently hosts, as well as scout groups and other gatherings who appreciate the property's strict no-alcohol policy. You can expect plenty of peace and quiet in the evenings, when traffic on the river dies down.
This is, like many campgrounds that double as destinations for San Marcos River tubing, is primarily a tent camping outfit. Twenty campsites are situated in the pecan bottom by the shore, and there are no sewage hookups or 50 amp service. That said, RVers are welcome to boondock, and tent campers will have no trouble getting cozy.
"This is a private campground managed by a super sweet family that really cares about the river and the community. This place thrives because the people that use it respect the owners, and the owners respect the users . . . It's a beautiful gem and everyone that knows about it fights to keep it this way." — The Dyrt camper Brent F.
If a more festive atmosphere is your speed, head to Don's Fish Camp. It's been described as a chill place to unwind with a bit of a beach vibe. Not only are their campsites right by the river, but also a rope swing that is completely Instagram-ready. Had you any doubts this is a great place to, say, go camping for spring break or host an outdoorsy bachelorette party, Don's also hosts DJ nights every weekend.
The amenities are simple, with first-come, first-served tent and RV sites, bathrooms, showers, picnic tables, and grills. There's no electrical or sewage hookups, but you are free to boondock or car camp as long as you don't use a generator. Don's is also friendly for first-time campers.
Family owned and operated since 1982, Leisure Resort has had a lot of time to get the details just right. Nestled in a 150 year old pecan orchard, Leisure Resort lives up to the name with extra amenities that make it easy to unwind. In addition to access for tubing the San Marcos River, guests can enjoy a sand volleyball court, basketball court, horseshoe pits, a playground, clubhouse with WiFi, mini golf course, and dog run.
Leisure Resort boasts lodging styles for campers of all stripes. There are 117 sites with a full range of hookup options, paved pull-thru sites that can accommodate even big rigs, river-front sites, primitive tent sites, and cabins. A must-do, however, if you've ever wanted to camp in a treehouse, is to book their air-conditioned perches with creature comforts like bunk beds, mini-refrigerators and microwaves.
"So friendly! I like this place because its on the San Marcos river. They help you back in if you need it, great little store, quiet, clean, reasonably priced." -The Dyrt camper Alice R.
Twenty-five miles down river from San Marcos is the town of Luling, Texas, a former railroad town that today hosts fun festivals on the river. Luling is also a stop on the mouth-watering Texas Barbecue Trail. With pitmasters at joints like Luling City Market and Luling Bar-B-Q serving up juicy, fresh-smoked ribs, pork, and more. Camping at River Bend RV Park will put you in just the right spot to enjoy all that tasty goodness, as well as San Marcos River tubing.
With full hook-up pull-thru spaces, 30 and 50 amps, back-in sites with full hook-ups as well as water/electric only, and primitive tent sites, it's easy to find what you need here. This gated community features volleyball and basketball courts, a catch-and-release fishing pond with bait and tackle available for sale, and a store selling camping supplies and propane.
The river isn't the only way to cool off, either, as River Bend is a campground with a swimming pool. And even your four-legged friends are welcome— this is a dog-friendly destination and an equestrian campground with stables.
"San Marcos river in the back with a little place to fish, kids catch and release pond. Sites are extremely close. Lots of things to do in the surrounding area." — The Dyrt camper Eric-Misty S.
---
This article was brought to you by Icemule.
Icemule's backpack coolers will keep your beer cool throughout your 3 hour float down the river.
---
Related Campgrounds:
Popular Articles: