It's almost time for spring break, and you know what that means! You finally get to savor the slowly warming weather or, depending on your climate, sneak in some more snow before the big thaw.
There are some obvious go-to's for Spring break (Cancun, Miami, cruising), but let's think outside of the cheap hotel and cabana bar box. Camping with your friends is an inexpensive way to experience beautiful places with your friends — and make memories that aren't like everyone else's who's cramming onto the booze cruise.
Where to Go Camping for Spring Break
You don't have to buy a pre-packed trip to enjoy a fun, relaxing, and inexpensive spring break. Camping is the answer.
Hit the Beach
Many people automatically associate spring break with beaches. But if your schedule, budget, or style isn't quite vibing with a Cancun party fest, you can always find your own sandy fun.
Highland Beach, FL
If you're into ocean canoeing or kayaking more than swimming, Highland Beach, FL is a great destination. "If you're lucky you can watch sharks feed right off the beach!" says The Dyrt camper Sarah C. "The night sky is absolutely incredible from this piece of Florida real estate and in the winter there is a steady breeze that keeps the bugs at bay."
Plus there is plenty of room for groups to spread out. Camp Here
Anahola Beach Park, HI
At Anahola Beach Park in Kauai, you can go camping for spring break right on the sand, with the surf in view. "My time at the campsite was great," said reviewer Jenny R. "People were very friendly and you are directly on the beach so sunrises and sunsets are beautiful." There's even a store nearby in case you forget something essential like water or a can opener.
You can also opt for a more luxurious experience at nearby Kumu Camp, which features "Tentalows," a kind of cross between a tent and a bungalow. They sometimes offer group activities such as yoga and canoe paddling, too, and can help make arrangements for groups. Camp Here
Huntington Beach State Park
Huntington Beach State Park is a great place to camp right between Charleston, South Carolina and Wilmington, North Carolina. You'll have all of the nature and few of the tourists, who tend to stick to rental beach houses on Pawley's Island. "Very nice campsites, conveniently located minutes from the ocean! Lots of birds and other wildlife all around too. Clean, friendly and welcoming. Great hiking as well!," says reviewer B.P. Another visitor, Dr. David P, added "if you go out walking late at night, you can catch the big gators warming themselves on the road by moonlight. Just don't get too close." Plus, there's a castle. Yep. Huntington Beach is the bomb.
Whichever beach you hit, throw a pair of Chacos in your bag so you can go from surf to sand and back again without sacrificing comfort or traction. Camp Here
Embrace the Desert Vibes
The desert is super hot right now, from 'gram-ready gathering places to modest campsites, so there's a wealth of options to choose from.
Dewey Bridge Group Sites
Dewey Bridge Group Sites in Utah is ideal if you want to go camping for spring break and make memories with your whole squad. These sites offer not only plenty of room to spread out but also tons of photo ops and dreamy dark skies. You can get into hiking, mountain biking, whitewater rafting, and four-wheel drive tours during the day, and you'll be near all kinds of scenery like rock arches and wild rivers. Camp Here
Jumbo Rocks Campground
Jumbo Rocks Campground in Joshua Tree, California is where you want to be if you're a fan of the #chasingsunsets 'gram or want to get into stargazing. "Campsites are absolutely stunning," wrote reviewer Brian W. "Each campsite offers unique rock formations, vegetation, fire pit, table, grill and parking for 2-cars easy." Climb to your heart's content and then get cozy for nature's stunning evening show. Just be sure to book well in advance — even if it doesn't feel crowded, this place is popular and reservations can sometimes go fast.
Don't forget to stay hydrated. Even if it's not hottest time of year, it's still easy to get dried out. Pick up a S'Well thermos in your favorite pattern before you go, or at one of the many shops in nearby Moab. Camp Here
Chase the End of Winter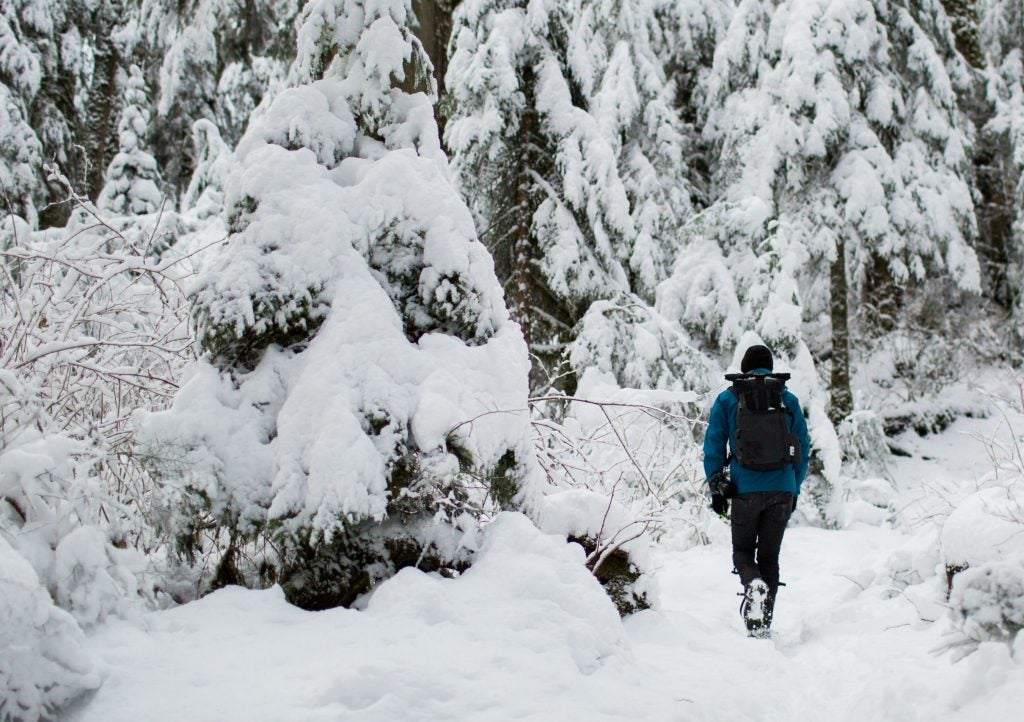 If your goal is to soak up as much snow as possible before it all melts, a spring break ski trip might be just the thing.
Tilly Jane A-Frame and Campground, OR
Go camping for spring break in this Pacific Northwest getaway, offering an idyllic A-frame in the shadow of Mount Hood. Take a ski tour or snowshoe along the trails. You and your friends will get a great workout during the day, and you can get cozy in the cabin at night. Camp Here
Double Head Cabin, NH
Head to a special spot like Doublehead Cabin in the White Mountain National Forest of New Hampshire for the skiing and incredible scenery. "For those looking for some powder runs in the winter, camp here over night and do some touring during the day!" says reviewer Jack N. Be prepared for a rustic experience though– you'll have to pack in your own supplies, including bedding and firewood. The cabin is accessible only by hiking, snowshoeing or skiing the 1.8-mile Doublehead Ski Trail. Camp Here
Grizzle Ride Yurt, UT
Grizzly Ridge Yurt in Ashley National Forest, Utah can accommodate a group and there's plenty of skiing and snowshoeing just steps away. "The Yurt is situated in a clearing at about 9000 feet," explained visitor Amanda B. "It's surrounded by pine and aspen trees, and at night from the front porch you can see the lights of Vernal in the distance." Gorgeous!
Apres-ski, guys and girls alike can get casual cute in Mavi's jeans and stay cozy with their denim jackets with faux fur collars. Camp Here
Pack Your Bags
If you're new to camping, you probably don't want to buy all new gear that you'll only use at the campsite. Instead of stocking up on hardcore camping supplies, opt for items that can transition back to school Herschel Supply Company's bags that easily go from homeroom locker to scenic overlook. And Kodiak's street-to-trail sneaks are great for easy to intermediate hikes, and stylish enough for the campus.
Get your friends together and brainstorm on what you have and what you still need. Who has a tent? Who has a sleeping bag? Who has a camping stove?
Then figure out what you need and split the responsibility of buying or renting your gear.
Whatever you decide to do this spring break, this is your chance to get outside! No more looking out the window with a bad case of wanderlust. Instead, shake off the classroom fever and find a campground for a memorable trip. Now get out and go camping for spring break!
Popular Articles: