Land Between the Lakes camping is just as cool as it sounds. 
---
The Land Between the Lakes National Recreation Area in Western Kentucky and Tennessee has earned its popularity as a major midwestern outdoors destination partially through proximity—the area is located a maximum of three hours from six different states. Camping at Land Between the Lakes draws crowds of outdoors enthusiasts from near and far to this inland peninsula for a lakeshore vacation—and with 170,000 acres and 300 miles of undeveloped shoreline to explore, there's enough room for everyone to find some peace and fun.
Take a Midwest Getaway to the Land Between the Lakes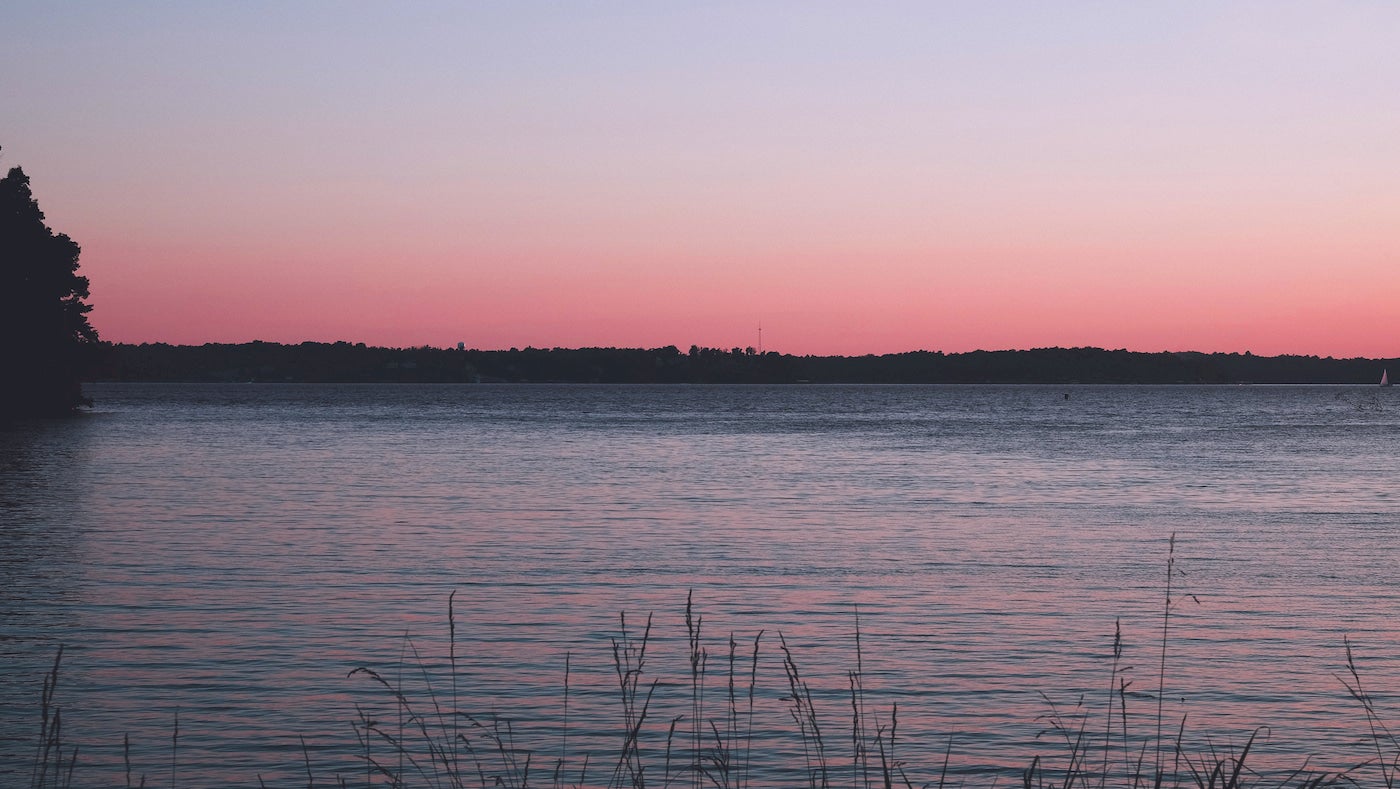 The name "Land Between the Lakes" is truly on the nose, with Kentucky Lake and Lake Barkley forming the eastern and western borders of this peninsula, respectively. With plenty of campsites resting right on the lakes, as well as public boat docks, swimming areas, fishing piers, and watercraft rentals, visitors can make the most of these two lakes on their next camping trip.
Camping at Land Between the Lakes doesn't need to involve water-sports, however. Visitors can enjoy over 500 miles of trail for hiking, biking, and horseback riding, 444 miles of scenic road to navigate, and even trails for OHV riding.
While spring and summer are certainly the best times to visit Land Between the Lakes, campers can also visit in the fall to catch the changing leaves, and in the winter to traverse the snowy rolling hills. The off-season is also popular with hunters looking for white-tailed deer and wild turkeys; more information and permits can be found at the main visitor center.
There are 1,400 campsites in Land Between the Lakes: four developed campgrounds, three self-service primitive campgrounds and 14 designated backcountry camping areas. That's a lot of campgrounds to choose from, so we've rounded up the details on the most popular places to find camping in Land Between the Lakes National Recreation Area.
Developed Campgrounds on Land Between the Lakes
These four locations are managed by the U.S. Forest Service, and are the only groomed campground facilities on the peninsula. Car campers, RVers and families alike will appreciate the easy access to the lakeshore, the hiking trails, and the comfortable amenities at these campgrounds.
Situated on the shores of a lake inlet, Energy Lake campground has 48 wooded campsites, 35 of which have electrical hookups and can accommodate motor homes. Campers can access a swimming beach, playground, hiking trails and seasonal canoe and kayak rentals. The campground is open from March until November. Amenities at Energy Lake campground include shower houses, a dump station for RV campers, drinking water and even a playground and activity filed. This is a favorite campsite for groups with young children. If you're looking for Land Between the Lakes camping on a smaller scale, this is the campground for you.
"I wound up staying at five different campsites within the Land Between the Lakes National Recreation Area, and this was my favorite. That largely is due to them having showers and canoe and kayak rentals, but hey – when you're here in the summer, that's what you want!" —The Dyrt camper Daniel B.
Hillman Ferry Campground has 374 lakefront and wooded campsites for tent and RV campers and everyone in between. Both primitive and full-hookup sites are available. The campground is open March-November and amenities include shower houses, drinking water, RV dump station and on-site laundry facilities.
If you're looking for a campground to keep you entertained, Hillman Ferry is the place for you. Campers have access to a large swimming area, archery range, ball fields, bike and hiking trails, boat ramps, a fishing dock, a campfire amphitheater, and bike rentals are available at the camp store. The campground also offers recreation programs for kids of all ages during the summertime.
"Lots of spaces to camp with many right on the water. The staff is friendly and everything you could need is nearby. There are boat ramps at the campground as well as a beach and plenty of hiking/biking trails and beautiful places to kayak!" —The Dyrt camper Carson G.
The largest of your Land Between the Lakes camping options, Piney Campground has 384 lakefront and wooded sites. Forty-four sites have electric, water and sewer hookups, 283 have electric-only hookups, and 57 are primitive sites. There are also 9 primitive cabins available to rent. Campers have access to a swimming beach, archery range, hiking and biking trails, a ball field, boat ramps and a fishing pier as well as daily recreation programs for kids in the summertime. The campground is open March- November and has shower houses, drinking water, and laundry facilities.
If you like shopping for RV camping gear, head to Piney in mid-September when the campground hosts its popular Camper's Fair, a tradition that's been going since 1973. The fair hosts a variety of activities including a camper's flea market and dealer showcase of new RVs, fifth wheels, and motorhomes.
"I have camped at this campground since I was a little girl. I now have a family of my own and this is where we go camping. It is very family oriented and they have activities throughout the camping season for the kids and adults. It is always clean and well maintained." —The Dyrt camper Windy W.
A campground just for horseback riding and wagon driving enthusiasts, Wrangler's Campground has 220 campsites. Some of the campsites are primitive, some have electrical hookups and some sites have full hookups. There are also 12 primitive cabins available to rent.
Campers have access to modern facilities, 100 miles of horse trails, an activity court, horse stalls, plus farrier and blacksmith services on weekends from April through November. Guided trail rides and riding stables are available from April through October. Horses have the right-of-way at this campground. All overnight campers with horses in Land Between the Lakes must camp at Wranglers Campground.
Self-Service Campgrounds
In addition to the four developed Land Between the Lakes camping sites, there are three self-service campgrounds. Self-service campgrounds are available on a first-come, first-served basis, and work on a payment method different from other Land Between the Lakes camping options. When settling in to your campsite, you have 30 minutes to fill out a registration form for the site and drop that into the "Iron Ranger" deposit box, along with the camping fee.
While you may not have a designated on-site ranger at these locations, you do have access to the Forest Service rangers stationed around the park. You'll also still have access to basic amenities, including designated campsite pads, picnic tables, grills, fire rings, vault toilets, drinking water, trash pickup, lake access, and boat ramps.
Situated on the northeast corner of the peninsula, Cravens Bay is a small self-serve campground that offers lakeside access on designated tent sites. Campers appreciate the on-site boat dock and landing, perfect for dropping in with a kayak or canoe. Additionally, Cravens Bay has flush toilets and sells ice seasonally.
"This gem in the Land Between the Lakes Rec area is a great spot to set up camp if you don't mind the lack of showers. There is a picnic area higher up the campgrounds offering nice reprieve from the hot sun with ample shade, and some have a nice overlook view of the lake below."— The Dyrt camper Daniel B.
Before the Fenton campground became what it is today, the large plot of land was used for events and public gatherings. It's easy to see why, too—the views of the west side of the lake are stunning. Today, there is a pavilion suitable for large groups, and is reservable through the park system for little or no fee. Camping on these sites is similarly self-serve, and features a boat dock and  easy access to the Hardwoods Trail, the main east-west trail through the peninsula for hiking and biking.
"At the campground entrance there is a pavilion area good for a large gathering. And like I already mentioned there is a bike trail that continues through the area from cement back onto dirt track also nice for hiking."— The Dyrt camper Shelly S.
This campground shows an entirely new side of Land Between the Lakes camping—the adventure motorsports side. The Turkey Bay Off-Highway Vehicle campground is connected to a series of OHV trails and Forest Service roads that allow machine heads to drive their Jeeps, ATVs and more through four different types of trails. Camping here is available on a small number of self-service sites with two 24-hour generator areas, chemical toilets, and drinking water.
Basic and Dispersed Camping at Land Between the Lakes
If you're willing to forgo certain amenities, one of the best things about Land Between the Lakes camping is that you can camp almost anywhere. Keep in mind that a basic camping permit is required for each person 18 and over when camping in basic camping areas. A dispersed camping permit is required when camping in non-designated areas of the recreation area. Both permits cost $30 (annual permit) or $7 (three day permit.) Permits can be purchased online or at any of the Land Between the Lakes facilities.
Basic campground amenities usually include fire rings and/or grills, picnic tables, vault toilet, trash removal, mowed areas, and a boat ramp. Some of the basic campground have defined camping areas while others do not.
Dispersed camping includes remote campsites throughout the recreation area. If you camp in a location not designated on a Land Between the Lakes map, it is considered dispersed camping.
---
Related Campgrounds:
Popular Articles: