In Colorado, the hot, mineral-rich waters of Yampah Spring spill into Glenwood Canyon, forming the famous Glenwood Hot Springs. Native tribes first used the waters of these natural hot springs for their healing qualities.
Now, Glenwood Hot Springs offers pools, spas, vapor caves, and more amidst this mountain oasis. It's open year-round for visitors, so whether you're looking for a cozy winter warm-up or a soothing summer spa day, you'll be able to soak up the beauty and relaxation of the place.
The History and Magic of Glenwood Hot Springs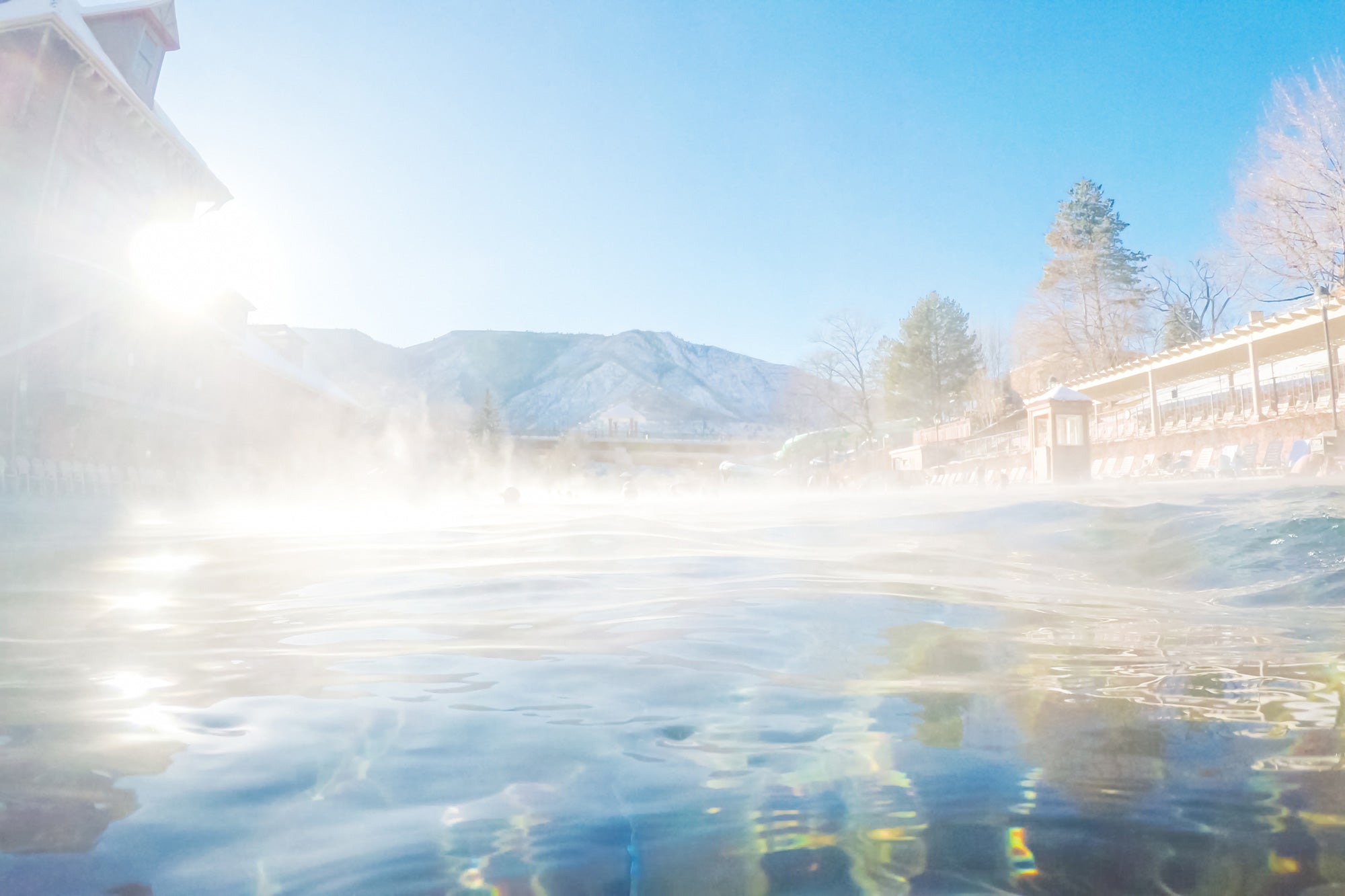 Native tribes, like the Ute, discovered the warm waters of Glenwood Hot Springs centuries ago and used the springs for their healing and rejuvenating qualities. In the late 1880s, white settlers stumbled upon these gems and their magic waters. Word spread quickly about Glenwood Hot Springs and the Yampah, and soon visitors came from all over to soak in the warming pools.
Now the Yampah Spring continues to flow with mineral-rich waters that flow into Glenwood Canyon at a steamy temperature of 122 degrees. The water cools to a comfortable temperature around 100 degrees as it settles into the pools at Glenwood Hot Springs. The spring water contains minerals like boron, potassium, sulfate and many others that are said to have myriad health benefits, from calming and soothing effects to muscle relaxation and more.
Choose Between Three Hot Springs Attractions
You'll find three main hot springs attractions in Glenwood Springs. The oldest and original Glenwood Hot Springs Resort offers a massive pool filled with natural hot spring water, along with a kiddie pool for the little ones. This resort was founded in the late 1800s after white settlers discovered the magic of the springs, so you'll find plenty of history here.
Iron Mountain Hot Springs is another hot springs spa built within the last few years. Instead of one large pool, here you'll have access to multiple smaller hot spring pools that vary in size, shape and temperature.
For a more unique hot springs experience, visit the Yampah Spa to relax in natural steam caves. Mineral water from the hot spring flows through the caves, giving you the experience of a natural steam room with the benefits of the mineral spring water.
Get Luxurious
If you're wanting to treat yourself to a luxurious hot springs getaway, you'll find it in Glenwood Springs. Glenwood Hot Springs Resort, Iron Mountain Hot Springs and Yampah Spa all offer lodging and spa services. Cozy rooms, facials, massages and beauty care are available at all three hot spring locations. Wherever you decide to soak in the waters of Glenwood Hot Springs, you'll be sure to find luxurious amenities, too.
Camping Near Glenwood Hot Springs
While the options for spas and luxurious lodging allures many, enjoying Glenwood Hot Springs with a side of wilderness and campfire smoke may be more your speed. Camping in Colorado near the Glenwood Springs will allow you to post up nearby while roughing it — in a good way.
The Colorado River KOA located in Glenwood Springs West is just under 20 miles west of Glenwood Hot Springs and offers ample amenities like bathhouses, full hookups, picnic tables and pavilions. You'll find space for RVs, trailers, tents and even reservable cabins here. Reservations are accepted; you'll want them in the busy summer months.
Elk Creek Campground sits in the wooded mountains outside of New Castle, Colorado, 15 miles from Glenwood Hot Springs. This campground offers cabins, RV, trailer, and tent sites for campers coming to the Glenwood area. Bonus: The Elk Creek meanders through the campground, making for a peaceful retreat.
If you're looking for a more primitive camping experience steeped in the mountainous terrain near Glenwood Hot Springs, you'll find it at Coffee Pot Spring Campground. Thirty-six miles from Glenwood Hot Springs, these sites are on National Forest land and are feasible for tent campers or RVs and trailers that can handle dirt roads. There aren't amenities here like hookups and bathhouses, but picnic tables, fire pits and pit toilets are available. Here, you'll be in a scenic and secluded location with surrounding mountain and forest views to take in before or after a soak in the springs.
Go Beyond the Hot Springs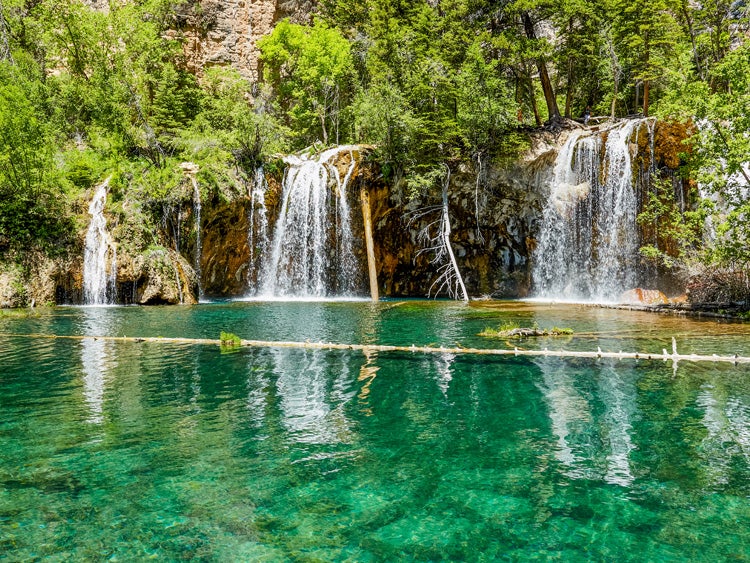 Besides the hot springs, Glenwood Springs and Glenwood Canyon offer many other options for recreation. Whether you're looking for a scenic hike, a float down the river or to experience downtown, there are plenty of activities in Glenwood to pair with your hot spring trip.
Hanging Lake Hike
Stretch the legs and catch views of a National Natural Landmark while hiking the trail to Hanging Lake, just outside the town of Glenwood Springs. Hanging Lake is a mountain pool with Caribbean-blue waters and cascading waterfalls — a sight you won't want to miss. This hike now requires a permit, so be sure to register for one before you go. A shuttle bus is offered for hikers going to and from the trailhead.
Rafting
Experience the rush of the Colorado River first hand by taking a rafting trip while you're in Glenwood Springs. Trips can be short or long, mild or rowdy, depending on what you sign up for. There are multiple outfitters to choose from in the canyon, and all will give you a worthwhile experience.
Amusement Park
Glenwood Caverns Adventures offers rides and experiences for the whole family, from adrenaline-jolting ones like the Dare to Drop ride and Giant Canyon Swing to other experiences like a movie theater and laser tag. You'll get your fair share of excitement and entertainment before hitting Glenwood Hot Springs.
Downtown Glenwood
Downtown Glenwood Springs has plenty for visitors. You'll find tasty restaurants and coffee shops like the Bluebird Cafe, Slope & Hatch, and Glenwood Canyon Brewpub; gear shops and boutiques; and cultural attractions like the Frontier Historical Society Museum.
---
Related Campgrounds
Popular Articles: