Camping is one of the easiest and cheapest vacations you can take—until it's not. While it should be cheap, easy, and fun, camping can quickly turn into an expensive hobby.
If you find yourself spending way too much money on new camping gear or a lot of time packing (and unpacking) for your weekend away, then it might be time to scale back. After all, camping should help you decompress and simplify, not add more stress (or stuff) to your life.
Here are eight tips to help you develop a more minimalist camping approach, saving you time, money, and space each time you head for the great outdoors.
8 Minimalist Camping Tips Any Camper Can Use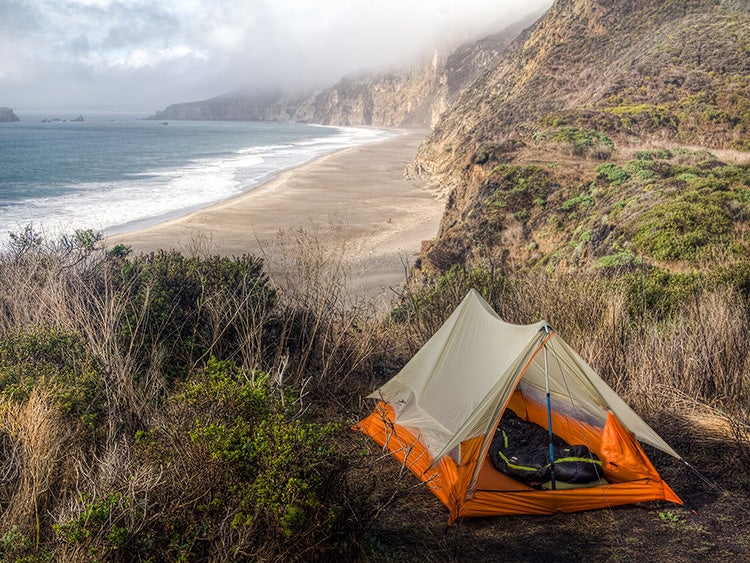 The definition of "minimalist camping" can vary wildly. One person's idea of minimal could look like 'everything but the kitchen sink' to someone else. There's not a right or wrong way to do it, only what's right for you.
There's one thing most campers can agree on: minimal means less. To some, it means as little as possible. Whether you're looking to reduce your gear, simplify your packing process, or get by with the bare minimum, these tips can be scaled to your style.
1. Try camping in your car (or a campervan)
This is a quick way to cut down on gear, because it eliminates the need for a tent. By camping in your car, all you really need is a sleeping bag. Of course, this is only feasible with the right kind of camping car or van. Some frequent car campers will buy a car specifically for the stretch-out space in back. (The Subaru Outback is a popular option for this purpose.)
To stick to the minimalist camping concept while camping in your car, resist the urge to throw things in the car at random! An extra pair of shoes might fit on your way to the campground, but once you're trying to turn the trunk into a bed, you'll wish you had more space.
2. Find a campsite with tents already set up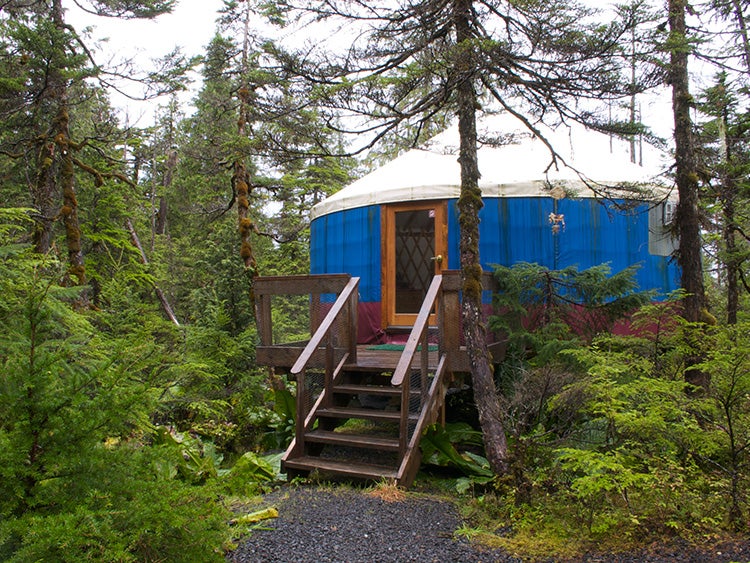 If it's not logical to camp out of your car, try finding a campsite that already has tents set up and ready to go. More campgrounds offer this as an option, and it's a pretty great feature. You can even go with cabins or yurts if tents aren't available. This may cost a bit more than a basic tent site, but weigh that against the cost of gear and you could still come out in front.
3. Make a supply list and stick to it
This one requires you to be tough with yourself. Do you really need three flashlights and a camping lantern? Will you use all of the cooking supplies you're planning to bring? Make a list of basic camping supplies you actually need and use on a regular basis.
You can also do a test run: Bring it all and take note of the items you actually use. When you get back, create a master minimalist camping list of must-haves to follow in the future. This will cut down on so many extras that you won't even miss. Plus, it'll make traveling, packing, and unpacking a breeze.
4. Shop with a grocery list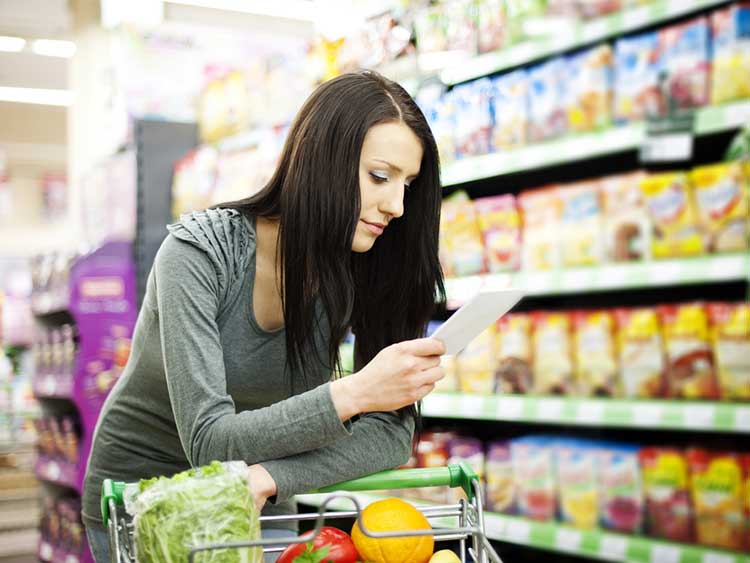 Now it's time to be even tougher. Shopping for campground meals is where lots of temptations and last minute items can slip into our load for the weekend.
We're not suggesting you forgo camping favorites like s'mores (never!), but stick to the amount of food you'll actually eat. We're all guilty of packing way too many snacks, which may end up going to waste, getting stale, or spoiling. Focus on simple camp food, without throwing those extra items in your cart 'just in case' or 'because it's on sale.'
5. Scale back on clothes and shoes
It's so easy to overpack clothes and shoes because it seems like you never quite know what you need most. But it can quickly get out of hand. Keep it to two practical pairs of shoes, like hiking boots and flip flops. Then throw in a jacket or sweatshirt for sitting by the fire, some extra socks and undies, and, weather permitting, a swimsuit and towel. After all, you're camping—it's okay to rough it! Wear the same clothes two days in a row. No one will tell.
6. Rent equipment instead of buying it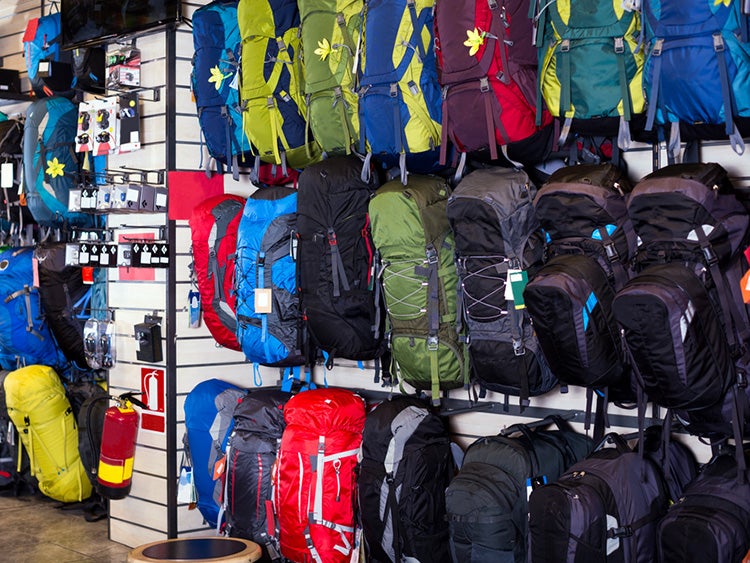 If you love kayaking, paddle boarding, or any other water sport, then you know just how much space these large items occupy in your home. When minimalist camping, rent, borrow, or share with friends. You'll cut down on packing time and save space, too. You can even rent fishing equipment and camping equipment! Check Airbnb, Craigslist, and local campgrounds to ask about camping rentals.
7. Bring items that can do double duty
When minimalist camping, every piece of gear counts. If your packing list includes items that can perform multiple functions, you're ahead of the game! You probably already have some versatility in your collection.
For example, a waterproof jacket that can keep you warm and protect you from the rain. Or a multi tool that can cut twigs, light fires, and open your bottles, all in one handy gadget. Or a simple mug that can serve as a coffee cup, soup bowl, and whiskey tumbler—you get the idea!
8. Keep the entertainment to a minimum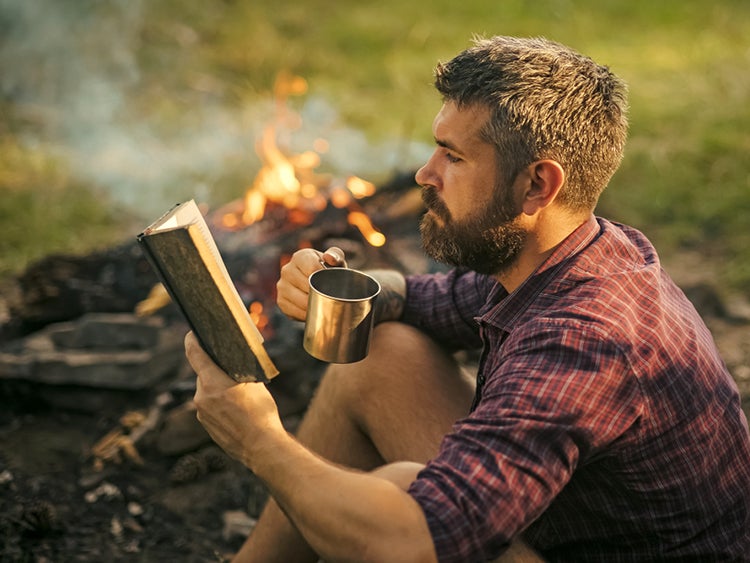 As tempting as it is to pile up books, electronics, chargers, and games to keep your family entertained, avoid it. After all, unplugging is one of the great benefits of minimalist camping. Take reading material and a deck of cards, but don't feel bad about leaving the iPad behind. You'll save space and will likely have a much more meaningful experience overall.
Remember why you love camping in the first place. Chances are, it doesn't have much to do with all the stuff that can come along with it. So try to minimize your camping footprint this season and focus on what matters—getting outdoors and having a blast.
Popular Articles: