This article is brought to you by Banner & Oak. Their trucker hats are a stylish accessory for glamping in New York!
---
Whether you live in the heart of NYC or have a humble abode upstate, nearly all New Yorkers can appreciate a comfortable camping getaway. Luckily, glamping in New York is easier than ever, thanks to the rise in amenity-laden accommodations around the state.
Choosing a glamping getaway means all the relaxation of the forest with none of the hassle of camp gear. If you enjoy waking up to the sound of birds in the morning but don't want to wake up with a crick in your neck, one of these glamping destinations will give you the comfort and respite you need.
Where to Go Glamping in New York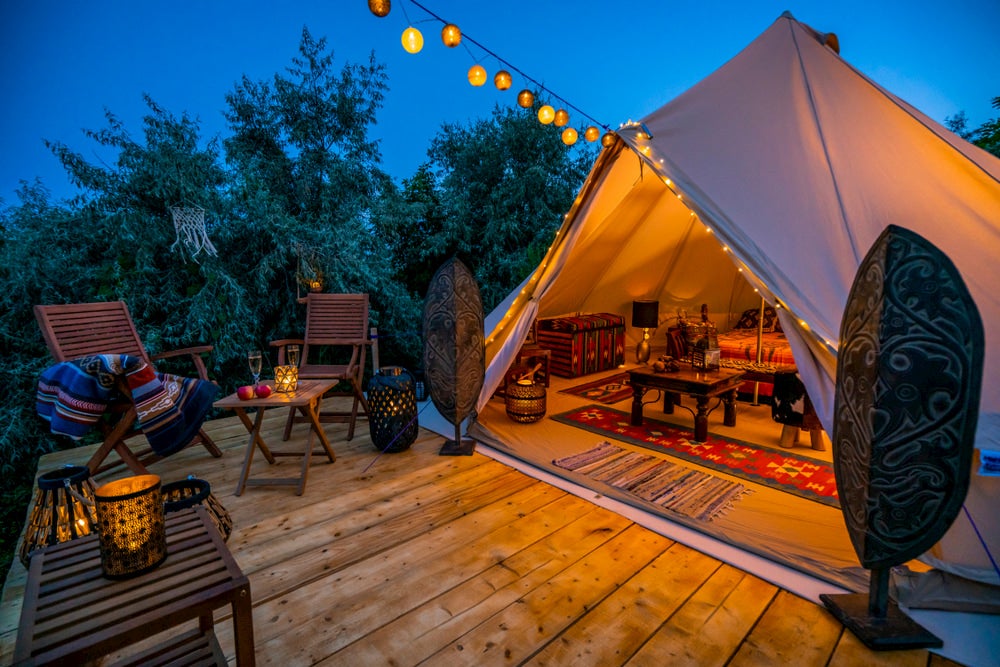 There are hundreds, if not thousands, of glampsites across the state of New York — some tucked away in the Adirondacks and Catskills, others beachside just minutes from NYC. With so much natural and green space, it's no wonder the glamping market has taken off in the last few years in New York. We're thankful because each of these sites offers the rest we need to show up to work on Monday relaxed and ready to take on the week.
Set on 15 acres of an old apple orchard, Gatherwild Ranch offers rustic and varied accommodations along with quintessential quirks–free-range chickens that roam the property, a full organic vegetable garden, and onsite massage to fully relax in the idyllic setting. Guests are encouraged to explore the premises and set out their chairs to watch the sunrise or set across the lush grounds. Prices range depending on which glamping experience you choose, $90-$115 per night.
Situated in the Southern Adirondacks, Posh Primitive allows campers an action-packed weekend getaway and a relaxing weekend respite, all in one. From catching your dinner on the nearby Friends Lake to harvesting your dinner at the on-site garden, to launching your own kayak or hiring a guide service to white water raft, Posh Primitive offers access to some of the best activities available in upstate New York. And each of the glamping tents are warm, walled tents with cozy Pendleton blankets and furniture made from local craftsmen.

Whether you're interested in New York glamping for two, or are looking to plan a wedding at a campground, Gilbertsville Farmhouse is the place to do it. Their 10 glamping tents are decorated to be simple and cozy, yet elegant enough for all your wedding guests. Guests can enjoy on-sites amenities The sites are all canvas tent with beams making them well-lit and spacious. Unless you want to be a wedding crasher, shoot for reservations from Monday-Wednesday, May-October.
Take your glamping to the beach at Terra Glamping along Cedar Point County Park. You'll have immediate access to the north shore beach, as well as SUP and kayaks to rent from the glampground hosts! Each of the safari-style tents is spacious enough for two people to move comfortably, and comes with a memory foam mattress, lounge furniture, and views of the water. If you end up loving the Terra tents, you can even purchase a portable one for future glamp excursions anywhere you travel.
Don't let the name deceive you–Eastwind Hotel & Bar offers Scandinavian-inspired glamping options with a-frame and circular accommodations along with a personal bathroom, wifi, and fire pit. While the glamp options are simple, they're also cozy and comfortable enough to enjoy a slow start to the morning and a front-row view of the sunset at night. Each site is roughly 200 square feet, all you need for a relaxing weekend getaway. Rooms are $229 and each gives visitors views of the Catskill Mountain.
For a true glamping experience, head to Firelight just south of Ithaca. Not only are their tents outfitted with all the essentials–private covered balcony, fleece bedding set, and lanterns with USB ports, but as a bonus, glampers get their campfires tended morning and night unless they choose to join the communal fire pit on-site. There are also bathhouses within a 1-2 minute walk from all the glampsites, and immediate access to Upper Buttermilk Falls hiking trails. If you can make it up during the week, you'll save $100 on your New York glamping getaway.
Need to escape the city without traveling for hours to reach the mountains? Then check out this urban, seasonal glamping opportunity on Rockaway Beach in New York City. Campers stay in safari-style tents and have access to a fire pit, games, hammocks, and a picnic area. The Rockaway Beach boardwalk is just a short walk from camp, as are biking, birding, hiking, and whale watching. Clean bathrooms, hot showers, and comfy beds make this the kind of upscale camping experience you won't soon forget.
There are close to 250 Tentrr campsites spread throughout New York — which means the odds of finding a Tentrr site near you are extraordinarily high if you don't want to travel far to go glamping in New York. New to Tentrr? Tentrr created a glamping tent that can be set-up on anyone's property — like Airbnb, but for glamping. Most spaces are idyllic — along rivers or lakes, or tucked deep into a New York forest. Many provide additional amenities, too, like kayak or canoe rentals, hiking trails, or fishing access, and range in price from $90-$300 per night. And don't forget, Tentrr isn't just about glamping—they have 40+ backcountry sites across the state as well. So, whether you're glamping or camping in New York, Tentrr is a must-check resource. Below, you can find The Dyrt's list of close to 250 Tentrr glamping sites in New York on a helpful map of the state. Click here to find the best site for you!
---
This article was brought to you by Banner & Oak.
Check out their trucker hats to round out your outfit next time you go glamping in New York!
---
Related Articles:
---
Related Campgrounds:
Popular Articles: