This guide to Colorado fly fishing is brought to you by Mountain House. Mountain House's backpacking food is a lightweight, high-nutrient solution that allows you to camp and backpack without sacrificing the taste and quality of your meals.

---
When it comes to fly fishing, Colorado is in a league of its own, offering some pristine opportunities to wet a line in a river or reservoir.
Spread throughout the Rocky Mountains and the front range is a wealth of land that plays host to some of the best fly fishing waters around, and often looks unexpectedly calm for the large fish that lurk beneath the surface.
If you're looking for the latest scoop on fly fishing in Colorado, you've come to the right place: our fishing-addicted crew has put together the yellow brick road of fly fishing guides for visitors and locals to the Centennial State, all for your fly-tying pleasure.
How to Master Fly Fishing in Colorado
First things first, Colorado fly fishing is not "big" water fishing. If you're looking for the steelhead fly fishing scene of the northwest, or the sprawling, wide-mouthed rivers of the Big Sky region, you're in the wrong place. That said, what Colorado's waters do offer make up for any lack of major coastline or big water region in the state. Since nearly 100% of Colorado rivers and streams originate somewhere near the top of the Continental Divide, their flow patterns and snowmelt temperatures provide the perfect haven for Rainbow Trout, Brown Trout, or the famous Greenback Cutthroat Trout, Colorado's designated state fish. What's more, the Colorado-created Gold Medal Stream designation gives visitors an easy sense for where the fish are hiding, and where the big ones tend to hang out.
Best Streams (and Lakes) for Colorado Fly Fishing
When it comes to fly fishing, Colorado streams range from easy to find to a near-vertical hike down one of the steepest canyons in the country. The good news is, no matter where you plan to hike, visit, or go camping in Colorado, there's likely prime fishing somewhere in the vicinity. Here's a quick look at some of the best water for fly fishing Colorado has to offer.

South Platte River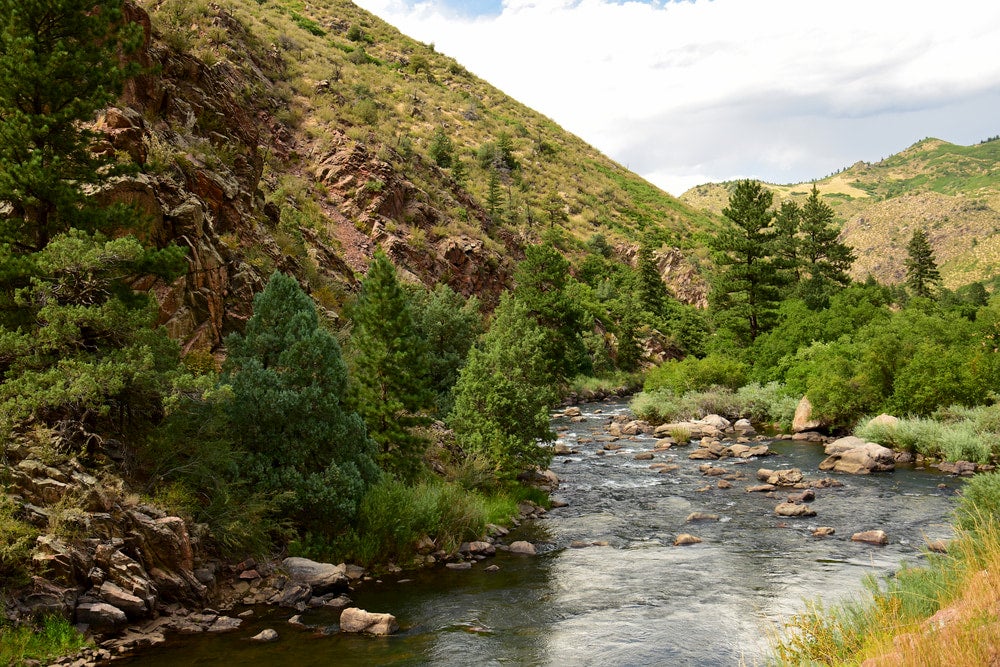 Accessibility Rating: 10
Popularity / Crowds: 9
Average Fish Size: Large (14'' + – Primarily Rainbow and Brown Trout)
Often referenced in the same breath as some of the top rivers in the country, the South Platte is the best of both worlds in terms of both accessibility and overall fishing quality. Located about an hour's drive from Denver International Airport, and about 4 miles south of Spinney Reservoir, the South Platte's ideal placement makes it a haven for fly fisherman eager to hook into a big one.
Elevenmile Reservoir, located just below the section of the South Platte called the "Dream Stream," provides an environment in which trout can grow much larger than their stream-bound counterparts, making the section of river between Spinney and Elevenmile a waterline of epic proportions. That said, the Dream Stream is not a secret, so be prepared for visitors just like yourself, and show up early to secure the fishiest spot.
Camping Near This River: Camping is available at the beautiful Eleven Mile State Park, which offers both RV and tent sites, and sits in extremely close proximity to the shores of Elevenmile Reservoir.
"Another great Colorado State Park, it sits above Eleven Mile Reservoir. The sites offer everything from tent sites to full hook up. There is limited shade, but most sites are exposed. There's beautiful hikes around the lake and the fishing is awesome between the reservoir and Spinny Lake, and 11 Mile Canyon below the dam." –The Dyrt Camper Curtis B.
Arkansas River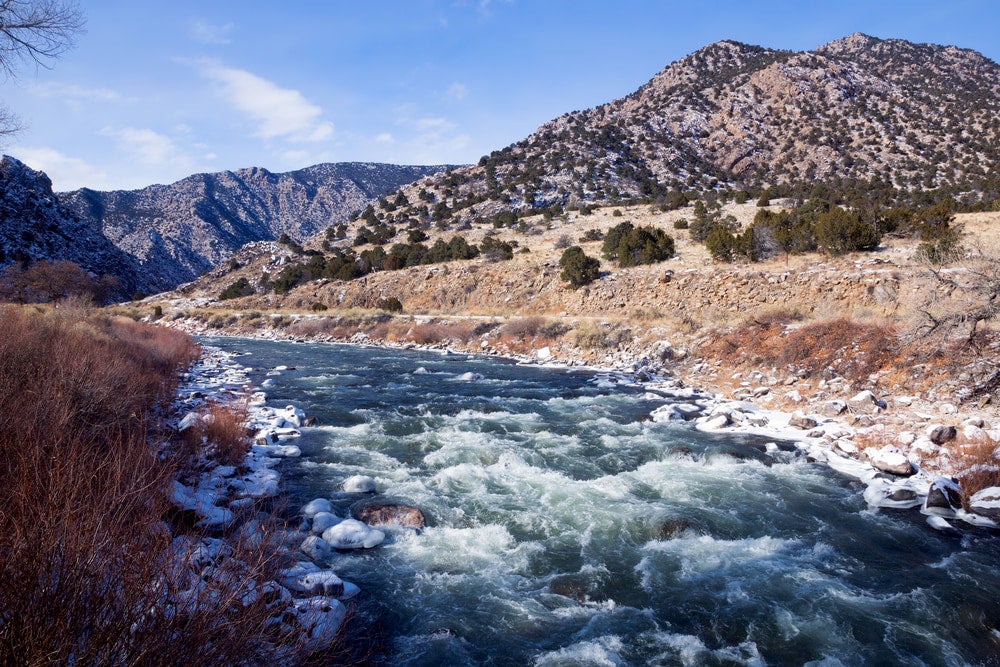 Accessibility Rating: 8-10 (depending on location)
Popularity / Crowds: 8
Average Fish Size: Medium (10'' to 14'' – primarily Rainbow Trout)
One of the largest rivers running through the state, the Arkansas is another Gold Medal stream when it comes to Colorado fly fishing, and Colorado is home to almost 500 miles of this premier river's water. While its higher altitude section (about 100 miles from Leadville to Canon City) is technically the Gold Medal territory, nearly all of the river is fishable, and many sections of shoreline are extremely accessible.
For beginners to fly fishing, the Arkansas River just below Pueblo Reservoir is an excellent spot to hook into some homegrown Rainbows, the hallmark fish of Colorado fly fishing. The wide shoreline makes casting from the bank a breeze, and, while frequented in the summer months, there are usually enough biting fish to go around. Winter fishing on this stretch of water is also feasible, and can make for a less-crowded (albeit a bit chilly) outdoor adventure.
Camping Near This River: The good news for avid fly fishermen looking to camp out for the night is that opportunities for camping along this river are abundant. If you're looking somewhere along the Gold Medal stretch, check out Echo Canyon Campground, or the Five Points Campsite, both of which offer developed campgrounds right along the shores of the Arkansas River. Due to their proximity to world-class fishing waters and spectacular whitewater, these campgrounds are exceedingly popular for rafters as well, so it's best to book early!
"We stayed at this campground a few years ago and got a group site. We had about 6 tents set up and there was room for a whole bunch more. It made for a really fun rafting and camping trip! The campground has bathrooms but I think there was a small fee for the showers. Dogs were allowed and fires are allowed as long as there's no burn ban in effect. The site we had included a giant picnic shelter as well." –The Dyrt Camper Trevor F.
Cache La Poudre River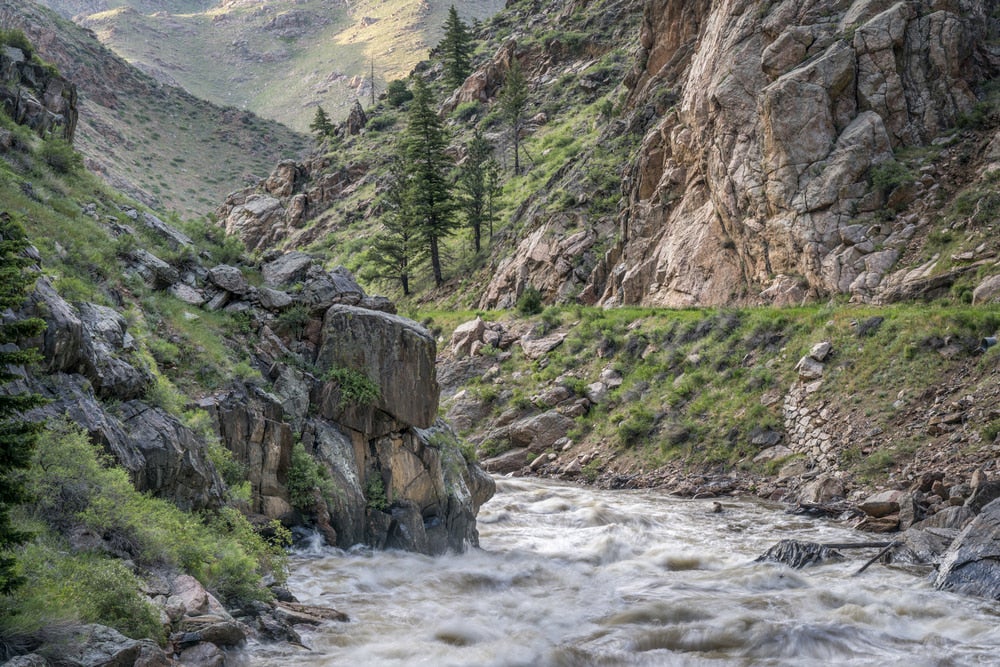 Accessibility Rating: 10
Popularity / Crowds: 6
Average Fish Size: Medium (10'' to 14'' – primarily Brown Trout)
There are few places that boast as many fish (and as many urban myths) as the Cache La Poudre. This legendary Colorado fly fishing hole gets its name from a crew of explorers that got stuck in a blizzard on their way through the region, and stored their heavy powder kegs (cache la poudre means "hide the powder" in French) near the unnamed river. Though there are hundreds of access points to the Cache La Poudre, one of the easiest is just outside of Fort Collins, CO, where the river runs basically through the edge of town.
Since it runs along Highway 14, there are a number of easy access points that can be visited just a short walk from the road, just be sure to lookout for signs limiting public access. That said, the Cache La Poudre enjoys some of the best public access of any river in the state, with open stretches of the river that run for miles and are free to the public year-round. In addition to that, the nearby reservoirs tend to take some of the crowds away from the open stream waters, so visitors can often find relative quiet, particularly if you hike a bit to get to your spot.
Camping Near this River: Since the river itselfs run right along Highway 14, there are numerous opportunities to camp in very close proximity to this river. Just outside of Fort Collins in the Arapaho & Roosevelt National Forest, Stove Prairie Campground is located slightly to the west of Fort Collins and the main river waters, but is still accessible via a short drive. Horsetooth Reservoir's South Bay Campground is another option, located closer to the town of Fort Collins and in excellent proximity to both lake water and Cache La Poudre.
"Had a great time camping over the 4th of July. We had an amazing view of the water, the bathrooms were great and if you had a boat you can literally pull it right to shore to anchor for the day or overnight. Great place and can't wait to go back!" –The Dyrt Camper Curtis G.
Gunnison River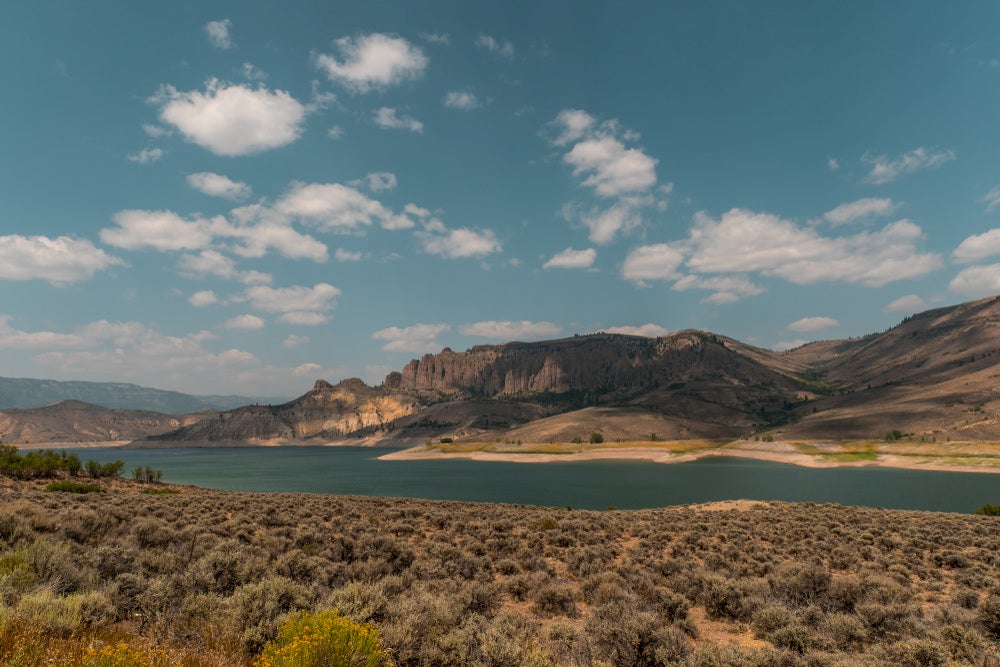 Accessibility Rating: 4 (Hike-in) or 7 (Drive-in)
Popularity / Crowds: 2 (Hike-in) or 6 (Drive-in)
Average Fish Size: Large (14'' + – primarily Rainbow Trout)
The Gunnison River contains Gold Medal waters and world-class scenery to boot. While many of Colorado's rivers offer expansive views of the surrounding mountains and plains, a section of the Gunnison's Gold Medal water actually lives in Black Canyon of the Gunnison National Park, making the fly fishing experience doubly surreal, both for its over-sized Rainbow Trout and the 1,000 foot crag walls that surround hikers brave enough to make it to the canyon floor.
Fly fishing on this section of the Gunnison River is accessible via car, although the road into the National Park near Crystal Dam is extremely steep, and only vehicles under 22 feet are allowed. For the bolder ones with stable legs and a taste for adventure, backcountry fly fishing is available, though it requires that anxious anglers complete the harrowing hike from the canyon's rim to the floor. Anglers attempting this hike should be in prime hiking shape, and have the ability to carry all of their gear on their back. That said, if you're able to make it to the bottom, there's a great chance you'll have a long stretch of Gold Medal water all to yourself—a rarity when it comes to Colorado fly fishing.
Camping Near This River: The Black Canyon of the Gunnison National Park offers three campgrounds for visitors. The South Rim campground is the largest, offering 88 sites, including electric sites, accessible sites, and reservable spots. The North Rim campground and East Portal campground contain 13 and 15 sites respectively, and are given on a first-come, first-served basis.
"The Black Canyon of the Gunnison is an incredible park – the history is incredible, but the views are awesome! Truly majestic. If you are tent camping, head on down to East Portal so you are right on the river, but if you are driving an RV. This is the place you want to be. Not a lot of amenities, but you can get your rig parked easily and enjoy the views. One of the more incredible views you'll find in here." –The Dyrt Camper Shelly K.
The Blue River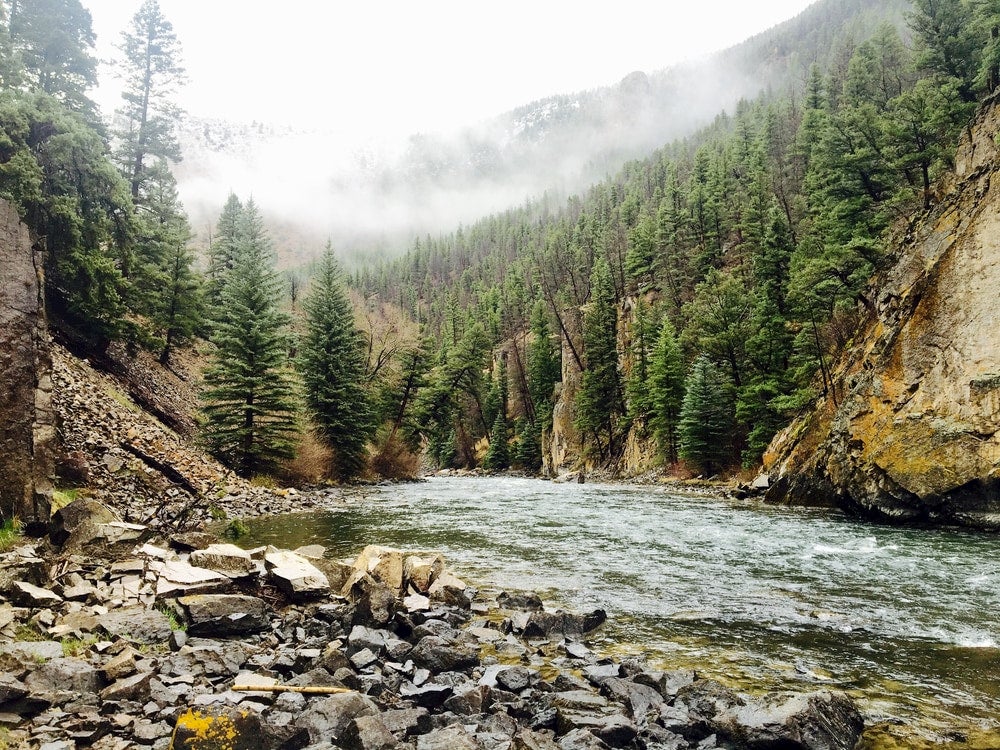 Accessibility Rating: 10
Popularity / Crowds: 9
Average Fish Size: Trophy (20'' + – primarily Rainbow Trout)
One of the lesser known waters for out-of-town visitors, the Blue River runs directly through the town of Silverthorne, and most notably intersects with the large shopping mall, The Outlets at Silverthorne. Despite the odd placement, the monstrous 20'' Rainbows that call this region home are enough to lure any angler out, whether they're waiting on shoppers or simply looking for an extremely accessible location to test their fly fishing skills.
Due to the proximity of the river to the outlets, the Blue River enjoys quite the crowds in the summer months, but it favors the skilled as the Rainbows lying in wait are as picky as any trout in the state. This is a great location for a quick fly fishing trip or an agonizing technical battle with a 20-incher.
Camping Near This Location: The Blue River campground is a campground in close proximity to the town of Silverthorne, and offers 24 sites with toilets, grills, and fire pits. The campground includes riverside sites as well, making it a perfect spot for anglers looking for a quick way to get their fish on.
"There were a good amount of riverside campsites, some with shade some with less tree cover. I was able to score an awesome sight by the river even on a busy weekend. Great spot for fishing (no bait)." –The Dyrt Camper Natalie S.
Upper Colorado River
Accessibility Rating: 9
Popularity / Crowds: 7-8
Average Fish Size: Medium (10''- 14'' + – primarily Rainbow and Brown Trout)
Beginning near the town of Granby in some of the state's finest alpine terrain, the Upper Colorado River is a Colorado fly fishing paradise. With Gold Medal waters bordering the spectacular Rocky Mountain National Park, this section of the Colorado River offers flat, easy navigable terrain and Rainbow and Brown Trout to reward even the most average of anglers. The water on this portion of the river makes casting a breeze, and some of the best fishing in state is an easy wade in from the grassy banks.
Camping Near This River: This is perhaps the best "camp and fish" spot in Colorado as the nearby Rocky Mountain National Park offers an array of campgrounds to choose from, from Moraine Park Campground to Glacier Basin. For camping closer to the river, the Upper Colorado River Recreation Area offers multiple campgrounds and picnic sites for day-use and overnight stays.
Pumphouse campground is a popular option that offers a number of sites with access to restrooms, fire pits, etc. Pumphouse is a boat launch site for commercial rafting companies, so visitors should be aware of the increased foot traffic near the campground during rafting season. Radium campground also offers excellent river access, and is in close proximity to the little-known Radium Hot Springs. Radium is slightly less developed than Pumphouse, and would be a good choice for campers seeking the bare bones camping experience.
"This past weekend was my first time actually using [the Pumphouse Recreation Site] campground and I was quite pleased. Although we arrived fairly late on a Saturday evening in the summer, there were still quite a few campsites available. We had no trouble finding a site with a level parking spot for our campervan on the night that we arrived. Camping here offers a great base camp for those looking to get out on the river for rafting and fishing or exploring hikes in the surrounding BLM land." –The Dyrt Camper Isabelle K.
Indian Peaks Wilderness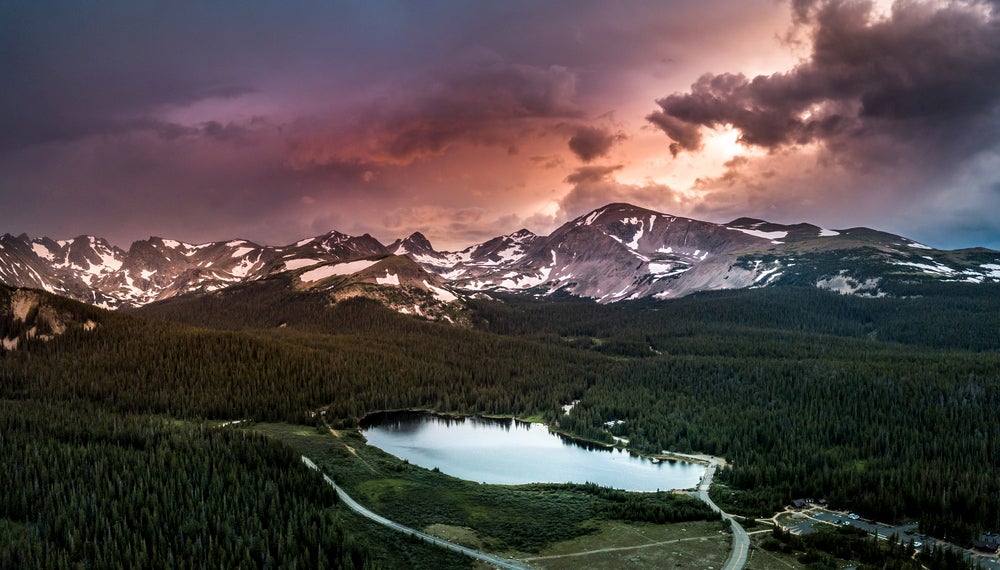 Accessibility Rating: 9
Popularity / Crowds: 7-8
Average Fish Size: Medium (10''- 14'' + – primarily Greenback Cutthroat Trout)
The wild card of our fly fishing roundup, the Indian Peaks wilderness offers some of the best-pickings when it comes to fly fishing in Colorado, if only because its remote location means that the Greenback Cutthroat Trout native to the area are large and hungry for flies. Keeping in line with the tradition of breathtaking alpine views, Indian Peaks is among the top-tier locations in the state where you can fly fish on a lake with a virtual guarantee of catching fish. It's a hike, but it's a hike well worth the trek when you consider the profits on the other end.
Camping Near This Lake: While camping is prohibited in the Indian Peaks Four Lakes area, camping is available nearby at Rainbow Lakes Campground as well as Pawnee Campground, both of which are in close enough proximity to Indian Peaks to do day-trips. Please note that a permit ($5) is required for day use of the Indian Peaks wilderness area.
"We happened to come across Rainbow lakes campground in a google search of nearby campgrounds. Upon arriving during the middle of the week in the first week of July we found it to be completely empty and super clean. We met the camp host, Rick, and he introduced us to the area by explaining the trails and where to go for what purpose. He was incredibly helpful and the site was stunning…The lakes next to the campground are beautiful and the train is easy to follow. Lots of wildlife and beautiful flowers." –The Dyrt Camper Hayley K.
Fryingpan River
Accessibility Rating: 7
Popularity / Crowds: 6
Average Fish Size: Medium (10''- 14'' + – primarily Rainbow Trout)
The Fryingpan River is another Gold Medal designated stream that runs 14 miles down from Reudi Reservoir, and boasts some of the friendliest fly fishing Colorado has to offer. Because it flows from the larger body of water above it, the river forms deep pools along its 14 miles that hold hearty (and hungry) Rainbows and Brown Trout. Visitors to this area should be prepared for slight crowds on warm summer days, but if you venture further down from the reservoir it's likely to be more secluded.
Camping Near This River: Camping near this river is primarily available at Reudi reservoir, at Dearhamer, Rocky Fork, and Freeman Mesa, each of which sit in close proximity to the lake and a short hike / drive from the waters of the Fryingpan. Camping below the reservoir is available at Chapman campground.
"We camped here in late fall last year, a few weeks before closing. Chapman is huge, 80 something sites I think. We were the only ones there! So many nice campsites to choose from. You can camp on the Frying Pan River or on Chapman Res or in the forest. The fishing was fair in the Res and we caught 2 nice browns in the river. Great views everywhere and silence except for the river and the birds made this a perfect 2 days camping." –The Dyrt Camper Mitch K.
---
This article on fly fishing in Colorado was brought to you by Mountain House.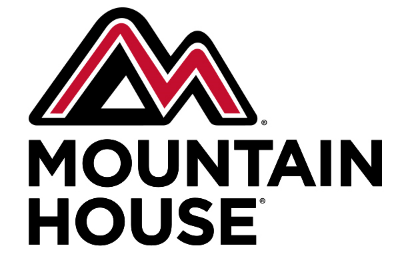 Stock up on your freeze dried food supply with Mountain House's new fusilli pasta!
---
Related Campgrounds:
---
Related Articles:
Popular Articles: