Burlington, Vermont sits on a hill overlooking New York's striking Adirondack Mountains, with Lake Champlain shimmering below. This tiny New England town has earned a reputation for both natural wonders and nightlife. Situated on what was once an ancient sea, Burlington's Lake Champlain has the oldest fossil reef in the world— as well as over 90 species of fish for modern anglers to pursue. Diving expeditions in the lake have revealed shipwrecks, while the surface is popular with paddle boarders, sailors, and kayakers.
There is no shortage of hotels and short-term vacation rentals in the area. But in order to really embrace what the city has to offer, camping near Burlington, Vermont is a promising option. Campgrounds dot this lake from the southern finger-like region to the wide northern end. And some of the best options for pitching a tent are those right on the lakeshore.
Discover Why Camping Near Burlington, Vermont Is the Best of Both Worlds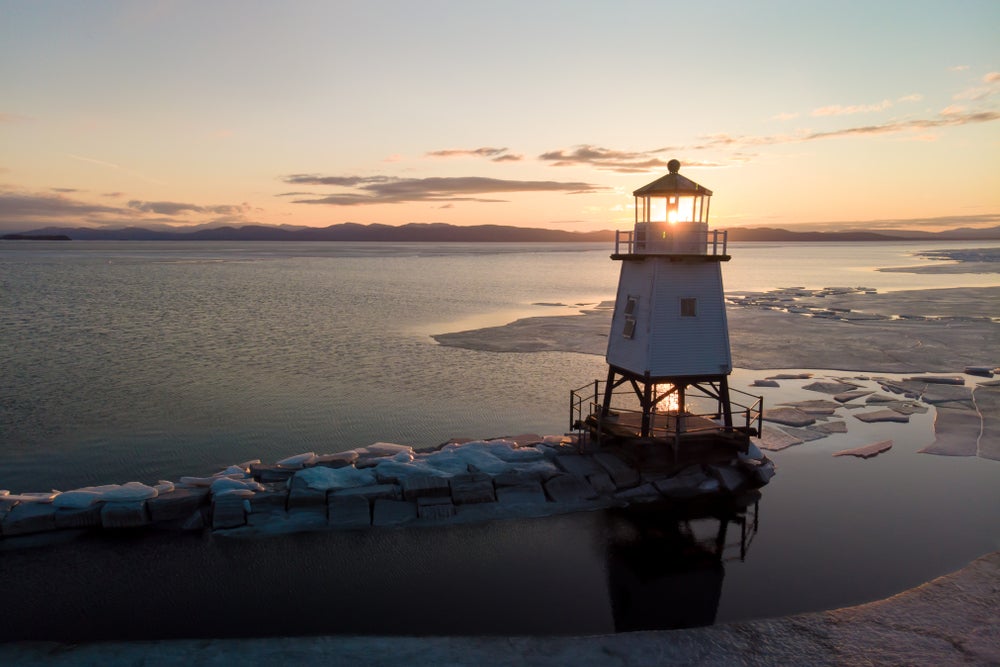 The Burlington area is a mecca for outdoor enthusiasts, who flock to this small, fresh city not only for its proximity to a vibrant outdoor playground, but also a funky underground music scene, locavore approach to food, and rapidly rising arts community.
Camping near Burlington, Vermont means you'll be diving headfirst into all that this mountain lake town has to offer. Whether your definition of fun involves the backcountry or more urban adventures, The Dyrt has you covered with this comprehensive guide.
Where to Camp Near Burlington, Vermont
There are plenty of options in every direction when it comes to camping near Burlington, Vermont. And while there are great campgrounds east of the city, we've rounded up 5 favorites nestled right on Lake Champlain so you can soak up everything that the Queen City has to offer.
North Beach Campground is an excellent choice if your goal is to camp close to Burlington proper. Located just a 1.5 miles from downtown and directly on the bike path, North Beach is a popular campground for festival-goers looking for quick access to the city. On those busy weekends, or if you're planning on attending a Burlington festival yourself, make sure to book well in advance.
"The best of both worlds. Bring your bikes! You're tucked away in the woods on gorgeous Lake Champlain and can bike into Burlington for meals and city street strolls. It's great!" —The Dyrt camper Mackenzie B.
Although it's about thirty minutes by car to get from Burlington to Grand Isle State Park, that makes it prime territory for bike packers and avid cyclists. Reaching the state park via the Island Line Rail Trail takes the average biker roughly 1.5 hours, but it's a flat, scenic bike ride that's an attraction in and of itself. However you get there, it's entirely possible to stay at this secluded, quiet campground while making the most of Burlington by day.
Some of the sites include Vermont's classic lean-tos, including a nicely arranged ADA-accessible campsite that features one of the 3 walled platforms with a roof. The sites drain well after rain, and the views are unbeatable. That's especially true when you're getting a good look from one of the kayaks and canoes available to rent.
"This was our second visit, but first time in one of their prime lean-tos. There is lake access for kayaking, sailing, swimming and fishing. Brush up on your French so you can converse with the many Canadian visitors while you charge your phone at the designated wi-fi/charging are surrounded by flowers." —The Dyrt camper Patricia E.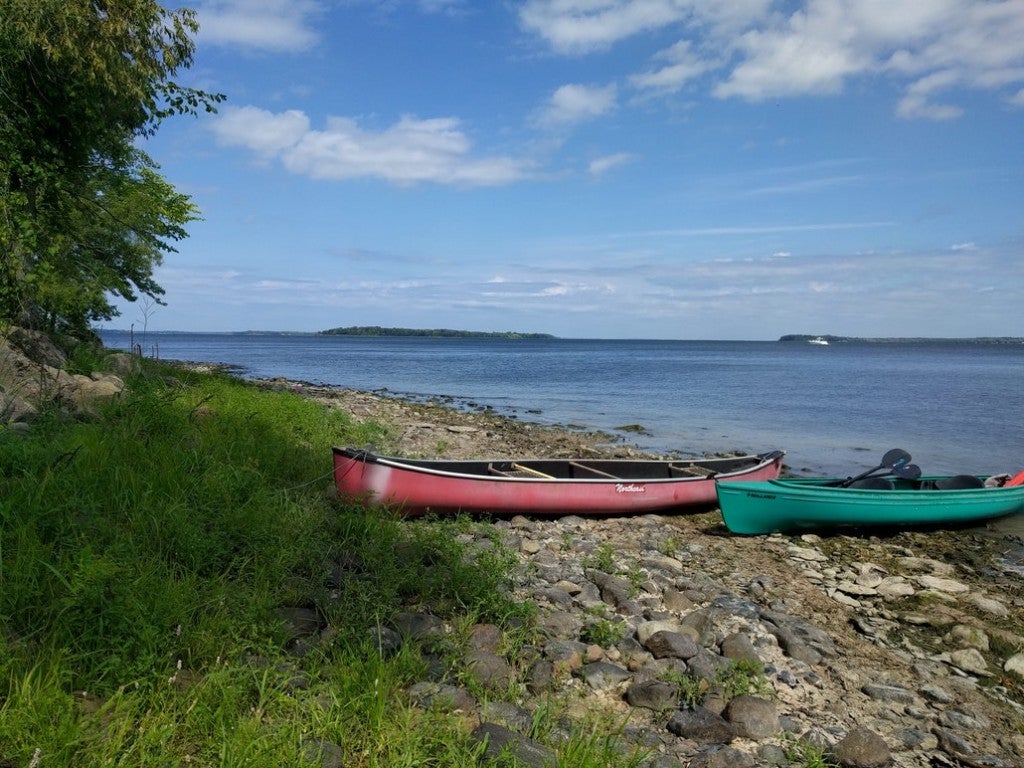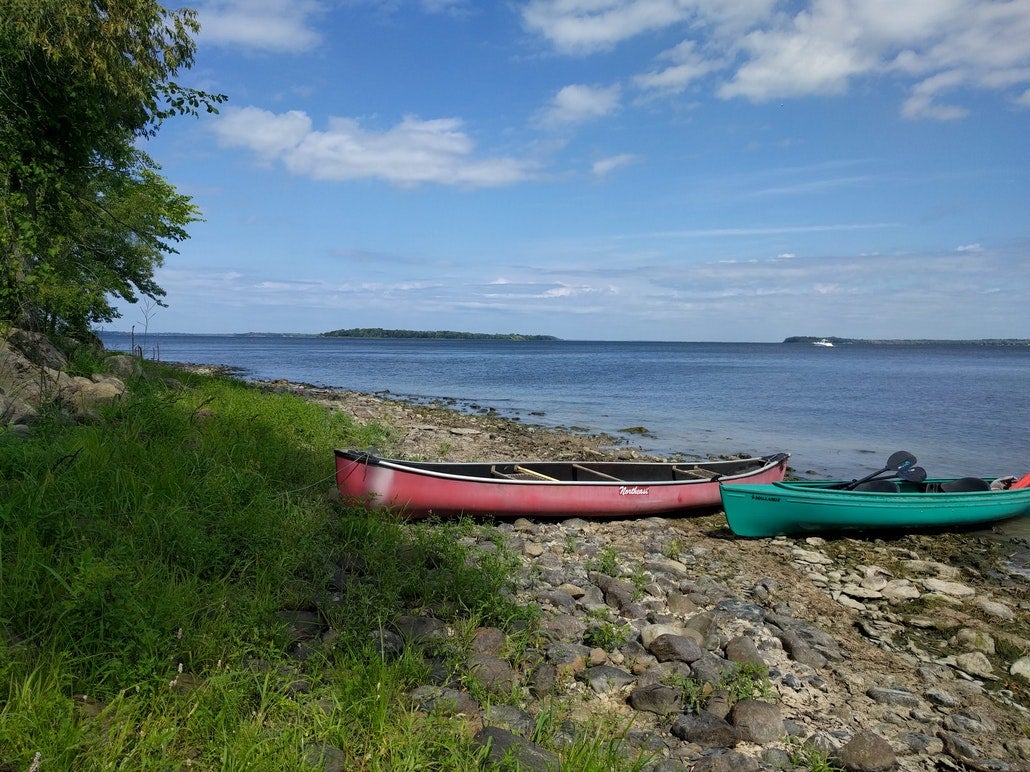 Boaters will find one of the best spots for camping near Burlington, Vermont at Burton Island State Park, a secluded spot you can only reach by water. Ferry service runs to and from Burton Island, but you can also skip the $8 fares and schedules by paddling your own way. It's entirely possible for fit paddlers to make the crossing in good weather, and you can easily stow your boat on shore.
When you arrive, though, you'll find the trip was well worth the effort. Amenities include lean-tos, flush toilets, hot showers, a camp store, and a cafe. You can rent a bicycle for $2, get an ice cream cone or a bite at the cafe, go swimming on the sandy beaches or stroll the rocky beaches to admire the view.
"This is one of my favorite places to camp because it's on an island and just getting there is part of the experience. We were lucky enough to get a waterfront lean-to and the view was spectacular! The campground is very clean and the staff are friendly and helpful." —The Dyrt camper Michael L.
Shelburne Camping offers year-round RV camping near Burlington, Vermont, as well as tent camping and cabins. That makes this a great choice for the cooler months, too, when many area campgrounds close for the season. You'll find full hook-ups, a pool, and access to a nearby boat launch. Digital nomads, too, will be happy to hear there's a solid WiFi connection as well as a mobile signal.
"The best location. The bathhouse was clean. The ladies side had a fresh flower arrangement everyday. Site 2 is a flat, gravel back in, 30 amp, full hookup. The grounds had gravel walking paths to the bathhouse that cut through the sites and had landscape lighting so there was barely a need for flashlights if heading there at night." —The Dyrt camper Casi O.
Although Button Bay State Park is the farthest from Burlington, it's certainly worth the 45-minute drive. On a bluff overlooking Lake Champlain, Button Bay is an open, sunny campground with wide, panoramic views of the Adirondacks to the west.
As it's located in a quiet farming town, Button Bay State Park proves to be a wonderful escape from a busy day spent in Burlington. In fact, some campers have called it "one of the best state parks in Vermont for families with kids, and for dogs."
"There are two campground loops to choose from. The first is where you'll find the lean-tos and the dog trail/beach. This area is super quiet, offers a bit of shade, and plenty of privacy. We almost always get the Catalpa or Willow lean-to because we bring dogs and it's easy for them to run to the lake and cool off." —The Dyrt camper Tara S.
What to Do Around Burlington, Vermont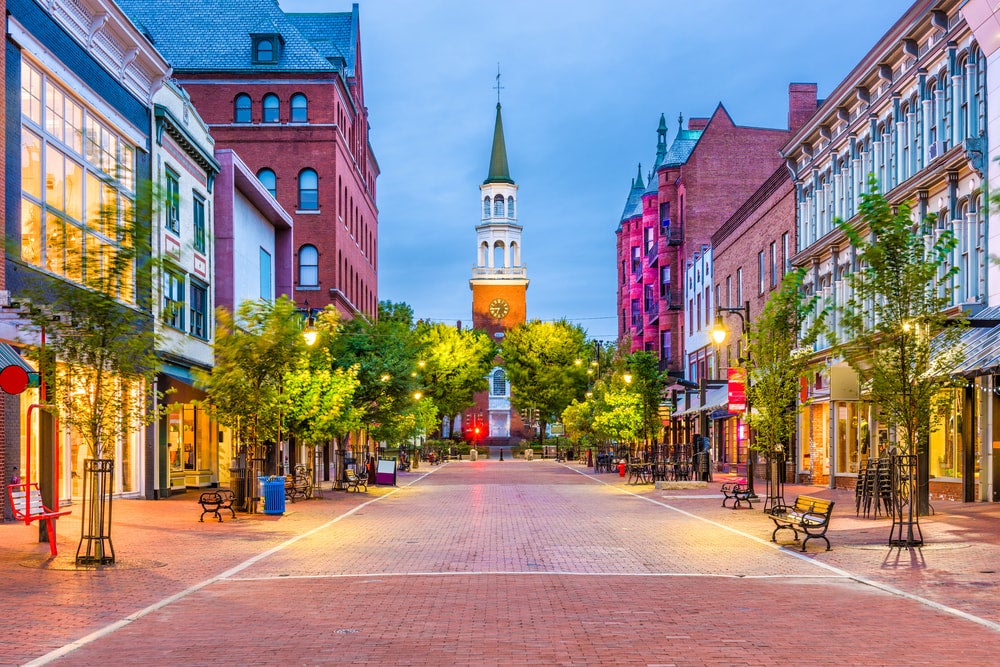 Lake Champlain is practically begging you to come play. With its multiple public beaches, there's a little something for everyone. For watersport enthusiasts, there are SUP, kayak, and canoe rentals from Umiak Outdoor Outfitters, as well as world class water skiing, jet skis, and sailing. Ferry services run to New York state from downtown Burlington, as well as daily sightseeing cruises. Or take it all in from two wheels on the Burlington Greenway bike path, which is part of the broader Island Line Rail Trail. Along the way, you can explore viewpoints and small, as well as unofficial beaches along the way.
Many people choose camping near Burlington, Vermont for easy access to the Queen City's many festivals. In early June, Jazz Fest transforms Church Street into an outdoor live music hall. The 2019 lineup features such greats as Patti Labelle and Brian Wilson, along with indie favorites St. Paul and the Broken Bones and Leyla McCalla. In September, the Waterfront Park becomes Grand Point North, a lakeside music festival, where revelers can enjoy both local food and music. Come winter, ice fishing shanties dot the lake, and the Penguin Plunge, a charity event for the Special Olympics, takes place.
Camping near Burlington, Vermont, means you'll have access to not only the peace of Lake Champlain, but whatever downtown event you'd like to take a part in. It's a unique destination for campers, proving to have no shortage of activities, excitement, and beauty.
What to Eat
Vermont consistently ranks number 1 in the locavore movement, and for good reason. Locals knew eating local as a way of life long before it ever became a national culinary movement. Burlington has a wealth of fantastic restaurants, delis, and cafes where you can truly get a taste of Vermont.
From May to October, Arts Riot Truck Stop on a Friday night is the place to be. In a backyard lot of this music and arts venue, food trucks from all over the state of Vermont convene to offer their freshest take on local summer fare. Farm-to-table is huge here, and on Thursdays, it's off to Summervale, a local nonprofit bringing farm and community food systems together. Summervale has local music, food, and and activities during July and August, and it's a can't-miss Burlington experience.
If you're wanting to grab food to-go for a picnic lakeside, head to the Burlington Farmer's Market for your freshest take on local food. It's hard to beat Burlington Bagel Bakery, too, for breakfast or beyond. Grab a bagel and coffee and skip the indoor seating to instead drive to nearby Oakledge Park. There you can sit on a ledge to enjoy your coffee and bagel while you overlook the lake, the mountains, and the city itself.
---
Related Campgrounds:
Popular Articles: