New England is a North American gem for climbing, from seaside pitches on chiseled granite to sharp featured schist in the Whites and fields of glacial erratics peppering the many lakes and ponds of the region. The Northeast melds abundant natural beauty and thought-provoking routes.
With grades from world class to beginner, you're sure to find a crag, mountain, or boulder field to suit your fancy. And many of these rocky retreats are a stone's throw from camping. Add it up: climbing, camping, and stunning surroundings is the right formula for a great weekend out in the woods of New England.
These Parks Offer The Best Camping & Climbing Across New England
Top Pick for Bouldering: Pawtuckaway State Park—Nottingham, NH
Hundreds of boulders abound in this densely forested lakefront state park. The glacial erratics— large hunks of rock that were once propped up and plunked down by glaciers—serve over 700 problems. Due to natural forces, the granite is smooth, yet fully featured, which makes it distinct from the sharpness you'll find across the rest of the state. Problems range from V0 to V13, and popular areas include Boulder Natural, the Round Pond Boulders, and Blair Woods.
Be sure to check out classics such as, Cream (V0+), The Whip (V2), Hobbit Hole (V3), Ride the Lightning (V6), and Dopeman (V8). Note: If you go in early spring, the black flies will be tenacious, and expect mosquitoes through the summer (but if you live in New England, you already know this).
The beauty of Pawtuckaway is you can camp in the park. There are 192 wooded sites, many with a view of the lake. Each campsite features a fireplace, picnic table, and space for the car. Canoe and kayak rentals are also available so you can enjoy water-based fun on your rest days. Note that pets are not allowed. Prices range from $25.00 – $90.00 per night, depending on the site and amenities.
"Lovely wooded campground where you can swim, hike, kayak, bike, canoe, fish, boulder, geocache and explore to your heart's content. Generally large and level sites, many with water access, Make your reservation well in advance if you're planning to visit during peak season or if you want a prime waterfront site." —The Dyrt camper Jean C.
Top Pick for Mixed Climbing: Farley Ledges—Erving, MA
Farley is unique because it seamlessly mixes traditional (climbing that requires gear placement, or "pro") and sport routes (bolts) together on the same cliff, while providing plenty of pebble problems at the base. Finding the routes is a challenge, however, as there is no guidebook due to a policy agreement set up with landowners. Instead, put on your happy face and get ready to make friends with the locals to figure out just what the heck you're about to climb. Note that a golden first bolt indicates a mixed route (it will have some bolts but will also require gear placement).
Grades range from 5.4 to 5.14b so there is something for all skill levels. If Farley gets too busy, try Rose Ledges or Mormon Hollow; both are within two miles of Farley and offer a quieter setting. Climbing is best in spring and fall, though because of the shade it is fine during hot summer days, too.
Erving State Forest is just 5 miles from Farley and shines with 27 hillside sites abutting Laurel Lake. You'll have access to aquatic activities such as fishing, swimming, and boating, along with miles of hiking or mountain biking within the 4,479 acres of diverse woodland flora. Each camp site comes with a picnic table, pedestal grill and fire ring, with flush toilets and hot showers on the grounds. Prices are $17 per night for Massachusetts residents and $27 per night for non-Massachusetts residents.
"We grew up going to Laurel Lake and camping out there. It's a great place to tent camp and a very relax quiet place to spend a long weekend." — The Dyrt camper Ben P.
Top Pick for Sport Climbing: Rumney Rocks—Rumney, NH
Rumney is a world class sport climbing destination tucked into the southern edge of the White Mountains. Stacked with over 1,000 routes and grades ranging from first-time-out to elite (including the only 5.15 east of the Rockies), there is climbing to be enjoyed by all. Top walls include the imposing Waimea, where you may chance upon a pro, the Main Cliff, perhaps the best all-around option with loads of 5.10-5.13s, and the appropriately named Parking Lot Wall, the most accessible area conveniently equipped with beginner climbs.
Classic lines include Junco (a juggy 5.8+) Lonesome Dove (a delicate and technical 5.10a), and the quintessentially photogenic Predator (5.13b). Rumney is climbable year-round, though it can be buggy and wet in Spring, with peregrine falcon closures on the upper reaches of the cliffs.
Camping Nearby: Rattlesnake Campground
The American Alpine Club's Rattlesnake Campground is mere steps from the Main Parking Lot, situated on an expansive 15 acres right along the Baker River. Camping costs $8 per person per night (for AAC members, and $12 per night for non-members), with parking included. The price of admission is nearly the same as day-use parking at one of the lots at the base of Rattlesnake Mountain (a $5 fee). Reservations are highly recommended as Rumney is one of the most popular destinations for climbers from Montreal, Boston, and even NYC. The barn provides power outlets and Wi-Fi, and for the dorm-inclined, there is a 6-person co-ed bunkroom complete with a full bathroom, kitchen, living room, and WiFi ($20 a night for members, $33 for non-members).
Be the first on The Dyrt to review this campground and share your experience to earn your Pioneer Badge!
Top Pick for Cooler Climbing: Smugglers' Notch State Park—Stowe, VT
Best known as a winter destination for skiing and ice climbing, Smugglers' Notch makes a lesser-trafficked and cooler temperature climbing spot during the sometimes oppressive New England summers. "The Notch," named for the narrow pass through the Green Mountains, serves up climbing drive-thru style, with many of the boulders right by the road. These same rocks and caves once provided hideaways for bootleggers during the Prohibition-era of the 1920s, who smuggled illegal liquor across the Canada–U.S. border. Sitting at 2,165 ft. and with trade winds coming from Mount Mansfield, the climbing temperatures can often be 15-20 degrees cooler than in town, 1,200 feet below. If you're in the area and want more sport and trad climbing, the Bolton Valley has some of the best in the region.
Classic problems include: The Fin (V1), General Patton's Arete (V2-3), Boomerang (V6) and Rhode Island Ripper (V8).
Smugglers' Notch State Park is an alpine haven. It features 20 tent sites and 14 lean-tos and you'll awake perfectly situated for hiking at higher elevation (for New England), with nearby trails to the top of Mt. Mansfield, Vermont's highest peak. The campground operates on alternative energy and has hot showers, firewood, and ice available. Note that day use of the park requires an additional entrance fee.
"The whole place has a real wilderness feel, but it is very close to lots of hiking and the attractions in Stowe. You can easily walk to Bingham Falls across the street, which I think is one of the most lovely waterfalls in the whole state… We always stop at the Alchemist for a case or two of Heady Topper to bring home." —The Dyrt camper Tara S.
Top Pick for Trad Climbing: Ragged Mountain—Southington and Berlin, CT
This ridgeline is notable for its earthy, cuprous color and stiff climbs. The Main Cliff is the most popular spot, with climbs up to 100 feet and over 80 routes. There is a long history of climbing here, with legendary climbers such as Fritz Wiessner and Hot Henry Barber putting up first ascents, including what may be the first 5.8 in the country. Note that anchors and trees are far from the edge, so if you plan to top-rope, be sure to bring a long static rope and lengthy slings. The west-facing cliff offers a cooler reprieve in the summer.
Top climbs include: Wiessner Slab (5.3), Broadway (5.8), YMC Route (5.9), and Unconquerable Crack (5.9+).
Camping Nearby: Bear Creek Campground
The most unique camping option on this list (and certainly not for everyone), the Bear Creek Campground is situated on the amusement park and water park property of Lake Compounce. Which, continuing the historical theme, is the oldest continuously operating amusement park in the United States. The upside is that it's only 20 minutes from Ragged Mountain (15 minutes closer than the next campground, Black Rock State Park). Options include: Tent site, with weekday pricing (Monday-Thursday Night) of $30.00/night and weekend pricing (Friday-Sunday Night) of $40.00/night; Tipi ($74.00/night, $89.00/night) and the novel Cub Hut, a mini-cabin shaped like a log ($89.00/night, $104.00/night).
Be the first on The Dyrt to review this campground and share your experience to earn your Pioneer Badge!
Top Pick for Coastal Climbing: Acadia National Park—Bar Harbor, ME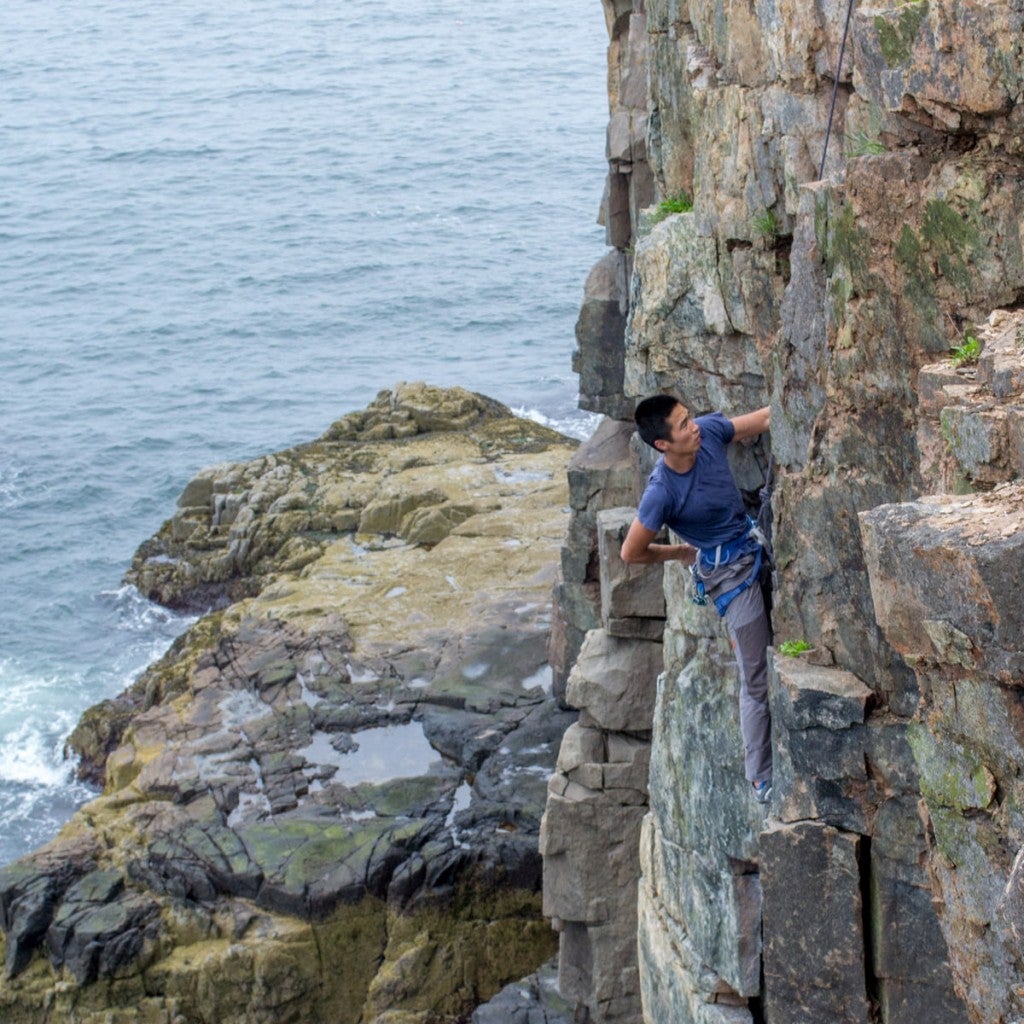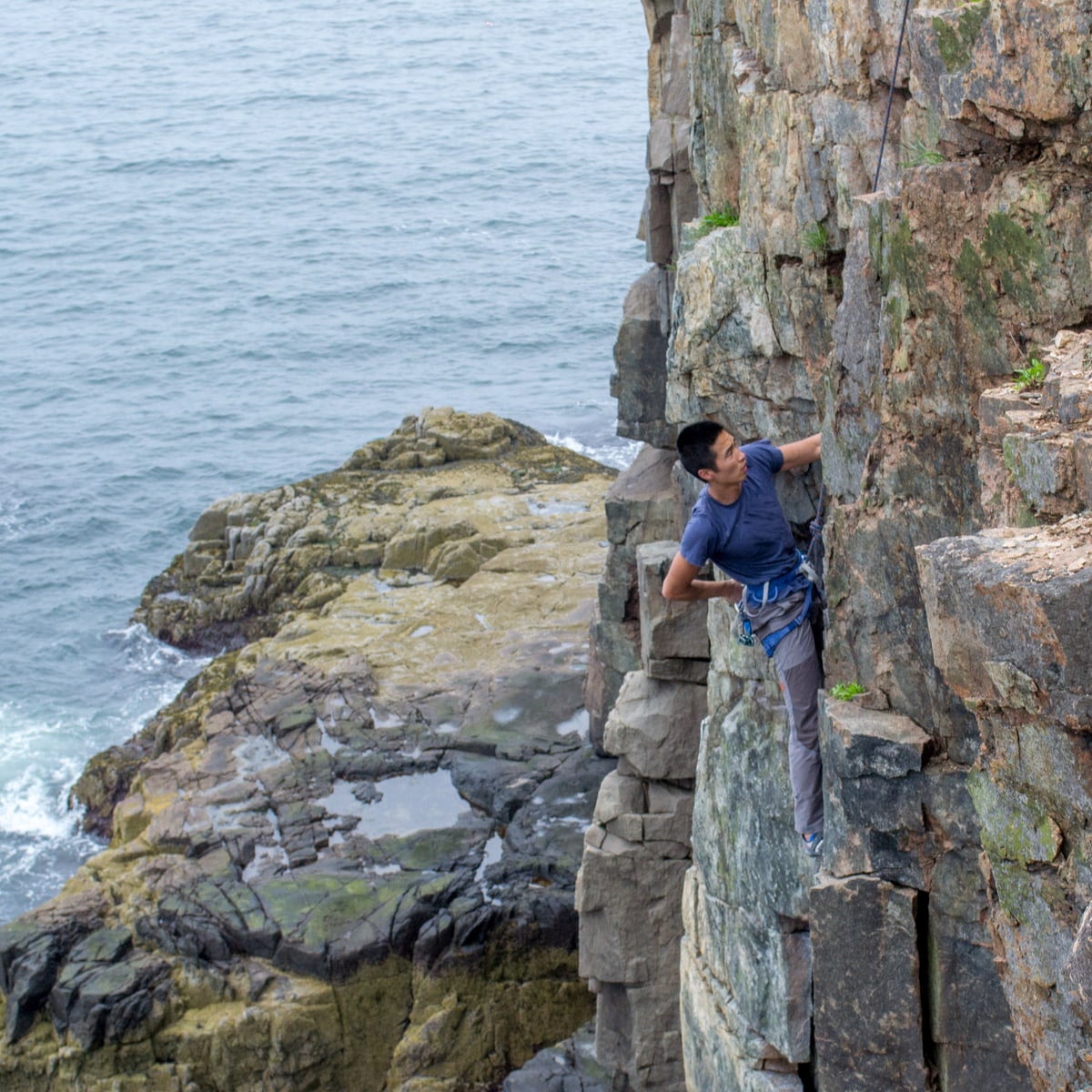 Acadia is the first place the sun touches in the U.S.—from fall through early spring—due to its northeasterly bearings right along the Atlantic. As a result, the park offers scenic trad climbing right along the ocean waters. With sweeping views of the sea, the pink granite brings bold routes and tricky moves on crack climbing, dihedrals, and overhangs. There are also boulders right along the beach and in the woods. While the island is one of the top 10 most-visited national parks, you are unlikely to face crowds on these stiff cliffs.
Top climbs include: Old Town (5.7+), Green Mt. Breakdown (5.9+), and Adair by the Sea (5.10b/c)
The three main campgrounds on the island are Blackwoods, Seawall and Schoodic Woods. Be sure to reserve a site early (they are reservable up to 6 months in advance) due to their popularity. Prices range from $22 for walk-in tent sites to $60 for group sites.
"Acadia was stunning! so much to do and see, we could easily spend a week here!" —The Dyrt camper Jennifer D.
Top Pick for Climbing Convenience: Lincoln Woods—Lincoln, RI
Convenience is the name of the game here as the boulders, with nearly 600 problems total, are all a stone's throw from ample parking. Centered around the shimmering Olney Pond, roads circumnavigate the lake making access a breeze. The park itself has been a local destination for bouldering going back to 1935 when the Appalachian Mountain Club extolled "The Woods" as "The Rock Climber's Paradise." After a hard day scaling the sharp textured rock, give your hands a soak by renting kayaks at the REI boat house.
Classics include: The Wave (V2), Quiet Buddha (V3) and Try Again (V5).
Camping is not the convenient part of a Lincoln Woods trip. Our recommendation is the George Washington Campground; it's the closest state park to this more urban locale, about thirty minutes west. On the shores of the Bowdish Reservoir, you'll be greeted by primitive camping, including 45 drive-up sites, two shelters for large groups, and a 0.6 hike-in for more remote spots. Water is available and bathrooms are either outhouses or pit toilets. There are no shower facilities. Prices range from $14/$35 for residents of RI to $20/$25 for non-residents.
"There is a nice lake (reservoir) for fishing, swimming, kayaking, etc. Plenty of hiking and challenging mountain biking. We love this campground! We camped at George Washington Memorial Camping Area in a Motorhome." —The Dyrt camper Charles S.
---
Related Campgrounds:
Popular Articles: