To the east of Atlanta, three broad, gray domes jut out of the flat Georgia forestland. Arabia Mountain, Stone Mountain, and Panola Mountain are impossible to miss. But their names are misleading—these aren't really mountains, but a rare geological formation called a monadnock.
The monadnocks are monuments to what Georgia's environment was like hundreds of millions of years ago. Back when lava cooled beneath the earth's surface and gave rise to the rock outcrops. Arabia Mountain once endured decades of quarrying for its unique rock composition. Today, the monadnock is a secluded natural environment full of rare plant species. It is also a haven for explorers and campers just outside of the Atlanta city limits.
In 2006, Congress designated the Arabia Mountain National Heritage Area, making it one of only 49 places in the country with a National Heritage Area designation.
7 Reasons to Visit Arabia Mountain
Of the three abruptly rising monadnocks, Stone Mountain is by far the Georgia tourist darling. Millions of visitors visit the rock-turned-theme-park annually. Many gather at the base of the hill to watch a laser show at night. Visitors also find a hundreds of feet wide depiction of four soldiers carved into the side of the mountain.
The massive Confederate monument has long been controversial, but Stone Mountain continues to be one of Georgia's most popular attractions. To see a monadnock in its natural state, opt instead for Arabia Mountain. Which offers all of the natural wonder with none of the Confederate glorification.
1. Arabia Mountain National Heritage Area Has Back-to-Nature Camping Options

ZZZs in the Trees
If you're looking for a truly unique camping experience, nearby Panola Mountain offers a "ZZZs in the trees" program. Campers sleep in the treetops in a tree boat, under the expansive Georgia sky. For more information about camping options or to make reservations, call Panola Mountain State Park at (770) 389–7801.
Primitive Campsites
Camping at the Arabia Mountain National Heritage Area is available near the Panola Mountain monadnock, and there's only one way to do it — primitive. The campsites located on the banks of Scout Lake cost around $15 to $20 per night. However, due to dam construction in the state park, the sites are temporarily closed down as of this writing.
Each primitive site has tent pads, a fire ring, and a picnic table. Because they're primitive, there aren't any electric or running water amenities.  The nature center, playground, and gift shop are all also in close vicinity. Each site accommodates up to five people, or two tents, and dog campers are welcome, as long as they're leashed.
Whether you're camping by Scout Lake or at the top of a Southern red oak, tell us about your experience and earn your Pioneer Badge by leaving a review at The Dyrt!
2. Arabia Mountain is More Secluded
You won't find any 4-D theaters or water rides like you will at Stone Mountain, but at Arabia Mountain you'll also avoid the crowds that come with them. Hike the easy 1.3 miles along the Arabia Mountain Top Trail to get to the summit, overlooking Atlanta The hike is on an incline, but it's still a moderate family-friendly trail suitable for beginners. The Arabia Mountain National Heritage Area also includes trails that follow meadows and lakes at the base of the mountain.
The land around Arabia Mountain is so secluded and serene that a community of Trappist monks chose to migrate there after World War II. Today, visitors can take a guided tour with a monk to areas of the monastery normally closed off to the public.
3. You Can Spot Unusual Flora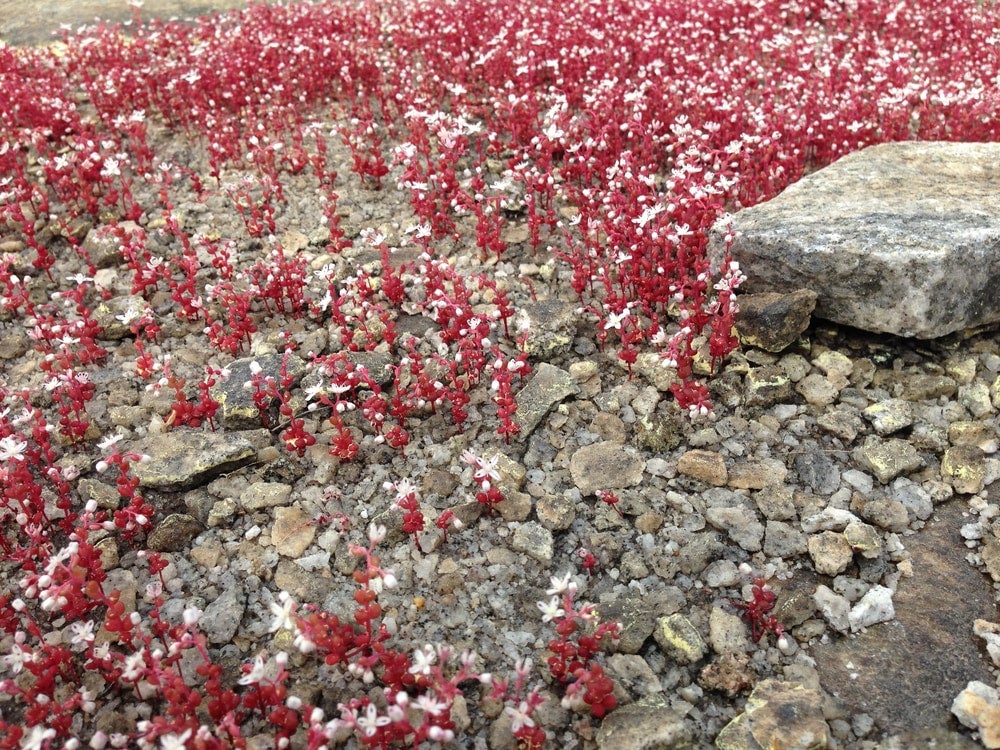 The harsh environment on the stone outcrop supports plant life only found in a handful of other locations nationwide. Every year around March and April, the surface of Arabia Mountain blazes red. The eruption of stout, scarlet blooms, called diamorpha smallii, happens to be a rare natural phenomenon that can only exist because of the monadnock's unique ecosystem.
The tiny flowers live in the shallow pools of granite outcroppings, which are plentiful at Arabia Mountain. Hike the Mountain Top Trail during the spring months to witness the botanical show of diamorpha smallii morphing from green to red to white.
Less showy but still important, federally protected plant species like the black-spored quillwort, mat-forming quillwort, and pool sprite are also found at Arabia Mountain. These botanicals are only seen in a handful of places around the U.S., because they need those vernal, shallow mountain pools to thrive.
4. Arabia Mountain is Only 20 Minutes From Atlanta
It might be hard to believe that there's a secluded natural environment just 20 minutes (longer if you   inevitably hit traffic) outside of Atlanta's relentless buzz. Maybe people can't believe it, and that's why Arabia Mountain remains appealingly quiet.
Whatever the reason, Arabia Mountain is the perfect spot to leave Atlanta's busy streets behind for a day hike or spend the weekend camping under the Georgia sky. If you're camping with kids, it's a low-stress trip out of the city and suburbs and into the wilderness.
5. It Helped Build the Brooklyn Bridge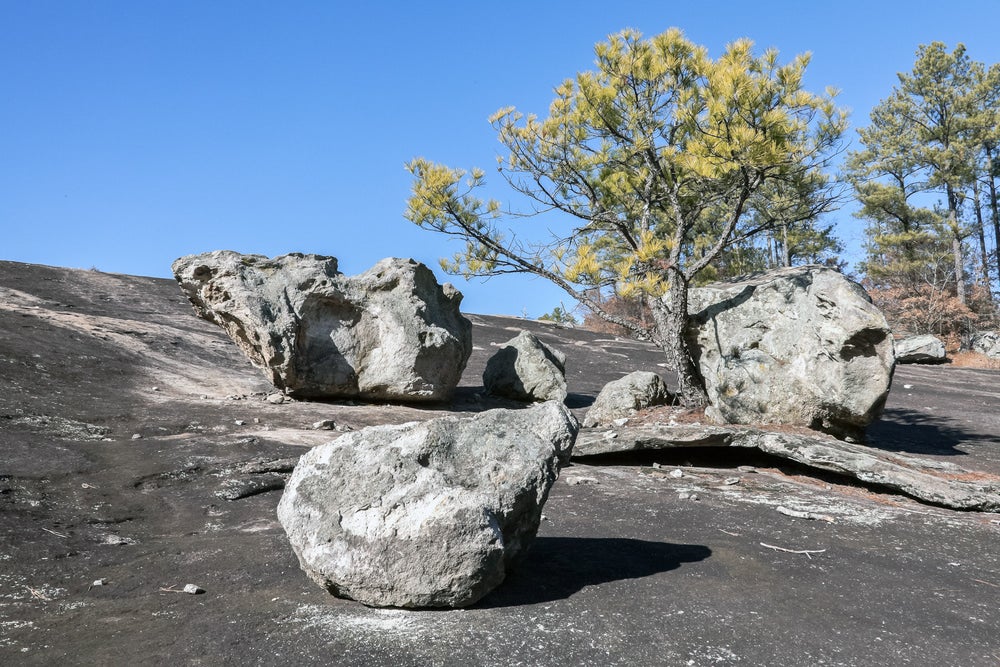 When you do visit Arabia Mountain, take the time to learn about this monadnock's amazing history—all 400 million years of it. More recently, the landscape was mined for its unique rock composition, called Lithonia granite, or "Tidal Grey", up until the 1970s. A majority of the mountain was quarried and its resources used to construct infrastructure around the nation, from the Brooklyn Bridge to the Atlanta curbs we walk upon.
6. This Monadnock is Bike-Friendly
For those of us who prefer pedaling, Arabia Mountain is a cycling haven. The Arabia Mountain Path (AMP) trail is entirely paved for cyclists, and connects to a web of cycling trails that run from Lithonia to the sister monadnock at Panola Mountain State Park . You can traverse the 30-plus miles of connected trails, from Lithonia to Arabia Mountain National Heritage Center, without ever needing to get in you car.
The AMP was thoughtfully constructed to immerse cyclists in the natural and cultural environment. The path winds along historic sites, through wild fields, and past two monadnocks.
7. Spring Comes Early (But Summer Comes Hot)

Arabia Mountain is an elevated stone surface surrounded by plateau, so it heats up faster than the air around it. Some of the plant forms on Arabia Mountain will even experience spring earlier than the lower elevations around the monadnock.
For the quarry workers who mined the rock resource for building material, summers were brutal. It's not 100 percent confirmed, but the heritage center speculates that Arabia Mountain earned its name from the quarry workers dubbed the rock "hot as Arabia."
---
Related Articles
---
Related Campgrounds:
Popular Articles: