This article about Amicalola Falls State Park is brought to you by Gregory, whose hiking backpacks will comfortably carry your gear whether you're planning a weekend day hike or are setting off on the trek of a lifetime on the Appalachian Trail.
---
In 1832, a land surveyor named William Williamson encountered a towering waterfall in the north Georgia mountains. Spilling over 729 feet of glittering, tightly-layered Blue Ridge gneiss was Amicalola Falls, a name derived from the Cherokee for "tumbling waters".
It was the third-tallest waterfall east of the Mississippi, the tallest cascading fall in the southeast, and the highest of any type in Georgia. It was certainly the most impressive fall Williamson had ever seen; he wrote that "in the course of my route in the mountains I discovered a water fall perhaps the greatest in the world, the most majestic scene that I have ever witnessed or heard of."
The forestry service declared the land around Amicalola Creek—which fed the falls and eventually the mighty Etowah River—to be "poor" with little potential for tree harvesting or farming. That perceived lack of natural resource potential may have saved the land around Amicalola Falls in an era when Americans were even leery of preserving such jaw-dropping wonders as Yosemite and Yellowstone.
Explore Amicalola Falls State Park for a True Taste of Appalachia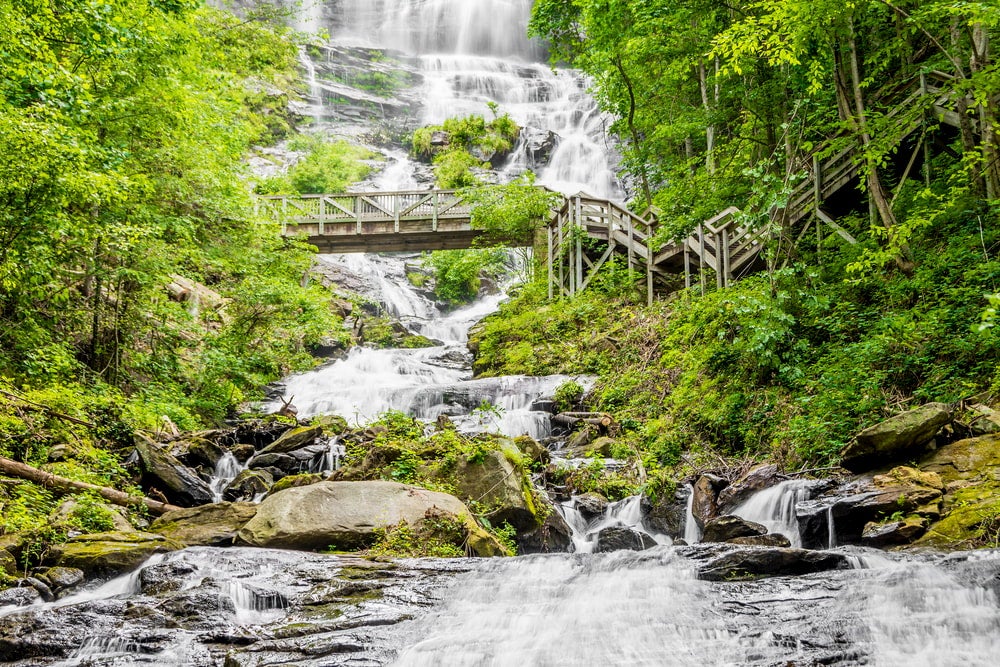 Amicalola Falls lived several lives before it finally became a state park in 1940. After the Cherokee were forcibly removed to walk the Trail of Tears to Oklahoma, the base of the falls was used alternately as the site of a grist mill, as a mustering point for both Union and Confederate troops during the Civil War, and as a gathering place for a regular tent revival series.
The Park's Historic Connection to the Appalachian Trail
The Appalachian Trail originally began at Georgia's Mount Ogelthorpe, but had to be re-routed in the late 1950s, due to increasing traffic and development on the last few miles of trail. The southern terminus was moved to Springer Mountain, about ten miles to the northeast.
The state of Georgia built a long-term parking area at Amicalola State Park, and the section between the Park and Springer Mountain became known as the Approach Trail.
Thousands of hikers start their northbound trek on the Appalachian Trail with this 8.8-mile 'extra credit' trail each year.
Thanks to ample parking and relatively short drive from major cities in the area, Amicalola proved more easily accessible than Springer Mountain, cementing the Falls' place in AT lore.
Hikers who start in Amicalola Falls love to take their photo under the iconic stone arch that hovers over the tough staircase climb from the base of the falls to the top, a butt-burner that has caused many an AT-hopeful to question just how prepared they are for the challenge ahead—or to jettison a few items at the top.
There's no shame if you find the stair climb a challenge. Even William Williamson, accustomed to tramping through the forests, observed "I made great exertions to get on the summit but the ascent was so great that I was completely exhausted by the time I reached halfway."
If you, too, reach the end of the stairs suddenly wondering if you really need all the gear you're schlepping, there are scales in the Visitors Center for weighing your pack, and even flat rate Priority Mail boxes to ship items ahead or back home for a cash fee.
"The short hike up from the welcome center let us know we were perfectly unprepared with backpacks over 40 lbs. The next day the groundskeeper let us stow extra weight from our packs in the storage area so we didn't have to hike back down to our cars." —The Dyrt camper Wendy J.
Things to Do In Amicalola Falls State Park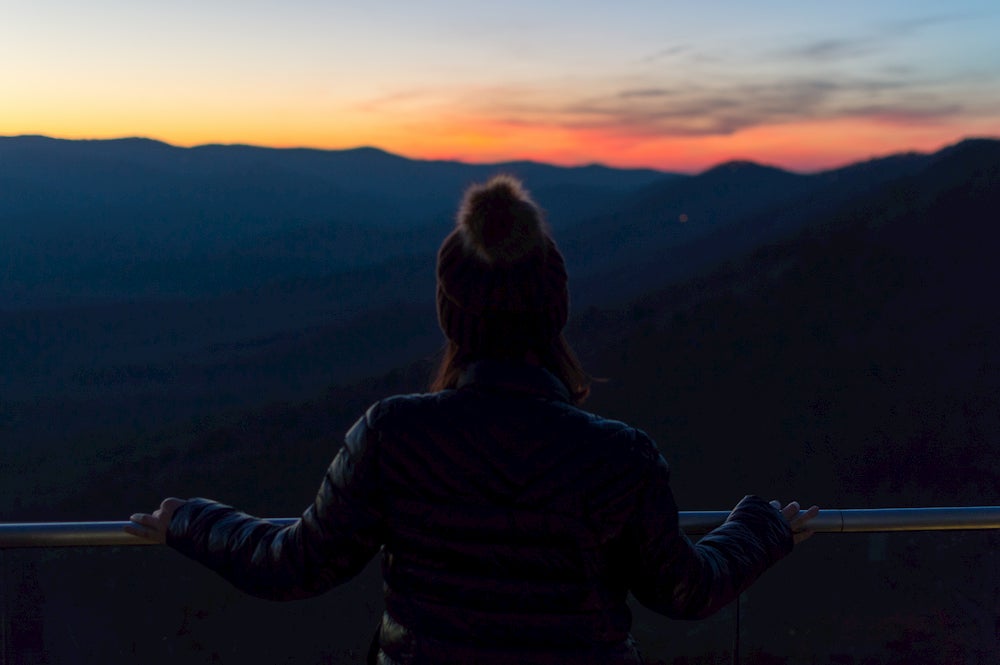 Grab your hiking backpack, because there's much more to do in Amicalola Falls State Park than the Appalachian Trail. Activities in the park are about as modern and adventurous as you can get. Not only are there miles of hiking trails to explore on foot, Amicalola Falls State Park has styled itself as an adventure travel destination within a day's drive of Atlanta, Knoxville, Nashville, Birmingham, Asheville, Augusta, and Charlotte.
Shoot Your Shot
Amicalola Falls State Park offers 3-D archery lessons, which involve learning to use a compound bow and arrows before working your way through a woodland obstacle course and shooting at fixed targets. Whether you're hoping to brush up on your bow hunting skills, really loved The Hunger Games, or just want to try something new with the family, this is a fun way to spend an afternoon.
Aerial Adventure
The Aerial Adventure Park also includes a zipline network by American Adventure Park Systems called the Screaming Eagle Aerial Adventure Tour at Amicalola Falls. Participants can try challenge ropes courses, zipline canopy tours, and treetop nature treks, all while getting a squirrel's-eye view of the North Georgia mountains. Level One alone has nine ziplines ranging from 60 feet to over 1,000 feet long with three suspension bridges, and it just gets more exciting from there.
Geocaching Galore
Fans of geocaching will appreciate the GPS Scavenger hunt at Amicalola Falls State Park. It's a great way to try geocaching for the first time, with guidance, so you can really get the hang of the equipment and the scavenger hunt process, while also making friends and getting tips from your guide. Best of all, if you make it to all the cache locations in the park, you can win a prize!
Win Big
Speaking of prizes, you can join the Canyon Climbers Club and tackle Amicalola Falls State Park, Cloudland Canyon, Tallulah Gorge and Providence Canyon to earn a T-shirt and other prizes. Combine that with the skills you learn in Amicalola's GoPro class and you'll have more than a few great photos and videos to share on Instagram after your adventure.
Explore Appalachia
You can also use Amicalola Falls State Park as a camping home base for further exploring Southern Appalachia. There are nearly 200 waterfalls just on this side of the North Carolina/Georgia border, including the magnificent Raven Cliff Falls.
Nearby Helen, Georgia is a faux-Bavarian village where you can tube the Chattahoochee River, hike, or admire the Alpine architecture with a giant mug of frosty German beer. And, in less-natural pursuits, just an hour away is Babyland General Hospital, the incredibly weird tourist attraction where Cabbage Patch Kids are…produced.
Where to Stay and Camp in Amicalola Falls State Park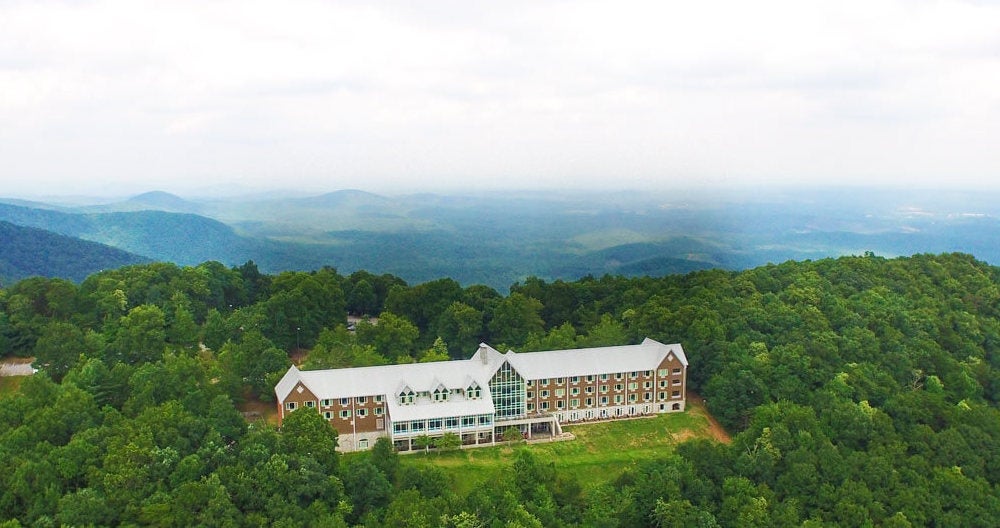 The rugged terrain that has protected Amicalola Falls from private interests and made it an attractive, protected start to the AT has also kept it from becoming as big and bustling as other state parks in the region, like Fall Creek Falls in Tennessee. However, a state park lodge was added to Amicalola State Park in 1991 with 57 guest rooms, a conference center, and restaurant, in addition to the park's 24 campsites and 14 cabins.
Amicalola Falls State Park Lodge
The approach to the top of the falls is just as steep by car as it is by foot. Your vehicle will need to tackle a staggering 25% grade with more than a few twists and turns. It's a challenge for larger rigs or vehicles with less power on the uphills, like Westfalias with the original engines.
If your RV, van, or car isn't quite up for the haul, never fear. The west-facing Amicalola Falls lodge offers well-appointed rooms and stunning views, and you certainly won't feel cheated on the natural scenery.
"The Lodge is nice…very nice. Front desk personnel are very friendly and helpful, as is the ground crew (they always know the best places to go and how to get there). The entire back of the Lodge has long mountain views and faces West, so you can enjoy gorgeous sunsets from your room, the dining area, or an outside deck." —The Dyrt camper Dave V.
Amicalola Falls State Park RV and Tent Sites
Smaller RVs and vans will fit right in at Amicalola Falls State Park Campground, where the park's slight late-bloomer status is a boon for anyone with a car or camper. The roads and campsites here were developed with motorists in mind, and have nice touches like hookups, level sites despite the steep landscape, and a good balance of privacy and accessibility.
The sites each feature a parking pad and grill area lined with fine chip gravel, as well as a pea-gravel tent pad. Amenities include a picnic table, lantern post, fire ring with grate, a charcoal grill, water spigot, and electrical box. At the entrance to the camping area is a bathhouse with showers, toilets, and laundry facilities. There is also a central picnic pavilion, basketball hoop, and horseshoe pit.
"The campground sites have been masterfully carved out of the mountain…and are pretty near level. Staying at site 15 afforded us some privacy, as the campground was half full on a Tuesday night.
Headlights shine directly into sites like 5 and 6 as people drive through. The campground was pretty quiet during the day and graveyard quiet (with the exception of owls hooting) and black as ink at night. Sleeping without a rainfly rewarded us with wonderful stargazing." —The Dyrt camper Dave V.
Amicalola State Park Cabins
The cabins at Amicalola State Park are flush with modern amenities, including satellite TV, air conditioning, heat, and fireplaces. They are pet friendly and range from one to three bedrooms, great for families or groups. The cabins are spread out, with some near the top of the falls and some at the bottom—a nice option to have if the steep stair climb by the falls sounds untenable.
"Loved hiking here and the cabins are awesome." —The Dyrt camper Debbie S.
Popular Articles: