Looking for Virginia Beach camping and more in Virginia? Search more than 400 campgrounds in Virginia on The Dyrt.
---
The history of Virginia's people, from indigenous communities to the first British colonists, has always been tied to the richness and diversity of its environment. Campgrounds in Virginia today can offer a respite from the grind, and meaningful connection with the state's natural resources—as well as an opportunity connect with the ones you love. Imagine spotting a family of deer in Shenandoah National Park while sipping coffee with friends, or sharing a sunrise with wild ponies in Grayson Highlands.
When you stay at campgrounds in Virginia, you have the chance to immerse yourself in the Virginia of the past and the present—and share a special experience with those who join you, whether that's fellow campers or the local wildlife.
The Best Campgrounds in Virginia, According to The Dyrt Campers
The Dyrt's campground reviewers share some of their favorite camping in Virginia, along with insider tips.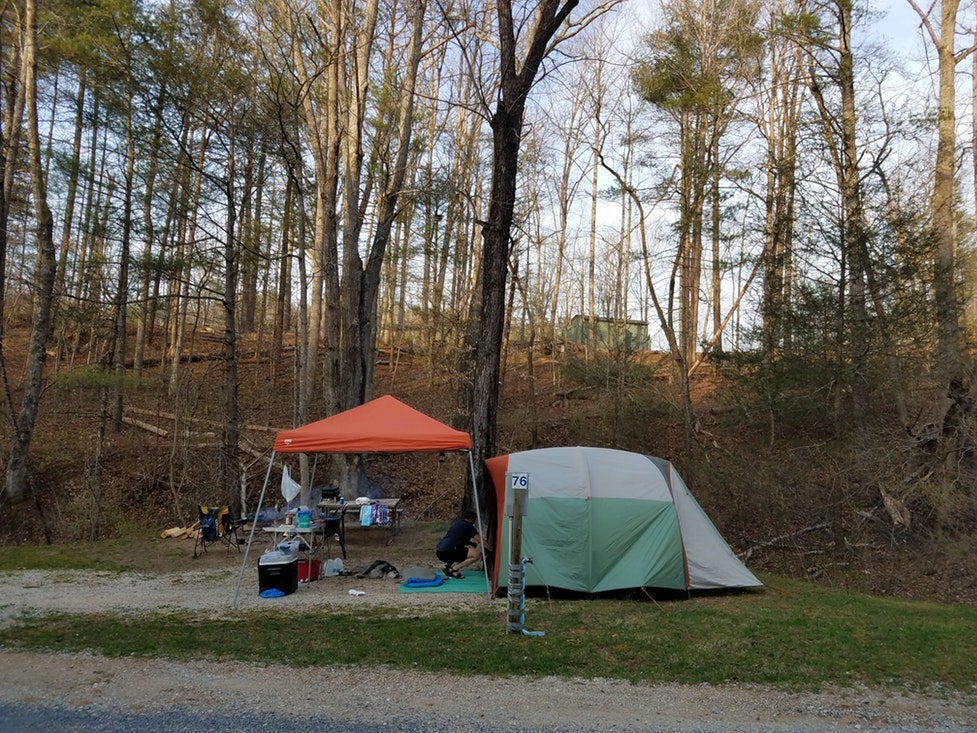 Middle Creek Campground is a great destination for Appalachian Trail section hikers, or a spot where thru-hikers can take a zero day or few to recover after covering nearly 750 miles from the southern terminus at Spring Mountain, Georgia. This campground is just a twenty minute drive from the Thunder Ridge trailhead that connects the Blue Ridge Parkway to the Appalachian Trail, or a mile from where the Appalachian Trail meets Jennings Creek.
Close to hiking on Virginia's Fork Mountain, paddling on the upper James River, and driving and cycling on the Blue Ridge Parkway itself, and the bulk of the George Washington and Jefferson National Forest, Middle Creek Campground is in the middle of some of Virginia's greatest outdoor playgrounds.
Campgrounds offer cabins, RV sites, tent sites, and space for hammock campers, so there's a little something for everyone at this home base. And there are a lot of amenities for a place where sites start at just $20 a night, including both a swimming pool and swimming pond with slides.
"All of the sites were roomy and featured a small fire pit, picnic table, water, and electricity. Several of them even had a pull-through site and would work well for a small pop-up. Bonus: most of the lower tent sites have direct access to the creek!" –The Dyrt camper Andrea N.
Book Now
2. Comfortable Camping on the Skyline Drive: Big Meadows Campground
This is "glamping". . . but with more bears. Big Meadows Campground—the most popular campground in Shenandoah National Park—offers hundreds of sites with easy access to hikes, including the nearby Appalachian Trail. You can spot wildlife like deer, bears, and owls from your tent.
Located in the middle of Skyline Drive, this Virginia campground is also a good jumping-off point for exploring the rest of the park. The amenities are top-notch, in particular because of the proximity to stores and restaurants like the Big Meadows Lodge.
"Great centrally located campground on Skyline Drive. Staff was super friendly, animals are too (we saw 10 bears in 3 days 😊). Can't wait to go back again." —The Dyrt camper Shannon S.
Camp Here
---
Nestled among the alpine-like peaks of Mount Rogers and Whitetop Mountain in southern Virginia, Grayson Highlands State Park is a favorite among Virginians because of its scenic views, access to hiking, and beauty in all four seasons. And, of course, because of the wild ponies who roam the hills. For the equestrians out there, the park even includes a horse camping area and horse trails.
"Wild ponies, endless blueberries, spectacular view of wildflowers make this one of my go to spots to introduce someone to backpacking." —The Dyrt camper Michael B.
Camp Here
---
This Virginia campground brings you the beach and the waves of the Chesapeake Bay, without the urban crowdedness of nearby Virginia Beach. Visitors can find mostly secluded tent camping and RV sites among the woods of First Landing State Park—just a short walk from the beach.
Longer hiking trails through the forest and the marshes nearby are also accessible, bringing you close to a rarely-seen side of Virginia. Other activities include fishing and kayaking. Plus it's pet-friendly!
"The variety of activities within the Park, including Ranger led activities, along with easy access to the Virginia Beach boardwalk via the local bus system, biking, or personal vehicle, make this State Park the only place we stay in VaBeach. We love this Park so much we have volunteered as Camp Hosts for eleven years❤️" —The Dyrt camper Janet P.
Camp Here
---
Smith Mountain Lake State Park is the place for inland water-lovers. Visitors can go swimming, boating, kayaking, paddle boarding and fishing. There are various places to stay around the lake. Including comfortable cabins and a state campground with 25 tent and 24 RV sites.
Half the tent sites are reservable, while the other half are available on a first come, first served basis. Families get a multi-day beach pass with their camping reservation.
"Huge lake with tons of outdoor activities (trails for running/walking, boating activities, kayaking). There is a cool brewery nearby (Sunken City Brewery). " —The Dyrt camper Daniel P.
Camp Here
---
Nestled among Virginia's Allegheny Mountains, Douthat State Park offers some of the most scenic views in the state. A 50-acre lake offers swimming and boating, and there is ample hiking and mountain biking. It's a great place for history buffs as well as adventure lovers.
Having opened in 1936, Douthat is on the National Registry of Historic Places. It's a short drive to other historical sites, including the quaint town of Lexington with rich Civil War history.
"Douthat is amazing! There are three camping loops here but we love to stay in the white oak loop which is secluded and the majority of the sites have the creek on the back side of your site. My children love to go down in the creek and skip rocks, play in the water, and catch crawfish." —The Dyrt camper Amanda C.
Camp Here
---
Related Articles:
---
Related Campground:
Popular Articles: