Stop staring at a wall of camp lighting options, trying to decide which headlamp is best for you. We've asked expert campers to help you choose the best headlamp for your next outdoor adventure.  
---
A headlamp packs a lot of utility for something that's small enough to shove in your pocket. So much so that outdoor non-profit The Mountaineers says it's one of the top-10 most important pieces of gear to have with you on any adventure.
A headlamp is the only piece of equipment that extends your active hours by letting you safely hike—or mountain bike, or climb, or simply find your way to a campground port-a-potty—at night.
But which one is best for you? Between thinking about things like…
Light color temperature: Differently colored light can help us see better in certain weather conditions. Daylight-colored white light has great clarity and seems most 'natural,' but is hard to adjust to and from in dark conditions; red light is relatively easier on the eyes, making it better for when you need a small boost but don't need to see sharply; and lower-temperature yellow lights are commonly good for fog.
Lumen count: i.e., the total amount of light emitted by a light source, which is important to how 'bright' the headlamp appears. I did a deeper dive on lumens for a commuter bike light review on Wirecutter.com.
Beam angle: The wider the angle, the more diffuse the total number of lumens will be throughout the beam, which affects how bright your beam appears at different distances.
Battery life: Different brightness settings require different amounts of energy to run, and some headlamp models are more efficient than others (LEDs are more efficient at turning energy into light than, say, halogen bulbs). Depending on how you use your headlamp's settings, you could get an hour of use to 10 hours of use.
… and a million other specs, staring at a wall of headlamps can be straight-up overwhelming.
The Best Headlamp Options for Campers, According to Campers
To cut through the noise, we asked for the best headlamp recommendations from The Dyrt Rangers.
1. Best Headlamp for Low-Cost Performance: Energizer Vision HD +
Best for:

New adventurers or campers who want a solid alkaline-battery option.
The Specs: 
Four light modes with two colors (red and white); 250-lumen maximum white-light mode with a 70-meter beam distance; and seven-hour battery life. It can be dropped up to one meter and is water resistant. Single-button operation, dimmable brightness, and adjustable beam angle all make the Energizer Vision HD + very user-friendly. 
Why they love it:
The Dyrt Ranger Mara H. owns more than one headlamp, but finds herself regularly reaching for the cheap one: an Energizer headlamp she bought for $14 three years ago, as an update to her 10-year-old version of the same headlamp. Mara loves the off-next technology (the headlamp turns off with a push of the on/off button, rather than rotating through different modes, if you haven't touch it in more than three seconds), and that she can use it with AAA batteries instead of worrying about recharging via USB.
"It handles everything I throw at it," she says. "I have dropped it, used it in the rain, thrown it in the backpack and put heavy things on top of it and it always works for me."

When Mara was looking to buy her first headlamp, she found the Energizer's low-stakes simplicity appealing.
"Ultimately the feeling of 'I don't know what I'm doing or if I'm even going to like headlamps' pushed me to the most inexpensive option. I'm glad it did."
Adds fellow Dyrt Ranger Dave V.: "Even though I'd tag myself as a 'techno-weenie' clamoring after all the latest-greatest-lightest-coolest gear… I do carry back-ups. One of the two [headlamps I bring] is always the cheapo Energizer… it just works."
Buy Now: $14
---
2. Best Headlamp for Low-Weight Illumination: Petzl Zipka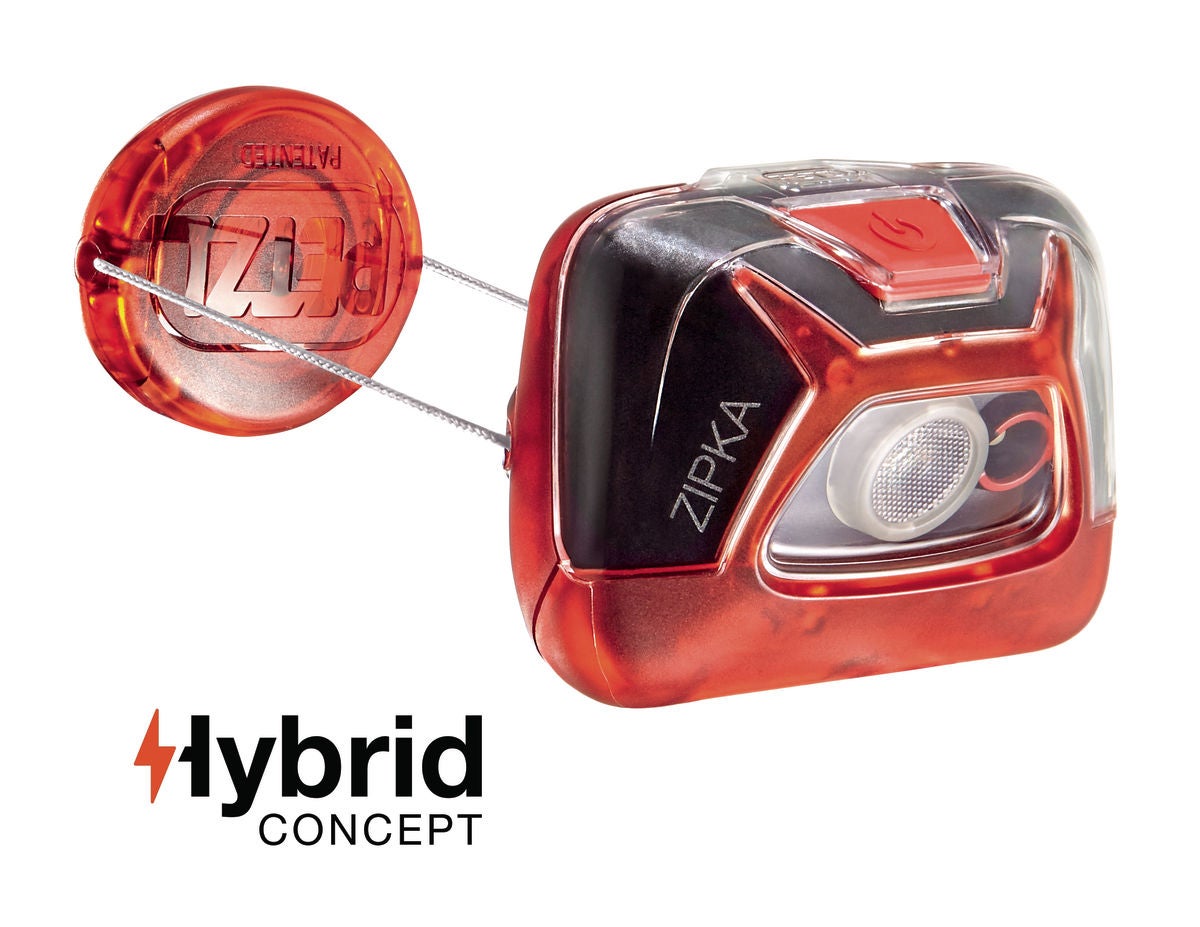 Best for: Ultralite backpackers and campers who want a headlamp that can use both rechargeable and disposable batteries.

The specs: Five light modes (red and white); 200-lumen maximum white-light mode with a 60-meter beam distance and 60-hour battery life; single-button operation; water resistant; extremely low profile; self-adjusting band.
Why they love it:
The Dyrt Ranger Amy Godwin travels light and usually "shuns headlamps," but the Petzl Zipka won her over for its user-friendliness, red-light setting, retractable headband, and low-bulk. Amy likes that she can stow the Zipka in a hip pocket and retrieve it at a moment's notice— then use it without feeling its weight.
"I used it for the first time a few weeks ago. We were camping, and there was a pop-up thunderstorm. I had to jump up and hang my tarp over my hammock. Normally, I only carry a flashlight, and that would have been a waste of time in my situation. The headlamp was a huge life saver! And, as a bonus… it can take a few raindrops!"
Buy Now: $30
---
3. Best Headlamp Upgrade: Petzl Bindi
Best for:
Ultrarunners and ultra lite hikers
The specs: 
Five light modes (red and white); 200-lumen maximum white-light mode with a 36-meter beam distance and two-hour battery life; single-button operation; water resistant; extremely low profile; drawcord-adjustable band; self-locking function prevents accidental activations. 
For twice the price, you'll get a headlamp that weighs barely more than an ounce. Petzl designers were able to shave weight relative to the Zipka by making the headlamp micro-USB-rechargeable only. By wearing the Bindi around your neck, you can aim it slightly upward—so you don't have to crane your neck to light up the tree canopy. The battery life is comparably low, but that's life sometimes when every gram counts.
Why they love it: 
The Dyrt Ranger Jen Groves bought the Bindi for its recharge-ability and red-light setting, then discovered how its low weight makes it the best headlamp for trail running and camping.
"One specific adventure it really came in handy was when I was trail running with a friend one evening when a storm blew up out of nowhere. While we took shelter to avoid getting hit by lightning, enough time passed that once it was safe enough to leave our sheltered spot, it was pretty dark. The Bindi is light enough that I can leave it in my running vest no problem, and it was great to be able to just whip it out and make it back to the car safely without having to awkwardly use our cell phone flashlights. The weight is honestly insane."
Buy Now: $60
---
4. Best Headlamp for All-Around Dependability: Black Diamond Storm
Best for: 
Adventurers who want peak versatility as well as durability.

Main Spec:
Eight light modes (red, blue, green, and white); 350-lumen maximum white-light mode with a 80-meter beam distance and 22-hour battery life; single-button operation; fully dust- and waterproofed housing (IP67); touch-sensitive housing for adjustable dimming; last-used setting memory; takes four AAA batteries. 
Why they love it: 
The Dyrt Ranger Derek Bilte deliberated between 12 headlamps and ultimately settled on the Storm. "Nothing is better. Just throw whatever other headlamp you have away," he says. 
The Black Diamond Storm enables you to tailor its beam to your needs. After picking the brightness setting and light color, you can swipe the headlamp housing to fine-tune brightness. The housing is larger than those of other headlamps in this list, but it's hardier, too.
"[A] multi-day hike from Mammoth to Yosemite Valley via the JMT… The different color modes were great for reading maps and hiking pre-dawn. The flood and beam lights made finding the trail easier when it was pitch black and hard to tell. The waterproofness protected it from my sweat and some light drizzle. The battery survived heavy use over the three day trip."
Buy Now: $50
---
5. Best Headlamp for Every Campground: Petzl Tikka
Best for: Campers who want something simple and dependable.
Main Spec: Five light modes (red and white); 200-lumen maximum white-light mode with a 60-meter beam distance and 60-hour battery life; single-button operation; water resistant.
If the hardier headband of the Black Diamond Storm appeals to you, but you don't need as much brightness or weatherproofing, the Petzl Tikka is a solid choice. Plus, it's lighter; and you gain the ability to charge your headlamp by both USB and (disposable) batteries.
Why they love it: 
The Dyrt Ranger Troy Wong has owned multiple headlamps, including a Petzl Tikka he's had for 10 years. Petzl has boosted the battery life and lumen count over the years, but the basic design has lots of fans. Troy likes that the Tikka is lightweight, durable, has white and red colors, allows the user to fine-tune its brightness, and includes a strobe setting. In his experience, the light has never turned on by itself, or even died on him unexpectedly.
"Over the years the elastic band has lost a little of its original shape, but still functions perfectly. I often think about getting a newer model, but this model just keeps working," he says.
Buy Now: $30
---
Our recommendations are based on providing value to campers across the country. Some articles may contain affiliate links. By purchasing through our articles, you help support this camping magazine.
Popular Articles: