For more than 50 years, fire lookouts took up residence high above the trees, in a steel-and-wooden structure called the Thorny Mountain Fire Tower. Every day, they scoured the forest covering the folds of the Allegheny Mountains in West Virginia for any sign of smoke or flame, taking in views of rainbows, storms, sunsets, and sunrises. Now, it's your turn.
(But don't worry about fires—you get to relax and enjoy the view.)
In 2015, West Virginia State Parks refurbished and reopened the Thorny Mountain Fire Tower, located in the Seneca State Forest of Pocahontas County, for overnight reservations. Once you make it up the 69 rickety wooden steps, the 65-foot tower offers 360-degree views of the surrounding ridges. It's a unique experience offering a glimpse at life as a fire lookout, with all the beauty and none of the stress.
It has fast become one of West Virginia's most iconic attractions. This also means it's expensive, costing nearly $100 a night for four people in the high season. Cheaper accommodations exist at the tent campground and cabins in Seneca State Forest.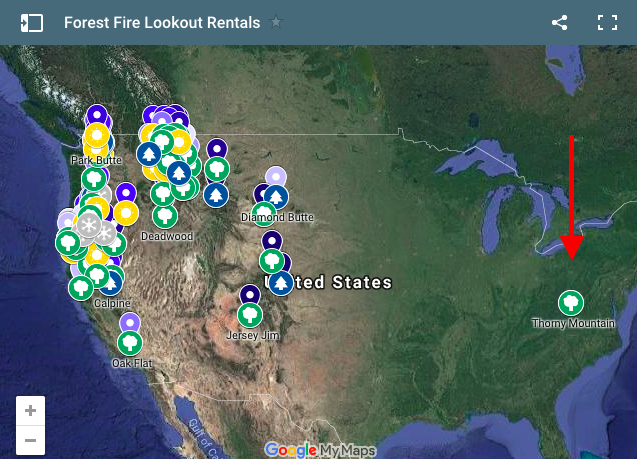 Because the fire tower has become such a hit, the state forest recommends you book up to a year in advance. The Dyrt campers have clinched reservations no more than two months in advance for the low season. It's open from May to October. Call 304-799-6213 or 1-800-CALL-WVA for availability.
Why Campers Love Thorny Mountain Fire Tower
The Dyrt campers who've been have rave about Thorny Mountain Fire Tower. Here's what you can expect from your own Thorny Mountain camping trip:

You Can Be Part of History
Campers in the Western United States may have more experience with sleeping in historic fire towers. But the Thorny Mountain Fire Tower is the only one available for overnight stays east of the Mississippi.
The Civilian Conservation Corps first built the tower in the 1920s, when intense logging had rendered West Virginia's forests vulnerable to fire. They rebuilt it in 1935 as part of a statewide network of around 100 fire towers. Observers slept in cots, warmed themselves with a wood stove, and hauled up food, firewood, and water using a rope-and-pulley system.
When airplanes and satellites began to be used more to spot fires in the 1970s and 80s, fire towers were phased out—but some were kept for nostalgia. In the 2010s, West Virginia State Parks took over Thorny Mountain Fire Tower with the purpose of turning it into a unique camping experience. It opened in 2015.
The Dyrt camper Dave V. wrote that one "selfish reason" you should consider staying at the Thorny Mountain Fire Tower "is so that perhaps other State and National Forests would do the same thing… refurbish, but leave rustic remaining fire towers and rent them out like a campsite or cabin. There is much history and lore behind every fire tower."
You Can Sleep in the Clouds
You'll be higher than all your surroundings at the fire tower, which stands at an elevation of 3,385 feet. That means you'll come away with a whole new understanding for whatever the atmosphere has prepared for you.
"Watching storms roll in across the mountain tops… fog settling into the valleys like white foaming rivers… being perched beside rainbows… moonlight piercing the night through your curtainless windows… and reveling in the surreal sunrises and sunsets did it for me!" wrote The Dyrt camper Dave V.
"One night we had two different storm systems blow through the mountains and the lightning show was amazing to watch," wrote The Dyrt camper Hannah V.
If it rains, The Dyrt campers recommended closing the windows, and being ready to get wet outside because the overhang doesn't completely protect the deck.
Find Tons of Stunning Hiking Trails Nearby
The fire tower offers breath-taking views of Greenbrier Valley and rugged Pocahontas County, so it's understandable if you begin to itch to experience the landscape on foot, too. Among your options are the Allegheny Trail, an 8-mile hike, or a loop on the Thorny Creek Trail. From the Fire Tower, it's a steep walk of less than a mile to Seneca Lake, where there's fishing and boating.
Thorny Mountain Fire Tower Does 'Rustic Glamping' Right
The fire tower retains the charm of its historic days — and that means basic amenities. You'll be roughing it, starting with the road up to the fire tower which is best tackled with four-wheel drive. The cabin itself accommodates four, but there are only two cots. The Dyrt camper Amber A. wrote "bring all your standard backpacking gear," including sleeping mats.
There is a fire pit and picnic table at the base of the tower. There's also a pit toilet that's part of a small shed that has split firewood ready for use by visitors. There's a clean shower and laundry behind the ranger's station.
"No running water…period," warns Dave V. "So all water must be acquired 15-20 minutes down the mountain at the Park Headquarters."
---
Related Campgrounds:
Popular Articles: