When fortune-seekers arrived in western Montana in the late-19th century, their focus lay in finding gold and other precious minerals, not in erecting long-lasting buildings. The Garnet Ghost Town is the result of that gold rush, once a thriving community of around one thousand residents, now resting as an abandoned collection of wooden buildings.
Garnet is Montana's most well-preserved ghost town, visited by thousands of people every year. Currently managed by both the Garnet Preservation Association and the Bureau of Land Management (BLM), the town consists of a visitor center, self-guided trails, interpretive programs and a gift shop. More than 30 preserved buildings offer insight in the hardships and daily struggles of the homesteaders and prospectors that called Garnet home.
5 Things You Should Know About Garnet Ghost Town
From a summer tourist attraction to a winter escape, Garnet Ghost Town offers campers a realistic glimpse of the western homestead as it was settled some 150 years ago.
1. Camping Near the Garnet Ghost Town Is Free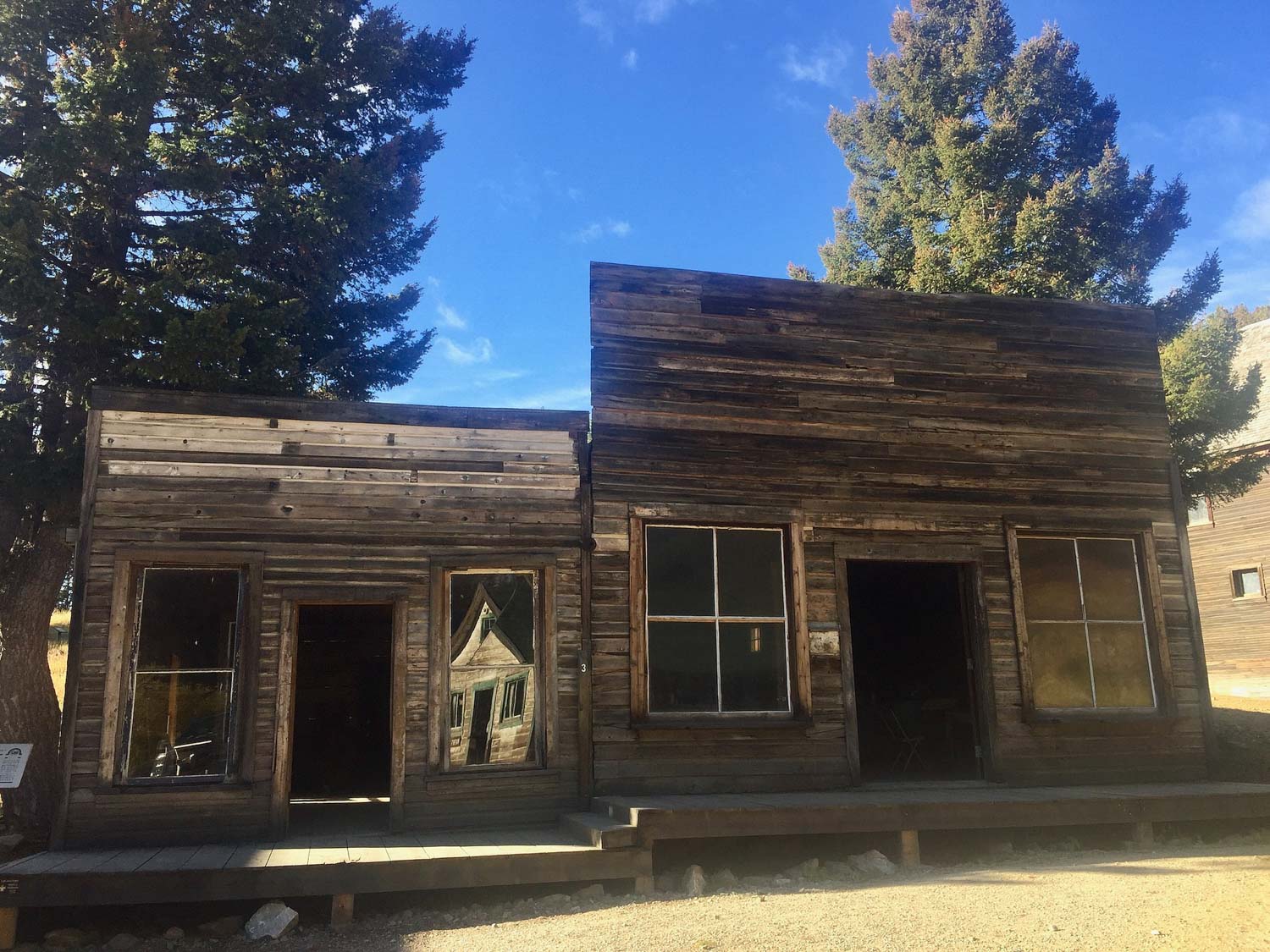 Just like many other BLM-managed lands, camping near the Garnet Ghost Town is 100% free. Unless otherwise designated, you can stay on "public lands" for up to 14 days. For those ready to set up camp near the town, make note that the BLM states you must be at least half a mile away from Garnet to camp legally. Be sure to come prepared, as the lands do not offer facilities.
For $4 you can get such a map indicating public BLM lands around the Garnet Ghost Town at the BLM Field Office in Missoula, about 20 miles to the west.
Although camping on BLM lands is free, a visit to the ghost town itself is not. The BLM charges an entrance fee of $3 per person older than 16. This small fee helps to preserve and protect this relic from the past. If you have a BLM Membership Card, however, you can use it for free entry.
"Many states out west allow dispersed camping on select public lands owned by the Bureau of Land Management. You need to pick up a map of exactly where you're allowed to camp (there are no facilities, obviously)." —The Dyrt camper Harry H.
2. Garnet Is Open Year-Round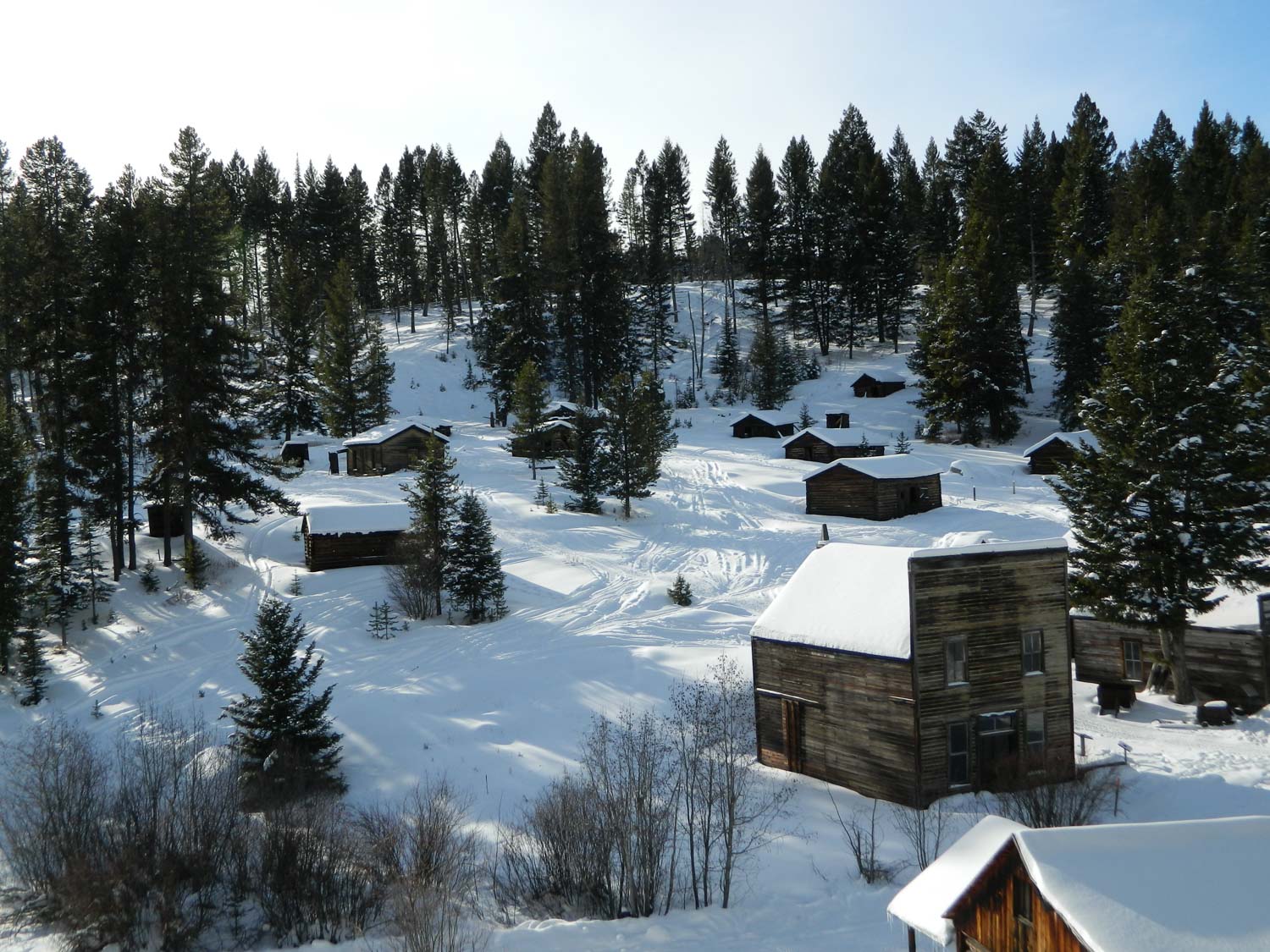 Garnet remains open all year, offering visitors a serene and snowy perspective on the ghost town. You can visit every day from 9:30 am to 4:30 pm. The visitor center is open from June through September.
Access, however, is limited in the winter season. Typically, depending on snow conditions, wheeled vehicles are permitted on the roads from May 1 through December 15. In early-spring and late-fall, even if roads are technically open, it is often wise to park your vehicle in designated parking areas and ski or snowmobile into the ghost town instead. Get your Garnet winter recreation trails map at the Missoula Field Office.
"During the winter months, the town is only accessible by ski, snowshoe or on foot. Then it is silent and strange, but heartbreakingly beautiful." —The Dyrt camper Amanda L.
3. You Can Stay in Cozy Winter Cabins
Winter tent camping near the Garnet Ghost Town may be next-to-impossible. But don't worry, there's another excellent option available.
These two primitive cabins are operated by the BLM. They're lit by propane lights and heated by wood stoves. Neither indoor plumbing nor electricity are available, just like it was when the town was still "alive." You'll find potable water and outhouses near the cabins. These cabins are pretty popular in winter, so reservations are given by lottery. You can see how to enter that lottery here.
"You can also rent "cabins" which are buildings from before the building became ghosted (but have been updated)." —The Dyrt camper Harry H.
"During the winter two of the cabins (the larger of which is the old saloon) are available to rent." —The Dyrt camper Amanda L.
4. Become a Prospector at Garnet Ghost Town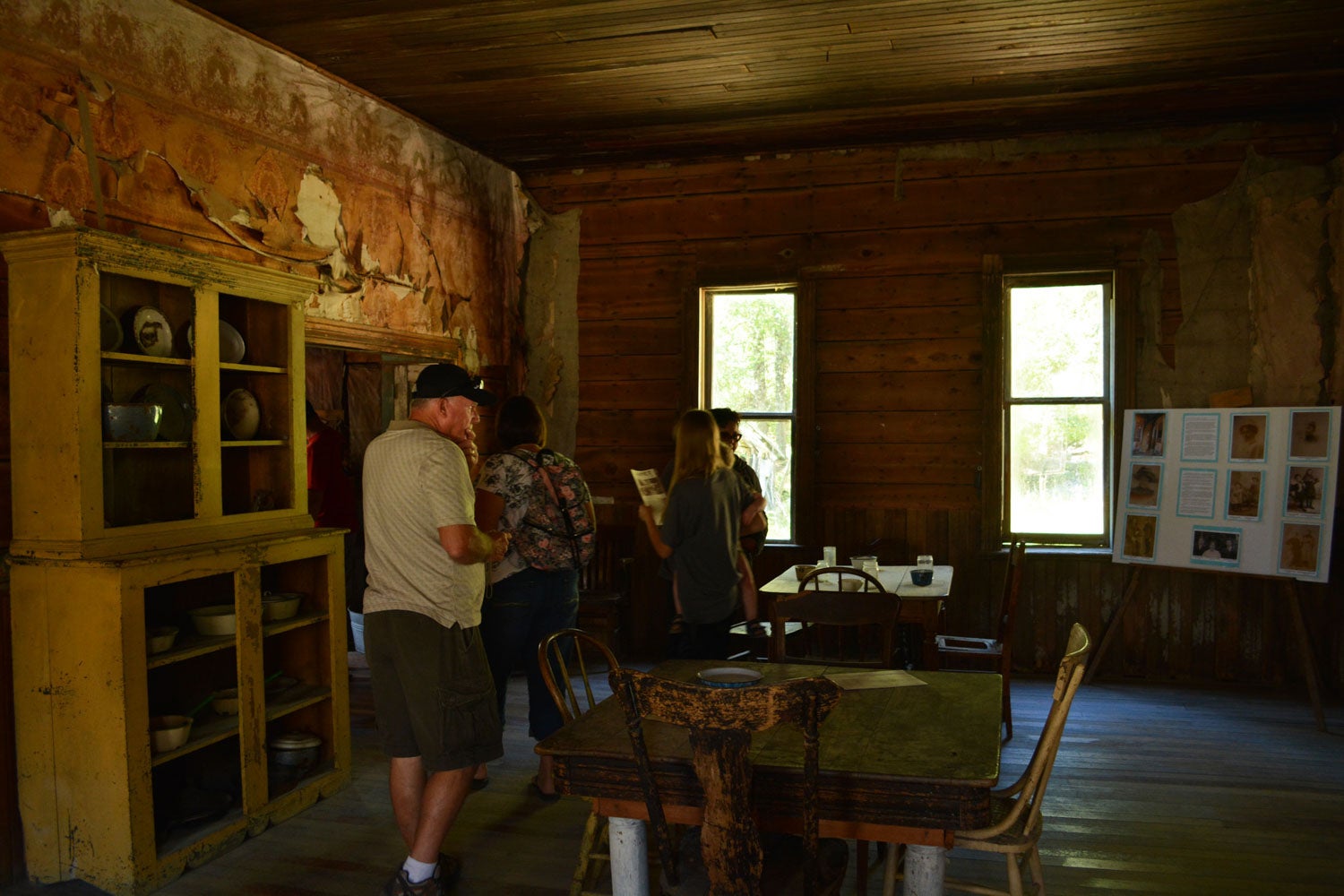 Dotted with over 30 wonderfully preserved 100-year-old buildings, the Garnet Ghost Town offers visitors a rare chance to learn about Montana's gold mining and pioneering history. Even though the town never experienced a bonanza gold strike, it still was one of Montana's greatest gold mining towns. Among other facilities, there were saloons, hotels, stores, a barbershop, a Chinese laundry and a school.
Wander around town, read the interpretive signs, walk its trails, explore some buildings and experience what life during the gold rush might have been like.
"Even if you don't want to camp, you can tour the town and have a surreal afternoon imagining what it'd be like to be a miner back in the day." —The Dyrt camper Harry H.
5. Go Beyond The Ghost Town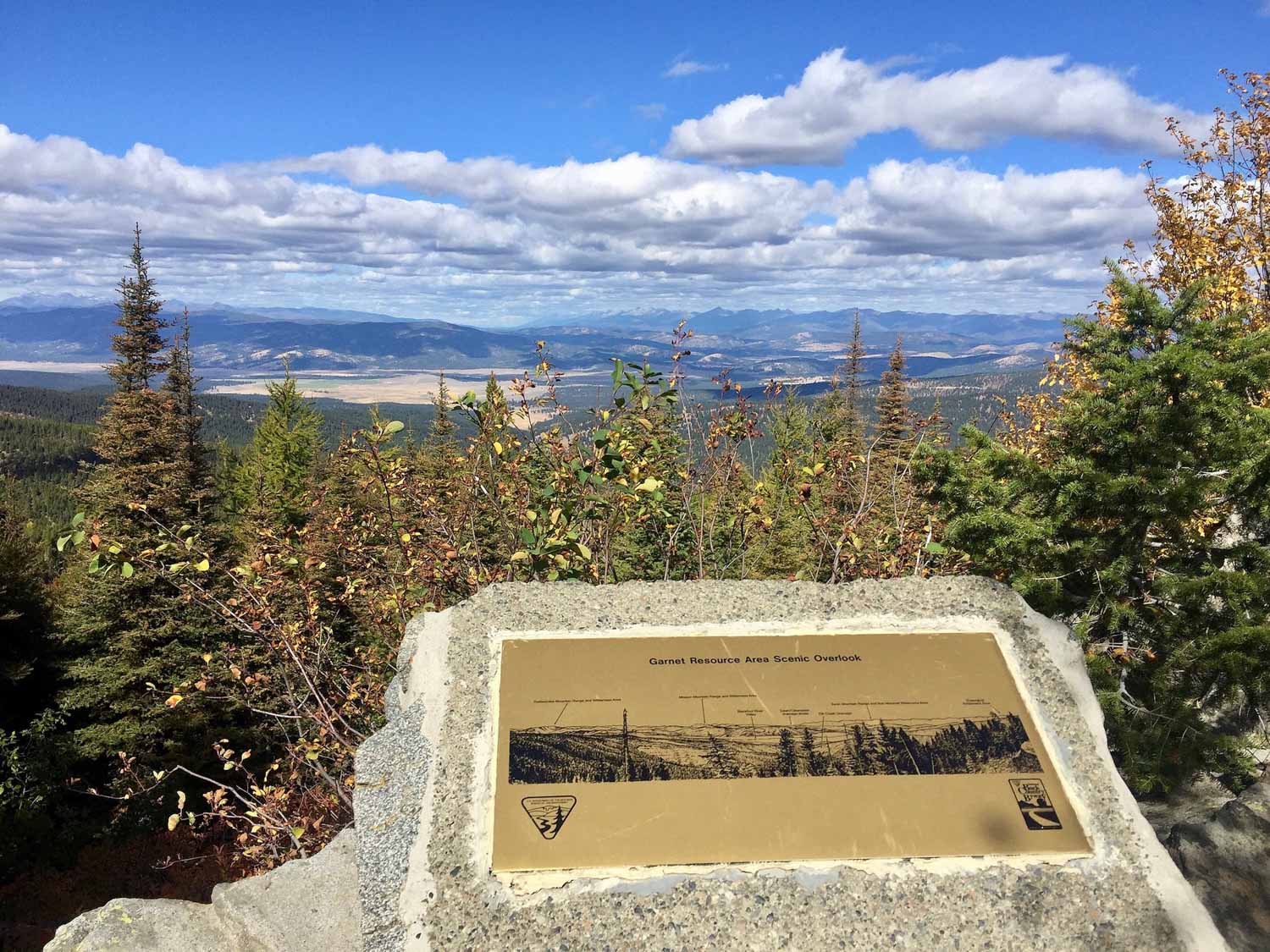 Besides exploring pioneering history while camping near the Garnet Ghost Town, there are several other fun things to do there—all of them involving the outdoors.
Trout fishing is a popular activity at Elk Creek, located only 2 miles to the northeast, while hunting game like moose, elk, mule deer and black bears is possible in the gorgeous Garnet Range. Also in the Garnet Range, you can hit more than 30 miles of mountain biking trails on backcountry BLM lands. Ten miles to the west of Garnet lies the Wales Creek Wilderness Study Area, which is a superb destination for wilderness hikes. Another popular activity in the area is off-highway vehicle riding (OHV), which is allowed on various BLM trails in the Garnet Range.
The Missoula Field Office for the BLM has mountain biking, hiking and OHV maps.
---
If camping near a ghost town sounds a bit too spooky, look at it from another angle—it could be a fantastic destination for a "scary" camping trip. Much like camping areas in America's northlands, Garnet is a beautiful fall destination, and worth revisiting with snowshoes in the wintertime.
"Camping is dispersed and a bit eerie. This ghost town is complete with still stocked shops, empty hotels with beds left in and slowly aging buildings. It is an interesting look at the mining industry in Montana. There are numerous interpretive signs and information about the buildings throughout the town." —The Dyrt camper Amanda L.
Popular Articles: