This article is brought to you by our friends at OOFOS Recovery Shoes, who make incredibly comfortable shoes for all kinds of adventures. If you're looking to explore multiple parks, OOFOS will give your feet the stamina they need to cover them all. 
---
Sometimes it feels like the American West gets all of the attention when it comes to awe-inspiring outdoor destinations. Yes, the desert is out-of-this-world-crazy-beautiful. The mountains in Utah are really, really tall. Yosemite hikes are truly iconic. Arches National Park is an Instagrammer's paradise. The mountain biking in Sedona is full of good vibes. We feel it. But the east coast has many places that deserve the same kind of attention. The vikings and pilgrims stumbled across some real treasures when they landed in New England hundreds of years ago, and these tiny coastal states stretch across some of the oldest and fiercest landscapes in America.
From towering Appalachian peaks to picturesque coastal harbors, New England State Parks offer their own unique qualities. The northern range of the Appalachians is full of mountains 4,000 feet and up, where you will find spots for incredible mixed technical climbing, winter sports, and unparalleled coastal views. You can reward your exertions with some of the best, and oldest, brews in the country—not to mention outstanding seafood, grass-fed beef, and regional delights like fluffernutters, Johnny cakes, and coffee milk.
Are you planning a road trip yet?
Six Spectacular New England State Parks
New England State Parks are a delight to visit, so  we rounded up one can't-miss campground for each state in the region:
1. Burlingame State Park, RI
Rhode Island is known for its size, for not actually being an island, for Narragansett beer, and for its miles of coastline. We think it should be known for camping, too.
Narragansett Bay is New England's largest estuary, and makes for picture-worthy scenery and opportunities for water sports — including surfing. Inland, there are plenty of lakes, rivers, and woods to welcome anyone with a love of nature. If you want to get in on what Rhode Island has to offer, it's hard to beat Burlingame State Park.
Situated on Watchaug Pond, Burlingame State Park is still close to the ocean, as well as the excellent birding area at Ninigret National Wildlife Refuge. The park is huge, too, with a whopping 700 rustic campsites and 20 cabins to choose from. The Dyrt Ranger Molly G. said of her experience, "We loved how close this camp was to the beach and to Iggys (nothing better than some clam chowder and doughboys after fire cooked hot dogs!)." Don't forget your bug spray though in the on-season — all those wetlands mean the mosquitos can get pretty fierce.
2. Wilgus State Park, VT
The White Mountain and Green Mountain wilderness areas might get more play, but don't discount Wilgus State Park. Do you like the sound of kayaking, canoeing, beer, and river-adjacent camping? That's what New England state parks like Wilgus have to serve up.  You will also find a selection of cabins, lean-tos, and tent sites, as well as clean bathrooms and showers.
Set back from the Connecticut River, smack dab in the middle of Vermont, Wilgus is a central destination. "You can rent kayaks and canoes, and the river moves slowly enough to paddle up stream," explains The Dyrt Ranger Tara S. "There is also a shuttle service run by Great River Outfitters upstream in Windsor." She adds that, "if you make reservations…they will pick you up in the morning, drive you up river to Windsor, outfit you with a canoe or kayak, and let you paddle back to the park. Later in the evening they will come back and pick up the boats. If you choose this option, be sure to stop at Artisan Park, right on the river and have lunch at Harpoon Brewery." Cheers.
3. Lafayette-Franconia Notch State Park, NH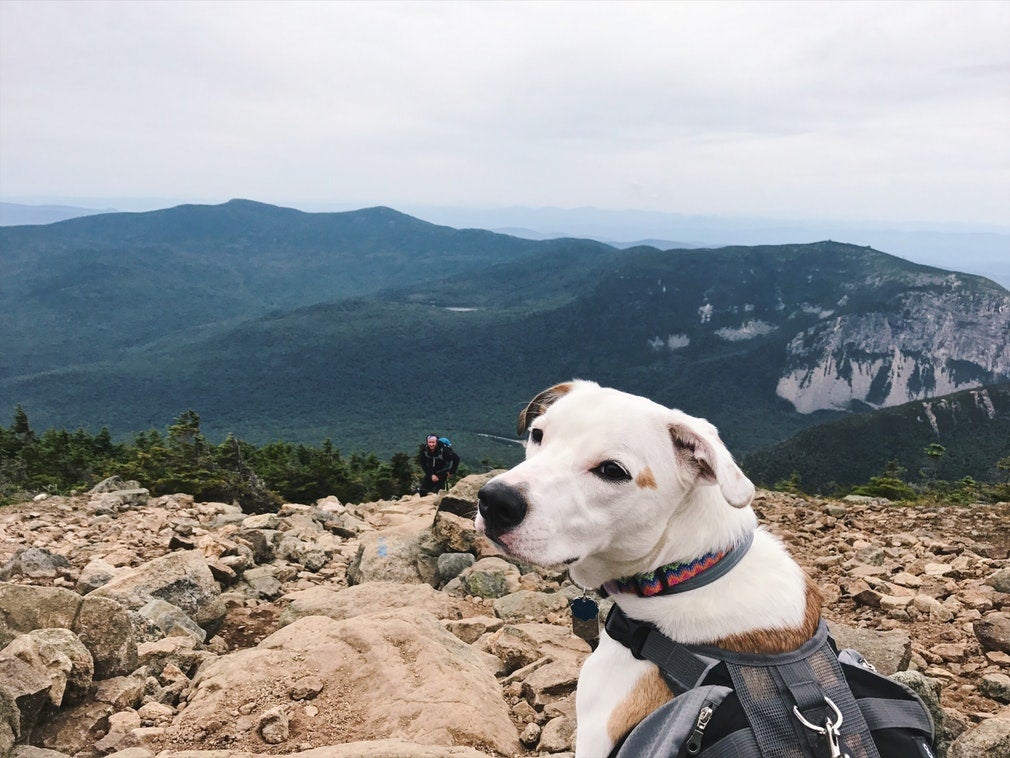 If you're interested in bagging 4,000 foot peaks, New Hampshire is the place to be. There are a total of 48 mountains in the state that meet or exceed 4,000 feet. This is mostly in the White Mountains area, in which Franconia Notch State Park is at the heart. Franconia Ridge is made up of five peaks, including Mt. Flume, Mt. Liberty, Little Haystack Mountain, Mt. Lincoln and Mt. Lafayette.
Also in the area, Canon Mountain boasts the largest vertical rock face in the Northeast. In the spring and summer, the area is perfect for hikers and big wall climbers. In the fall and winter, it's ideal for skiers, snowshoers, mixed climbers, and ice climbers.
"Camped here as a 'basecamp' for the Franconia Notch Loop Trail," said Dyrt Ranger Emily M. "The best part is that you can walk directly to that trail (and other less intense but equally beautiful ones) right from the campground, so you don't have to worry about parking spots at the trailhead."
For the less ambitious, The Dyrt Ranger Sarah C. notes that, "This is a great valley spot that gives you access to several New Hampshire gems. The Pemigewasset River is beautiful and provides an easily accessible destination for the less adventurous. So whether it's 4,000 footers, pristine wilderness, or a wild river, this campground provides access to all of these. Other spots to explore while you're in the area include the historic Old Man in the Mountain site (even though he isn't there any more), The Basin, Kinsman Falls and The Flume Gorge!"
4. Hammonasset State Park, CT
https://www.instagram.com/p/BcCZ62fl0P3/?utm_source=ig_embed
If you have been to Connecticut, you might associate it with the Gilmore Girls, Yale, and New York's suburban bedroom communities than natural wonders. But there's a lot to more Connecticut. Take Hammonasset State Park, for example. This is the stuff of idyllic New England childhoods and memorable summer vacations with two miles of beachfront, hiking, saltwater fishing and even opportunities for scuba diving.
"I've been camping here since I was a child," writes The Dyrt Ranger Bre B. "I have nothing but fond memories of this campground and state park. The campground employees are attentive, conscientious, and friendly. Quiet rule strictly enforced, summer movies and programs for children, the nature center at Meigs Point is still one of the highlights of our visit each time. (Especially with the new building and renovations!)"
Enjoy classic Springsteen-esque boardwalks, 550 grassy campsites, and interesting history, which includes the park's use in the late 1800s as a test site by the Winchester Rifle Company. During the summer, you can rent bicycles to explore the nearby ice cream shops and Lenny and Joe's Fish Tale outside of Salt Meadow Park.
5. Nickerson Forest State Park, MA
If you're a mountain bike enthusiast, Nickerson Forest State Park is the way to go. Like many of the more popular New England state parks, Nickerson Forest is big, offering 400 campsites. That's good, because it can get quite full during peak camping season. It's easy to navigate without a car, though, because it's so bike-friendly.
The Dyrt Ranger Molly G. observed that "the bike system in this campground is truly awesome and allows access to the whole park— great place for a good ride!" The Dyrt Ranger, Duane B., called it a "biking mecca" and says, "This is a great park for mountain biking, there are trails everywhere. Check NEMBA website for a trail map." A third noted the destination's bike chops, too, writing "It has lots of bike trails and hiking trails to go on. Is very close to cape attractions and beach."
Lest you think that's all Nickerson Forest has going on, however, don't overlook the trout fishing ponds or the proximity to Cape Cod.  And don't forget to bring your #DyrtDogs to swim the National Seashore and your bike to ride the awesome Cape Cod Rail Trail.
6. Baxter State Park, ME
For many, Maine brings to mind lobster rolls, Stephen King novels, Arcadia National Park, and Katahdin Stream inside Baxter State Park. This area is the famous end to the Appalachian Trail (AT), which is what makes the campground here so special. Even if you aren't here to summit the 5,629 foot Katahdin, it can be exhilarating to spend time with those who are, or those who are just coming down from their fierce 2,181 mile journey.
The Dyrt Ranger Harry H. writes, "The best part for us was seeing so many people come down from their thru-hike and others waiting to meet their friends and family doing so. Lots of incredible energy here (and throughout Baxter) thanks to the AT."
If you are here to see Katahdin, don't forget your base layers and warm clothing. Even in the summer, it's chilly at the summit and you don't want to miss out because you packed for temperatures at the base. If you've got other activities on your mind, don't feel any pressure to push to the peak. Katahdin Stream is also known for canoeing, more horizontal hikes, fly fishing, challenging technical climbs, and biking along the Park Tote Road and the Dwelley Pond Trail.
"Baxter State Park is amazing!" gushed The Dyrt Ranger Chelsea B. "My husband and I ended our summer vacation there last year and it was by far the best camping experience! The trails are awesome and the views are even better!"
---
You can win free gear from OOFOS Recovery Shoes and 19 other outdoor brands by reviewing campgrounds on The Dyrt. Share past camping experiences, photos, and videos to earn points towards monthly prizes in The 2018 Great Camping Giveaway!
---
Related Campgrounds:
Normandy Farms Campground, Foxboro, MA
Moose Hillock Camping Resort, Warren, NH
Adventure Bound Camping, North Truro, MA
Lafayette Campground, Franconia, NH
Nickerson State Park, Brewster, MA
Popular Articles: