Who doesn't love a good dad joke? Dad sure does. If he also loves camping, then this Father's Day Gift Guide is for you. And for him. Get ready for some cheesy but awesome camping jokes, along with camping gifts that we think your dad will dig.
These 12 Camping Gifts Are Perfect for Dad
You can't run through a campsite. You can only 'ran' because it's past tents.
United by Blue Enamel Coffee Mug
Why did the cup of coffee file a police report? It got mugged!
https://www.instagram.com/p/BeySdX1gSdT/?utm_source=ig_embed
These aren't your grandparents blue and white speckled enamel camp mugs. United by Blue mugs are sleek and fun, and they support cleaning up our oceans and waterways, which makes them even cooler. These mugs are handmade in Europe with hand-dipped enamel steel. The rim and handle are double dipped to reduce wear; the enamel may chip, but it will never break.
We know a United by Blue mug will become your dad's favorite beverage vessel whether he's enjoying coffee at home or sipping his favorite libation around the campfire.
Buy Now: $20
Nature's Coffee Kettle
What's the opposite of coffee? Sneezy!
If you're giving your dad a cool enamel mug, then you should probably give him coffee to go with it. This innovative portable kettle allows your dad to savor gourmet coffee, even when he's camping. Brewing a good cup of coffee can be a challenge at the campground. Usually, you have to choose between sacrificing quality with instant coffee or space and weight by bringing along all the necessary brewing gadgets – but not with Nature's Coffee Kettle.
This perfect camping gift provides the ease of instant coffee with the satisfaction of premium gourmet coffee, and it will impress even the toughest caffeine aficionado. The reusable pouch allows your dad to enjoy his cup of joe anywhere, anytime.
Is your dad not a coffee drinker? No worries, Nature's Coffee Kettle also offers black tea with orange pekoe, hot apple cider, and hot chocolate.
Buy Now: $10
Aftershokz
What do you call bears without ears? B.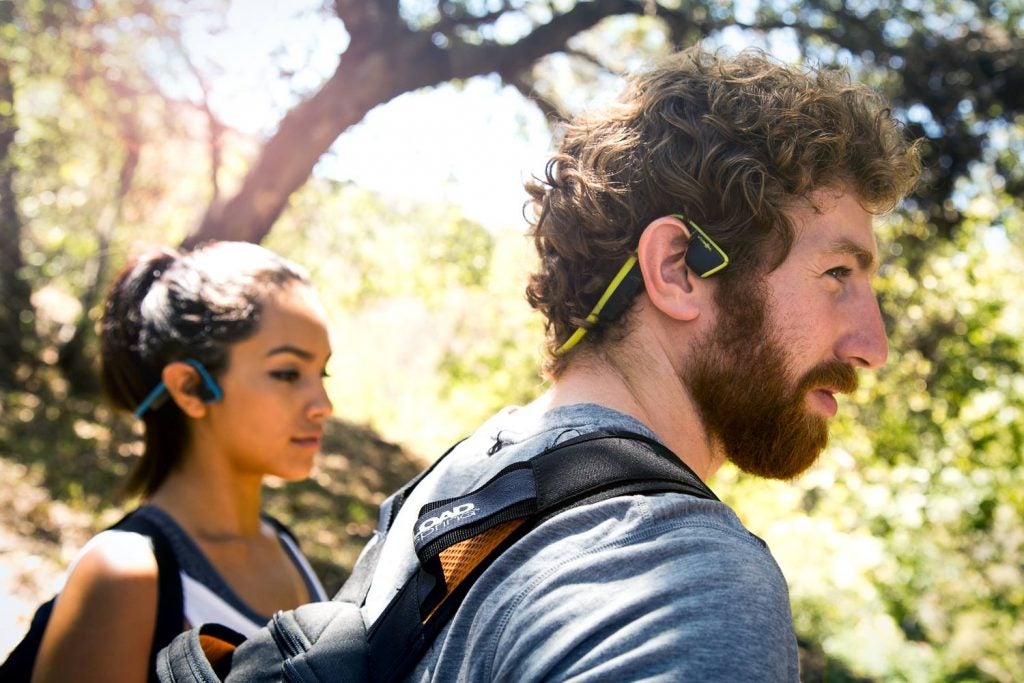 These wireless headphones send sound waves through bones in your face and around your ears instead of directly through your ear canal. Aftershokz are a high-tech, lightweight option that your dad is sure to geek out over; he can jam out to his favorite tunes while still being able to hear his surroundings — like the approaching mountain biker or your groan when he tells a bad joke.
Buy Now: $180
Parks Project T-Shirts
Mountains aren't just funny – they're hill areas.
Do you have fond memories of you and your dad, hiking or camping at national parks? Give him camping gifts that remind him of your shared experiences with a Parks Project t-shirt. Not only do these shirts feature cool designs based on national parks, each Parks Project product sold helps promote, protect, and preserve our National Parks System. The Joshua tree collection helps plant the iconic trees to restore the population. The Rainier collection helps Scout groups become park stewards.
Buy Now: $36
Brunton Compass
The local Orienteering club is presently looking for committee members.
https://www.instagram.com/p/BiLkhBRAsap/?utm_source=ig_embed
Your dad is the best, and he deserves the best handheld compass on the market. Brunton compasses have been made in the US since their inception in 1894. These durable and reliable navigation devices are preferred in industries like geology, forestry, and engineering.
Give your dad the gift of navigation with the gold standard of compasses.
Buy Now
IceMule Cooler
How does a penguin build its house? Igloos it together.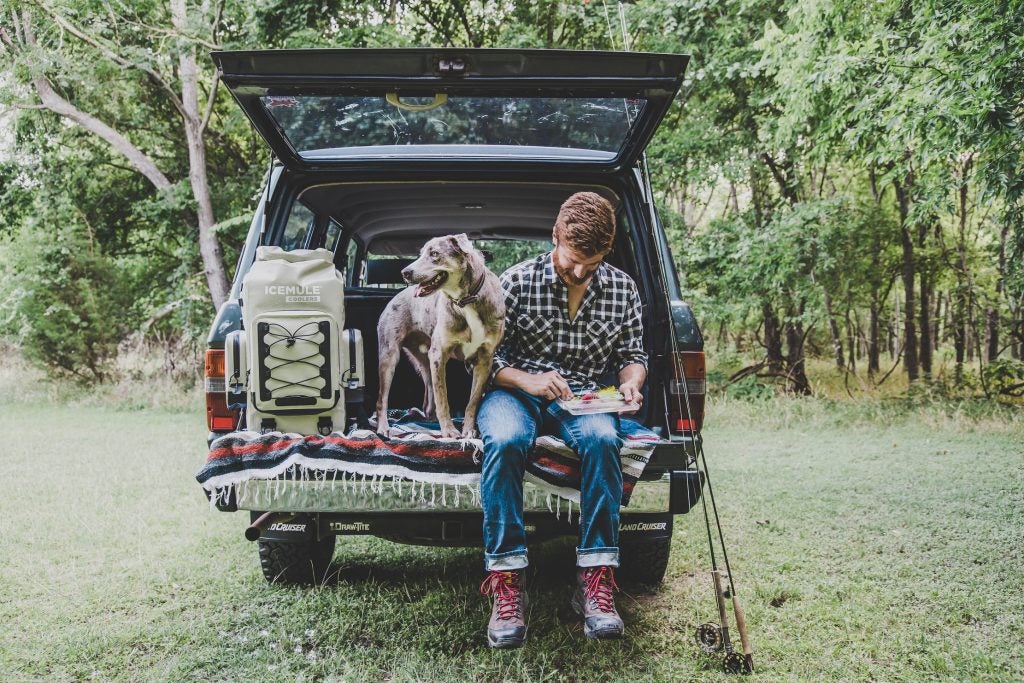 It seems like dads have been the designated cooler carrier since the dawn of time. This year, help your dad out with the best backpack cooler. Thinking out of the box (terrible pun intended), this hands-free cooler allows your dad to carry cold drinks and food comfortably. The IceMule series of backpack coolers are waterproof and can keep those trail beers ice cold for 24 hours to 5 days, depending on the model.
Whether at the campsite or the beach, no one will appreciate that cold drink more than dad.
Buy Now: $300
Pat McManus Book
Want to hear a joke about paper? Nevermind it's tearable.

Since your dad tries so hard to get a chuckle out of you, return the favor with a Pat McManus book. A world-renowned outdoor humorist, McManus' books are collections of short stories. These tales are mostly fiction with a grain of truth from his own real experiences. There is no shortage of laughter when reading about McManus' outdoor mishaps.
These books make the perfect camping gifts, and your dad will enjoy big belly laughs around the campfire.
Buy Now
Midland Walkie Talkie
What happened when the two antennas got married? Well, the ceremony was kinda boring, but the reception was great!
Give your dad the gift of gab with a pair of powerful Midland camo walkie talkies. These camping gifts are equipped with Midland's legendary Weather Scan technology, connecting your dad to the National Weather Service so he can stay informed about important weather updates. Clear crisp communication, long battery life, and an extensive range make these two-way radios perfect for around the home, camping, hunting, and overlanding.
Midland's long-range walkie talkies allow your dad to tell you dad jokes even when you're miles apart and off grid – you're welcome.
Buy Now: $90
Zenbivy
Sleeping comes naturally to me. I can do it with my eyes closed.
Dad's have a knack for sleeping anywhere and at anytime, but there's always room for improvement. Help your dad get the most comfortable sleep he's ever had while camping with the Zenbivy. These revolutionary sleeping bags are so comfortable it feels like sleeping in your own bed at home. The Zenbivy is made up of a fitted sheet with wings, a hood, and an attachable quilt. It works for any kind of sleeper – side, stomach, or back. Your dad can easily regulate his temperature with a convertible toe box and zippers on the left and right sides. With a variety of adjustable features, this bag can adapt to your pop's sleeping preferences. 
This ultralight-weight and versatile bag is perfect for your dad, whether he's crashing on the couch, camping, or relaxing in the hammock.
Buy Now: $260
Gregory Lightweight Backpack
I came across two talking stones while I was out hiking. One was big, but shy. The other was a little boulder.
Chances are your dad is a legend so why not give him a legendary Gregory lightweight backpack? An industry leader, Gregory has expanded to include new lightweight and ultra-lightweight packs. These innovative packs are loaded with features without adding weight. Pat McManus once wrote, "Old-time backpackers made a practice of traveling the last mile or so on our hands and knees in order to give our feet a rest."
Help your dad's back and knees with a new lightweight pack from Gregory.
Buy Now
TekFire LED Fuel-Free Lighter
I slept like a log last night… woke up in the fireplace.
Give your dad the gift of fire with the windproof, flameless, and electronic TekFire LED fuel-free lighter. This durable and compact lighter works at altitude, without the hassle of messy butane fuel. It also features a bright LED light and paracord lanyard with a tinder thread.
Your dad can stay fired up with his dad jokes anywhere.
Buy Now: $25
---
You can win free gear from Roanline and 19 other outdoor brands by reviewing campgrounds on The Dyrt. Share past camping experiences, photos, and videos to earn points towards monthly prizes in The 2018 Great Camping Giveaway!
Popular Articles: