At the peak of Mt. Leconte, the highest mountain fully within Tennessee, the famous Smoky Mountain fog settles heavily into mountain crevices.
Even on clear days, you can see the hazy blue layers of jagged peaks that make up the Blue Ridge Mountains. Trees release isoprene into the atmosphere, making the mountain range appear in hues of blue and giving it its name. At 6,593 feet, height alone makes Mt. Leconte a well-known feature of Great Smoky Mountains National Park, but there's more than one way to enjoy these views.
You can hike up to the Mt. Leconte lookout from a campsite, enjoy a hot meal and a mattress at the Leconte Lodge, or go primitive in the Leconte Shelter. But no matter where you lay your head at night, these Smoky Mountain views must be earned in the form of an all-day hike.
Go Appalachian Mountain Exploring at Tennessee's Mt. Leconte
Mt. Leconte–More than a Mountain
Mt. Leconte is a favorite among hikers for the Smoky Mountain views seen from its peak. But recently, what lies beneath the mountain's surface fascinated scientists and climbers alike.
After a rare earthquake shook the Smokies in 2015, geologists came to suspect that volcanic activity was the cause of the irregular tremor. And they were right, geologists eventually discovered a vast magma chamber beneath Mt. Leconte—making Tennessee's highest peak an active volcano.
The Leconte Lodge Origins
The Leconte Lodge is the famed luxury lodge at the top of the mountain, only enjoyed by those willing to make the journey by foot. Today the Leconte Lodge offers relaxing amenities like warm meals and soft beds, but it was born out of humble origins.
In 1925, Paul Adams built a cabin at the top of Mt. Leconte with one goal in mind, to gain the support needed to protect the Great Smokies through national park status. Adams brought dignitaries to camp at the peak of Mt. Leconte, hoping the views of the mountain ridges would inspire and garner their support.
After years of growing popularity, Great Smoky Mountains officially attained national park status in 1934.
Leconte Lodge has become such a popular destination that reservations usually fill up a year in advance.
Hiking Routes to the Top of Mt. Leconte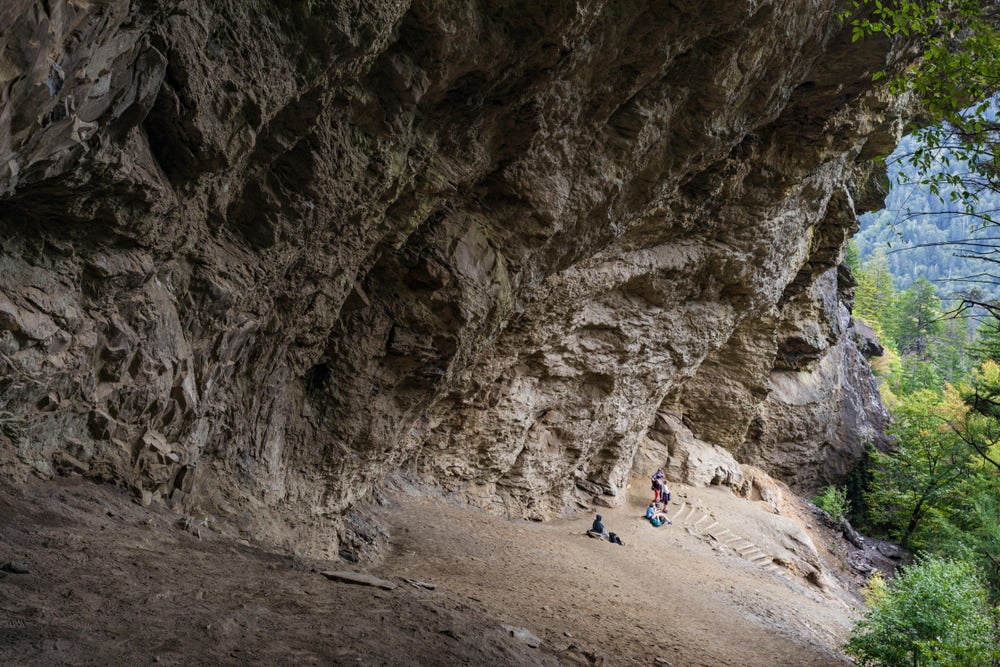 As with any mountain, the goal for many day hikers is to reach the summit. Several trails lead to the top of Mt. Leconte, so you can mix and match your route.
While there aren't a huge number of campsites, you'll have a few choices depending on your camping style and budget. Just plan in advance, as spaces are limited and reservations are highly recommended—if not required.
Before you can enjoy the variety of camping options on and around Mt. Leconte, you have to get there. The following trails give you access to the summit:
Alum Cave Trail : This popular 11-mile return trail welcomes hikers with views into Huggins Hell.
Boulevard Trail: This 15.6-mile return trail begins in Newfound Gap, leading hikers through dips and rises in elevation.
Bullhead Trail: A landmark for lichen diversity in the Great Smoky Mountains; expect colorful fungus during the 14.4-mile roundtrip hike.
Rainbow Falls Trail: Rainbow Falls re-opened in November 2018 after extensive rehabilitation. It's a 5.4-mile moderate hike past an 80-foot cascading waterfall; when the light hits just right, catch a glimpse of its rainbow mist.
Trillium Gap Trail: Hike behind 25-foot Grotto Falls on the 14.9-mile loop trail. Trillium Gap trail is scheduled to be closed Monday through Thursdays (excluding federal holidays) from May 6th to November 14, 2019.
Review the Great Smoky Mountains trail map to fully plan your route.
Frontcountry Campgrounds at Mt. Leconte
It can help to be aware of the nearby front country campgrounds on your way to Mt. Leconte. These campgrounds should be a stop on your way to the summit not a hiking basecamp.
It's at least a seven-hour hike to reach the top of Mt. Leconte from most front country campgrounds—and that's one-way. Here are three front country options where you can camp before your summit hike, or after you return to the bottom.
Elkmont is one of the busiest campsites in Great Smoky Mountain National Park, due to its ease of access. It's also one of the closest campgrounds to the peak of Mt. Leconte. One way, it's about a seven hour hike to the peak, so it's wise not to plan this as a round trip during the same day.
It's easy to find trailheads nearby like Trillium Gap, Bullhead, and Rainbow Falls, which will eventually lead you to the top.
The campsite itself has more than 200 sites available for reservation. Elkmont is fully developed, with running water and flushing toilets; some sites have electric hookups. Through October, Elkmont is one of the few places in Great Smoky Mountain National Park that sells certified, heat-treated firewood.
From Smokemont Campground to Mt. Leconte, it's another seven-hour trek. But this campground is southeast of Mt. Leconte, meaning you'll pass over the Appalachian Trail and the North Carolina/Tennessee state line.
Starting from Smokemont Loop Trail, take Bradley Fork Trail north until it becomes Dry Sluice Gap Trail. Then cross to the Appalachian Trail, heading west until you meet Boulevard Trail, which will take you to the peak.
For an easier option, drive north on nearby Newfound Gap Road until you come across the Alum Cave trailhead, which will take you directly to Mt. Leconte.
"Beautiful site next to river, a lot of hiking options. Ice available a short bike ride or hike away at horse stable. No internet available so check weather forecast before leaving the visitor center." — The Dyrt camper Tara F.
Coming from Cosby Campground, make use of every moment of daylight because this route includes 11 to 12 hours of hike time.
While it's a long walk, it's no more than three trails. Start on Snake Den Ridge Trail which merges with the Appalachian Trail southwest, and many hours later you'll come across Boulevard Trail, which will take you to the top of Mt. Leconte.
Most of Cosby's 100+ campsites are first-come first-served, but 26 sites are available for reservation. RV sites are scarce, so book in advance to secure a space. Flush toilets and drinking water are available on site.
"A no-frills campground inside GSMNP. Cosby is a small town about a 45 minute easy drive from Gatlinburg. Heavily wooded, lends itself nicely to hammock camping. Campsites are clean and bath houses are interspersed nicely throughout the campground."  – The Dyrt camper Mandi J.
Looking for Luxury? Try LeConte Lodge Camping
More than a mile up from the base of the mountain, LeConte Lodge is the highest lodge in the eastern United States. It is not accessible by vehicle, and has been serving up Southern hospitality for nearly one hundred years.
Upon arrival, hikers are greeted with coffee or hot chocolate; hot meals are served in the cafeteria at 6 p.m. and 8 a.m. For an extra $11, you can order a glass of bottomless wine for the dinner hour. You may even catch a glimpse of the famed llamas that carry lodge supplies up the mountain.
LeConte Lodge is a village of cabins and lodges equipped with old fashioned decor.  These cabins are equipped with kerosene lanterns, propane heaters, wash basins for a sponge bath, beds with linens, and porches with rocking chairs for sunrise and sunset viewing.
Rates run from $148 per adult in cabins to $1,194 to rent out the entire 13-person capacity lodge. Make reservations a year in advance because the lodge books up quickly.
Semi-Glamping at the Mt. Leconte Shelter
Just 0.2 miles away from Leconte Lodge, at an elevation of 6,440 feet, you'll find Leconte Shelter. Unlike the lodge, the amenities at the Mt. Leconte Shelter are limited; you'll get a fixed structure but not much else.
Unroll your sleeping bag on one of the shelter's two levels. There's also a privy on site and a bear line where you can bag and hang any food or odorous items. Bring your own food and water, and be aware that campfires are not permitted at this Great Smoky Mountains campsite.
A short, 0.3 mile trek down the trail will lead you to Cliff Top, where you can take in the vast mountain panorama.
The shelter's maximum capacity is eight, and you must book in advance. Make your reservation and pay the backcountry permit fee on the National Park Service website before you depart.
---
Related Campgrounds:
Popular Articles: