This article about the Sturgis Motorcycle Rally is brought to you by IceMule, the makers of insulated coolers that are designed to go where you go and are tough enough to stand up through the wildest weekends.
---
For almost eighty years, the Sturgis Motorcycle Rally has endured. It's survived the Great Depression, several wars, radical changes to motorcycle culture and the way its perceived by outsiders, and the slow passage of time. Yet Sturgis has not only persisted and grown in popularity, it's come to be shorthand for the breadth and depth of the biker scene, much like beloved brands including Harley, Indian, and Triumph.
Since 1938, motorcycle enthusiasts have been traveling to this rally in the Badlands of South Dakota to race bikes, admire custom jobs and the latest technology, and bond with other bikers who know first-hand the thrill of the open road and the way community can make any place, however far from your mailing address, feel like home.
Cruise into the World Famous Sturgis Motorcycle Rally and Camp Nearby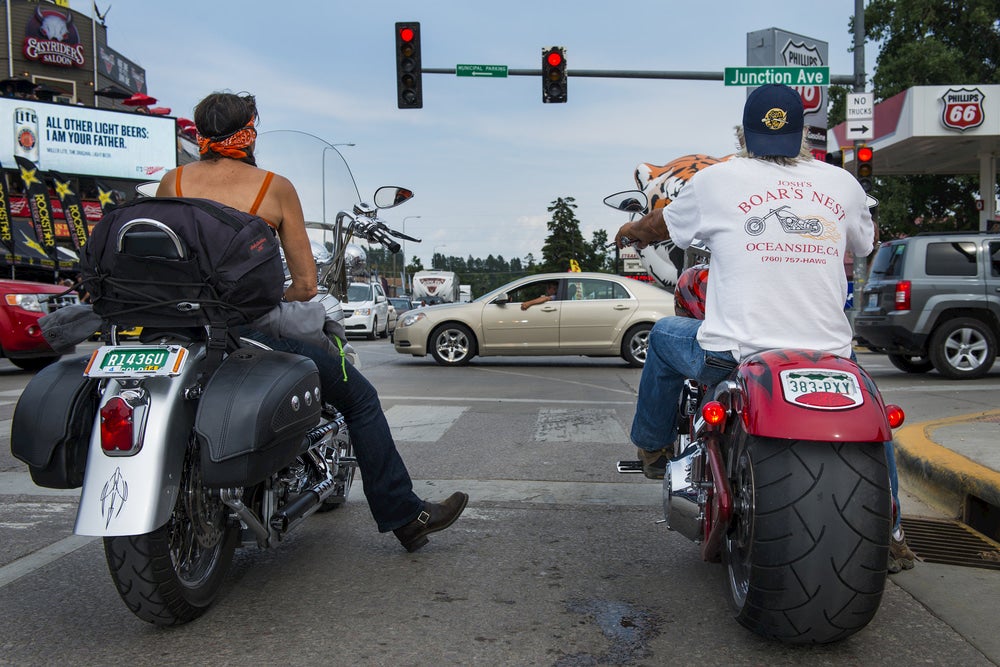 The history of the Sturgis Motorcycle Rally is a humble one. It goes back to a tiny town few had heard of outside South Dakota, a state which in the 1930s had a population smaller than that of modern day Washington, D.C. A man named J.C. "Pappy" Hoel was looking for a way to make ends meet, since the advent of home refrigerators was clobbering his ice delivery business. He stumbled on not only a new way to make a living, but a legacy that would change his hometown for the next seventy years.
The Sturgis Rally in Its Infancy
A fan of Indian motorcycles, Pappy decided to purchase a dealership in 1936 and founded the Jackpine Gypsies Motorcycle Club. The club hosted a new race called The Black Hills Classic in 1938, the first iteration of the Rally we know today. At first there were fewer than ten participants, but eventually the race swelled to a few hundred running bikes in the badlands outside the then-brand-new Mount Rushmore. Pappy's son Jack Hoel still recalls the early days when 300 participants seemed like a huge number.
The fledgling rally took a two-year break due to gas rationing at the beginning of World War II. Rather than becoming the end of the burgeoning Sturgis biker community, however, the war helped motorcycles surge in popularity nationwide. Vets who had ridden bikes in the military wanted to stay in the saddle, and found that the close-knit culture of motorcycle clubs was a panacea for the lasting impact of combat service. A golden biker era was dawning, and by 1964 the Sturgis Motorcycle Rally had gotten big enough for the city to block off Main Street for the full three days of the event.
By 1975, the Sturgis Motorcycle Rally had expanded to a full week-long event, complete with vendors, camping, musicians, and attendees who came from all over the country to take part in the expanded bevvy of races and festival atmosphere. In 1983, Pappy received the American Motorcyclist Association's (AMA) Dud Perkins Award for outstanding contributions to motorcycling. When he passed away six years later, his legacy was firmly cemented. A decade later, Pappy and his wife Pearl were both inducted into the Motorcycle Hall of Fame.
The Modern Motorcycle Rally
Today, the Sturgis Motorcycle Rally is going stronger than ever. It's grown from a half dozen of Pappy's friends to an internationally recognized event that draws some of the best bands in the country, corporate sponsorships, some of the best racers in the biz, and a greater number of participants than were living in the whole state of South Dakota when the Sturgis Motorcycle Rally first started.
Though the event has faced some controversy over the years, in part because the town of Sturgis never expected Pappy's dream to put it on the global map, it's an institution that shows no signs of slowing down. So whether you're coming for the first time or the fiftieth, we hope you find a great campsite, a cold beer, and all the chrome you can handle.
Where to Find Camping Near the Sturgis Motorcycle Rally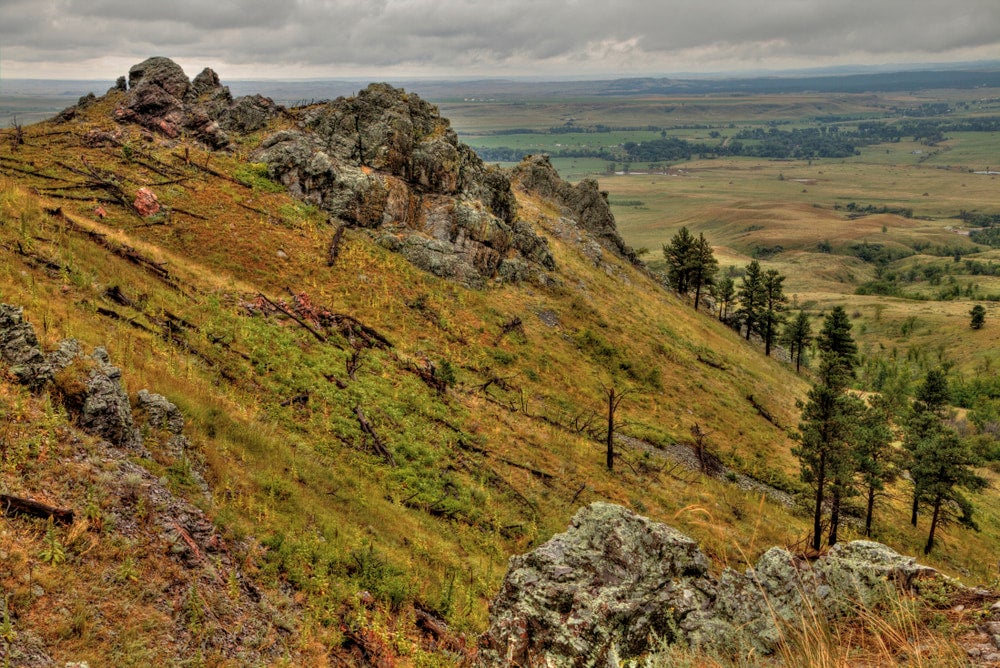 A huge part of that time-honored tradition has always been camping. Sturgis, South Dakota is a tiny town with a population of just 6,000 for fifty one weeks out of the year. During the Sturgis Motorcycle Rally, however, that population swells by hundreds of thousands— a record 700,000 riders attended in 2015.
By virtue of both logistics and the spirit of the event, camping is the name of the game rather than hotels. There are several pop-up campgrounds that open their cabins, RV sites, and tent sites to bikers during rally week and a couple other biker events during the year.
Exclusive Campgrounds Open Only During the Sturgis Motorcycle Rally
The Pappy Hoel Campground & Resort, for example, is the official campground of the event. Named for the founder of the Sturgis Motorcycle Rally, it includes a vast onsite concert venue and bar where some of the top national musical acts will play during Sturgis week. This year, some of the artists gracing the stage at the Pappy Hoel Campground's Full Throttle Saloon include Foghat and Puddle of Mud.
Similarly, the Buffalo Chip campground offers free admission to shows that take place on site if you've scored one of their coveted campsites. Tent camping spots are available on a first come, first served basis, while RV spaces in Crazy Horse Camp, Stage Hill Camp, Water Tower RV, West End RV, Quarter Lane, and Vendor Row are all pre-assigned and sell out quickly.
This year, Buffalo Chip is hosting bands including Keith Urban, Skid Row, George Thorogood and the Destroyers, Godsmack, Styx, Disturbed, Collective Soul, Reverend Horton Heat, and Snoop Dogg. Best of all, you can "Zip the Chip" when you leap from a seven-story platform zipline directly over the crowd at speeds up to 30 miles per hour!
6 Year-Round Campgrounds Near Sturgis, South Dakota
If you miss out on the event campgrounds, however, never fear. There are also several other spots which are open year-round, and are not only close to the action at Sturgis but also other attractions in the Badlands. While you're in the area, check out the Crazy Horse Memorial, Badlands National Park, and Mount Rushmore— which, by the way, is three years younger than the Sturgis Motorcycle Rally.
These cozy cabins are right on Spearfish Creek, one of the prettiest waterways to cut through the Black Hills of South Dakota. About 40 minutes from Sturgis, staying here will give you a chance to work a little more ride time into your rally weekend, while staying convenient to all the fun happenings.
The rest of the year, Wickiup Village Cabins is close to the Mickelson Trail, a 109 mile rail-to-trail conversion enjoyed by hikers and mountain bikers. The trout fishing is excellent, too, especially when you can munch on fresh-picked chokecherries and raspberries while you wait for a fish to bite. And with all the amenities you need on site, you don't have to worry about packing light on your bike.
"We came out for the 75th Rally and happened to ride past Wickiup. We came back the next day and booked for the following year. The cabins have kitchens, bathrooms and everything you need for your stay. My favorite was sleeping on the enclosed porches. The staff and atmosphere makes you feel right at home. My group have been customers since 2015!" –The Dyrt camper John M. Book Now
While it's not the place where your favorite ranch dressing is made, Hidden Valley is a great basecamp for Sturgis Motorcycle Rally attendees. Not only is Hidden Valley very, very close to the rally, and just a few minutes from the Sturgis Motorcycle Museum & Hall of Fame, it's also a hotspot for off-road enthusiasts. You can hit OHV trails straight from the campground, no trailer required.
Hidden Valley started accepting reservations for the Sturgis Motorcycle Rally on January 16th, if that's any indication of how far in advance Sturgis faithfuls plan ahead. There are tent sites, RV sites with full hookups as well as water/electric, rental trailers, cabins, and even teepees. Rally rates apply to anyone staying between the periods of August 3 to August 10, 2018, and a five day minimum registration is required to lock in your spot for the festivities.
"Clean and very accommodating! We stayed at Hidden Valley while passing through on our drive to Yellowstone. The grounds are well maintained and the facilities are very clean. This seems to be a hotspot for ATV enthusiasts and visitors to Sturgis." –The Dyrt camper Jennifer P.
If you like the idea of Zipping the Chip to see as much of Sturgis Motorcycle Rally as possible from the air, you'll love Sturgis View Campground. It lives up to the name with scenic vistas of Sturgis and the Black Hills a hop, skip, and a rumble from the party.
Sturgis View has cabins and RV sites with hookups ranging from electric to full. Tent sites booked by May 1st are just $90 per person with motorcycle, and discounted rates for the week before the rally July 27th – August 2nd are $15/day per person. Outside of rally season, tent sites go for $25 a night.
"Located above Sturgis and only about a mile and a half from Main Street. Just far enough to escape the chaos but close enough to take in as much as you want. With views of both Sturgis, the beautiful Black Hills, and one of the best spots to see the bomber fly over, this makes for a good rally camp." –The Dyrt camper Kevin K.
Sturgis Days End Campground is within walking distance of Main Street, and you can't get much closer than that unless you're sleeping on the seat of your hog. You can easily see why they have a reservation system that prioritizes return campers, giving customers from the prior year a chance to reserve their spot with a deposit November 1st— nine months ahead of the next Sturgis Motorcycle Rally.
That said, if you can get your name in there are lots of different types of sites to choose from, including cabins, tent sites, RV sites, and glamping sites that are essentially tents with hookups. Days End also offers nice extras for storing and shipping your gear for those dedicated out of towners who come to Sturgis year after year.
Smack on 385 southwest from Sturgis, surrounded by Black Hills National Forest, you'll find a welcoming campground that loves both its Sturgis regulars and newcomers in for the rally. You can purchase a home-cooked breakfast or dinner, and other goodies for sale on site include snacks, sandwiches, ice, water, and (of course) beer. Fill up your insulated cooler and enjoy fresh, ice-cold brewskies for over twenty four hours.
You'll find hot showers, spotless bathrooms, full-hookups for RVs, microfridges and AC in cabins, spacious patios, and a clubhouse/lounge with a fridge, microwave, and satellite TV. Tent sites are available during the Sturgis Rally for $30 per person per night, with rates going up for their RV sites and cabins.
"I have stayed at Creekside 12 out of 13 years during the Sturgis Motorcycle Rally. The owners do not gouge you for any supplies needed at the General Store. The have the best rates, customer service, and camping spots in the area. I love this campground and plan to continue my Annual visits there." –The Dyrt camper Jan F.
An hour and a half from Sturgis, Plenty Star Ranch is a great retreat if you want to stay in the area after the Rally for a little R&R or see what there is to see once the roar of the engines dies down. With 4 full RV hook-ups sites under picturesque willow trees, 1 log cabin that can accommodate 2-3 people, and 1 guestroom for 2 in the owners home, this private campground has a little something for everyone.
Like Wickiup Village, Plenty Star sits on the Mickelson Trail. It's also surrounded by the Black Hills National Forest, so you have ample opportunities to get outside and explore. The Peter Norbeck and Spearfish Canyon Scenic Byways both run through the park and are excellent for motorcyclists, while a network for 700 miles of designated motorized trails are available to OHV enthusiasts.
"Coffee and tea in the mornings is served on our large porch. There you find WiFi and electric outlets for charging your devices. Free Parking in designated areas close to all the campsites. Direct access to National Forest all around us. There is an approved large fire pit for campfires." –The Dyrt camper Isa K. Book Now
---
This article was brought to you by IceMule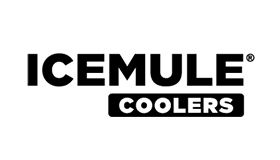 IceMule makes the best backpack ice chest for your this summer's ride to Sturgis.
Popular Articles: