This article about Michigan beaches is brought to you by Liquid IV, the makers of electrolyte powder which keeps you hydrated and energized during long days lounging in the sun with your friends.
---
Summer is here and that means beach picnics, bonfires and quality time in the sun and sand with friends. When deciding on a destination, you could head to a crowded beach in Southern California or spend big bucks to go to the Caribbean. If you are looking for an option off the beaten path, however, there are incredibly beautiful Michigan beaches that boast bright blue water and long stretches of sand. With 3,300 miles of shoreline, Michigan offers tons of beach opportunity, lots of camping along the way and, maybe best of all, absolutely no sharks.
7 of Our Favorite Michigan Beaches on The Dyrt
We've listed our favorite beach with nearby camping in Michigan below. We hope you'll try some of these beaches along Lake Michigan and Lake Superior.
1. Sleeping Bear Dunes National Lakeshore, near Empire
This gorgeous beach is known for its bird's-eye, panoramic views of Lake Michigan's shoreline. The beach features bluffs along the lake towering 450 feet above the shoreline. From the top of the bluffs, you can catch great views of an island lighthouse and the surrounding forest behind the shoreline. The wide and long dunes also provide plenty of opportunities for lounging and picnics. If you have access to a boat, check out North and South Manitou islands due west where you can hike, visit a lighthouse and camp. Don't miss the surrounding picturesque coastal villages like Empire, Glen Arbor and Leland where you'll find restaurants, shops, cafes and wine bars.
Located within walking distance of the dunes, you'll find the D.H. Day Campground. You'll also find yourself well placed to access the Pierce Stocking Scenic Drive, museums in Glen Haven and the beautiful village of Glen Arbor. There are 81 private sites with ample amenities. The campground is both tent and RV friendly, but there are no hookups. In the campground, you'll find the scenic Sleeping Bear Heritage trail, which includes more than 20 miles of trails for hiking and biking.
"This park has the most wonderful setting! I live only 30 minutes away and it is my very favorite place to camp. Campsite number 62 is just steps from Lake Michigan, Sleeping Bear Bay and fabulous sunrises and sunsets! It is pure bliss to camp here. Spacious and quiet while attached to the Heritage Trail, which connects Empire to Sleeping Bear Bay." –The Dyrt camper Margaret P.
2. Twelvemile Beach, near Grand Marais
Another Michigan beach that rivals some of the most beautiful beaches in the U.S. is Twelvemile Beach, which does, in fact, boast a 12-mile stretch of sand. It is located in the Upper Peninsula along Pictured Rocks National Lakeshore, where among beautiful beaches, you'll find hiking trails, sandstone cliffs and wildflowers in the spring. You'll also have the opportunity to take a forest walk alongside outstanding views of the lake, and the sunsets at Twelvemile are known to be iconic on this beach.
There are 37 campsites located near Twelvemile Beach, so there is ample camping. If you are looking to sprinkle come culture into your beach vacation, check out the Dunes Saloon Lake Superior Brewing Co. in Grand Marais along the way.
On the way to Twelvemile campground, you'll find yourself winding on a road surrounded by forests of white birch trees. There is also a two-mile trail that runs through the campground for scenic walks. Make sure to show up early as these spots are first come, first serve.
"This rustic national lakeshore campground is tucked in the trees along the south shore of Lake Superior. Next to the campground, there is literally a 12-mile long beach of beautiful white sand along the crystal clear waters of this great lake." –The Dyrt camper Shari G.
3. Saugatuck Dunes State Park Beach, near Holland
Saugatuck Dunes is another great Michigan beach that offers the opportunity to climb and play on awe-inspiring, 200-feet tall dunes and explore the 1,000 acres of land. If you are looking for a quiet, slow-paced beach vacation, this beach is less developed and not as heavily-trafficked as some others on this list — perfect for a relaxing vacation. Check out nearby Saugatuck, a quaint coastal town only three miles away from the park and beach. The Southerner in Saugatuck is great for a delicious breakfast on the docks of the town.
Holland State Park is about 20 minutes north of the Saugatuck Dunes. There is a different beach along Holland State Park, so we recommend getting a taste of this as well as Saugatuck. There are two large campgrounds. Lake Macatawa Campground has 211 campsites with a bike path and a boat launch. The Beach campground has 91 campsites and swimming access.
"This is a beautiful campground right on the beach of Lake Michigan. It had plenty of paved camping spaces and even cabins to rent. You can walk to the pier and lighthouse. Watch the boats go by at morning and spend a nice day down at the beautiful clean beach. It's a great spot for any weekend. But plan ahead, spots are usually booked!" –The Dyrt camper Jennifer S.
4. Pere Marquette Beach, near Muskegon
This is a great beach for playing. There are volleyball courts, a playground and access to a lighthouse, and a fish house restaurant with beautiful views of the marina. Pere Marquette is also known to be one of the cleanest Michigan beaches. The southern part of the beach near Kruse welcomes dogs, so bring your four-legged best friend for some sandy play time. This Michigan beach has 200 feet of access-friendly walkways as well, so it welcomes those of all abilities. This is a popular area for kayaking and paddle boarding too.
There are lots of ways to stay in and enjoy Muskegon State Park. There are campsites, mini-cabins and a yurt. Check out Ruth Ann's ice cream, which is within walking distance of the campground.
"We stayed at Muskegon State Channel Park in July 2016 and I was very pleased with the stay…There were tons of places to ride bikes and walk. The AWESOME beach was quite far to walk, but we rode bikes or drove the vehicle to swim and watch the sunset. I really liked this park and will return. Be sure to watch the boats going through the channel!" –The Dyrt camper Stephanie C.
5. Grand Haven State Park Beach, near Grand Haven
This 48-acre park boasts long stretches of beach, volleyball courts and lodges available for rent. There are beautiful views of Lake Michigan along with views of the Grand Haven pier and lighthouse. Grand Haven State Park enchants visitors with views of Grand Haven Pier and the nearby lighthouse. You'll find gorgeous sunrises and sunsets and perfectly groomed sand beaches to enjoy the view.
At Grand Haven Beach, you'll also find a fishing pier, picnicking area and playground. Make sure to walk on the Grand River Boardwalk and make a pitstop at Butch's Beach Burritos along the way. There are plenty of hiking trails for outdoor enthusiasts to enjoy as well. If you're an angler, the fishing here is world-class.
You can reserve campsites year-round and there are lodging options in the park as well. Campsite are full service and beach sites are available. The campsites at this Michigan beach range from $21-$37 a night, while cabins start at $126 per night. Reserve cabins in advance. Near the campground, you'll find the Grand Haven Musical Fountain, one of the largest fountains in the world.
"Grand Haven State Park is great for families and those who want a camping experience minus the seclusion of being in the woods. The camping area is a large parking lot where most camp in trailers and RVs. The beach and pier is within a short walking distance, and amenities are well kept. Plenty of great restaurants and breweries in downtown Grand Haven, again, only walking distance away. All in all, Grand Haven State Park is the place to go when your main camping goal is getting rid of those tan lines." –The Dyrt camper Joshua M.
6. Hunter's Point Park Beach, near Copper Harbor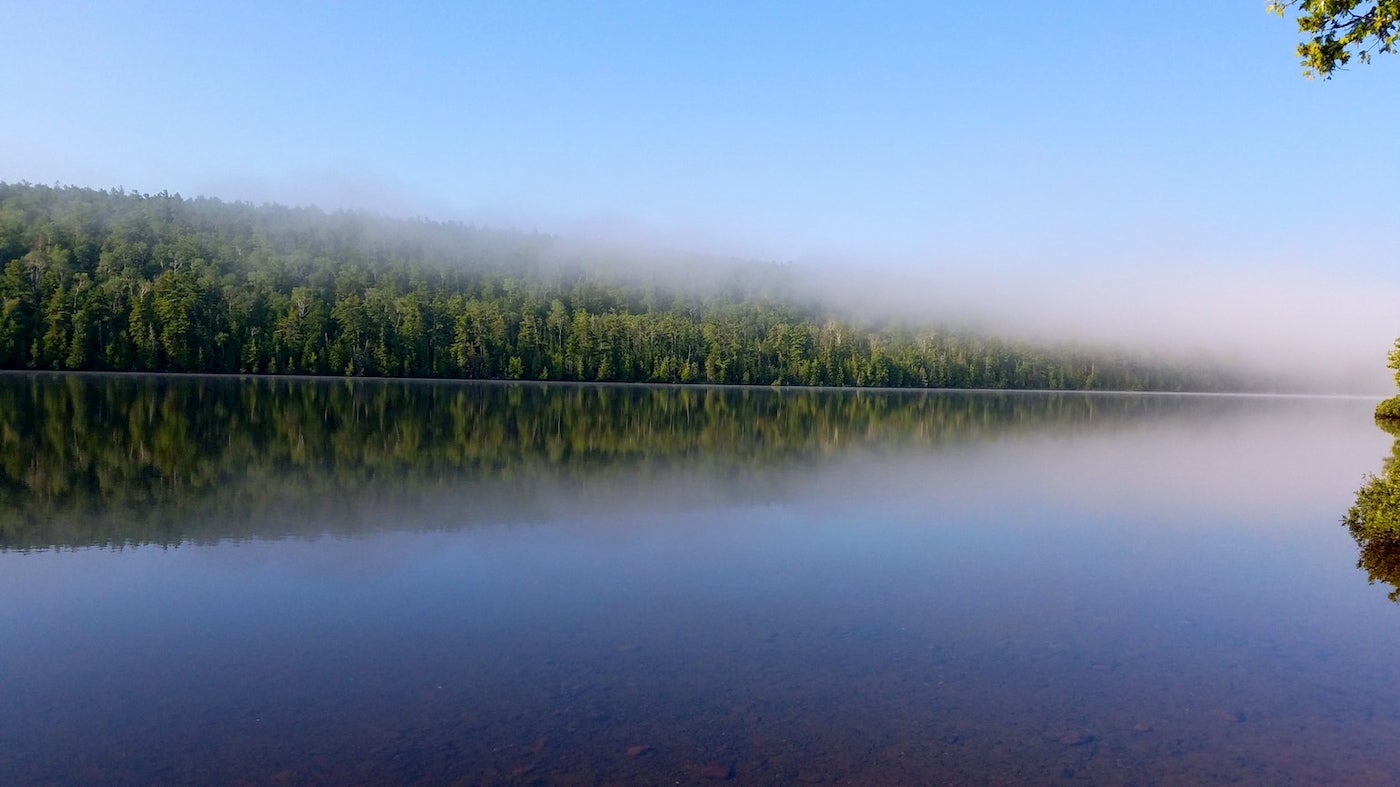 If you're looking for an off-the-beaten-path Michigan beach, this is the beach for you. Hunter's Point is located on a narrow peninsula along Lake Superior in the Upper Peninsula outside of the idyllic town of Copper Harbor. The red sand beaches and red rocks are exquisite in beauty. Enjoy a leisurely walk along the boardwalk looking over Lake Superior. The beach provides the opportunity for solitude, as it is less busy. There are plenty of hiking trails around where you'll find scenic overlooks and geological features.
In addition to its campground, Fort Wilkins State Park offers a restored 1844 military outpost and the first Lake Superior lighthouse, built in 1866. Entrance fees for the park are $11 with additional rates for camping. There are campsites and cabins to choose from.
"You are in the middle of the best of both worlds. On one side you have Lake Fanny Hooe and on the other, Lake Superior. Both offer a great place for water fun. The lake is great for fishing. You will also find a nice quiet trail around the camp and a short drive to bigger bike trails. The camp has good-size spots and lots of trees, a park for kids to play in and you are next to the fort! Great place for history and fun." –The Dyrt camper Maria M.
7. Tiscornia Beach, near St. Joseph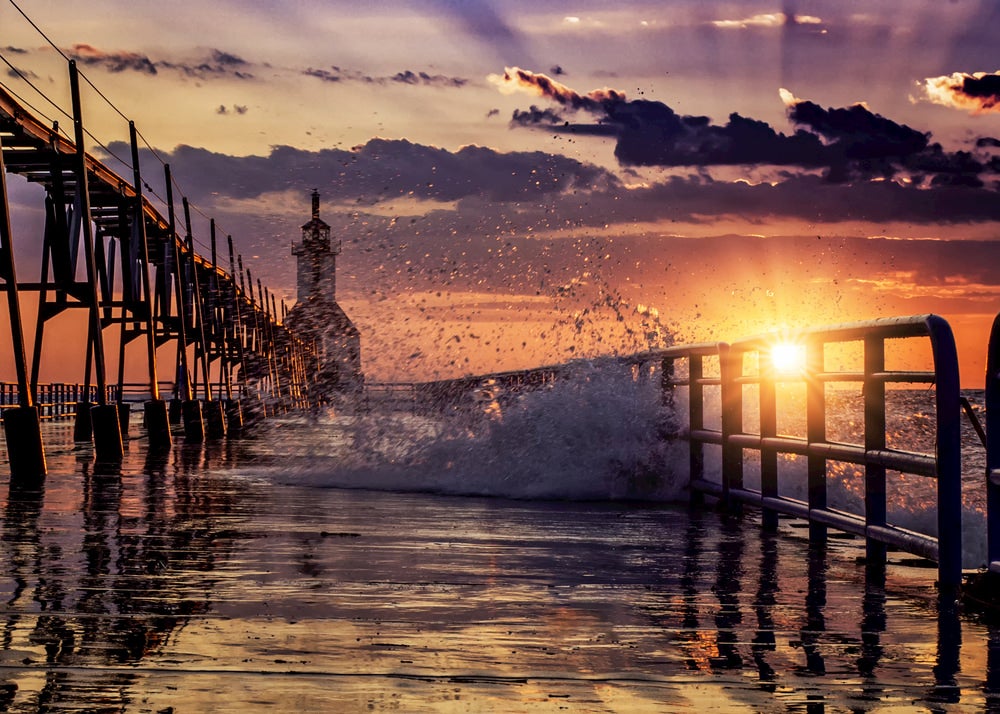 This gem of a beach is family-friendly and has plenty of activities. There is swimming access along the north shore as well dunes for climbing. On the beach, you'll find a picnic area, public restrooms and a pavilion. Check out St. Joseph while you're at the beach. It is a quaint town with plenty of restaurants and cafes. Silver Beach Pizza is a bustling pizzeria only a 10-minute walk from the beach.
This is a family owned and operated campground, so it's a great place to bring your whole family. This campground is about 13 miles north of Tiscornia Beach, so you can check out other beaches along the way from Tiscornia. There are 80 sites and two cabins. There are also volleyball courts, hiking trails, a playground and more at the campground.
"Close to Lake Michigan and South Haven. Nice swimming lake with a shallow area that's great for kids. Quiet, family oriented and well maintained." –The Dyrt camper Dan W.
---
This article was brought to you by Liquid I.V.

Check out Liquid I.V. for a new way to stay hydrated on your next beach adventure.
---
Related Campgrounds:
Popular Articles: