At The Dyrt, we share camping tips from our community of campers and campgrounds. With so many campers staying home, we continue to share this info so you can plan future camping trips across the U.S.
---
Campers know that there's more to camping than pitching a tent and sleeping on the cold, hard ground. In fact, with the innovative and functional design of today's camping air mattresses, sleeping on the cold hard ground is practically a thing of the past for car campers.
Camping air mattresses provide a warm and comfortable sleep under the stars that is comparable to the kind of sleep you'd get at home in your very own bed (maybe even better, if you're lulled to sleep by the intoxicating sounds of the forest at night).
The Best Camping Air Mattresses for Any Style or Budget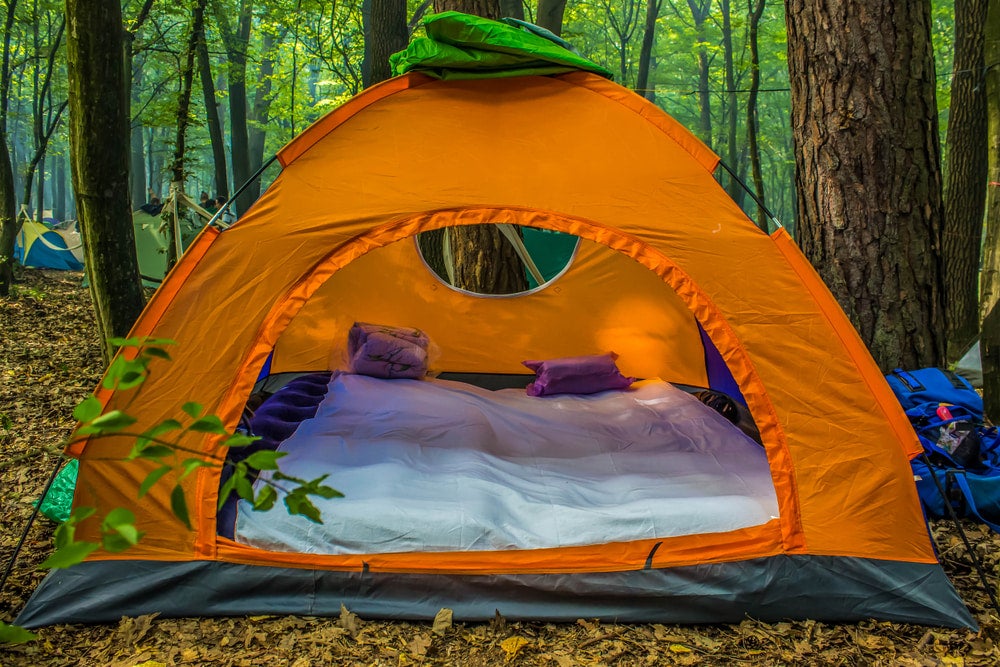 If you're having visions of the bulky, sleepover-grade air mattresses, think again. These are high-tech, lightweight, durable products that make up some of the best camping air mattress options on today's market.
Best Camping Air Mattress for Families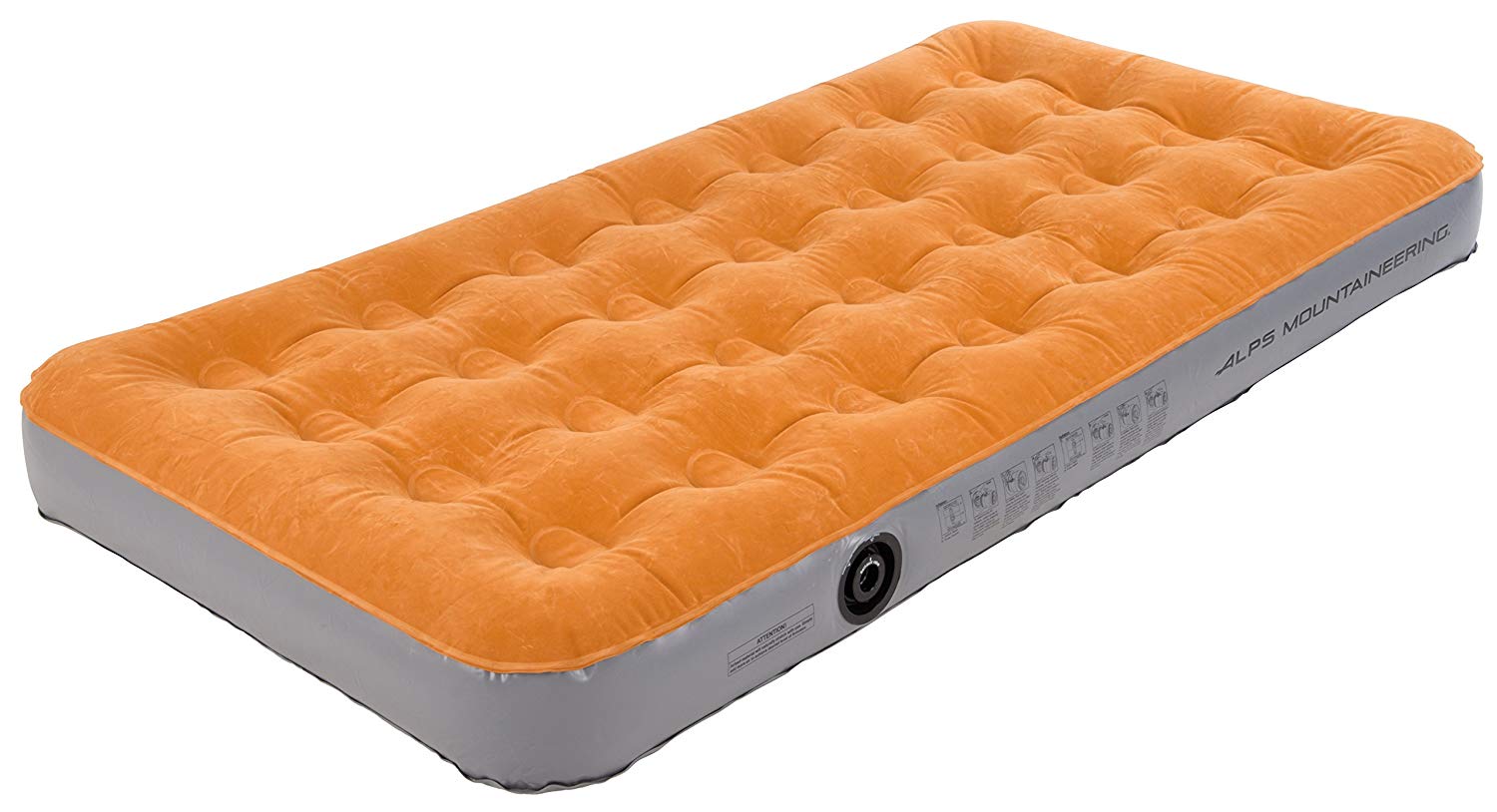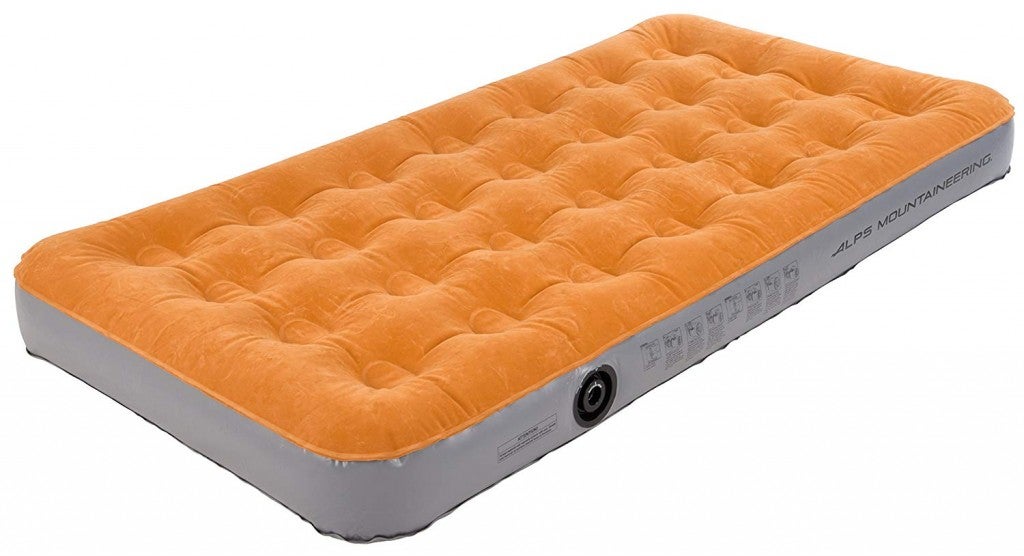 Designed for both durability and comfort, this queen air mattress is a great choice for camping families because of its large size and puncture resistant design. For families on a budget, the price is right, too. The rechargeable pump used to inflate the mattress can be charged in the wall or in the car so you don't have to worry if there isn't an outlet handy, and the entire mattress inflates in just over a minute—perfect for quickly getting tired kids into bed.
Dimensions: 80" x 60"
Product weight: 9 lbs. 12 oz.
Inflation style: Rechargeable air pump
Buy Now: $79.99
This double-high bed sits 15 inches off of the ground, which makes climbing on and off of the mattress much easier for adults and children alike. The simple, no-fuss design makes the mattress a straightforward yet functional sleep solution. This camping air mattress is also great at holding air, even while supporting the weight of a family, so you don't have to continuously re-inflate the mattress during your camping trip.
Dimensions: 78" x 60" x 15"
Product weight: not stated
Inflation style: 120V pump
Buy Now: $99.99
Best Camping Air Mattress for Car Camping
If you're the kind of car camper that worries about packing the air mattress but forgetting the pump, this self-inflating camp bed will solve your problems. Designed to quickly inflate from its small packed size to full inflation, the pad pump that comes with this air mattress is just for topping off and doubles as a soft pillow. The weight of this mattress makes it too heavy for a backpacking trip, but for car camping this air mattress can't be beat.
Dimensions: 78" x 44" x 4"
Product weight: 9 lbs. 5 oz.
Inflation style: Self-inflating
Buy Now: $269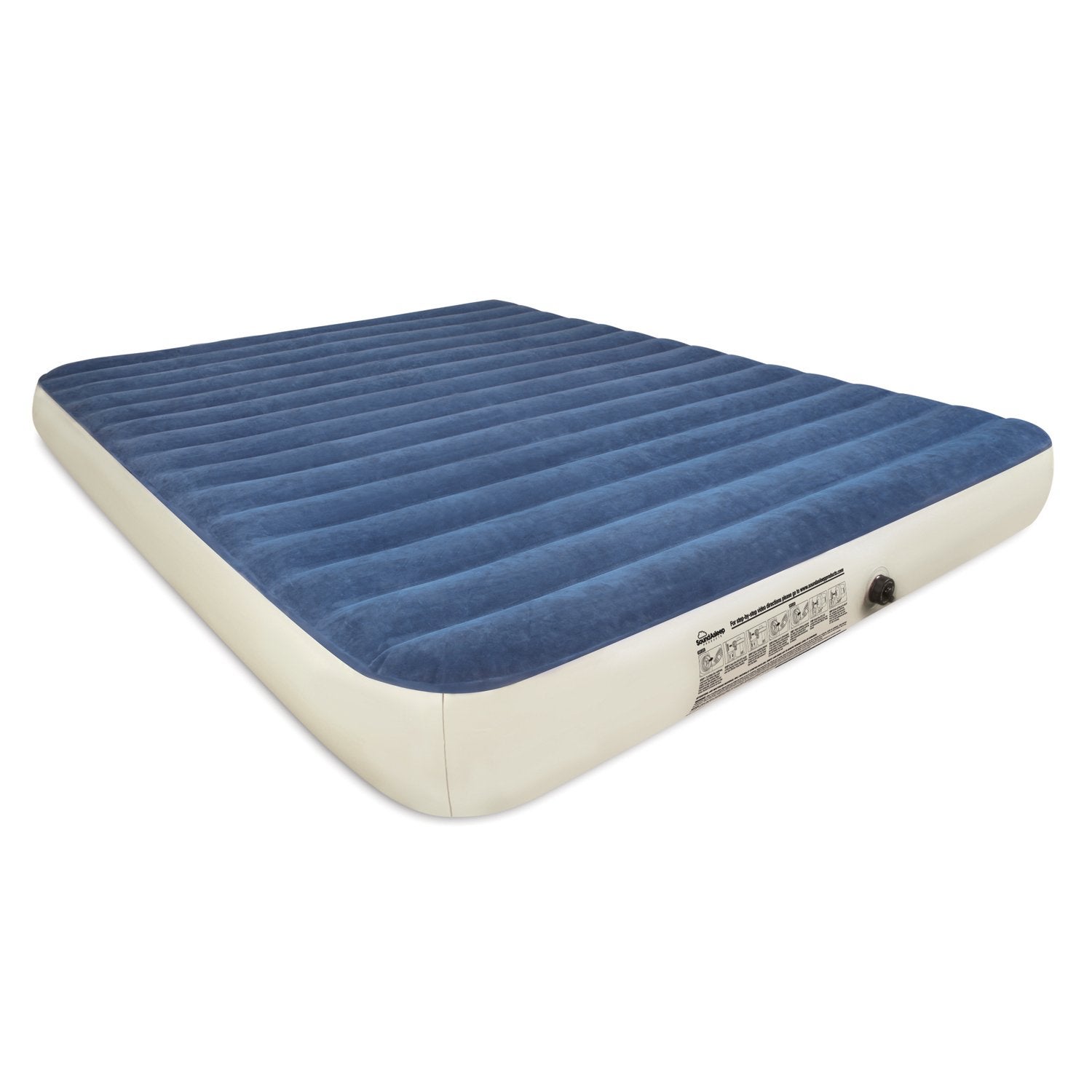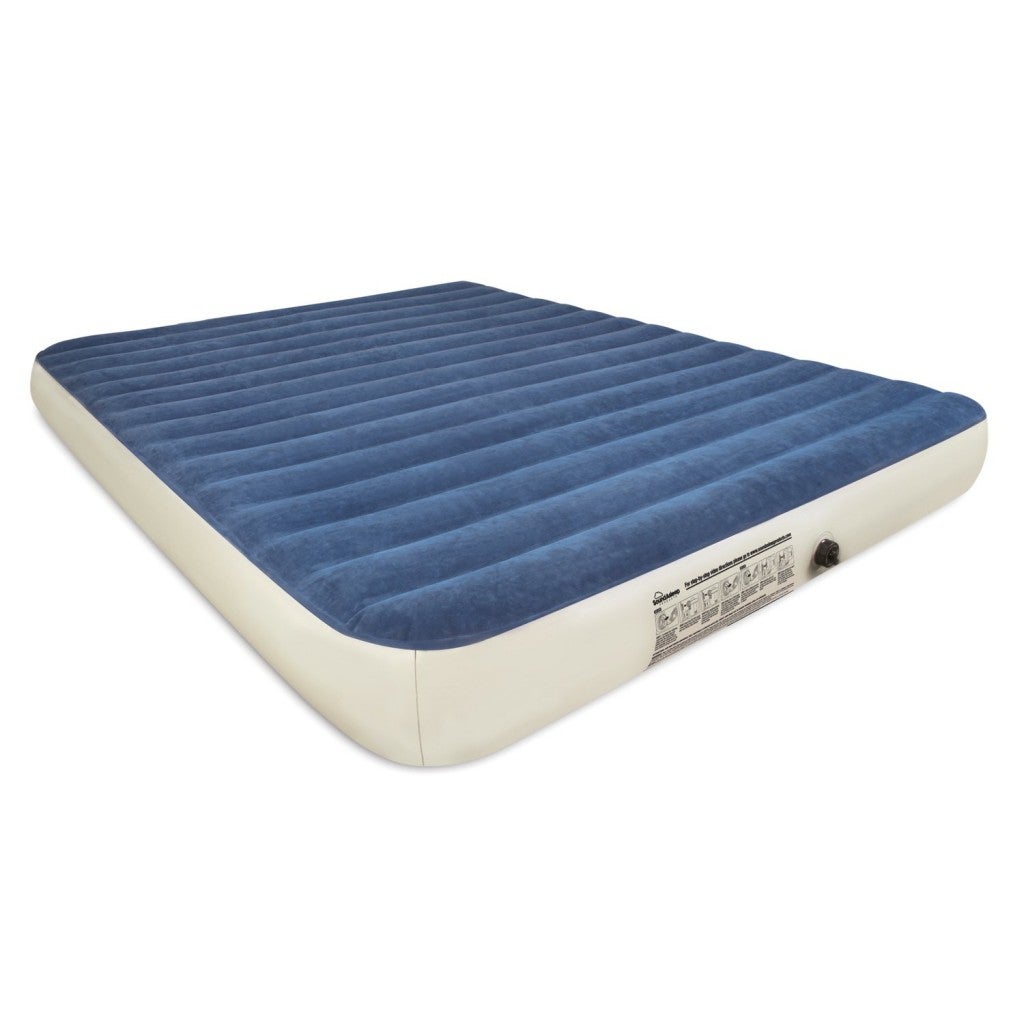 Designed for durability during outdoor use, the SoundAsleep air mattress is inexpensive yet functional and comes with a one-year limited warranty. The mattress is available in both a queen and twin size (details below are for a queen) and its SureGrip bottom assures that the mattress won't slip and slide around in your tent while you're sleeping. The mattress inflates in under three minutes, a great perk when you pull into the campground late at night and are ready to hit the hay.
Dimensions: 78" x 58"
Product weight: 13.9 lbs.
Inflation style: Pump with rechargeable battery
Buy Now: $79.95
Best Camping Air Mattress for Backpacking
Want to sleep like a king in the backcountry? Try the Big Agnes SLX Tent Floor Pad, designed to turn the entire floor of a standard backpacking tent into a comfortable, padded air mattress. This lightweight, semi-rectangular camping air mattress is extremely lightweight and has smart designs like large outer edges that cradle you into the center of the air mattress like a baby—which is why it deserves to be on your backpacking checklist.
Dimensions: 78" x 50"/40" x 3.5"
Product weight: 2 lbs. 10 oz.
Inflation style: High volume valve
Buy Now: $299.95
This camping mattress is the size of a one-person ground pad but the reason it makes the list is because two of them can be linked together to create a queen-sized camp bed. This high-quality air mattress is made of open-cell foam insulation and keeps backpacking campers comfortable and warm in temperatures as low as 40 degrees. The durable camping mattress fabric is puncture-resistant and lightweight (just 3 pounds), making it the perfect solution when seeking comfort in the backcountry.
Dimensions: 80" x 30" x 6"
Product weight: 3 lbs.
Inflation style: Foot pump
Buy Now: $199.95/mattress
Best Camping Air Mattress for Cold Weather
If you'll be camping in cold weather, there's no better choice for an air mattress than the Exped Megamat Duo 10, which is rated for use in temperatures below 0 degrees. Its open-cell foam provides great insulation to keep you warm on cold nights, and campers rave about the comfort of this air mattress. The self-inflating valve makes set-up a breeze and the large deflation valves means you can pack up camp in no time.
Dimensions: 77" x 52"
Product weight: 9 lbs. 14.7 oz.
Inflation style: self-inflating
Buy Now: $369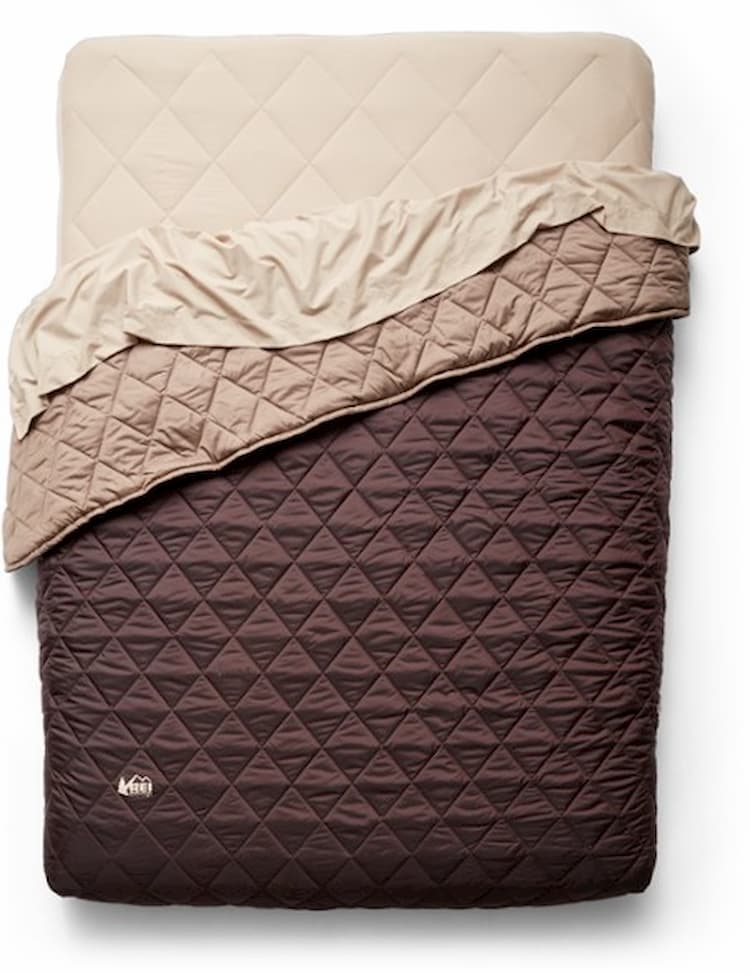 Made for camping in comfort, this REI Co-op queen-sized air mattress also comes with a padded cover, insulated quilt, and topsheet. The insulated system is designed to keep you comfortable in weather as cold as 40 degrees. The quilt and topsheet fit snugly around the bottom of the air mattress to lock heat in and prevent drafts on those cold and windy nights.
Dimensions: 79" x 56" x 6"
Product weight: 15 lbs. 9 oz.
Inflation style: Non-electric hand pump
Buy Now: $279
Best Camping Air Mattress Under $100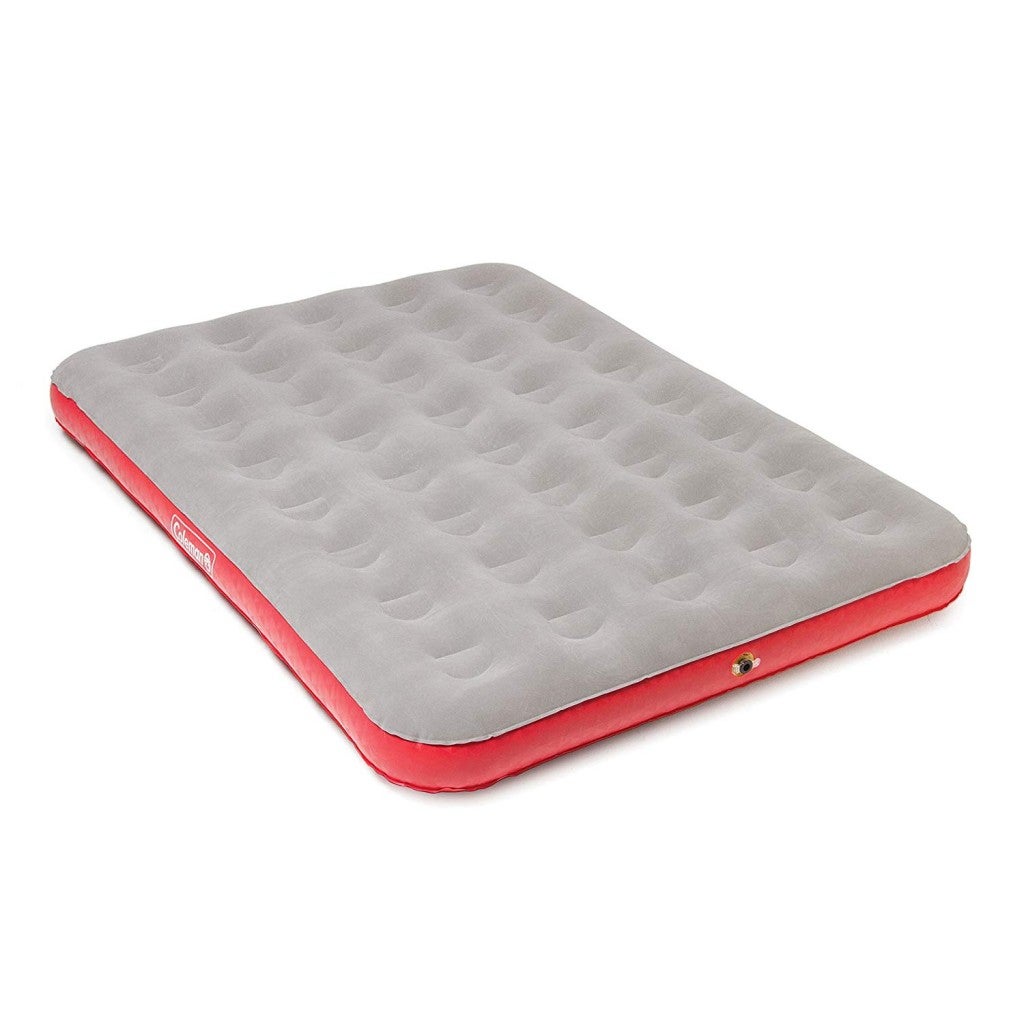 There's nothing fancy about this camping air mattress, but if you're looking for an affordable, comfortable mattress for weekend camping trips, this queen-sized Coleman certainly fits the bill. The soft top of the mattress is comfortable and anti-microbial, and comes with a pump that can be plugged in or used with batteries.
Dimensions: 78" x 58" x 8"
Product weight: not stated
Inflation style: 4D pump (batteries not included)
Buy Now: $59.99
This simple yet effective camping air mattress is a great choice for the casual car camper that wants to sleep comfortably in the tent. The air mattress is coiled for comfort and made with durable PVC. The soft top of the mattress prevents sleeping bags from sliding around and the 4D pump allows the air mattress to be inflated with the flip of a switch. While this camping air mattress comes without bells and whistles, it's a good fit for campers that head to the woods just a few times a year.
Dimensions: 60" x 80" x 8.5"
Product weight: 8 lbs. 12 oz.
Inflation style: 4D pump
Buy Now: $79.99
---
Our recommendations are based on providing value to campers across the country. Some articles may contain affiliate links. By purchasing through our articles, you help support this camping magazine.
Popular Articles: