Yogi Bear CampgroundWhen you go camping in Maryland, you're probably on the hunt for water activities if you're not camping near D.C. – that's because virtually the entire state is covered by the Chesapeake Bay watershed, and the state has 3,190 miles of tidal shoreline. But the type of water varies from ocean, to bay, to mountain lake, to marshy river; and each type brings new adventure. Fortunately, most campgrounds in Maryland feature modern facilities, dry and wet activities, and interpretive programs which are especially great for families.
The Dyrt Campers Share Their Favorite Campgrounds in Maryland
Local users and reviewers on The Dyrt share some of the state's most famous sites and hidden gems.
This is the bucket list item if you're looking for the best campgrounds in Maryland. Assateague Island is a 37-mile-long barrier island off the Eastern Shore of Maryland and Virginia. Wild horses roam the dunes, and with beachfront camping options, you're almost guaranteed to see some.
There are lots of different camping options along the shore, including primitive sites and family-friendly, fully-stocked grounds. The state park offers the most amenities, like newly-renovated bath houses. You can pitch your tent right on the sand if you're looking to wake up early to pastel sunrises.
"I really enjoyed seeing how protected the horses were with their own "body guards" which were the rangers that followed them. I'll absolutely be back next year ❤️" – The Dyrt camper Sarah F.
Camp Here
Camp where the President vacations! Okay, not really: while Cunningham Falls State Park is located close to Camp David, it isn't affected by presidential travel-related closures. Nestled in the picturesque Catoctin Mountains, this state park offers ample hiking, swimming and beautiful waterfalls.
There are two camping areas in the state park, called Manor and Houck. Houck is closest to the falls and the lake, and Manor is near the historic Catoctin Iron Furnace.

"This state park is beautiful and off the grid! We love hiking to the falls, swimming in the lake, visiting Misty Meadow farm and creamery, and relaxing!" – The Dyrt camper Regina C.
Camp Here
This campground is tucked away in the mountains between Cumberland and Hagerstown in Western Maryland. Campers can swim and kayak in a crystal-clear lake fed by a stream that first passes through an impressive mile-long gorge. There's pleasant hiking in the dense hemlock and chestnut forest surrounding the campground. Kids can also view rescued birds and reptiles at an aviary or participate in various summer interpretive programs; and adults can visit the nearby casino.
"Rocky gap is one of my favorite parks to camp in Maryland!… The water is incredibly clean and the best part, is that the 'day use' area for the general public is separate. So, when you go to the beach at Rocky Gap, it is just other campers. This keeps the beach clean, quiet and not crowded." – The Dyrt camper Jennifer S.
Camp Here
This is one of the quietest campgrounds in Maryland; in reviews, The Dyrt users raved about the lack of cell reception. Located on the Eastern Shore, Tuckahoe State Park offers private, spaced-out campsites among the woods. Campers can kayak or fish on the Tuckahoe River, or drive to the nearby Chesapeake Bay for more sweeping watershed views. The area's mostly-flat trails are perfect for hiking and biking.
"They had cool playgrounds for the kiddos made out of recycled tires. My son really enjoyed that. If you get a chance to explore the surrounding area, I would check out the local arboretum. Overall an awesome little escape from our busy everyday lives!" – The Dyrt camper Fransheska A.
Camp Here
This spit of land at the tip of Southern Maryland has seen its fair share of history. Captain John Smith first came ashore at Point Lookout in 1608. In 1862, it was turned into a Union hospital and prisoner of war camp for nearly 50,000 Confederate States Army soldiers.
Local folklore has it that their ghosts roam the modern campground. Campers can visit an old lighthouse and a Civil War museum, along with fishing, swimming and biking.
"This is just one of those parks where there are a million things to do… Fishing is probably the biggest draw here. There are piers for fishing, separate piers for crabbing, and a fishing beach. There is also a full-service boat launch with a fish-cleaning station and a park store with provisions, including bait." – The Dyrt camper Tara S.
Camp Here
Save a List of Campgrounds in Maryland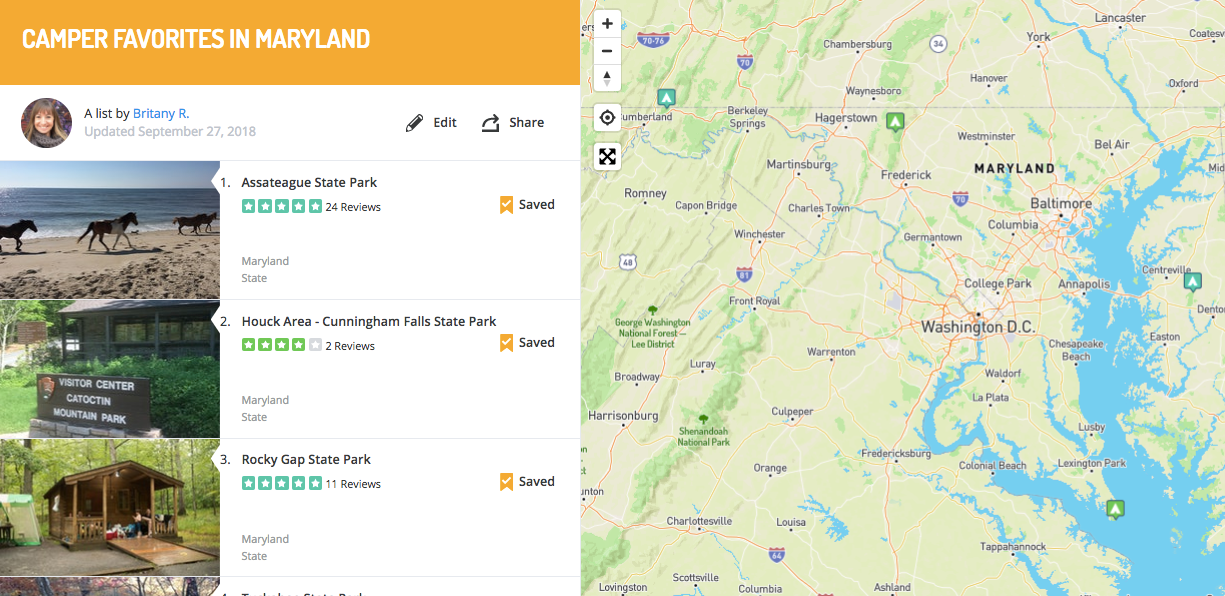 We've saved this list of Maryland campgrounds on The Dyrt. You can view the list and save your own.
View the List
---
Related Articles:
---
Related Campgrounds
Popular Articles: