From intricate, interconnected waterways along the Canadian border to Minneapolis's bustling downtown, Minnesota national parks and monuments offer a full flavor of the state's diverse landscape and culture.
The "Land of 10,000 Lakes" also runs the gamut of National Park Service (NPS) designations. While there are only 60 NPS sites officially designated as "National Parks" — and only one official Minnesota national park — the agency protects 417 different units of land across the U.S. These protected areas add up to over 84 million acres. NPS uses nearly 20 different official naming conventions for these units, but they are also commonly referred to as simply, "parks."
Parks in Minnesota include the designations of: National Monument, National River and Recreation Area, National Scenic Trail, National Scenic Riverway, and National Park. Each of these different NPS sites allow visitors to engage with the area's resources in unique ways.
Campers will Love These 6 Minnesota National Parks & Monuments
Minnesota's tagline, "Land of 10,000 Lakes," is actually selling itself short. According to the Minnesota Department of Natural Resources, there are 11,842 lakes within the state's borders that are 10 acres or more. Minnesota waters flow out of the state in three directions: north to Hudson Bay in Canada, east to the Atlantic Ocean, and south to the Gulf of Mexico. Along these waters is the rich history of Native Americans who called the land home long before there were national parks in Minnesota, including the Dakota and Ojibwa tribes.
Each of the Minnesota national parks and monuments give campers an opportunity to experience the heritage and environment that makes the North Star State so special.
1. Grand Portage National Monument in Grand Portage, MN
This fee-free park is located in northeastern Minnesota overlooking Lake Superior. Grand Portage National Monument is a living history site where visitors can learn about fur trading and the partnerships between the Grand Portage Ojibwe and the North West Company. This park protects a nearly nine-mile portage trail that connects Lake Superior to the Pigeon River.
What to Do in the Park
Visitors should make sure to check out the Grand Portage National Monument Heritage Center, which was established through a close partnership between NPS and the Grand Portage Band, who donated the land to the agency. The center overlooks the park's reconstructed fur-trading post and houses interpretive exhibits on Ojibwe culture, including murals, films, and more.
The best view in the park is from the overlook on the Mount Rose Loop Trail. This one-mile hike is a steady climb up the mountain on a dirt path with wooden stairs. It provides a stunning view of Grand Portage Bay's brilliant blues.
If you're at the park during the second week of August, you're in for a treat. The Grand Portage Band of Lake Superior Chippewa sponsors an annual Grand Rendezvous Days and Powwow. The event includes music, dancing, craft demonstrations, and hands-on workshops.
Camping Options
Backcountry camping within Grand Portage National Monument is limited, but worth planning ahead for. The park offers two campsites accessible by hiking the rocky, historic portage trail to Fort Charlotte. The sites are equipped with tent pads to protect the area's delicate topsoil. Early reservations are strongly encouraged. A free backcountry permit is required, and campers should note that it can take at least two weeks for staff to process them.
If you're unable to snag a site in the park's backcountry, there are several camping options available just outside of the park. One of the closest options is the Grand Portage Lodge & Casino. The campground has 29 RV sites with full hookups, as well as open spaces for tents. It offers many comfort amenities, a great view of Lake Superior, and close proximity to the early morning ferry that leaves to Isle Royale National Park. About a 25-minute drive away, Judge Magney State Park offers drive-in RV and tent sites, as well as ample waterfall-laden hiking.
2. Mississippi National River and Recreation Area in St. Paul, MN
The mighty Mississippi River meanders its way right through the Twin Cities, creating an outdoor oasis within an urban environment. Mississippi National River and Recreation Area is a 72-mile park that highlights the human history and use of the Mississippi River, while connecting the area residents back to its natural beauty.
What to Do in the Park
The park offers several trails for quiet hikes, bike rides, or bird watching. The Winchell Trail is a pedestrian-only route that provides excellent views of the river's eight-mile gorge. The Grand Rounds Scenic Byway allows visitors to explore the same area on bike.
For paddlers, the park provides its Mississippi River Companion to plan canoe trips along the waterway. For a 12.7-mile day trip, launch your boat at the confluence of the Crow and Mississippi rivers and head downstream to Coon Rapids Dam.
The park has its visitor center at the Science Museum of Minnesota in downtown St. Paul. It's a must-stop for interactive exhibits, recreational information, and, of course, earning your junior ranger badge.
Camping Options
While there are no formal campgrounds available within this Minnesota national park, visitors can find primitive camping on some of the river's islands. This is a perfect option for those on multi-day paddling trips. If choosing this route, make sure to familiarize yourself with the Superintendent's Compendium for primitive camping and ask a park ranger at the visitor center if you have any questions.
There are also two state parks within 50 miles of the Mississippi National River and Recreation Area that have campgrounds: Afton State Park and William O'Brien State Park. In addition, there are nearby regional parks with camping available, such as Rice Creek Chain of Lakes Regional Park or Lake Elmo County Park Reserve.
3. North Country National Scenic Trail across Northern Minnesota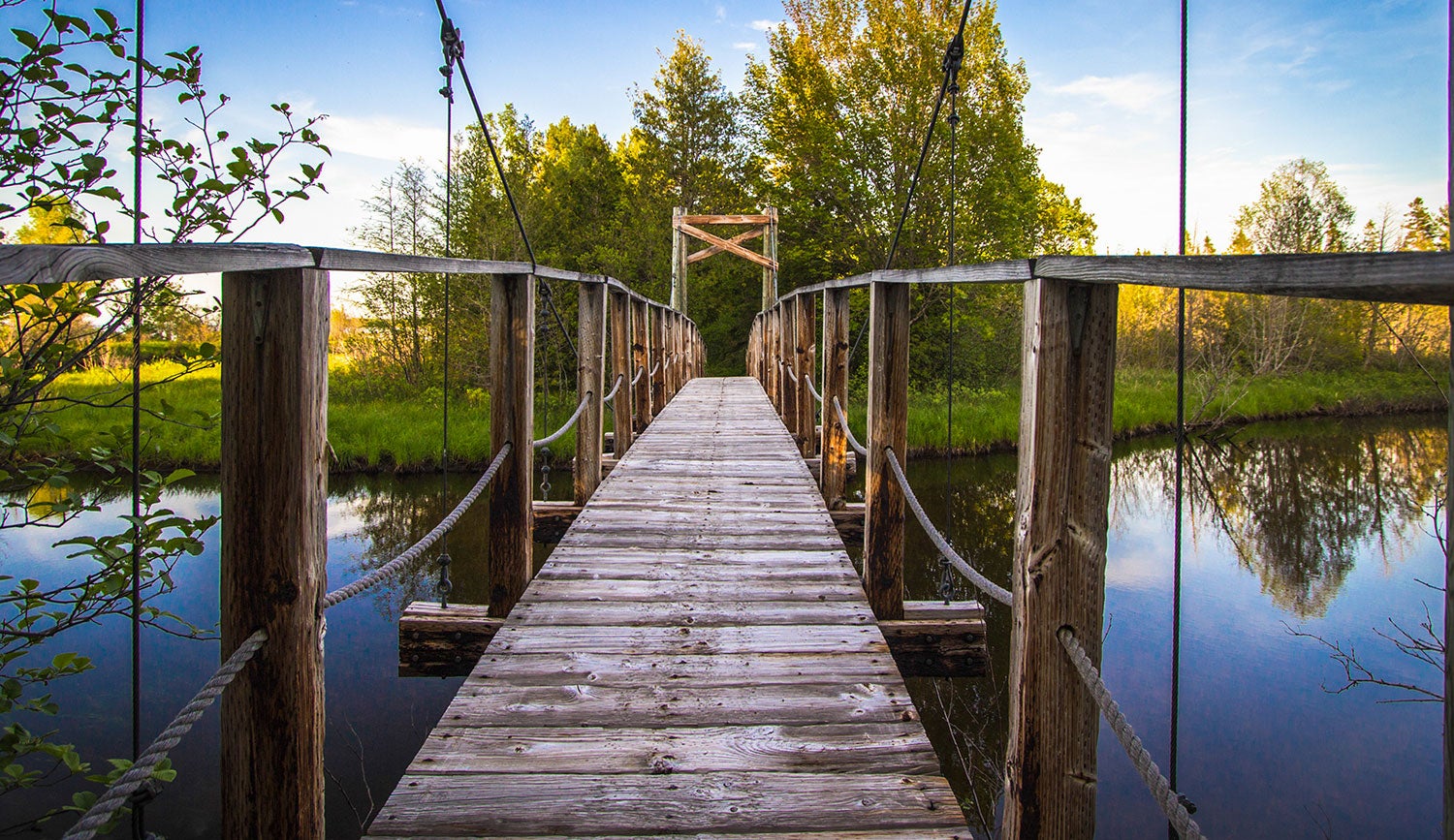 The North Country National Scenic Trail (NCT) treks across seven states from New York to North Dakota. About an 800-mile stretch of this 4,600-mile trail runs through Minnesota. Once all sections of the NCT are completed, it will be the longest continuous hiking trail in the country.
What to Do in the Park
This unofficial Minnesota national park is ideal for day hikes or multi-day backpacking trips. Since the trail runs through several different national, state, and regional public lands, connecting various existing trails on its way, visitors can pick and choose from several different sights.
A 3.1-mile hike on the Kekekabic Trail to the Bingshick Lake Campsite in the Boundary Waters Canoe Area Wilderness takes travelers past historic mine ruins and many small lakes.
Starting at Detroit Lake, a quick 0.9-mile hike will bring you to a 1,000-foot puncheon. This navigates the NCT across a black spruce-tamarack bog in the Tamarac National Wildlife Refuge. It's a great spot for wildlife sightings.
Camping Options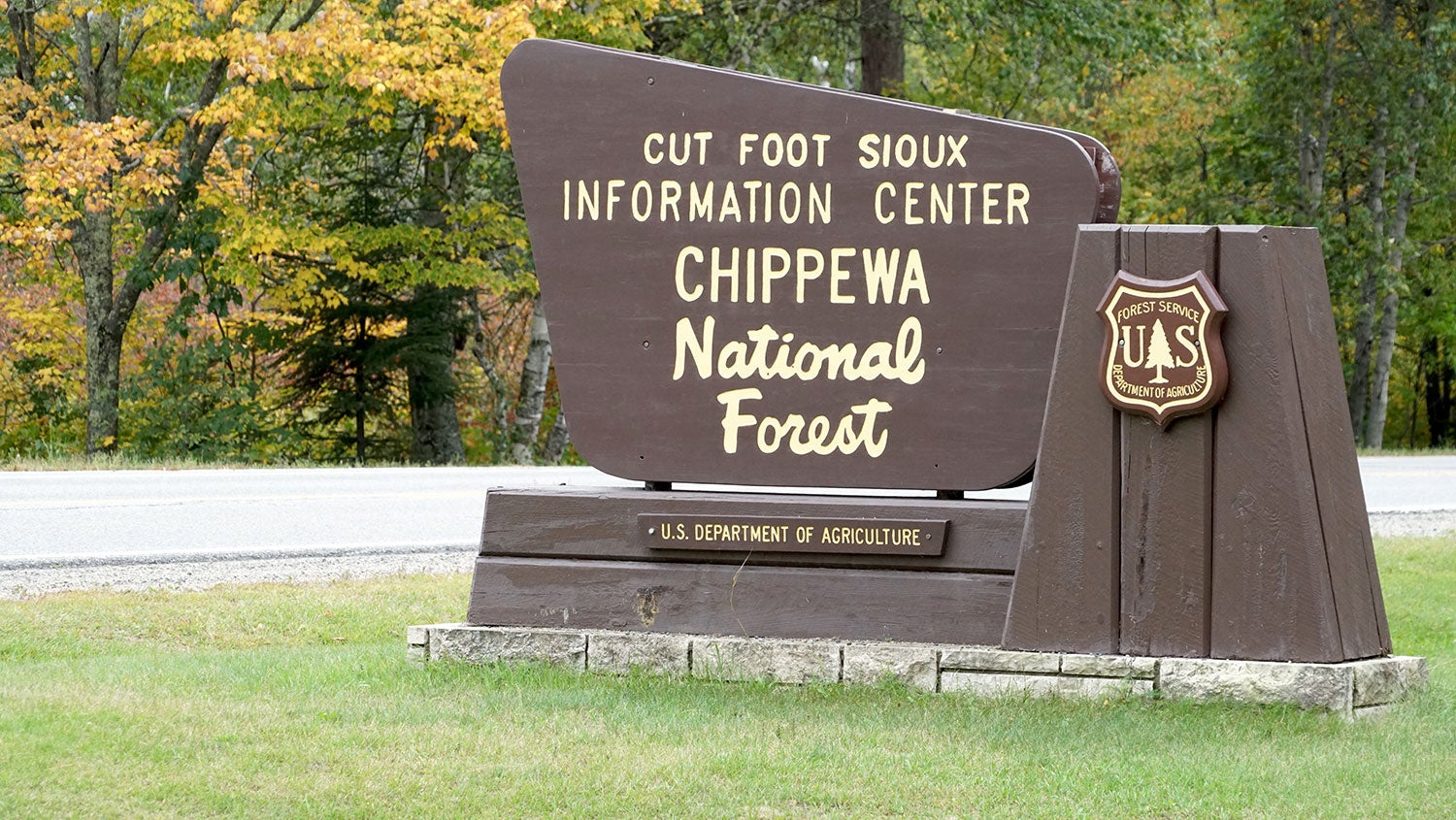 The NCT is ideal for backcountry camping. Most campsites along the way are first come, first served. Backpackers should obtain specific information about different portions of the trail from the responsible landowners or overseeing agencies. Two sections in Minnesota, the Kekekabic and Border Route trails in the Boundary Waters Canoe Area Wilderness, do require backcountry permits.
The trail is also located near established campgrounds on regional, state, or national public lands. Those wanting to do day hikes from a "base camp" may want to look at Itasca State Park, which has a drive-in or boat-in campground that is both RV and family friendly. Chippewa National Forest is another region with several campground options.
4. Pipestone National Monument in Pipestone, MN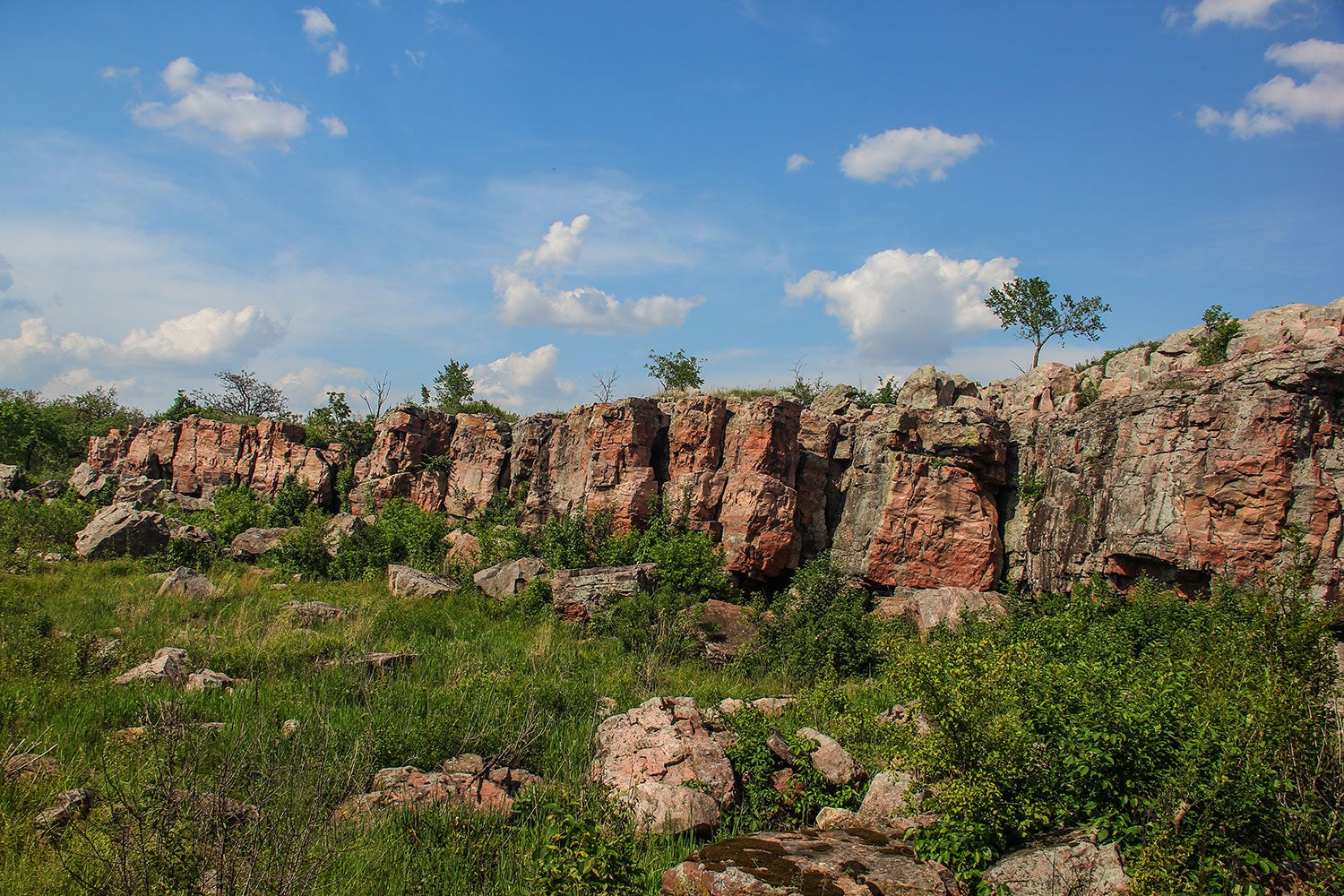 Pipestone National Monument is an active quarrying site for several Native American tribes. These tribes have come to this land for generations to obtain the red pipestone found in the park. They use the stone to carve into prayer pipes with many believing that the smoke from the pipes carries their prayers up to the Great Spirit. Quarrying the stone requires the tribes to obtain a permit, a process that can have a waiting list as long as 10 years out.
What to Do in the Park
Visitors can tour these Minnesota park grounds by taking a stroll on the Circle Trail. The Circle Trail is a paved, .75-mile trail that passes through some of the park's most interesting features, including: pipestone quarries, scenic Winnewissa Falls, a native tallgrass prairie, and historical markers.
Inside the park's visitor center, visitors can learn about interpretive programs offered, watch the award-winning documentary "Pipestone: An Unbroken Legacy," and engage with Native American crafters demonstrating the process of creating pipes and other objects out of the quarried pipestone.
Camping Options
There is no camping allowed within this Minnesota national park. However, there are several camping options nearby the park. Three state parks within the vicinity all offer camping. The closest, Split Rock Creek State Park, is about a 6-mile drive away. Blue Mounds State Park is 23 miles south of the park, and Camden State Park is 35 miles to the northeast.
Another option that is directly across the street from the park's entrance is Pipestone RV Campground, which has both RV and tent sites available.
5. Saint Croix National Scenic Riverway along Eastern Minnesota
The Saint Croix National Scenic Riverway contains 225 river miles of some of the least developed country in the upper Midwest. The Namekagon and St. Croix rivers flow through its lands. The federal government designated the St. Croix River as a National Wild and Scenic River in 1968, one of only eight rivers at the time to receive the protection. Much of the river forms the state's border with Wisconsin. The scenic section begins at St. Croix State Park and runs to where it meets the Mississippi River in Hastings.
What to Do in the Park
With 225 miles, there are many ways to experience St. Croix National Scenic Riverway and several points of interest worth a stop. One of these is the St. Croix Dalles Gorge. This is a deep gorge formed by basaltic rock—a historic site for steamboat building and logging. Visitors can view this stretch up close on a Taylor Falls Scenic Boat Tour. The tour takes riders past the world's largest glacial kettles, as well as the "Old Man of the Dalles," one of the area's most impressive rock formations.
The river has arguably some of the best canoeing and kayaking available in the region. Paddling the river offers a unique perspective on its beauty. For experienced paddlers looking for a little whitewater, try putting in at Nelsons Landing. This stretch includes Class I & II rapids. For a long, more leisurely float, paddlers can travel from Interstate Park to Osceola Landing.
Camping Options
NPS offers primitive campsites along the shores of the St. Croix and Namekagon rivers, allowing paddlers to embark on multi-day trips down the waterways. Many of the sites are only accessible from the water, making them perfect for campers who like to feel a little more isolated. The rivers are divided into three camping zones and each has their own management policies. Campers should learn about these on the park's website before heading out.
There are also established state and regional parks along the riverways to accommodate campers not arriving by boat. Some options include Wild River State Park and Saint Croix State Park.
6. Voyageurs National Park in International Falls, MN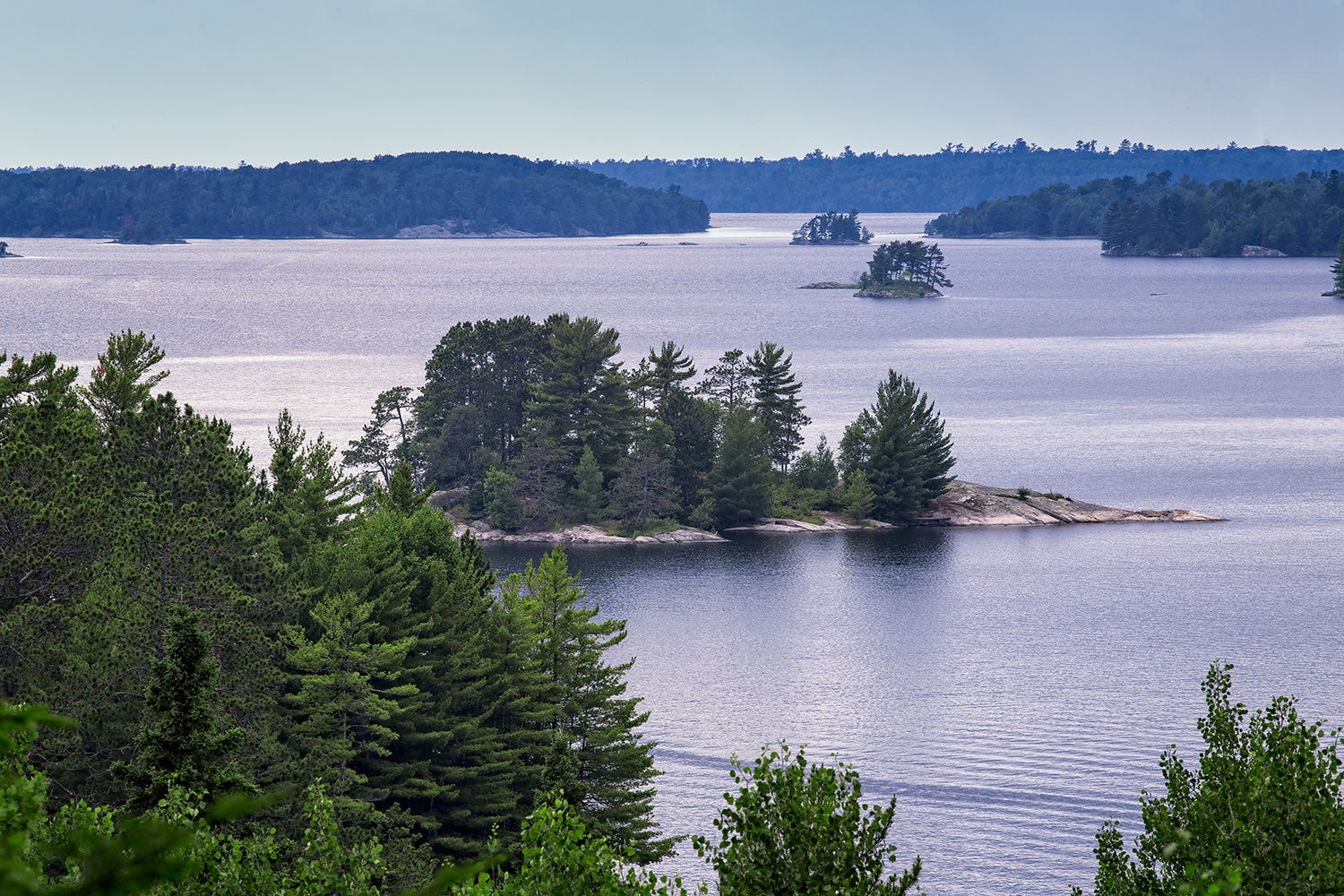 Over 40% of the one officially designated Minnesota National Parks is water. Its interior is only accessible via watercraft. Voyageurs National Park has four large lakes speckled with islands and several more smaller lakes. There are approximately 500 islands and 655 miles of shoreline within the park's 200,000 acres along the Canadian border. It was named after French Canadian voyageurs, French for "travelers," who paddled the area in the 17th and 18th centuries trapping beavers, otters, and minks for the fur trade.
What to Do in the Park
Voyageurs National Park is known for its night skies. Visitors will have a good chance of seeing shooting stars, especially if visiting during the August Perseids. The park is also home to occasional views of the aurora borealis, also known as the northern lights, which offer radiant colors amidst the night's darkness.
Voyageurs is a great stop for winter travelers. Once everything freezes over, the park offers all types of winter activities, including snowmobiling, skiing, snowshoeing, sledding, and skating. The park keeps current weather and trail conditions on its website for these activities.
Camping Options
There are over 270 campsites, houseboat sites, and day use sites within the boundaries of the park. All of these sites, however, must be reserved in advance.
Voyageurs is known as Minnesota's premier location for houseboating, which for many can be a fun new way to try "camping" in a national park. Snagging one of these sites is also a steal, costing just $10 per night. Businesses located just outside of the park will rent visitors houseboats for their vacation.
Tent camping is also available in the park's frontcountry and backcountry. However, it is important for visitors to note that all of these sites are available only by watercraft. RV campers or car campers can find public and private campgrounds just outside of the park in Woodenfrog State Forest Campground or Headquarters RV Park.