This article on camping breakfast ideas was brought to by Grubstick whose fire pit sticks are ideal for upping your cooking game at the campsite!
---
Is it just us or does food taste better when it's cooked around the campfire? That's especially true of breakfast, when a slow morning sipping coffee in the camping chair is only enhanced by a delicious meal that packs enough punch to power you through the upcoming day. To inspire your campfire culinary skills, we've pulled together 15 delicious and quick and easy-to-make camping breakfast ideas.
Bon appetit!
Start The Day Right With These 15 Camping Breakfast Ideas
1. Traditional Home-Style Skillet Scramble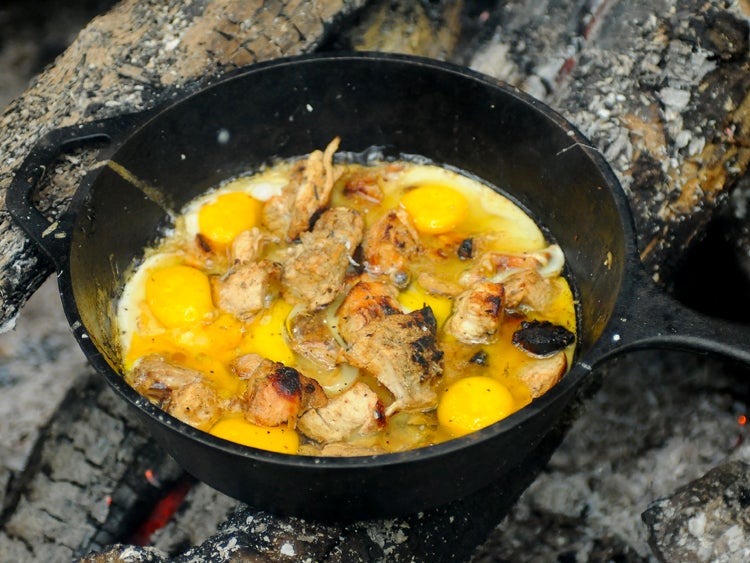 Bring the big Sunday morning breakfast to your campsite by cooking a home-style skillet scramble. You'll need a cast iron pan, eggs, bacon or sausage, and all of the fixings. We recommend cheese, onion, mushrooms, and peppers to satisfy your appetite with this simple recipe.
Crack the eggs into the pan
Chop your veggies and add to eggs
Crumble in your favorite meat or meat substitute
Mix it together over the fire until thoroughly scrambled
This is one of the simpler camping breakfast ideas, but we know this crowd-pleaser will keep everyone in high spirits.  Make sure to bring butter or olive oil because cast irons can get sticky!
2.  Toast, Jam, and Fruit
This easy breakfast solution is light and healthy, and you probably already know the steps.
Toast your bread of choice on the grates over the campfire, then slather it in butter or your favorite jam. Chop up some seasonal fruit to top your stack with or to savor on the side, and you've got a tasty breakfast!
3. Pie-Iron-Stuffed French Toast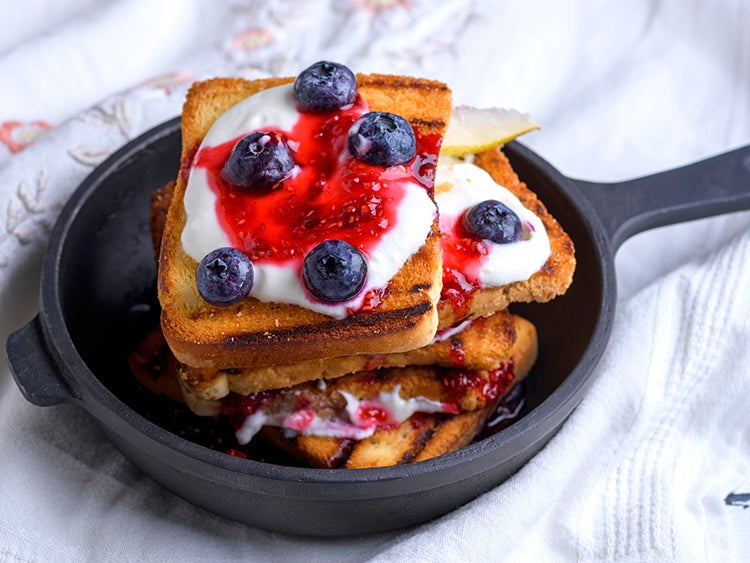 For this fun recipe you'll need a pie iron, butter, bread, eggs, cinnamon, a banana, and syrup.
Butter the pie iron so your french toast doesn't stick
Chop banana (or your choice of fruit)
Break a few eggs into a bowl and scramble them
Mix 1 tablespoon of cinnamon into the eggs
Dip two pieces of bread into the egg mixture, coating both sides
Place the bread into each side of the buttered pie iron and top with fruit
Close the pie iron and warm it over the fire.
When your stuffed French toast is warm, drizzle with syrup, and enjoy!
4.  Yogurt and Granola
This quick camping breakfast idea is perfect when you don't want to linger at the campsite. Just pull a cup of yogurt from the cooler and top it with your favorite granola. If you have a little more time to spare, you can make your own granola over the campfire.
Mix the following in a cast iron pot over the fire:

2 cup of oats
1 cup of peanut butter
¾ cup shredded coconut
1 ½ tablespoon of cinnamon
1 tablespoon coconut oil or butter

Stir frequently to evenly cook the oats
When the oats have browned, remove the granola and allow it to cool before adding ½ cup dark chocolate chips to the mix.
5. Sausage on a Stick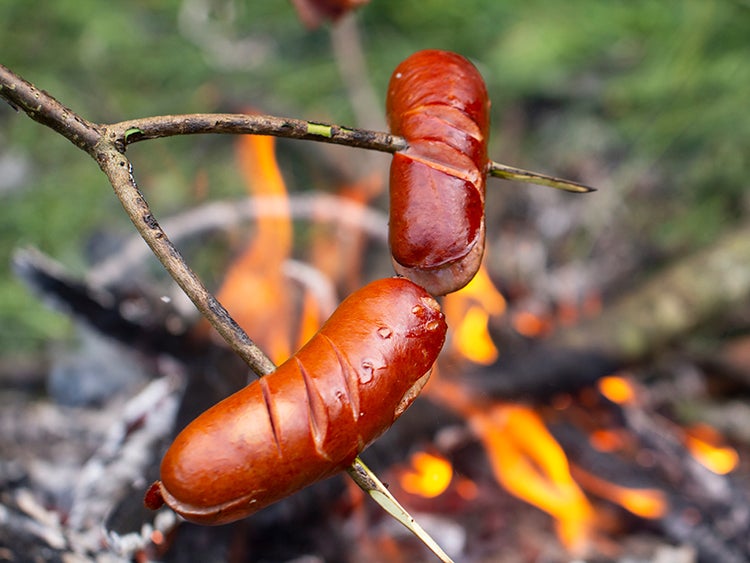 For a basic, protein-packed breakfast, shove an Italian sausage onto a Grubstick and warm it over the campfire before eating.
It ain't fancy, but it will cure that grumble in your stomach.
6. Foil Packet Egg Bake
Foil packet meals are a fun way to eat around the campfire.
Crack six eggs into a large ziplock bag, then add the following before stirring

½ cup milk
1 pound of refrigerated hash browns
1 cup of chopped ham
2 cups of shredded cheese
Salt and pepper to taste

Butter the insides of two pieces of foil
Crimp one of the sides of the foil together to create a "cup"
Carefully pour some of the egg mixture into the foil cup and crimp the other side closed, trapping the egg mixture inside
Place the foil packets on the campfire grill and allow to cook until the eggs are baked and the hash browns are tender. Your breakfast will take about 10 minutes to cook, which will be just enough time to fill a few more foil cups (and coffee cups) for your friends!
7. Build your Own Omelette Bar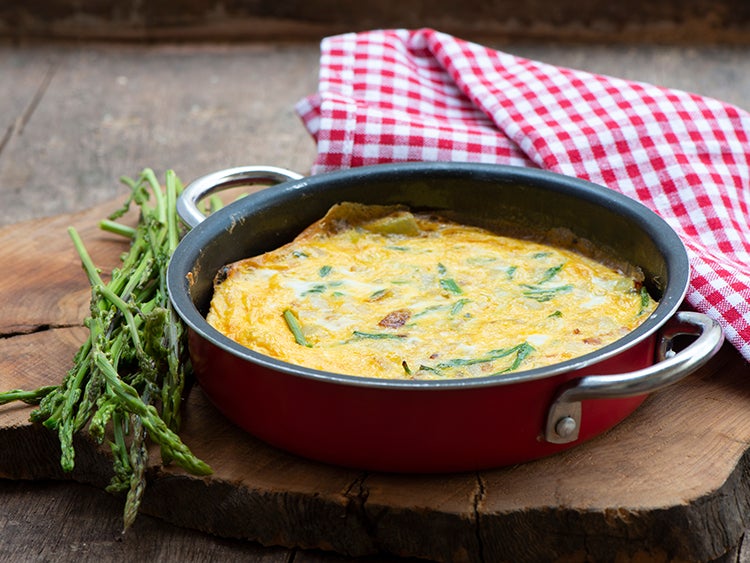 The omelette bar is always a crowd favorite. Set out omelette fillings on a picnic table and ask everyone to put their preferred fillings on a plate. Cheese, chopped veggies, beans, sausage and bacon are familiar favorites. Designate someone in your group as the omelette bar chef and have him whip up omelettes over the campfire, personalizing each omelette to the taste of each camper.
8. Campfire Donuts
Gourmet donuts made around the campfire? Yes, please!
Place cooking oil into a cast iron pan and heat it until it bubbles; you'll want enough oil to submerge your donuts
Shake together 1 cup of granulated sugar and 2 tablespoons of cinnamon in a ziplock bag
Open a tube of refrigerated biscuits
Separate the halves and poke a hole in each half
When the oil is bubbling over the fire, fry each biscuit, evenly frying each side
Drain the donuts on a paper towel and then toss them in the cinnamon-sugar mixture until coated
Then take a bow. You undoubtedly impressed your friends and filled their bellies with pure bliss.
9. Breakfast Pizza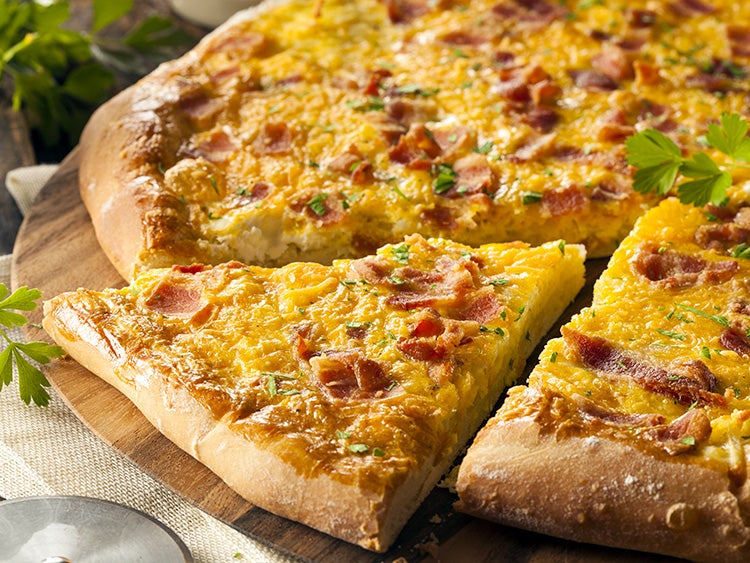 Think this camping breakfast idea sounds unappetizing? Hear us out.
Line the bottom of a cast iron pan with two packages of crescent rolls
Pinch the rolls together to create a crust
In a separate bowl or large ziplock bag, scramble six eggs and all desired toppings

Onion, bell pepper, cheese, and garlic are recommended

Pour the egg mixture over the crust
Sprinkle with salt, pepper, and red pepper flakes
Cover the pan with a lid and allow to cook for about 25 minutes or until the eggs are no longer jiggly
You can even keep leftovers from this yummy breakfast safe in your cooler. These slices make great snacks throughout the day and pack a protein punch when you need it.
10. Breakfast Bowl
For a tortilla-free take on the breakfast burrito, scramble some eggs, black beans, and your favorite veggies into a pan atop the campfire. When the eggs are thoroughly scrambled, put the mixture into a bowl and top with cheese, avocado, and salsa or hot sauce.
¡Buen provecho!
11. Raspberry Dutch Baby Pancakes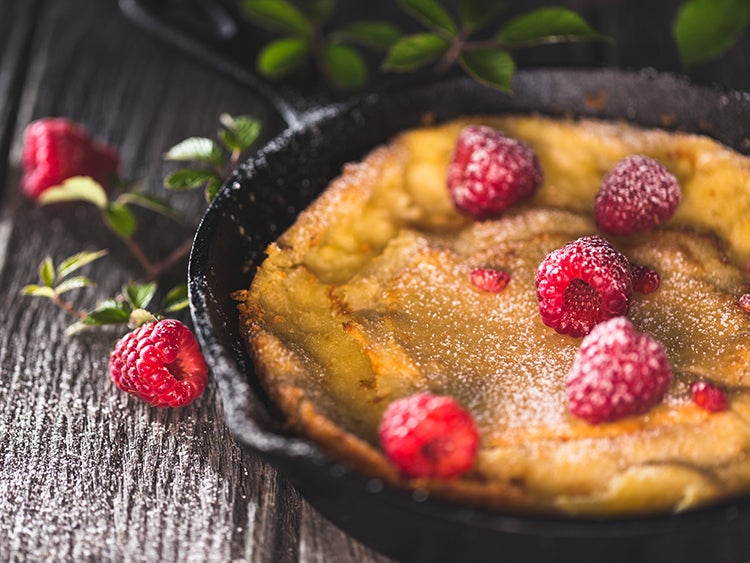 Dutch babies are pancakes made in a cast iron pan (aka an uncovered Dutch oven) and they are delicious. Trust us.
Whisk together the following in a bowl or large ziplock bag:

6 eggs
1 cup of flour
1 cup of milk
1 teaspoon of salt
1 tablespoon of sugar

Melt ¼ cup of butter to your pan
Pour in your mixture and add 1 ½ cups of raspberries on top
Cook until the Dutch baby pancake is fluffy and golden–about 25 minutes–then get to work on your plating! Drizzle with syrup, extra fruit, and even powdered sugar. Snap a picture of your pretty creation, then devour it all!
12. Campfire Apple Crisp
For a healthy and delicious breakfast, whip up a quick batch of campfire apple crisp.
Heat up some coconut oil in a cast iron pan over the campfire
Add ½ cup of rolled oats to the pan and toss them so they are coated in oil
Sprinkle in ½ teaspoon of cinnamon
Drizzle 1 tablespoon maple syrup on top,
Add  2 teaspoons of hemp seeds
Add 2 tablespoons of chopped almonds
Add apple slices to the pan
Let the entire mixture crisp, stirring regularly so it doesn't burn.
From here, you can spoon the mixture into bowls and eat. Feel free to make mini cups, or one large sharable crisp. Either way, you will be happy.
13. Monkey bread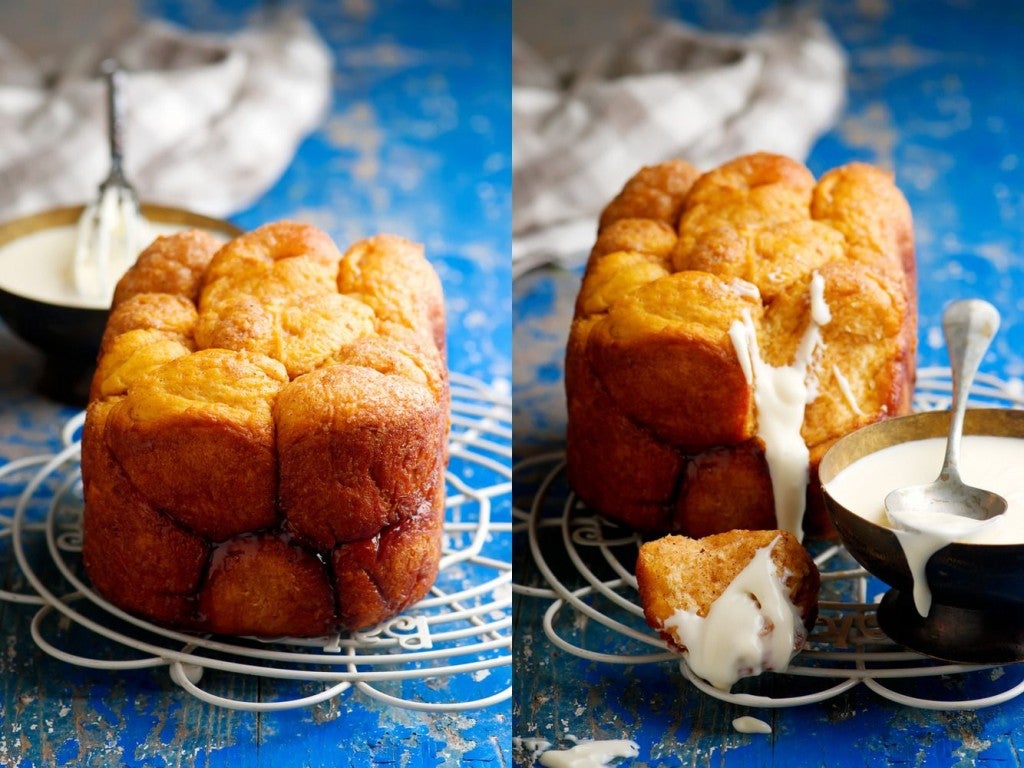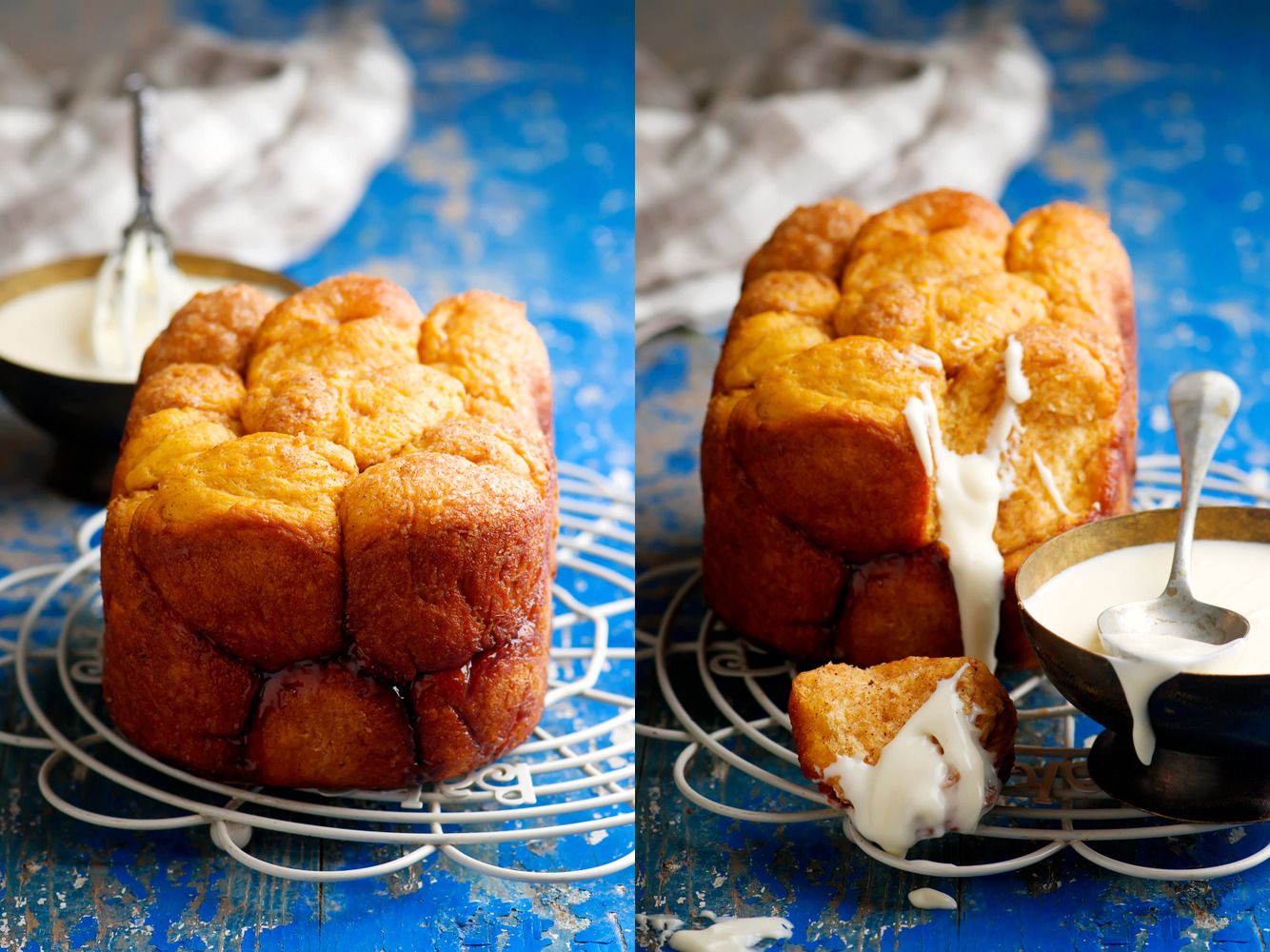 Another camping breakfast idea that utilizes foil, this sweet and savory option is one of our favorites! You'll be amazed what you can whip up from a tube of cinnamon rolls.
Cut each canned cinnamon roll into four pieces
In a large ziplock bag combine ¼ cup granulated sugar and 1 teaspoon cinnamon
Place the cinnamon roll pieces inside the bag and shake so that all pieces are coated
Spray sheets of foil with cooking spray or coat with butter
Place the cinnamon roll pieces in a clump on each sheet
Cut 4 tablespoons of butter into small squares and distribute evenly between the foil packets
Sprinkle with ½ cup of brown sugar
Seal the foil packets by crimping the edges together
Cook on the grate over the fire, turning frequently
When the monkey bread is cooked, remove from campfire and drizzle the packaged icing over your sweet, sweet breakfast.
14. Hash Brown Casserole Camping Breakfast
There is a reason this classic has worked its way into the homes and diners of comfort-food fanatics, and there is no reason it can't join you at the campsite!
Place two pounds of hash browns in a large bowl or ziplock bag and add salt and pepper to taste
Mix together the following and set aside:

½ cup of green onions
16 ounces of sour cream
1 can of cream of chicken soup
1 cup of cheddar cheese

Melt 1 stick of butter in a cast iron pan
Add the hash brown mixture and stir, making sure the hash browns are evenly coated in butter
Place one can of French fried onions in a ring around the top of your casserole
Sprinkle an additional 1 cup of cheddar cheese over everything
Cook over a campfire until the cheese is melted and the hash browns are soft, usually about 45 minutes. We know it is a long wait, but you won't regret it.
15. Breakfast Potato Boats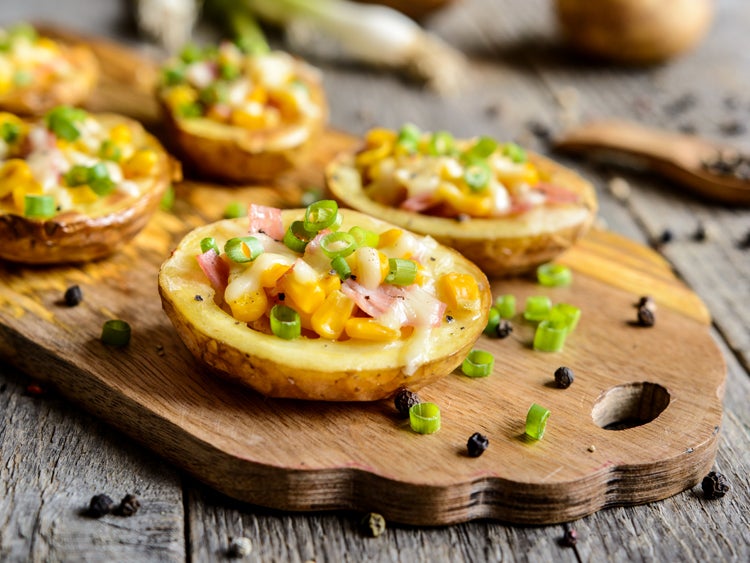 This camping breakfast idea is filling and fast to make, and look how cute it looks!
Slice russet potatoes them down the middle
Poke a few additional holes in them with a fork and slather them with butter
Stuff your favorite toppings inside each potato; cheese and bacon are usually a crowd favorite
Wrap them up with foil and place them over the campfire to cook
Depending on the temperature of your fire, cook time is about 30-60 minutes. You can top these potatoes with scallions, hot sauce, creamy ranch, or any of your favorite camp-friendly toppings. Go wild! You're in the right place for it, after all.
---
This article was brought to you by Grubstick.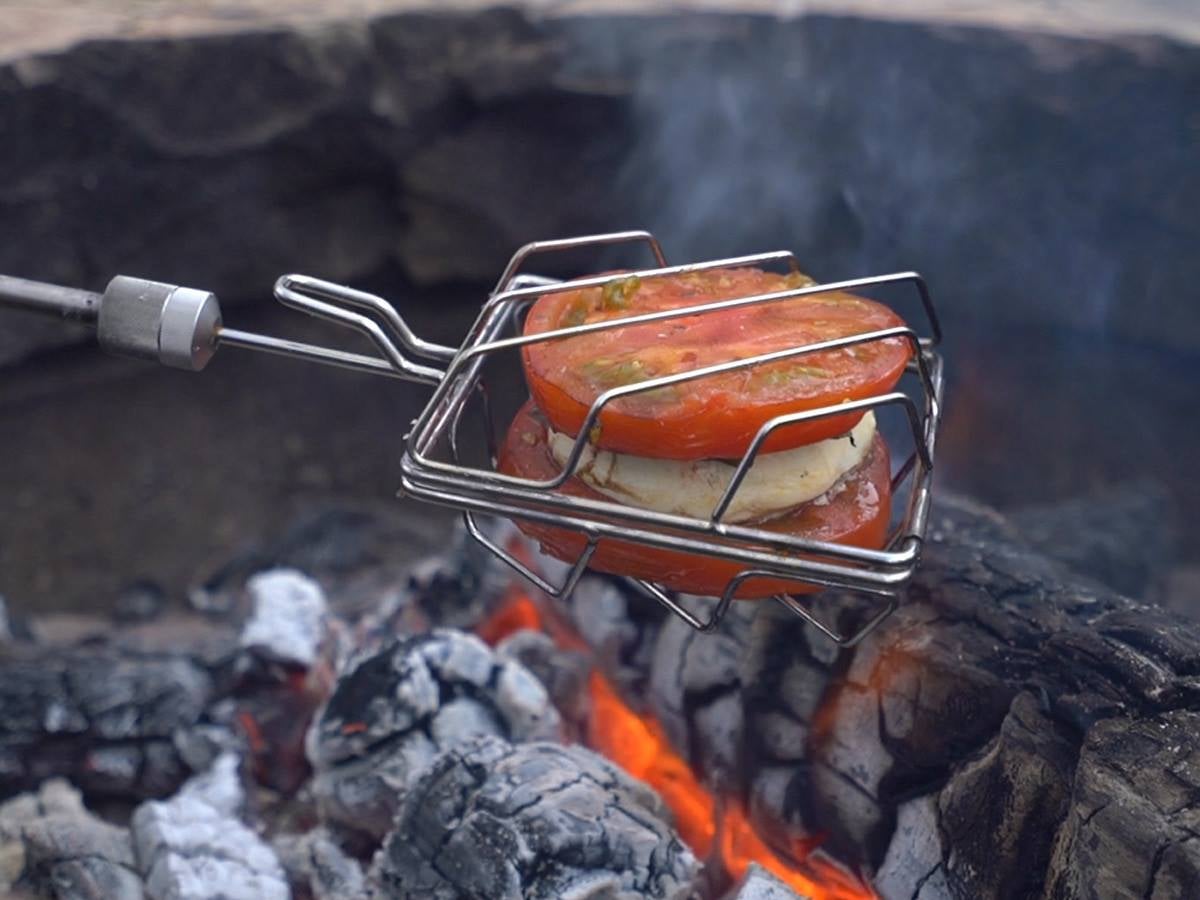 Grubstick's cooking skewers are an innovative way to prevent burnt marshmallows and hot dog casualties on your next camping trip!
Popular Articles: