Wisconsin's Door Peninsula dramatically slices into beautiful Lake Michigan like the blade of sword. The unique formation of the peninsula has created stunning terrain for outdoor junkies. Remote and rustic, or full blown RV and family-friendly amenities, Door County camping is versatile. Plus, the region is one of Wisconsin's most popular destinations.
The Door County area got its name from a treacherous expanse of water. The water between the tip of the Door Peninsula and Washington Island was once called Porte Des Morts, or Death's Door. The name is linked to both the dangerous waters and the many shipwrecks. Plus, it also refers to a legendary battle that took place between rival tribes.
Door County Camping Guide
The sunset and sunrise views on either side are some of the best in the state. You can also find quaint towns, orchards, art galleries, wineries, and breweries. For folks in Chicago, Door County camping is the best for escaping the city.
Things to Do
Needless to say, there's a ton of history. Plus, an incredible array of things to do for families, couples, adventure seekers, and relaxation aficionados. When you're starting to think about an upcoming Door County camping trip, there's a lot to keep in mind.
On The Water
No matter where you are on a Door County camping trip, you're close to water. More importantly, you're close to different types of water. You have the wild and expansive waters of Lake Michigan, and the slightly more protected Green Bay. For sailors and power boaters, there's no shortage of open water to explore. Along the shorelines, paddlers can enjoy calmer coves and inlets. You can also take guided tours through hidden creeks, and alongside rocky bluffs.
For boaters, you can access Kangaroo Lake and Clark Lake. Both are excellent for motor boats, but offer less worry for difficult seas to navigate. For paddlers or small sailing craft, Europe Lake, Forestville Mill Pond, and Mink River are best.
Door County camping also gives you access to world-class fishing, where anglers can reel in salmon, trout, whitefish, and more. Bring your own boat, rent one, or hire a charter. You can also just find a quiet spot along a small lake or river. Either way, Door County camping is the best way to gain easy access to the peninsula's water wonderland.
Across the Land
There are six great trails within striking distance of your Door County camping spot. At Peninsula State Park, the Sunset Bike Path is a hard-packed gravel bike path with historic sites and scenic overlooks. Horseshoe Island has a rustic hiking trail circling the island. The island is two miles off Peninsula State Park, and if you're in for an adventure, some will kayak or boat to the island for the hike. Also at Peninsula State Park is the Eagle Trail, a challenging two mile hike with uneven terrain and rocky patches, but the views off the steep cliffs are worth it.
The Yellow Trail at Whitefish Dunes State Park takes hikers through the woods and dunes. For a destination, at the end of the trail is a Whitefish Creek spur, which leads to a beautiful view. Bike or hike Newport State Park's three-mile loop Hotz Trail through forest, and along the beach.
Finally, built on an old railway, the Ahnapee State Trail is a local favorite. It's level, hard-packed gravel good for biking or hiking. The 48-mile trails stretches all the way from Sturgeon Bay to Luxemburg, and crosses the Ice Age Trail several times.
Door County camping now also brings you close to ATV action. The ATV routes in Southern Door County take you by scenic viewpoints and through small towns for shopping, food, and drinks. The relatively new ATV route now includes about 60 miles.
Fruits of Your Leisure
For years Door County has been known in the Midwest as a top wine producer, especially for fruit wines like cherry wine. They also produce classic reds, whites, and ports. Several wineries dot the peninsula, and the best way to see them all is on the Door County Wine Trail. Or even better, take a Door County Trolley wine tour. There are also breweries and distilleries starting to make their name across the peninsula, so there are plenty of spirits to taste on your Door County camping vacation.
In addition to wine, Door County camping would not be complete without at least exploring some of the picturesque orchards and farms. Cherries in this region are well known, but in the Fall, the area is ripe for classic Midwest apple menagerie. Apple-picking, apple cider, apple cider doughnuts, applesauce, and more. One of the best ways to explore Door County and its many orchards is just to take a drive. You'll stumble upon roadside stands and farmers markets, while enjoying the rolling hills and views of Door Peninsula.
Door County Beaches
Door county has 300 miles of shoreline, so it's not a surprise to see a lot of beach access. What may be a surprise is how sandy and expansive the beaches are, especially considering your northern Midwest location. There are several beaches, and most are very close to the main Door County camping spots.
For example, Peninsula State Park has Nicolet Beach, which includes a playground, rentals, volleyball courts, and concessions. For other family beaches, check out Waterfront Park at Sister Bay, Egg Harbor Beach, Whitefish Dunes State Park, and Fish Creek Beach.
If you're looking for a quieter beach experience, Sand Bay Town Park at Liberty Grove is far enough out of the way to keep the crowds low. Also, Ridges Beach on the north side of Baileys Harbor stays relatively quiet.
If you really want a unique Wisconsin beach experience, Rock Island State Park has one of the most beautiful beaches in Door County. However, the two ferry rides it takes to get there makes it more of a challenge, but certainly keeps less crowded.
There are also a few hidden gem beaches, like Frank Murphy Park at Egg Harbor that actually has a wide sandy beach near the boat launch and fishing pier. Plus you'll find playgrounds and volleyball courts. Lakeside Park at Jacksonport is also a good option right in the heart of the town.
Either way, when you're on your Door County camping trip, there are plenty of beach options to help you find your ideal spot.
Family Time
Dragging the kiddos along for a good ole fashioned family vacation? Don't worry, there's plenty to keep them occupied on a Door County camping trip.
How about the best ice cream outing ever? Hop on the Washington Island Ferry, which the kids will love. You can tell them how you're crossing "death's door" on your way to the island. Then, after the 30-minute voyage, grab ice cream, chicago style hot dogs, a Wisconsin brat, or choose from an array of burgers at the Albatross Drive-In. This island landmark also has outdoor glider swings, a sandbox with toys for kids, and a shaded picnic area. For the parents, they also feature Door County craft beer and wine.
Other solid family options include, the Plum Loco Animal Farm, Ridges Sanctuary Family Discovery Trail, (close to Ridges Beach in Baileys Harbor) and the Cana Island Lighthouse, where you and the kids can climb to the top for an unforgettable view.
Best Door County Camping
We've established that there's plenty to do on your Door County camping adventure, but where to camp? We look to The Dyrt camper brain trust for some insight on the best places to camp on the Door Peninsula.
Peninsula State Park
When you're visiting the 3,776 acre Peninsula State Park on your Door County Camping trip, get psyched for a multitude of onsite activities. Hike and explore the high bluffs and sandy beaches, check out the 1860s lighthouse, or bring the clubs and hit the links on the challenging 18-hole golf course. There's also a climbing tower and a nature center.
This pet-friendly state park has five campgrounds, including North Nicolet Bay, South Nicolet Bay, Tennison Bay, Weborg Point, and Welcker's Point. Nicolet Bay is known for having the only sand swimming beach in the park. For the hardy winter campers, portions of Tennison Bay stays open year round and has electric hookups. Weborg is small with only 12 sites, but all are reservable and have electric hookups. Welcker's sites are also reservable, but this campground has NO electric hookups.
For some more insight on camping at Peninsula State Park in Door County, let's check out some of the experiences from The Dyrt community of campers.
Terra F. says "Nicolet Bay campsites are EVERYTHING. The campground in general is pretty fantastic. However, there is a loop of campgrounds in Nicolet Bay that, if you are lucky enough to reserve them, are better than any campsite in the state. The trails and beach offer something for everyone. We've camped here before kids and with kids, and were never bored."
The Dyrt camper Jodie B. took the whole family. "We stayed at the Welker's campground at the northern tip of the park which juts out into scenic Nicolet Bay. I loved that the whole park was heavily forested and there was plenty of privacy. Although there were a lot of other campers, everyone was very friendly and several came over to ask us about our mini camper.
The state park, which has a $13 daily entrance fee for out of state visitors, offers lots of options for entertainment including swimming beaches, bicycling and hiking trails, a live outdoor theater, a golf course and restaurant, a nature center, lots of picnicking areas, and of course camping which was $25 for a site without services. The cost with the entrance fee was a little high for us, but the park's proximity to all the other attractions of Door County made it worthwhile for us."
Camp Here
Newport State Park
Picture yourself exploring the waters of Lake Michigan and hiking the forests by day, then stargazing on the beach at night. Newport State Park is located at the end of the Door Peninsula, and is an International Dark Sky park as of 2017. The park is open year round, and has 16 hike-in only sites.
With 2,370 acres of forest, 11 miles of Lake Michigan shoreline and 30 miles of hiking trails and backpack camping, Newport State Park is prime for those looking for the more secluded Door County camping adventure.
The Dyrt camper Jay W. talks about getting away from it all. "The park is more for the "rustic" type and offers many hiking and biking trails as well as swimming in the chilly Waters of Lake Michigan! It has a beautiful headquarters building with modern restrooms and drinking water. The park offers camping but there is no campground and all sites need to be hiked to. Some are a short distance and some may be more than a mile. Check out the map ahead of time via the website to plan your hike.
You can book some of these in advance, but I have always taken my chances when I get there and pick my campsite then. When arriving at the headquarters you will be able to see which sites are available as well as a map of where the campsites are located. If you want solitude in Door County Wisconsin, this is the place to find it!"
For more on the hike-in spots at Newport State Park, The Dyrt Camper Emily H. talks about her experience. "This is the best place to camp in Wisconsin if you're looking for a mix of outdoor adventure and touristy activities like drive-in theaters and wine tastings. The site we stayed at was a 1.5 mile hike in. You could definitely bring a mountain bike to make the trip to and from your campsite faster but we enjoyed the hike. I've been for 2 separate 3-day trips and never once saw another camper. The sites are far enough apart to feel like no one else is around. Enjoy the best that Wisconsin has to offer!"
Camp Here
Potawatomi State Park
The Ice Age Trail is a 1,200 mile National Scenic Trail weaving through the state of Wisconsin, The trailhead at Potawatomi State Park is the eastern terminus for this historic trail that roughly follows the terminal moraine from the last Ice Age. Essentially, this trail follows the edge of the glacier that formed a significant amount of the iconic landscape of the Great Lakes region. So if you'd explore a little, or a lot of this increible trail on your Door County camping trip, check Potawatomi State Park.
The Daisy Field Campground at the Potawatomi State Park has two loops with a total of 123 campsites, and 40 of those sites have electric hookups. There is also an accessible cabin for people with disabilities.
Jay W., a camper from The Dyrt community, had a lot to say about Potawatomi State Park after his Door County camping experience. "This area of the state is the gem of Wisconsin and not just for tourist reasons. The topography in this part of the state is phenomenal. Potawatomi State Park is just before the city of Sturgeon Bay Wisconsin. This is a major port from the Bay of Green Bay into Lake Michigan.
In Sturgeon Bay there are many shops, restaurants, pubs, art studios, and even a Walmart and Target if needed. The views from the shipyards can leave you in awe if this isn't a familiar sight. Potawatomi state park is the start of the Ice Age Trail which covers 1,200 plus miles in the state. It offers modern facilities with showers and flush toilets. The showers are in the same room as the bathroom stalls.
The park offers excellent hiking trails with views of ships coming and going from Lake Michigan into Sturgeon Bay. The park offers an observation tower, once reach to the top you will have spectacular views of the Bay of Green Bay as well as the rest of Door County Wisconsin. The campgrounds are split into two sections.
The Southern campground is a bit more wooded compared to the North campground, but I prefer the North sites as it offered more of a variety of campsites, meaning they don't all look the same. There is a camp store at the park as well as a small playground for the little ones. Plus, there are plenty of picnic areas especially on the shore but there is no beach at the park. There is a boat landing and fishing and this can be a popular spot for boaters to launch your boat.
This is a great park to start your vacation in Door County even if it's just to take in the sights. It is an even better place to stay if you want to be close to amenities but away from the tourists in the area. Amenities are not far, plan on a 5-10 min drive. This is my park of preference for camping in this area!"
Camp Here
Wagon Trail Campground
Clean and comfortable is the name of the game at Wagon Trail Campground. It's the northernmost private campground in Door County. With wooded and spacious campsites, expertly landscaped with flower gardens, and plenty of walking trails, Wagon Trail Campground is perfect for those looking to vacation in nature, but don't go for the uber rustic experience. There's even a sitting room with fireplace and WiFi, laundry room, playground, a fish cleaning station, camp store, and game room. In addition to RV camper amenities like pull thru sites, big rig sites, and 30-50 amp hookups, you also have yurt and camping cabin rentals available.
Here's what The Dyrt Camper Courtney K. said about her Door County camping experience at Wagon Trail Campground. "Love, Love, Love. My family and I have been coming here for years!!!!! The campground is big and beautiful! Every campsite has a picnic table and fire pit; the Yurts and cabins have chairs. The Yurts, cabins, and bathrooms are clean! The staff is friendly! It is pet friendly. It is located near the water and has many trails to hike! Love this place, especially in October with the leaves changing and the festivals around town!!!!!"
The Dyrt Camper Sherrie P. appreciated the natural ambiance. "This was one of the most beautiful campground tent sites ever. We had forget-me-nots on our site it was big enough for our extra large tent and we had the sound of frogs to serenade us at night."
Camp Here
Harbour Village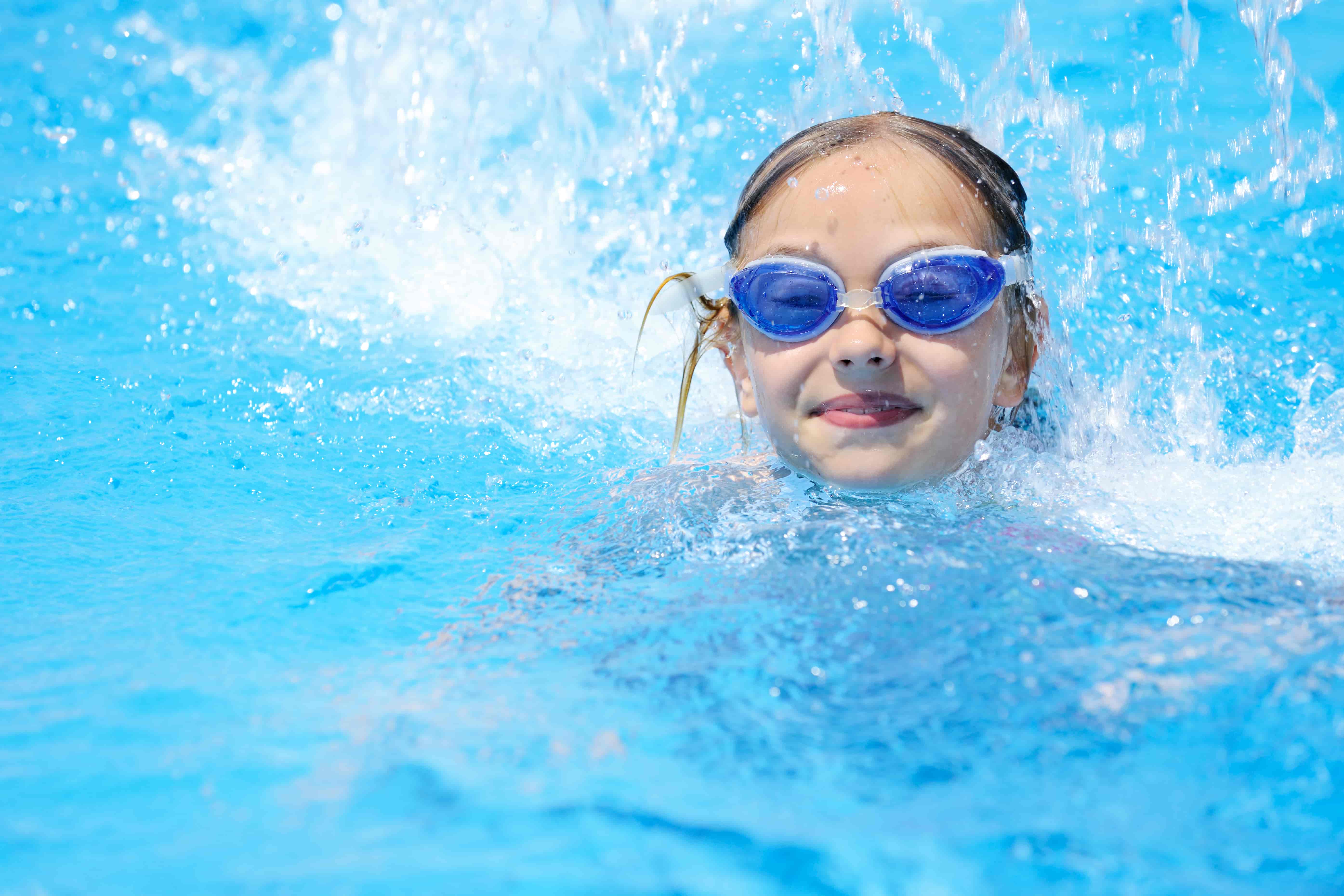 What's the best way to convince the family to head out on a Door County RV camping trip? How about camping at the largest waterpark in Door County? Harbor Village Campground has plenty of RV sites. The sites include wooded back-ins, wooded pull-throughs, non-wooded back-ins, and rustic sites for tent only camping.
The bonus for the family is all the available activities on site. Everything from dance parties to a stellar water park, it's easy family fun in one package. The water park has spots for small kids or parents who aren't in the mood for an adrenaline rush. The older kids and child-at-heart parents can enjoy the deep end of the pool with multiple slides.
The Dyrt camper Jenny F. had a solid trip to Harbor Village with the whole family. "Great for families of all sizes and ages. Waterpark with little kids zero entry pool, adults only pool, swimming pond with nice sand beach, tennis, basketball, soccer, baseball/kickball, pedal bike rental, hayrides, outdoor theater, RC racing track, fishing pond, game room, and lots more. Bathrooms are clean and updated. Sites are nice, level, many are wooded. Park is next door to Door Peninsula Winery with free wine tasting. Close to everything in Door County."
Camp Here
---
Related Campgrounds:
Popular Articles: