At The Dyrt, we share camping tips from our community of campers and campgrounds. With so many campers staying home, we continue to share this info so you can plan future camping trips across the U.S.
---
Wherever you go, RoM goes too. Their inner pack fits perfectly inside the original RoM pack, so when you turn your bag into a poncho to snag that 5am shot of Mesa Arch, your belongings are perfectly contained. Enjoy Canyonlands National Park camping without worrying about your gear.
---
Outdoor activities abound in the expansive red territory of the Beehive state. Upon exiting I-70 onto highway 191, you know you've embarked on a metaphysical journey among red sandstone spires, cathedral like fins, and a sea of cacti: buckhorn cholla, silver cholla, many headed barrel, and more.
Beyond the expansive flora and fauna found in Utah's east desert, there are hundreds of miles of backpacking and mountain biking trails, thousands of sandstone arches, and millions of stars speckled across the Milky Way. This place is an adventurer's dream: swimming holes, off-roading, and self-discovery await.
Once you've decided to make your voyage to Canyonlands National Park, the next step is deciding where you'll stay. There are 15 camping destinations (both front- and backcountry) throughout Canyonlands, and even more if you wish to go camping near Canyonlands.
Canyonlands National Park Camping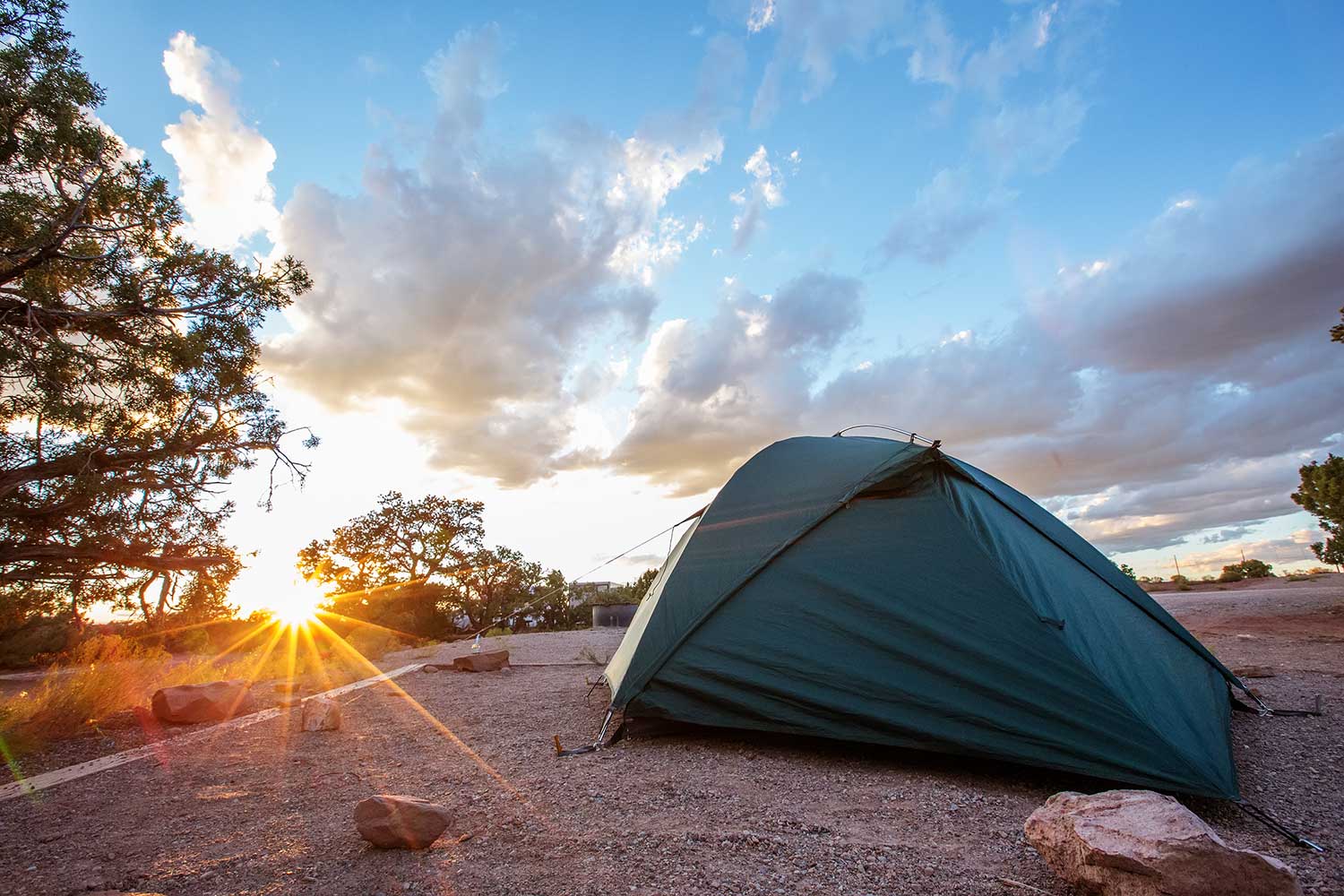 If you plan to camp in Canyonlands National Park you'll want to look for reservations and permits first. To spend any time in the backcountry of Canyonlands, users must possess a permit and abide by all rules and regulations within the park. At the Needles Outpost, backpackers must pitch their tents in designated campsites, while at the Island in the Sky or The Maze, hikers may choose where to camp for the night.
For those planning a yakpacking or river trip, a permit is also required. All permits can be purchased from four months in advance to two days ahead (with the risk of no available space) on the NPS reservation website.
Canyonlands National Park Camping in Established Zones
There are two major campgrounds in Canyonlands National Park, Island in the Sky (Willow Flat) and The Needles (Squaw Flat). The Needles is the largest of the two with 29 sites and three group sites, whereas Island in the Sky offers 12 single sites. There are two accessible campsites at The Needles and one accessible at Island in the Sky.
With only 12 first-come-first-serve campsites, Willow Flat Campground requires proper planning and an early arrival. During peak months, arriving at the campground in the late hours of a Friday night will not guarantee a campsite. Instead, it'll probably lead to a frustrating search for a free spot along the Colorado River with little cell reception and the light of the moon.
Campers stay at Island in the Sky for it's close proximity to the Mesa Arch. Be prepared; there is no clean water at the campground, so make sure to fill your 5-or-10 gallon reserve at the Visitor's Center before heading to camp. Bring your RoM pack and transform it into a poncho to watch the sunrise at Mesa.
"This is the quietest, darkest National Park I've ever camped at. There are only 12 sites, and they have great spacing, and most that camp way up in the Island In the Sky area of Canyonlands, are there for the stars, the peace, and the quiet."–The Dyrt user Valerie W.
Camp Here
For the planners among us, The Needles Outpost offers 29 reservable campsites and three reservable group sites. Situated about 42 minutes from Highway 191 and almost an hour and a half from Moab, you'll want to stock up on all the essentials before driving out to Needles campground. Fortunately, most last-minute essentials can be found at the Needles District Visitors Center, though generally at higher prices than you'd find in town.
Coin-operated showers are found onsite. While the bathrooms could use an update, the rest of the campground makes for a great desert getaway and picturesque Canyonlands National Park camping.
"This campground has a little mom and pop store on sight with plenty of necessities and a gas pump. It also has teepees for rent, showers and decent restroom facilities…Definitely worth a stay if you are going to Canyonlands or Arches."–The Dyrt Camper TJ B.
Camp Here
Primitive Canyonlands National Park Camping
Accessing Chesler Park requires a strenuous 11.6 mile hike, but our user Dave E. will tell you it's worth the effort. The views along the way are subliminal: high prairie and red sandstone formations that huddle together and reach towards the sky. Few humans, limited water, and the warmth of the sun make Chesler Park a serene and unforgiving getaway.
"I want my ashes spread here. It's the quietest, most peaceful, remote place I've ever been to. It doesn't feel like earth. More like the surface of Mars. Watch the sunset behind the high desert prairie. Explore slot canyons that you can barely get through with a backpack. Visit Cowboy Camp which is… well… an old cowboy camp. Don't move or take the artifacts."–The Dyrt user Dave E.
Camp Here
Be careful as the name warrants: hikers can become lost in the repetitive scenery of the Labryth located in The Maze District in Canyonlands. With a good sense of direction and the use of map and compass, hikers and backpackers can find pure solitude along the Green River, beneath a deep and often ominous night sky.
"The view is so chill. Next to the river, and high up away from the mosquitoes. Waking up to this campground was soooooooooo refreshing! The views oh, and the night sky. Yeas!"–The Dyrt user Kuo G.
Camp Here
According to our users, this may be the best kept secret in our entire National Park System. With only one permit per night, securing this campsite requires a bit of luck and planning ahead, but if you can snag it, the views and 1.7 mile hike in are so worth it.
"The site itself is amazing. A short (1.8-mile one-way) trail leads out the overlook, which is stunning, especially for your own private sunset and sunrise experience. Camping here allows you to see the best of the light in the evening and early morning and experience drop-dead views from the comfort of your tent window. It's easily one of the best campsites we have ever been in."–The Dyrt user Switchback Kids
Camp here
Popular with overlanders and mountain bikers traversing the White Rim Trail, Devil's Kitchen requires high clearance and superb driving skills. Once at camp, there are a few vault toilets for campers to use. Plan ahead as the drive can require 4-5 hours to make.
"This 4×4 is NO joke. High edges, steep cliffs, big boulders. Tight squeezes…Took about 4-5 hrs to get through Elephant Hill Road. Arrived at Devil's Kitchen Camp 2 and 3. There are vault toilets at camp and pretty clean."–The Dyrt user Kuo G.
Camp here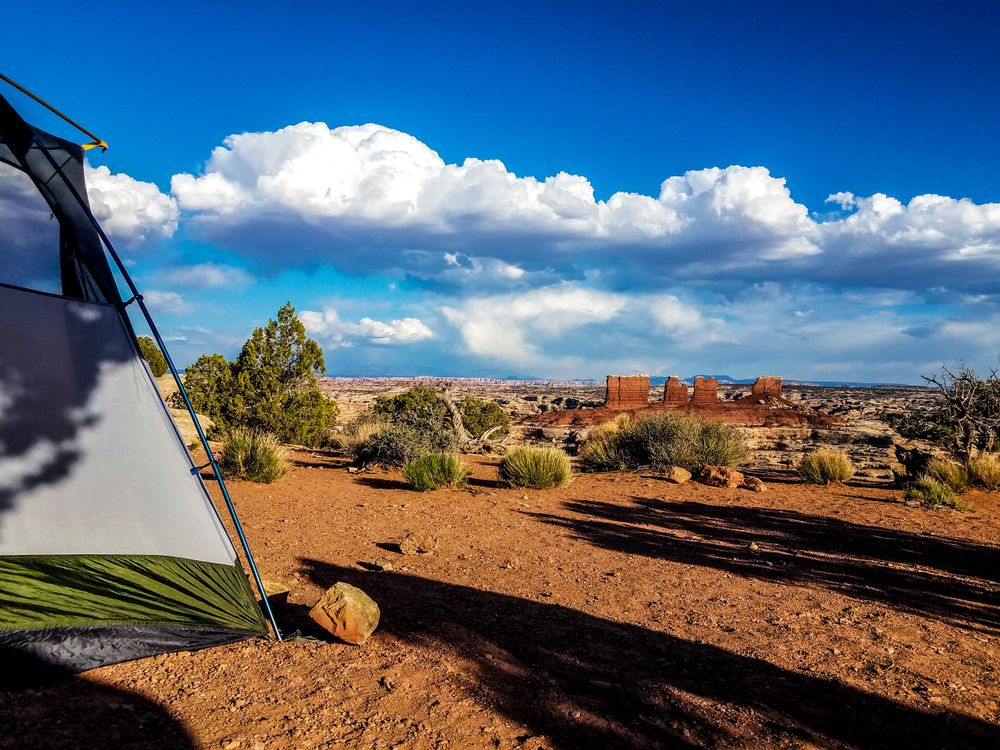 Campers can access the Maze Overlook by way of overland vehicles, mountain bike, or by foot. If you're looking for solitude and the desert to yourself. This is the place to do it. No amenities, and, as always, follow the principles of LNT (especially for disposing of human waste in the desert).
"If solitude is what you are seeking for, then this is the perfect place! Mind you, there is no water, no toilets, absolutely no facilities."–The Dyrt user Vaishnavi N.
Camp here
Another stop on the White Rim Trail, Gooseberry Campground sits atop a mesa with views reaching far into the depths of Canyonlands. Those with 4×4 vehicles and high clearance can access this campground by car — otherwise it's a long hike!
"Felt like I was camping on another planet. Monumental red rocks and formations everywhere. We entered Canyonlands White Rim Trail form Shafer Pass. Wowz… looking down the trail from the top. It's long, narrow, winding switchbacks descend a couple thousand feet into the canyons."–The Dyrt user Kuo G.
Camp here
Again, only accessible by high-clearance vehicle, White Crack Campground makes you feel like you've stepped onto Mars. Set far back in the park, make sure to pack plenty of water and sunscreen.
"It was almost like you stepped back in time. No paved roads, no cell service, no anything…massive red rock formations rose out of the arid Utah desert in on direction with massive cliffs into deep canyons to the other. This place is truly one of the last great untouched areas of the Southwest. If you ever have the chance to do White Rim road…GO!"–The Dyrt user Christian S.
Camp here
Named after the formation in the distance resembling an airport tower, Airport campground also looks like a flat, open space, perfect for a landing strip. Like many other campgrounds in Canyonlands, you'll feel like you've stepped onto Mars.
"I thought I was on Mars. No other life near by, but us. Giant bright Red canyons all over the place. With one significant red stone resembling an airport tower. Sun shine glowing across the rims of the canyons. Wowz."–The Dyrt user Kuo G.
Camp here
"A good portion of the road was a long stretch of cliff edge.. scary as it got dark. However, the sunset glowing over the canyons and the mighty Colorado River was majestic. Stunning, stunning, stunning views. Camp in the evening was great. Large clean vault toilet restrooms near the river. Amazing."–The Dyrt user Kuo G.
Camp here
Lesser-Known Canyonlands National Park Camping Destinations
As for the remaining four campsites in Canyonlands, there are currently no reviews on The Dyrt. Check out our Bounty Board, and earn your Pioneer Badge by venturing to these remote campsites!
Popular Articles:
---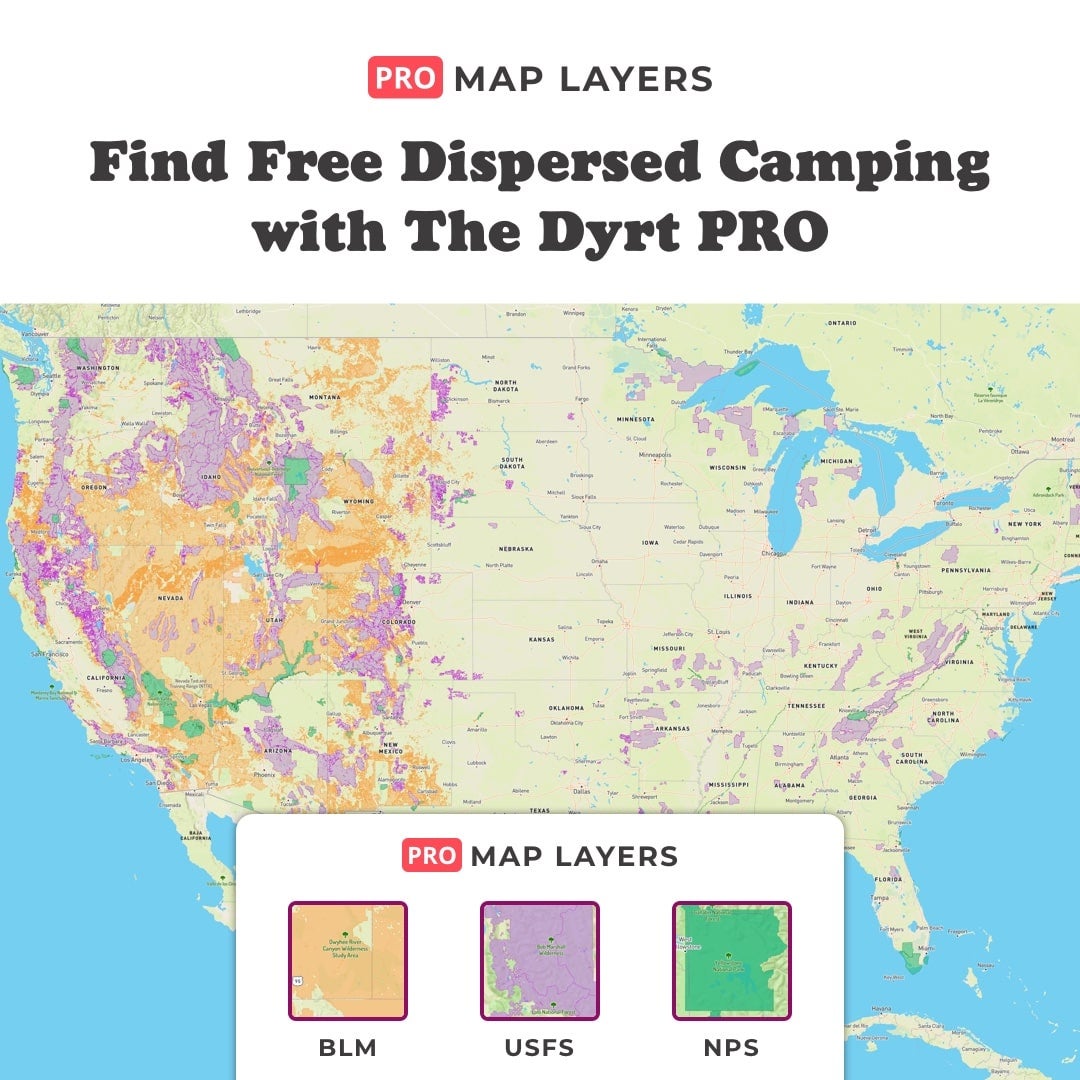 ---