Last August, 10 days after The Dyrt announced that we'd be a remote-only company for the foreseeable future, I bought a van and moved into it full time.
9 months and a few minor mechanical issues later, I continue to live and work as a digital nomad. And I'm not alone. 2020 saw an unprecedented boom in both vanlife and rv sales. With widespread vaccines and many companies remaining remote like The Dyrt, 2021 is set to be the biggest year yet for digital nomads.
Remote work and van life are coming reality for many. If you're looking to live life on the road or are just van curious, here are some essential lessons I've learned in the past year.
6 Lessons from Working Remotely on The Road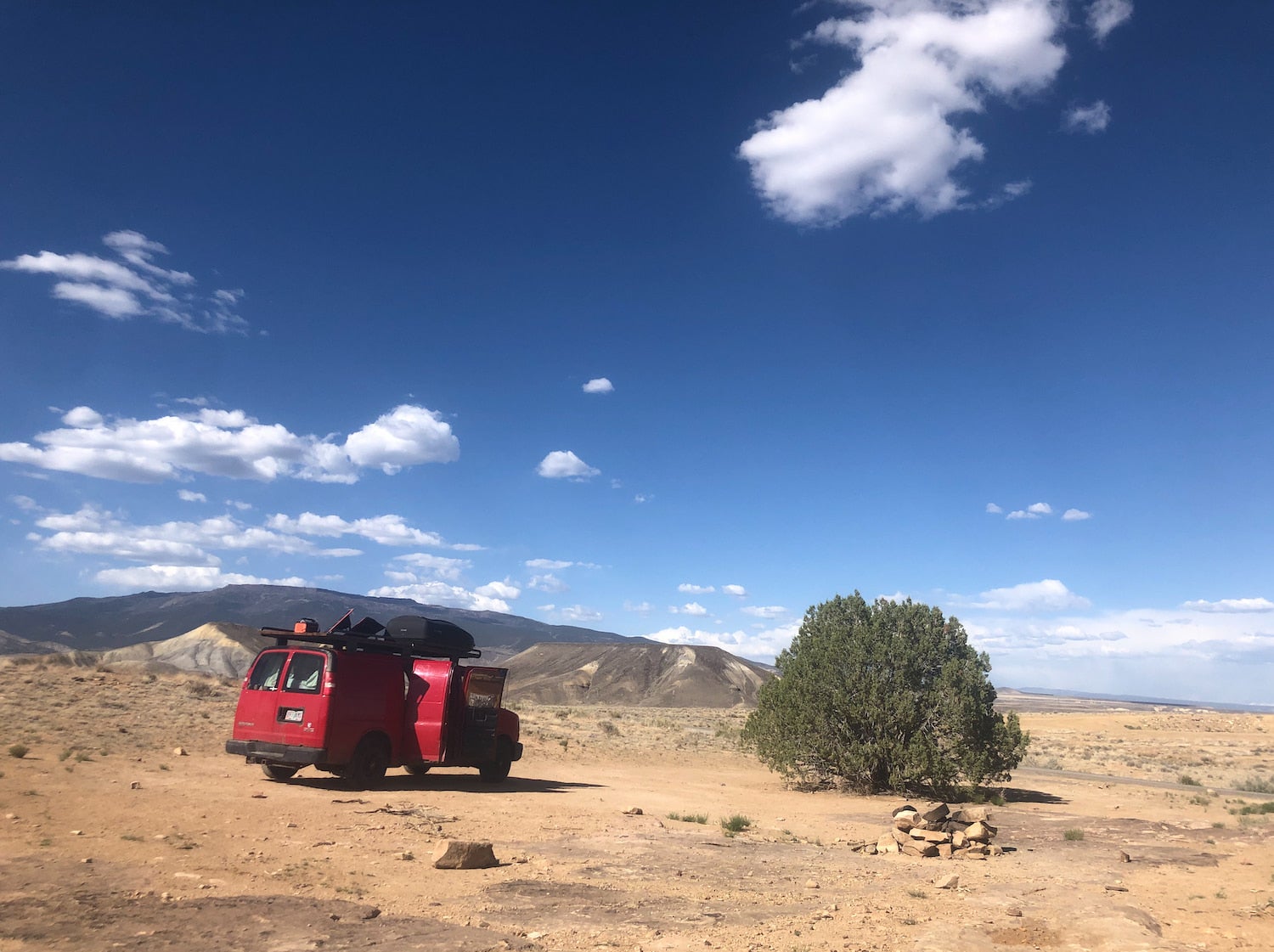 1) You don't need a High-End Sprinter
Custom built vans can easily cost up to $30,000, but don't let that deter you. My van was already fully built out by the two previous owners, and it only cost $5,000. The mileage is high, and the amenities are sparse, but I'm essentially living the same lifestyle as those who pay 10 times more for their vehicle.
It may seem like every vanlifer is parading around in a decadent Sprinter, but I've seen just as many vans that look more like mine. It is possible to find a cheap van and build it out yourself for under $10,000, just keep digging your local listings.
2) Internet is More Available Than you Think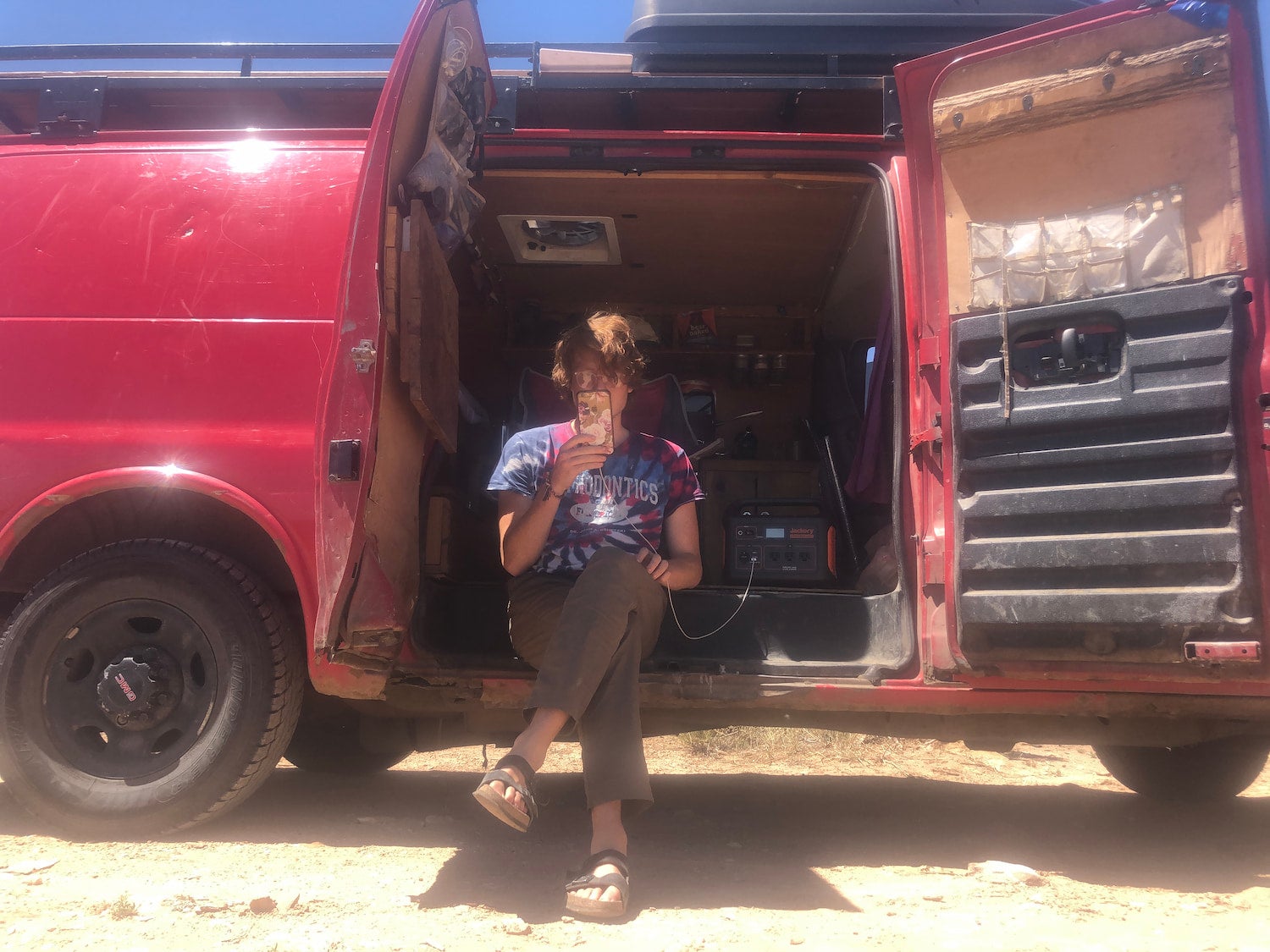 My main concern before moving into my van was internet availability. I work a full-time job and with video conferences every day – so getting caught in a "no service" zone is not an option.
To my surprise, finding the internet is easy with a little preparation. As I'm writing this, I'm sitting at Jouflas Campground in Colorado, with full bars on At&t and Sprint.
There are a variety of wifi options, but I use a combination of a Sprint hotspot and my At&t phone plan as a hotspot. Because Sprint and T-Mobile recently merged, I can access three cell phone carriers, increasing my range of remote work immensely.
3) Solar Powered Batteries Are The Way to Go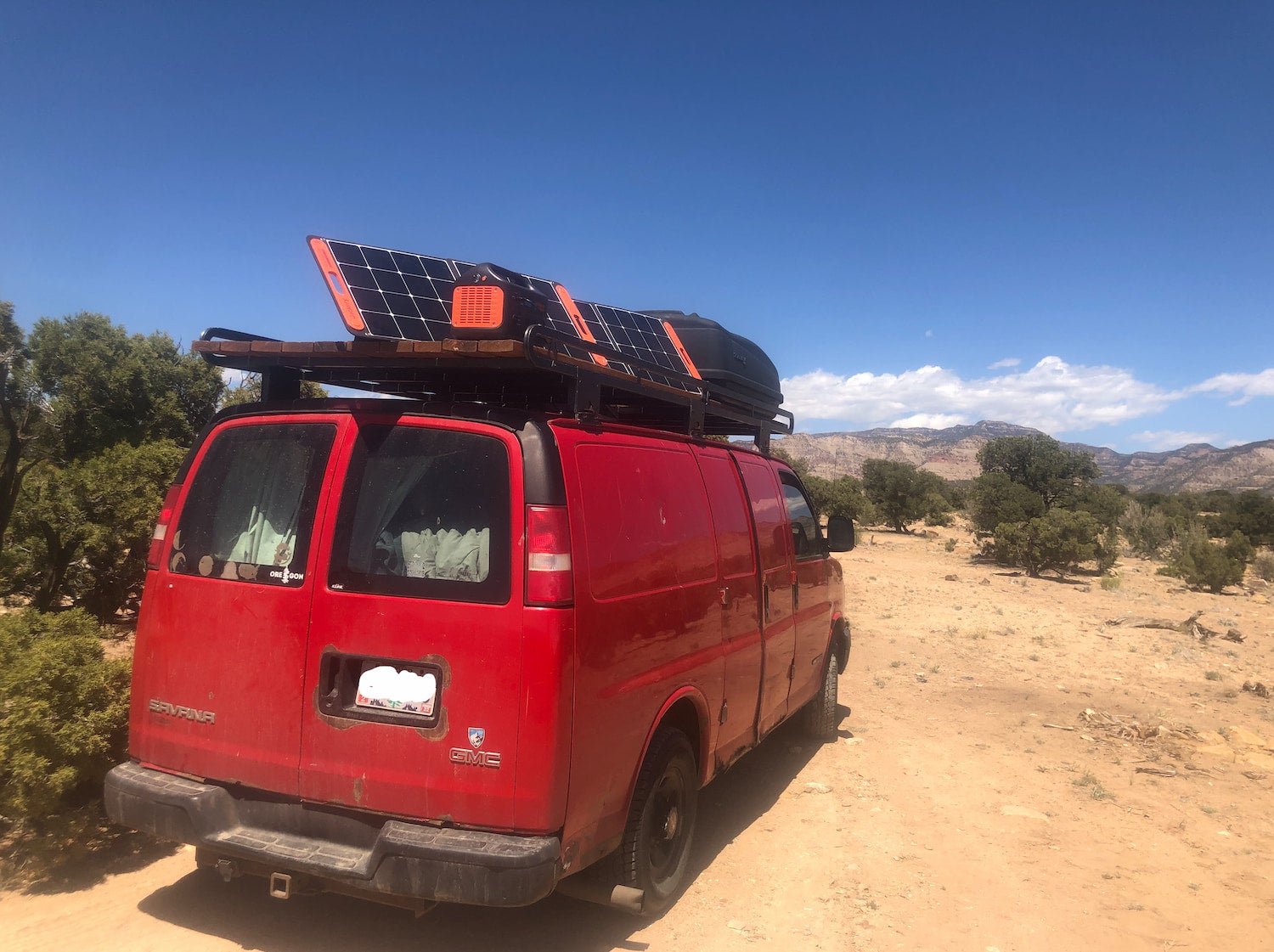 Charging a laptop, hotspot, and phone take up more electricity than you think. When I first moved into the van, I powered my electronics through an inverter and two golf cart batteries that charged while driving.
There was one glaring issue with this set-up: With no sensor showing the current charge of my batteries, I never knew if they were about to die during a workday and leave me stranded. After a troublesome trial and error period, I learned that I needed to drive every 3 days to keep my batteries charged, adding an unnecessary headache to my supposedly spontaneous lifestyle.
As a replacement, I recently got a Jackery Explorer 1000, a lithium battery with 1000w output, capable of powering a minifridge for 17 hours if need be. The Explorer can be charged via an electrical outlet in about 7 hours, but I rarely have access to such a luxury. Instead I use two of Jackery's 100w Solar panels, which charge the Explorer in 8 hours.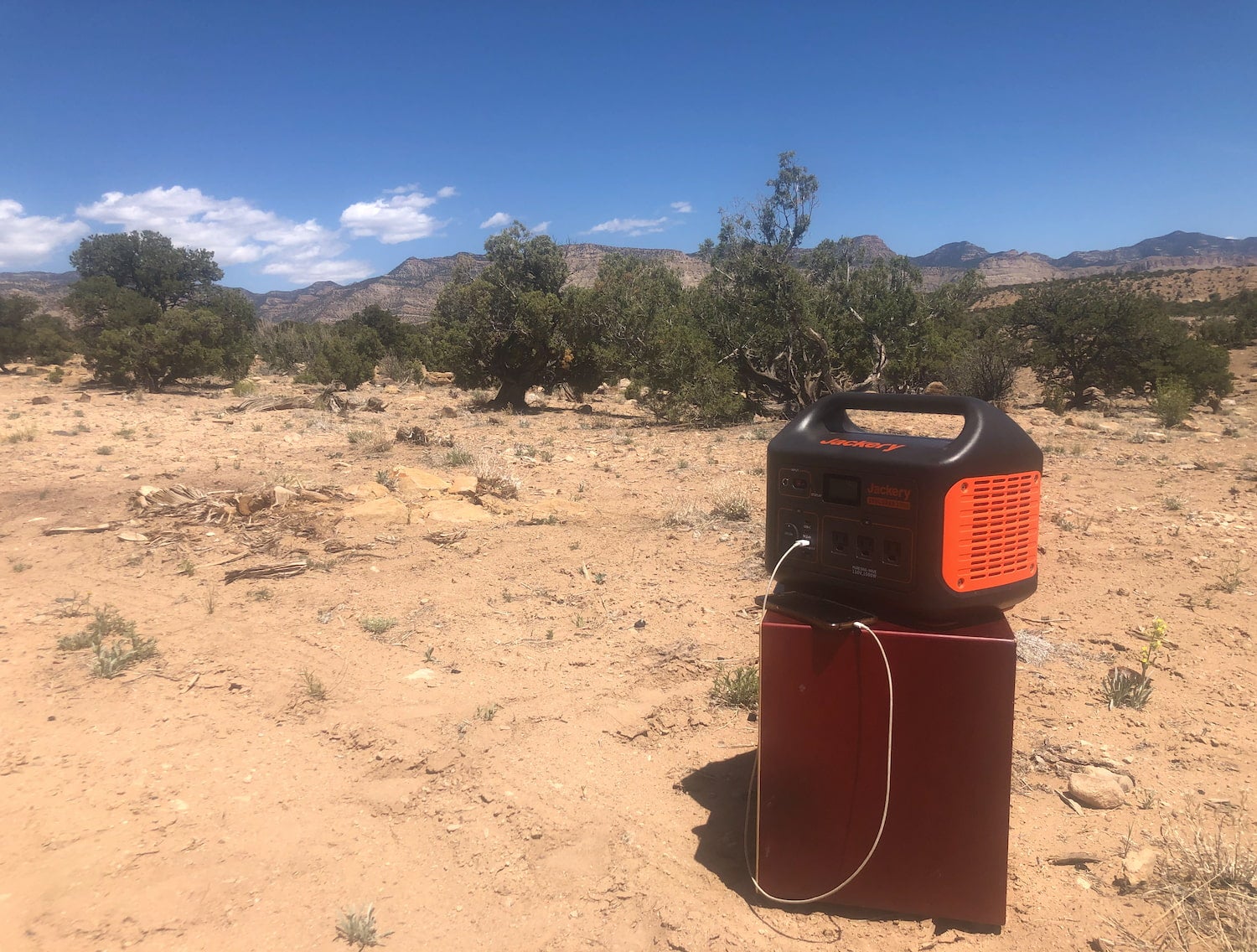 I've been incredibly happy with the battery life of the Explorer 1000. I charge my phone, laptop, and hotspot each about once a day. Even still, the explorers battery lasts up to 5 days of full-time remote working, almost twice as long as my previous system. But with how easy it is to charge, I rarely ever get that low. It's fun to plug in the solar panels and watch the battery power increase.
A surprising benefit of the Jackery Explorer 1000 is its portability, weighing only 22 pounds. My previous inverter set-up was wired into my van, forcing me to retreat inside whenever my electronics needed charging. Now, I can bring my power with me, allowing me to be immersed in nature while still on the clock.
4) Toilets are Everywhere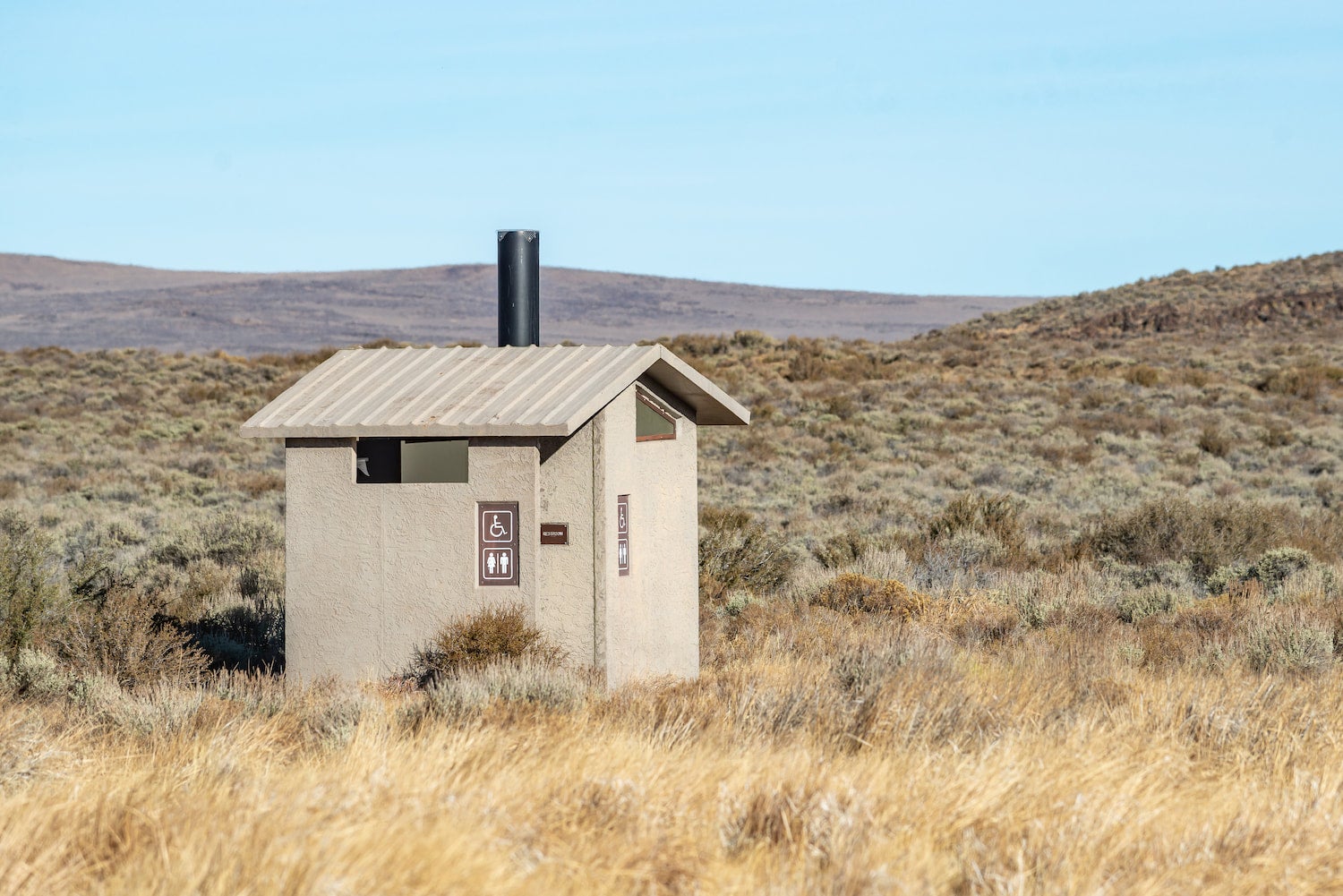 I'm an avid backpacker, so upon moving into my van, I envisioned digging a lot of cat holes. Unexpectedly, this hasn't been necessary. The world is full of public toilets, you just have to know where to look.
Parks, rest stops, stores, campgrounds, trailheads, gas stations….the list goes on and on. As a remote worker, there tends to be a venn diagram between areas with internet access, and areas with public toilets. Only sparingly do I need to use that trowel that I packed so many months ago.
5) You Won't Need to Shower as Often as You Think You'll Need to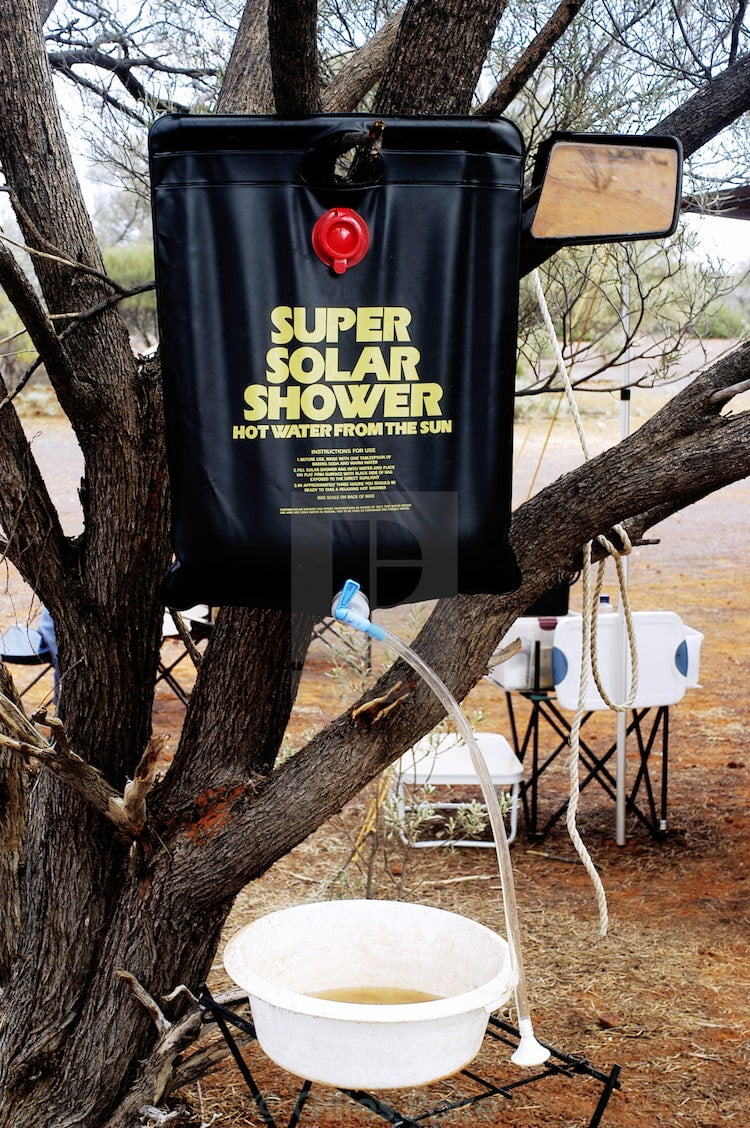 Of course, this depends on your level of comfort, but keep in mind that living nomadically alters your sense of comfort. Kristen from the blog Bearfoot Theory's first van layout was literally built around her indoor shower, but she quickly found it more pleasant "to shower in campsites, at friend's houses, or to skip the shower altogether."
I love my solar shower, which is essentially a  black 5 gallon bag with a small nozzle that heats up in the sun. Whenever I feel icky, which isn't too often, I put on a bathing suit and shower wherever I'm camped. I may not smell like roses and lilacs, I'm by myself 99% of the time anyway, and my coworkers can't smell me through Zoom.
6) Free Camping is your Best Friend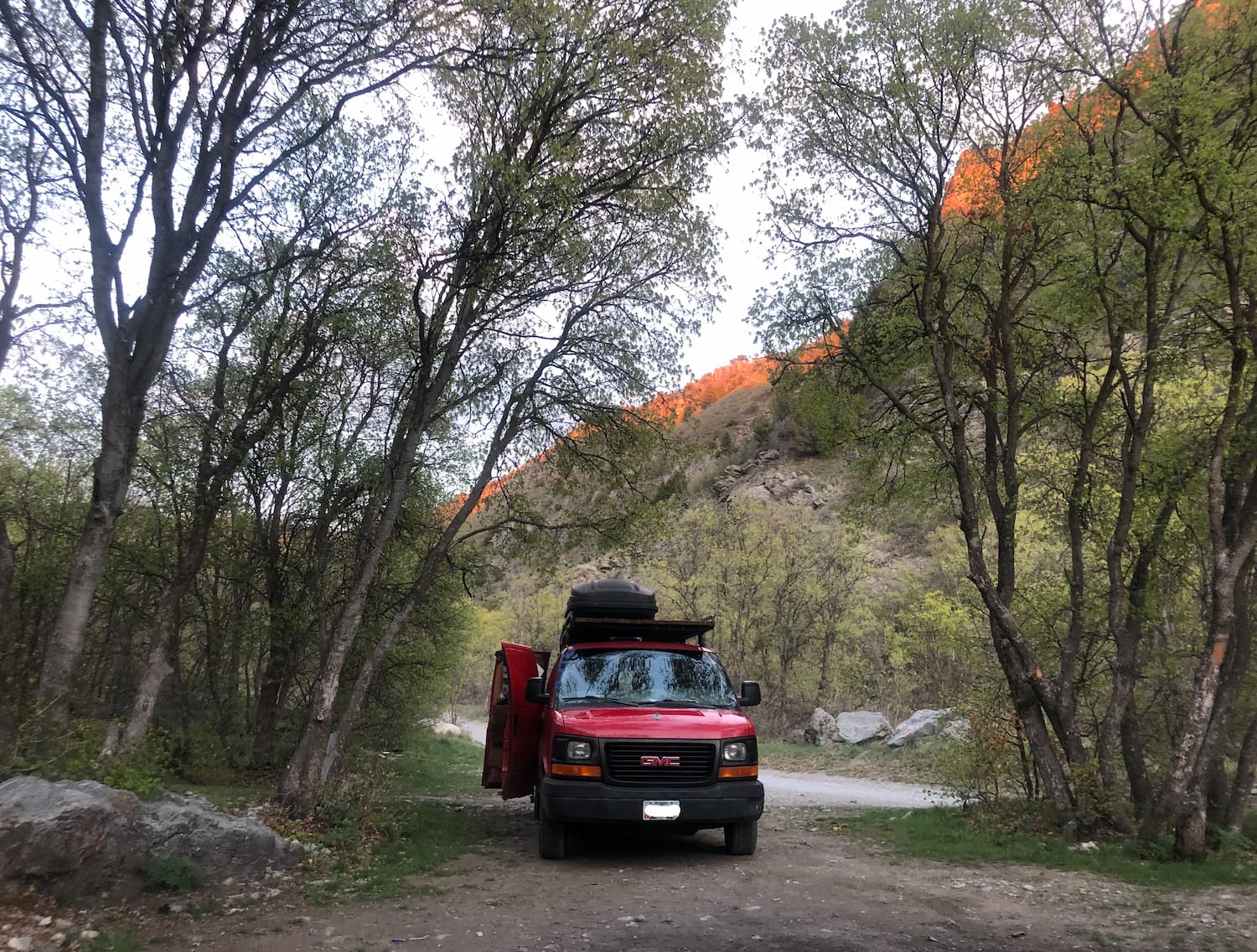 One of my favorite things about living in a van is not paying rent, so why would I want to pay for camping?
Luckily, the majority of the west where I've been staying is public land owned by the US Forest Service, or the Bureau of Land Management. Much of this land contains near-infinite free camping possibilities.
To find these free camping areas on public land, I use The Dyrt PRO, and specifically the Map Layers feature. I can filter to find land owned by BLM, USFS, and The National Parks Service, as well as download those maps for safekeeping if I don't have service.
---
Living and working on the road is a dream of many people. But due to Instagram's beautified and idealized portrayal, living nomadically never becomes more than a dream for most interested in the lifestyle. It seems unattainable and out of reach. I hope that with this article i've demystified vanlife. Of course I'm privileged in a variety of ways, but the fact remains that living life on the road is more attainable than you think it is. Get out there and live the life you want.
Popular Articles:
---

---