At The Dyrt, we share camping tips from our community of campers and campgrounds. With so many campers staying home, we continue to share this info so you can plan future camping trips across the U.S.
---
This article is brought to you by Tentsile, makers of innovative tree-mounted tents that let you sleep suspended off the ground. Is it a tree tent, a floating tent, a hammock tent? Yes, to all three. They have beautifully combined the security and protection of a tent, with the versatility and comfort of a hammock.
---
The Black Hills of South Dakota, or "Paha Sapa" in the Lakota language, are known as the "island in the prairie." Surrounded by grasslands, these pine-covered granite peaks stand out, appearing almost black when approaching from the distance. The Black Hills are a sacred place for the Lakota, as well as several other tribes throughout the Great Plains. They also attracted a flood of white settlers in the 1800s for their promise of gold and rich natural resources and wildlife. Today, Black Hills camping is a wealth of history, culture, recreation and amazing scenery.
The Black Hills National Forest primarily resides within western South Dakota, but it stretches into northeastern Wyoming, as well. Over all, the public land encompasses an area that is 125 miles long and 65 miles wide. The land is shaped by forested hills, craggy granite peaks, stunning canyons, spacious meadows and brilliant blue lakes. Travelers coming for some Black Hills camping will enjoy the national forest's 11 reservoirs, 30 campgrounds, two scenic byways, 1,300 miles of streams, 13,605 acres of wilderness and more than 450 miles of trails.
Where to Find the Best Camping in the Black Hills of South Dakota
Visiting the Black Hills National Forest is free. However, some campgrounds and day-use sites may charge fees for use. The Black Hills also have strict fire regulations in place, so if you're planning for a night of s'mores, make sure you're in a permitted area to do so. Campfires within the national forest in South Dakota are only allowed in established campfire grates at designated picnic areas and campgrounds.

If you're traveling through the region, you'll love these 11 spots for some of the best Black Hills camping.
One of the main draws of staying at Horsethief Lake Campground is its close proximity to Mount Rushmore National Memorial. The national memorial is a quick two-mile drive from the campground, making it one of the closest campgrounds to the iconic National Park Service site. However, the campground is a special one beyond simply using it as your resting point after eating too much of Thomas Jefferson's ridiculously delicious vanilla ice cream recipe from 1780, which is available at the park.
Horsethief Lake is a small, quiet lake surrounded by a scenic pine forest. The lake is great for low-key kayaking or canoeing. The lake also connects to an extensive trail system, including a spur that will take you to the 111-mile Centennial Trail that runs north-south through the Black Hills.
Black Hills camping at Horsethief Lake Campground will cost you $26 per night, plus $2 per night for an extra vehicle. The campground has 36 sites in total that can be reserved online or via phone. On-site potable water is available during the peak season only. There are no showers, but there are toilets.
"One of the best times of my life. It's so peaceful and beautiful on the campground. Large lake great for fishing. Well-lit at night with restrooms in sight. I can't think of a bad thing to say. You have to go check it out for yourself!" — The Dyrt camper Jennifer H.
There's a saying that, "no heaven can heaven be, if my horse isn't there to welcome me." Black Hills camping is pretty close to heaven, but maybe you're one of those people who is going to need to bring your horse along for the full experience. Never fear, Black Hills National Forest has you covered on that, too. If you're planning to camp with your horse, Iron Creek Horse Camp is the perfect option.
A smaller campground, Iron Creek Horse Camp has nine sites available for $24 per night. The sites are in a remote area and there are horse paddocks onsite. Two trails leave from the campground, so you and your majestic friend can easily gallop through Black Hills beauty. There are toilets for you, and a manure disposal area for your friend. There is no potable water at this campground, but there is water for stock.
Be the first on The Dyrt to review this Black Hills camping site and share your experience to earn your Pioneer Badge!
Deerfield Reservoir is located 20 miles west of the quaint Black Hills town of Hill City, South Dakota. Castle Creek forms this stunning lake that provides ice fishing, snowmobiling and ice skating in the winter, and peaceful fishing and boating in the summer with a 5 mph boat speed limit and a no-wake restriction. There are three sites for Black Hills camping along the reservoir; Custer Trail Campground is the most off-the-beaten-path of the three, allowing for a quiet, remote-feeling experience.
Custer Trail Campground costs $15 per night for a single unit. There is potable water during the peak season only. There are separate areas for tent camping and RV camping at the site and 16 camping sites total. Campsites cannot be reserved ahead of time.
"We stayed at Custer Trail Campground for one night on the way to Wyoming. The site is a bit of a long drive around the lake and through some neighboring cattle ranches down to the site. It can be reached by trailers, and was no problem for our Sprinter Van. I would definitely recommend this one. Beautiful setting. We could have stayed longer." — The Dyrt campers Steve and Ashley G.
The northern Black Hills are a unique region of the forest to explore. This stretch is known for its picturesque canyons and waterfalls, and staying at Roubaix Lake Campground offers a prime basecamp for exploring these treasures. You'll also be a short drive from Wonderland Cave, the historic mining town of Lead and the famous gold rush town of Deadwood. All of these sites offer fun activities for the whole family.
Roubaix Lake Campground has 56 sites available, 13 of which are open year-round. The small lake at this campground offer great swimming and opportunities to fish for brook trout. The cost is $24 per night for a single site and $2 per night for an extra vehicle. Sites can be reserved online or by phone.
"Our kids love the lake! It's so small that it's usually warm and the campsites are pretty level! We took our 6-month-old and 8-year-old and they loved it." — The Dyrt camper Casey D.
Pactola Reservoir is located just 15 miles west of Rapid City and is the largest and deepest lake in the Black Hills. It has 14 miles of shoreline, depths of 150 feet, and it covers roughly 800 acres. The lake, set among towering pines and large granite boulders, is a truly beautiful sight. Anglers catch record lake trout at Pactola Reservoir every year, as well as large brown trout. The area has many facilities, including a full-service marina, gasoline, oil, groceries, food service, showers and laundry services. This is the perfect place for Black Hills camping when all you really want to do is relax, swim and fish at the lake.
Pactola Reservoir Campground is located on the south shore of the lake adjacent to a boat launch and the Osprey Trail. It's about a half-mile from the showers. There are 83 sites available, which can be reserved online or by phone. The cost is $26 per night and potable water is available during the peak season.
"Centrally located in the Black Hills, this campground is a convenient place to stay while you visit the various attractions of the Black Hills. Our family had a great time swimming, boating and fishing on the lake. The nearby marina has a small store that makes it convenient for any last-minute essentials. We would definitely visit this campground again." — The Dyrt camper Eric L.
Grizzly Bear Campground is located on Iron Mountain Road, a must-do scenic drive when enjoying some Black Hills camping. Iron Mountain Road is home to the famous pigtail bridges where campers can see Mount Rushmore National Memorial perfectly framed in the mountainous tunnels they pass through. In fact, Mount Rushmore is just about a 2-mile drive from the national memorial.
Grizzly Bear Campground is a tent-only campground with 20 campsites available for $20 per night plus an additional $2 per night for an extra vehicle. It is located alongside Grizzly Bear Creek and has potable water, toilets, and a historic rock shelter. Sites can be reserved online or by phone.
"This place was so serene. So many beautiful trees. Just a few miles from Mount Rushmore. A nice little stream runs along one side. The road to get there is narrow and winding but wasn't too long. No showers, but the vault toilets were clean. It does say primitive. I felt so at peace camping here." — The Dyrt camper Carrie A.
Comanche Park Campground is located right off the south side of Highway 16, a quick 10-minute drive to the town of Custer. It's well-known among locals in the Black Hills that Custer is the foodie capital of the region. If you don't feel like cooking dinner, definitely try one of Custer's many excellent restaurants. For something fancy, make a reservation at Skogen Kitchen or Sage Creek Grille. For something a bit more casual, hit up The Custer Wolf or Black Hills Burger & Bun. You won't be disappointed. Comanche Park Campground is also the closest campground within Black Hills National Forest to Jewel Cave National Monument, the third-longest cave in the world.
As this Black Hills camping spot is located right off the highway, it's not going to be a place you'll want to spend a lot of time, and if you're sensitive to noise, it may be annoying hearing cars zip by at 60mph. However, if you just need an easy, centrally located place to rest your head, it's perfect. A single site costs $16 per night plus $2 per night for an extra vehicle. Toilets and potable water are available. There are 36 sites available, which can be reserved online or by phone.
"The draw to this campground is that it's close to Custer State Park. We arrived midday, set up and still had time to drive the wildlife scenic highway and the scenic drive out of Custer towards Mt. Rushmore and Crazy Horse. We were feet from a bison herd and arms length away from donkeys. Returning in time to make dinner was great." — The Dyrt camper Art S.
If your main reason for looking for some Black Hills camping is to spend as much time climbing as possible, Wrinkled Rock Campground & Climbing Area is the spot for you. This campground is located just 1.7 miles from Mount Rushmore National Memorial. While climbing on the Mount Rushmore sculpture is prohibited, there are many climbing opportunities within the public lands surrounding the national memorial. Climbers can pick up information on routes at the Lincoln Borglum Museum or the Mount Rushmore Information Center.
As for the camping, this site is pretty bare bones — perfect for embracing your inner dirtbag, but not suitable for large vehicles or RVs. There are toilets available, but no other amenities, so plan to bring your own water and pack out everything you pack in. The campground is considered dispersed camping by the Forest Service, which allows for a maximum stay of 14 days in any 60-day period and is fee-free.
"This little gem is only a mile away from Mount Rushmore. It's nothing more than a gravel parking lot with a few tent pads and a vault toilet, but it was very quiet and perfect for hammocks." — The Dyrt camper Gerri B.
Located a 30-minute drive west from Rapid City, Sheridan Lake is a warm 375-acre reservoir with excellent opportunities to fish for trout, northern pike, perch, bass and other panfish. When not lounging at the lake, campers can hop on one of the nearby trailheads, including the Flume Trail and the Centennial Trail. With its close proximity to Rapid City, campers can easily take a day trip to traveler favorites like the Reptile Gardens, Bear Country USA and the Dinosaur Park.
The Sheridan Lake campground is the largest campground in Black Hills National Forest with 129 single campsites located on the south shore of the lake. There are also five group sites located on the north shore near the marina, grocery store and the largest swimming beach. The campground has a fee of $26 per night per single site. Sites can be reserved by calling 877-444-6777 or visiting www.recreation.gov.
"This is a perfect place to camp if you are in the Black Hills to see the sights . . . There is fishing, and a swimming beach is available. We have used this campground as our basecamp for sightseeing three times spread out over fifteen years and have never been disappointed. We were warned, however, that during the Sturgis motorcycle rally this campground gets very busy." — The Dyrt camper Rick J.
Heading to the Sturgis Motorcycle Rally but want a Black Hills camping spot to get away from all of the hustle and bustle? Boxelder Forks Campground is located just 20 miles south of Sturgis where all the action happens, but it's a smaller, quieter campground. This Black Hills camping site is tucked next to the peaceful babbling of Boxelder Creek and is close to a Centennial Trail trailhead. Craving a cold one after a hot day cruising the hills? Big Mama's Beer Garden is located just two miles down the road in Nemo.
There are 14 single sites available at this campground. Restrooms are onsite and there is potable water during the peak season. The fee is $18 per night for a site plus an additional $2 per night for an extra vehicle. There are no RV hookups available, and sites cannot be reserved in advance.
"This is a nice little campground to get away from the hustle of the city. The tent sites are level and great for tent camping. There is a little creek in the park, and at the time we were there, it was flowing big. Nice area, would go back." — The Dyrt camper Chad K.
Rod and Gun Campground is located in the stunning northern Black Hills. It is an ideal spot to use as a basecamp when day hiking in Spearfish Canyon, located just a nine-minute drive from the iconic Roughlock Falls Trail and 22 minutes away from the Bridal Veil Falls lookout point along Spearfish Canyon Highway/U.S. Highway 14 Alternate.
After touring the scenic byway through the canyon heading north, make sure to stop at Dough Trader in Spearfish for some pizza. The sourdough crust at this locals' favorite is made from an over 100-year-old starter. If you keep heading north to Belle Fourche, you can also stand in the geographic center of the United States (if you include Alaska and Hawaii).
Rod and Gun Campground is a smaller campground, offering only seven sites. It is adjacent to Spearfish Creek. Potable water is available during the peak season, and there are restrooms onsite. The fee is $18 per night for a site plus an additional $2 per night for an extra vehicle. Sites cannot be reserved in advance. To top it off, the campground is nearby one of the "Dances with Wolves" film sites for any movie buffs.
"Spent almost two weeks here in the off-season. Was busy, but the sites are far enough apart for privacy/quiet. Not too far from town or the climbing areas (always important to us). Would definitely recommend this place and stay here again." — The Dyrt camper Linette G.
---
Related Campgrounds:
---
This article was brought to you by Tentsile.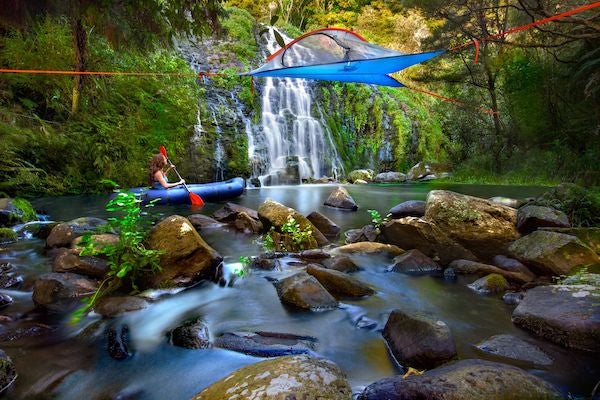 Popular Articles:
[UPDATED] Camping Closures in State Parks & National Parks Across the U.S. Due to COVID-19
Best Travel Trailer Accessories of 2020