I don't leave for the campsite without a bag of marshmallows and some chocolate in tow. If you're s'more-obsessed like me, then you know exactly where to find those items at your local grocery store.
We think this classic campfire dessert is perfect as is. But these s'more recipes are great for mixing things up and making them even more delicious.
Spice up your next s'more sesh with one of these creative s'more recipes…
S'More Recipes That Are Even Better Than the Original
These s'more recipes will have you counting down the hours until it's time to build a campfire.
The Classic Spin: Dark Chocolate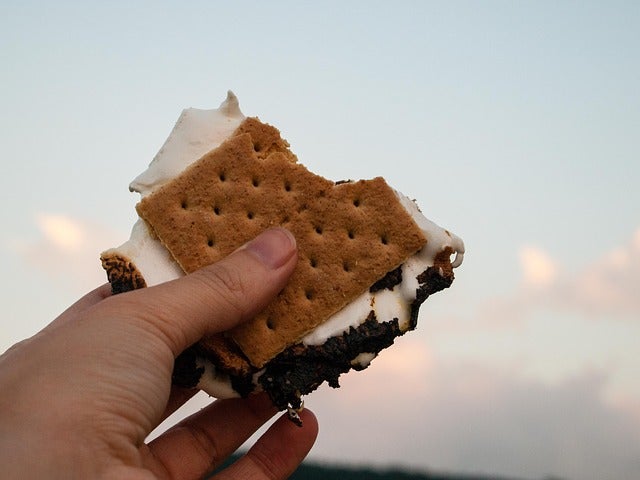 Why ruin a good thing? Keep with the classic graham, chocolate and mallow. Create a new twist on this classic combo by adding dark chocolate. The flavor results in a more sophisticated taste. This recipe is perfect for those who want something sweet but not SO sweet. Dark chocolate has the added benefit of antioxidants, fiber and minerals. It counts as healthy, right?
Roast a Campfire Cone
Take your s'more game to the next level. Ditch the graham and use a waffle cone instead. Fill it with your favorite sweets like mini peanut butter cups, chocolate bits, and marshmallows. The sky is the limit. Wrap the cone in foil and allow it sit near the coal bed for several minutes, turning it a few times for even heat. Allow the foil to cool and voila, a sugary treat all contained in a happy cone.
Caramel Bacon Bliss
If you have a sweet tooth AND a salty one, look no further than these caramel bacon bliss s'mores. Use chocolate with a caramel filling, or dried caramel bits. You can whip up some bacon on the campfire, or bring some pre-cooked slices. Roast your 'mallow to perfection and sandwich the marshmallow, caramel chocolate and bacon between two grahams. The salty and sweet concoction assaults the taste buds in the best possible way.
Peanut Butter & Bananas
Peanut butter and bananas go together like chocolate and graham crackers. Combine the two pairs and you've got a party!
Slice a few bananas and use a peanut butter cup instead of chocolate. Place those ingredients between two graham crackers along with your toasty marshmallow and enjoy. The peanut butter and banana combo will have your locks curled and your air guitar flying.
Fruity Nutella S'Mores
Slice up a few fresh berries and smear some Nutella on your graham. Add the mallow to the mix for a fresh, fruity, and chocolatey dream.
S'mores put smiles on any camper's face. A few tweaks to an old classic allow you to customize any tasty treat. The next time you camp, consider trying a new type of s'more.
Popular Articles: