This article is brought to you by Banner & Oak, a company with deep expertise in headwear. Their trucker hats are the perfect addition to your next Big Sur camping trip. 
---
California's Highway One has some truly epic views. But if you really want to get up close and personal with this stunning scenery, you need to plan a Big Sur camping trip.
Sure, you could spend all of your time in the car, cruising along the classic 90-mile drive between Carmel and San Simeon—or you could pull out your tent and get settled in with some of the most scenic camping in California. The area is known for its wild and rugged beauty as well as its wacky landmarks, like the incongruous Hearst Castle.
Cram your Big Sur camping itinerary with iconic destinations, or just kick back and enjoy nature. Either way, you'll drive right into a camper's California fantasy, with gorgeous mountains to one side and the rocky ocean coastline on the other.
What Makes Big Sur a Near-Perfect Camping Destination
Big Sur is insanely popular, so Big Sur campgrounds can fill up months in advance—especially in spring. Access to camp can sometimes be challenging, particularly if you are relying on your GPS; there are frequent patches of little to no cell phone service.
Nestled near the Big Sur River, Pfeiffer State Park makes for scenic camping near the center of Big Sur. Options include 189 RV camping and tent sites, as well as adorable cabins available for rent. Each space includes a parking spot, fire ring, and access to showers.
Plus, in the heart of the region, you'll have endless options for day hiking right outside your tent! This campground fills up six months in advance, all year round; sites can be booked online up to 48 hours before your visit.
"This campground is a gem in the middle of the Big Sur area. Gorgeous walking trails. Beautiful Mountain Views. Nice and spacious campsites!" —The Dyrt camper Sarah R.
Near Pfeiffer Beach, Fernwood has a variety of Big Sur camping options to suit a range of styles. This includes tent and RV campsites as well as tent cabins, forest cabins, and glamping tents for rent. Campers have access to two bath houses with hot showers, a dish washing area, and laundry. Some campsites have water and electricity; all have a picnic table and fire ring.
"There is nothing not gorgeous about this site in Big Sur. It's also very close to Pfeiffer Beach. Along with access to the site, there are resort amenities like a restaurant up the hill, a general store, and a full bar with a patio. This is a really great and affordable site. Our group stayed in a yurt, but it's really unnecessary to spend that extra money if you have a tent." —The Dyrt camper Erin G.
If sleeping on a ridgeline above the clouds and waking up to sprawling ocean views sounds like an ideal place to pitch a tent, then this spot is for you. Located near the middle of Highway 101, Prewitt Ridge Campground is dispersed campsite in Los Padres National Forest, which means there are no toilets, running water, or reservations.
But if you come prepared with lots of water and food, this spot is one of the greatest camping gems in the region. Just one warning: be prepared for gnats.
"Prewitt Ridge has some of the most fantastic views I have ever seen from any campsite. It's quiet, peaceful, and I'd recommend to anyone who hasn't been before." — The Dyrt camper Taylor P.
---
Prepare for your next adventure by downloading maps. The Dyrt PRO lets you download maps and campgrounds without cell service. "My alternative to using pro would be to drive back out to cell service".
---
Note: Trail Camp is currently closed until further notice due to flood damage.
Near mile marker 51, Andrew Molera State Park is a relatively undeveloped area of Big Sur with multiple hiking and beach-combing opportunities. Miles of trails wander through lush meadows, rolling bluffs, scenic beaches, and hilltop viewpoints. Trail Camp is bordered by a working cattle grazing operation called "El Sur Ranch." Pay attention to any signs in the area and stay on the trail.
Trail Camp is a walk-in campground with 24 first-come, first-serve tent sites. Each site has a picnic table, fire ring, and food storage locker. Campers can also access flush toilets and drinking water.
"I stayed here a couple times over the past couple of years and every time I absolutely love it. Big Sur is one of my favorite CA stops and this campsite is a perfect place to pitch your tent and enjoy the scenery." —The Dyrt camper Alexa S.
How to Plan For a Big Sur Camping Trip
The weather in Big Sur can be very unpredictable, so it's smart to pack all-weather gear when preparing for a Big Sur camping trip. A damp, foggy morning can be followed by a warm, sunny afternoon!
Fortunately, Big Sur has a long window for great camping weather, stretching from the end of April to early November. The ideal time is from mid-September to the end of October, when the crowds dwindle but the weather is still good.
Traffic delays are common, as are road closures due to rock and mudslides. Have a back-up plan in case you are unable to reach a specific section of the highway during your visit, as the road can be heavily impacted by weather. For up to date information on road and trail closures, see the California State Parks website.
Consider booking campgrounds on one end of the highway, such as north in Monterey or south near San Luis Obispo, and then drive into the middle section for day trips. It is the safest approach to guarantee you will be able to reach your accommodations for the night.
What To See and Do in Big Sur
The Big Sur State Parks are part of the California State Parks system, so entrance fees apply. The day use fee is $10/day per car, which gives you access to all state parks for the day, or with a valid State Parks Pass.
Once you're in, there's a long list of Big Sur camping activities and attractions to enjoy.
State Park Hiking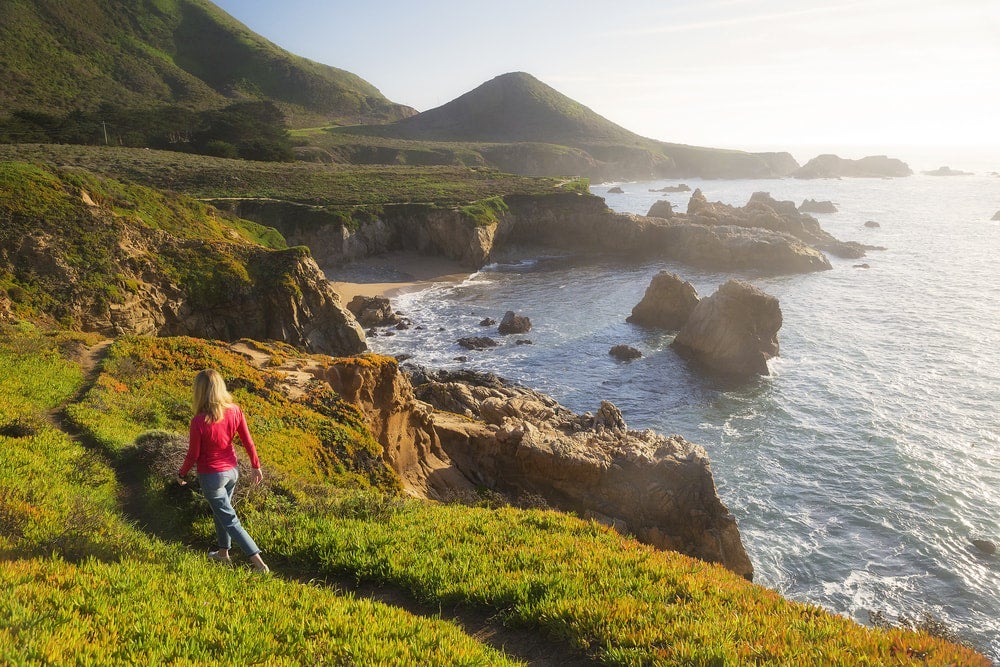 Pfeiffer Big Sur State Park Hikes
Pfeiffer Falls Trail: 1.4 mile short walking trail. A scenic hike along Pfeiffer Big Sur Creek through one of the park's finest redwood groves, ending at a 60-foot waterfall. (Note: this trail is closed until further notice)
Mount Manuel Trail: Beginning at the Oak Grove Trail, 8 miles return, strenuous. A steep, beautiful climb to the top of 3,379-foot Manuel Peak.
Gorge Trail: 1 mile into a steep narrow gorge with huge granite rocks and swimming.
Andrew Molera State Park Hikes
Creamery Meadow to Molera Beach: 2 miles return, easy. A stroll through Creamery Meadow to driftwood-covered Andrew Molera beach.
Molera 8-mile loop: 8 miles round trip, moderate to strenuous. A combination of the Ridge Trail, the Panorama Trail, and the Bluffs Trail, with great coastal views and beach access.
River Loop Trail: 4 mile loop, with an opportunity to take a dip in the Big Sur river. Some of the trails at Andrew Molera have mountain bike access. Directly across Highway 1 from Andrew Molera is the entrance to the Old Coast Road, which is also good for mountain bike riding and beachcombing.
Julia Pfeiffer Burns State Park (McWay Falls)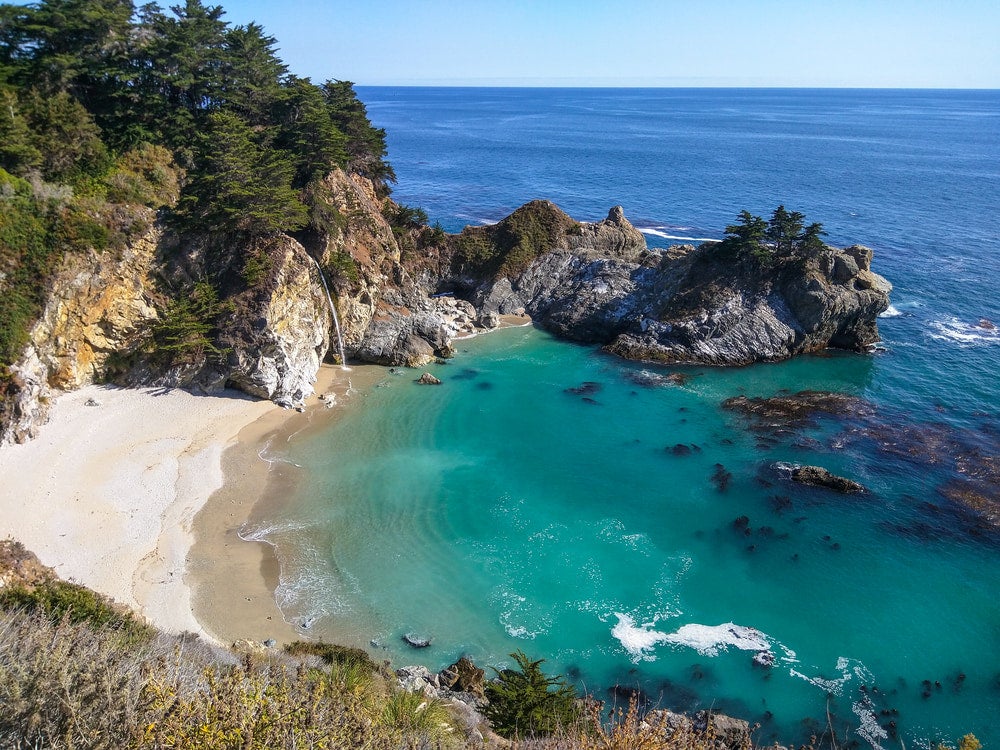 The highly-photographed and scenic park is closed from Monday through Friday until further notice due to storms (check for updates here). It will be open on Saturdays and Sundays, though be aware there is no beach or ocean access in this park. If your Big Sur camping adventure falls on a weekday but you want to catch a glimpse of the McWay waterfall, head to the pullout north of the park entrance on Highway 1, near mile marker 36.
Nepenthe Restaurant
Orson Welles and his then-wife, Rita Hayworth, bought a Big Sur cabin on impulse while they were vacationing on the coast in 1944. They never spent a single night there and the property is now the location of the popular restaurant, Nepenthe. Perched high atop a hill, the glass building and outdoor patio have a rolling coastline view and luxurious local wine menu.
Hot Springs
Unfortunately the Sykes Hot Springs—some of the most popular and secluded in the region—is currently closed due to forest fires. According to the Big Sur Chamber of Commerce, the trail to Sykes Hot Springs may be opening later in 2019.
Luckily, a second hot spring is located at the Tassajara Zen Center which is a gorgeous 18-mile hike over the rugged Ventana Wilderness.
Bixby Creek Bridge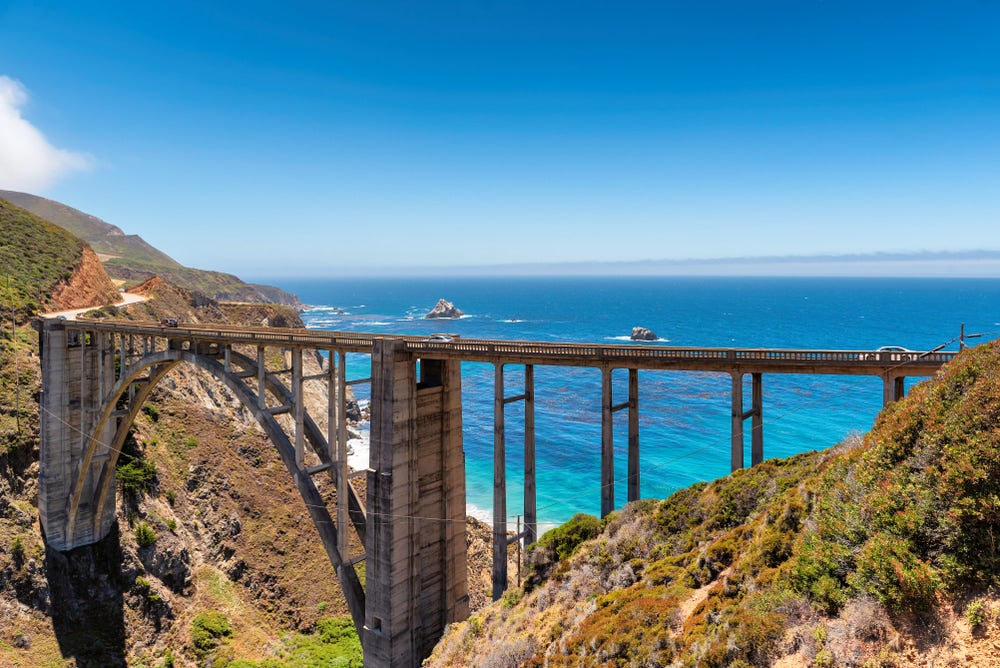 One of the most photographed spots of Big Sur, Bixby Creek Bridge is iconic. As the longest concrete arch bridge in California, everyone from international travelers to Hollywood movie producers stops to stare at its gorgeous design. If you want to get your own shot, check out the bridge at sunset for ideal lighting.
Hearst Castle
While the story of how Hearst Castle came to be is quite fantastical, it is also long. See the incredible display of architecture for yourself and be blown away by the ornate, intricate estate. With 165 rooms and 127 acres of gardens, terraces, pools, and walkways, this is a stop worth making.
Drinking Fountain Scavenger Hunt
The Civilian Conservation Corps hand-built six stone fountains around natural springs in the 1920s. Now, some of the original fountains can still be enjoyed today, especially after winter rains. They are located throughout Big Sur—once spotted they seem obvious, but they are fun to hunt for!
How to Visit Big Sur Responsibly
With rising temperatures and decreasing annual precipitation, California is among the top states affected by forest fires. When planning a Big Sur camping trip, be aware of current campfire regulations and proper use. If allowed, enjoy your campfire in a designated metal pit and be sure that every ember is out before calling it a night.
You may also see animals like gray foxes or coyotes; remember to never feed the wildlife. Not only to protect yourself from a possible bite, but more importantly to protect them. Maintaining a proper diet, as well as learning to hunt and gather food, is vital for the animals' health.
Lastly, be conscious of your plastic consumption and waste disposal. Big Sur has a beautiful coastline, but is incredibly windy at times. Be aware of your garbage and don't let it get blown away! It's our job to leave no trace when camping and spending time outdoors.
To learn more about the conservation efforts in Big Sur, check out the non-profit group Ventana Wildlife Society.
---
This article is brought to you by Banner & Oak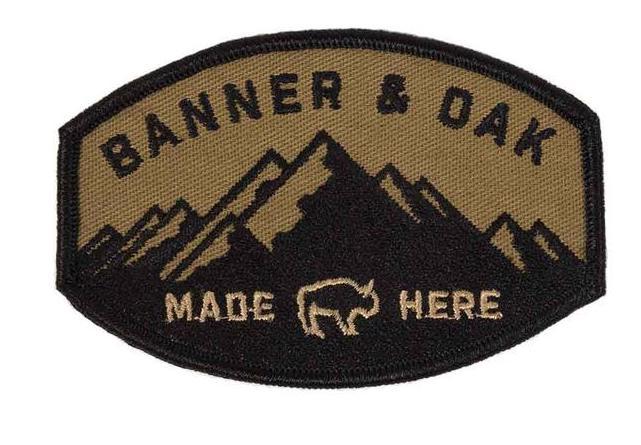 Their snapback trucker hats are the perfect addition to your next Big Sur camping trip.
---
The Dyrt is the fastest-growing camping app on web and mobile, with new features being rolled out regularly. If you love the outdoors, discovering ideal spots to pitch your tent, and being part of a rich and active community, then join us.
---
Related Articles:
---
Related Campgrounds:
Popular Articles: