This collection of landscape photography tips is brought to you by AfterShokz, the designers of waterproof headphones that help you listen to your surroundings and music at the same time while flexing your photo skills.
---
By capturing the outdoors with a camera, you're framing a landscape that no human eye will ever see again. Each moment lighting, cloud-cover, and ever-evolving nature create scenery that is entirely one-of-a-kind.
Landscape photography helps people around the world experience nature that would otherwise never be seen. Bringing a camera to a beautiful setting is invigorating because it gives you the initiative to look closer and focus on the details. But like most things, the better one is at landscape photography, the more joy it can bring them.
These landscape photography tips will enhance your experience with the art. Follow them to improve your shots and deepen your photography practice.
1. Plan your shoots for the morning/evening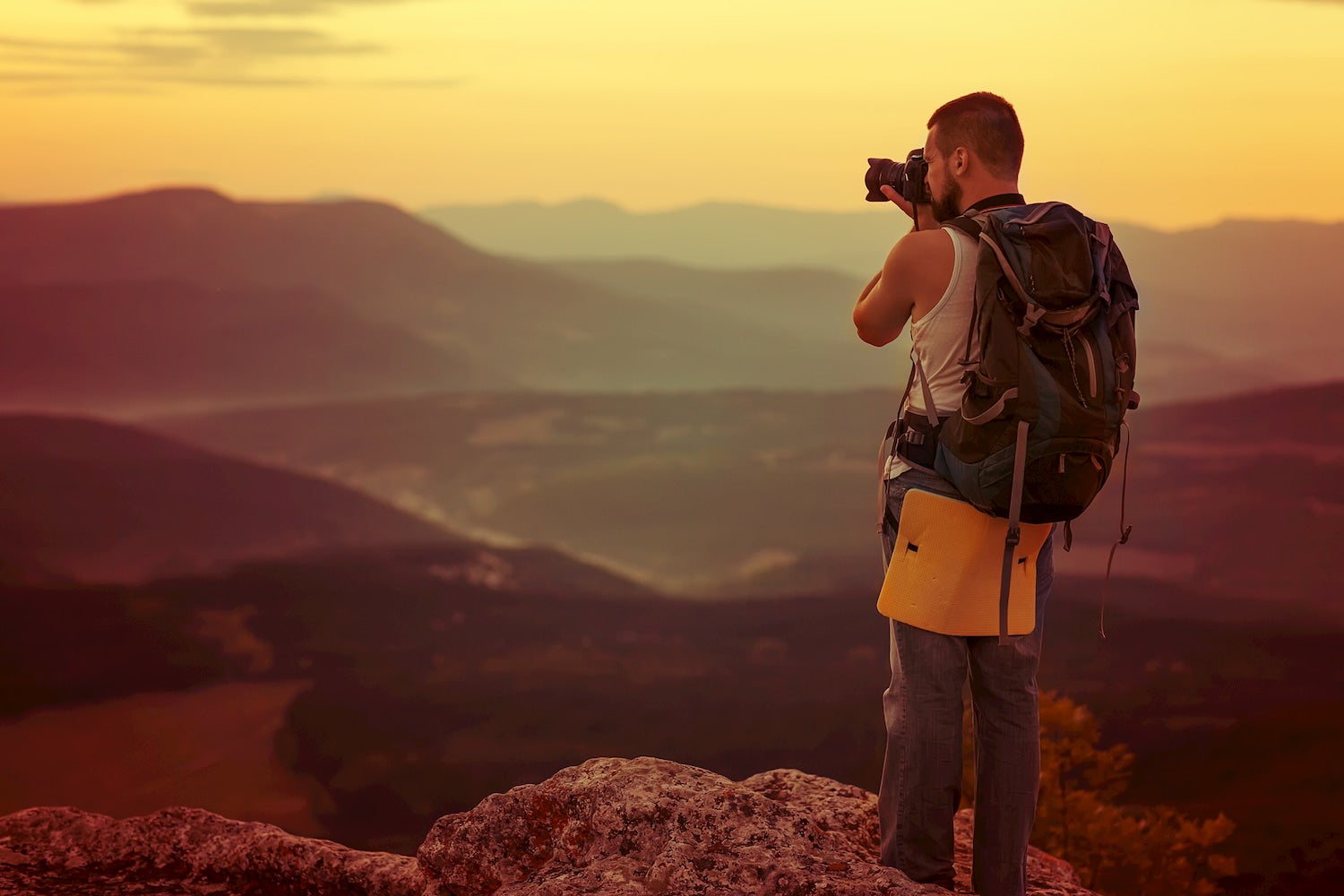 This is likely the first step in bettering your landscape photography, as it's essential to use light in your favor whether you're using a DSLR camera, a film camera, or even a point-and-shoot.
The morning and evening hours have long been called the "golden hours" and "blue hours" of the day by photographers and nature explorers alike. During these times, light is more evenly diffused as opposed to the middle of the day when the sun is overhead and creating highly contrasting highlights and shadows that make exposure settings difficult.
In landscape photography, photographers fare best with a low sun. The warmth of golden hour enhances the colors of a photo. The more natural color that one can capture without editing the better.
This is also a potent tip because it's simply more enjoyable to shoot during the early morning or evening. Not only do our cameras rejoice in the beautiful lighting and colors, but we do as well. Getting up and out early to be alone with a beautiful landscape can be an unforgettable experience.
2. Use a tripod
Using a tripod is key for a few reasons. Primarily, it helps the photographer focus on the composition of the desired shot, shoot in low lighting, and create photos that are level with the landscape. If using a DSLR camera, there's often a digital level gauge that helps with this. A digital level gauge is easier to keep steady while using a tripod.
Using a tripod is one of the landscape photography tips we're including here because it's a universally good tool no matter the type of camera you choose, including an iPhone. Overall, it will sharpen your shot. Sometimes it's necessary to shoot with a low shutter speed during golden hour to let in more light. At a slow shutter speed, a blur in motion can be caused by the shake of your hand or the click of a shutter. Using a tripod will remove any motion from the image even if you choose to photograph with exposures as long as a minute!
Pro Tip: If you can't lug a tripod on your hiking trip, try stabling your camera on a flat rock or picnic table.
3. Carry backup cameras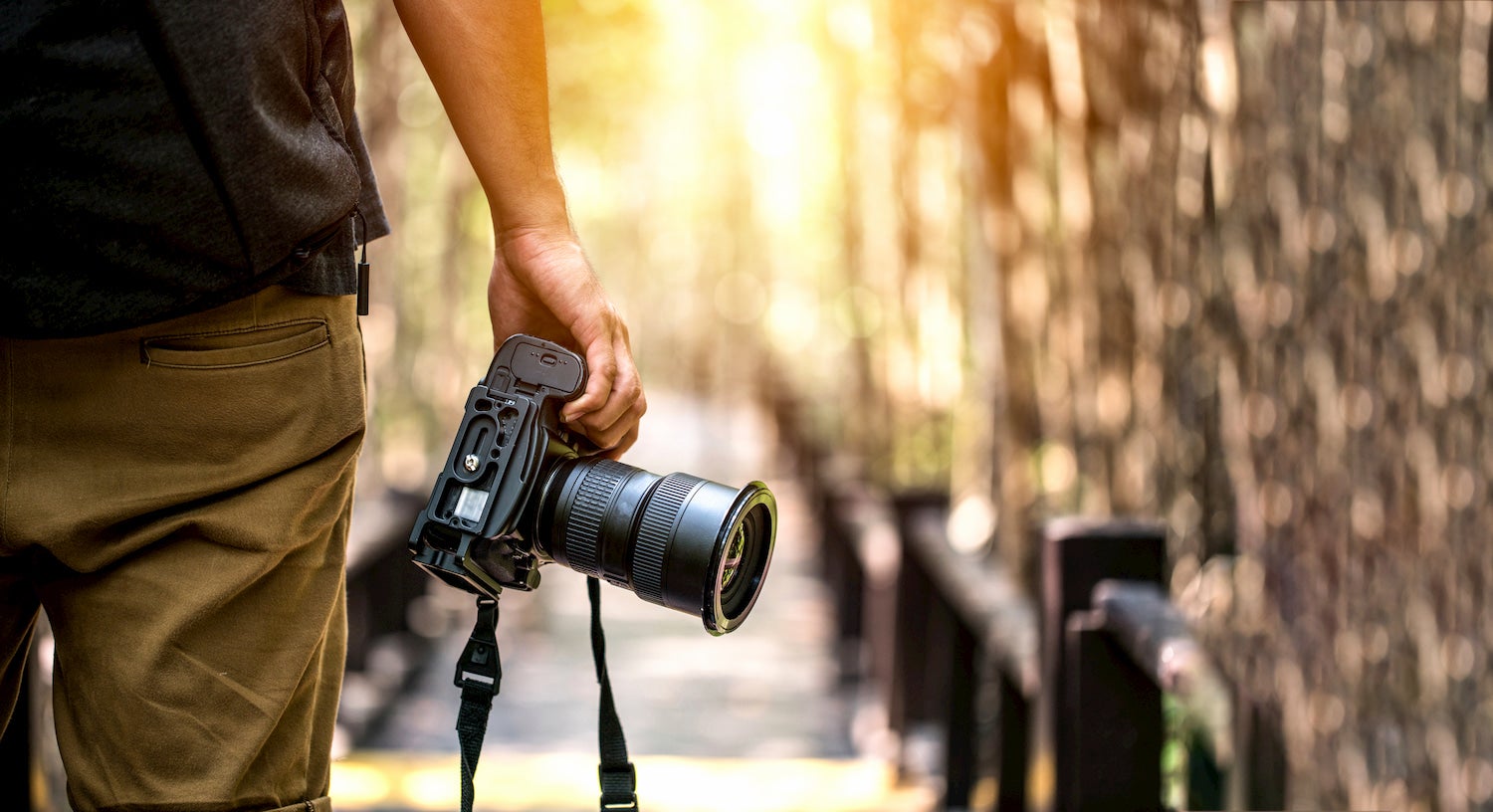 Try bringing multiple cameras along to a shoot. Carrying more than one camera can expand possibilities and make for a more flexible shoot. For example, while a DSLR is set up on a tripod, a photographer may as well take out his/her Iphone and start shooting around. Modern smartphones have cameras worthy of bringing along on shoots, and they help us capture things we may not have otherwise seen on our DSLR/tripod setup. Each camera has a different size sensor and lens, these will allow you capture different depths of a landscape for example if you cannot fit an entire mountain into your viewfinder, you can grab your smart phone and take a panorama.
Film is also good to dabble in because most film cameras are completely manual. Shooting with a film camera will allow you to gain a greater understanding of exposure because each shot will have to be thought out and set up. To many, shooting completely manual and with film feels more "artistic" and in touch with the action of photography.
4. Choose your landscapes wisely
Taking a good landscape shot will require a level of skill, yes, but having an exciting subject is definitely worthwhile as well. Camping, backpacking excursions, and even lighter hiking can all be planned surrounding beautiful landscape settings.
Many national parks have excellent landscape photography opportunities. Yellowstone National Park, for example, is renowned for its highway pull-offs where landscape photographers can be seen capturing sunsets or waiting for the common appearance of wolves.
Planning a weekend trip to your local mountains or even engulfing yourself in a nearby cityscape will also produce some good photo opportunities.
5. Try shooting with someone who has more experience than you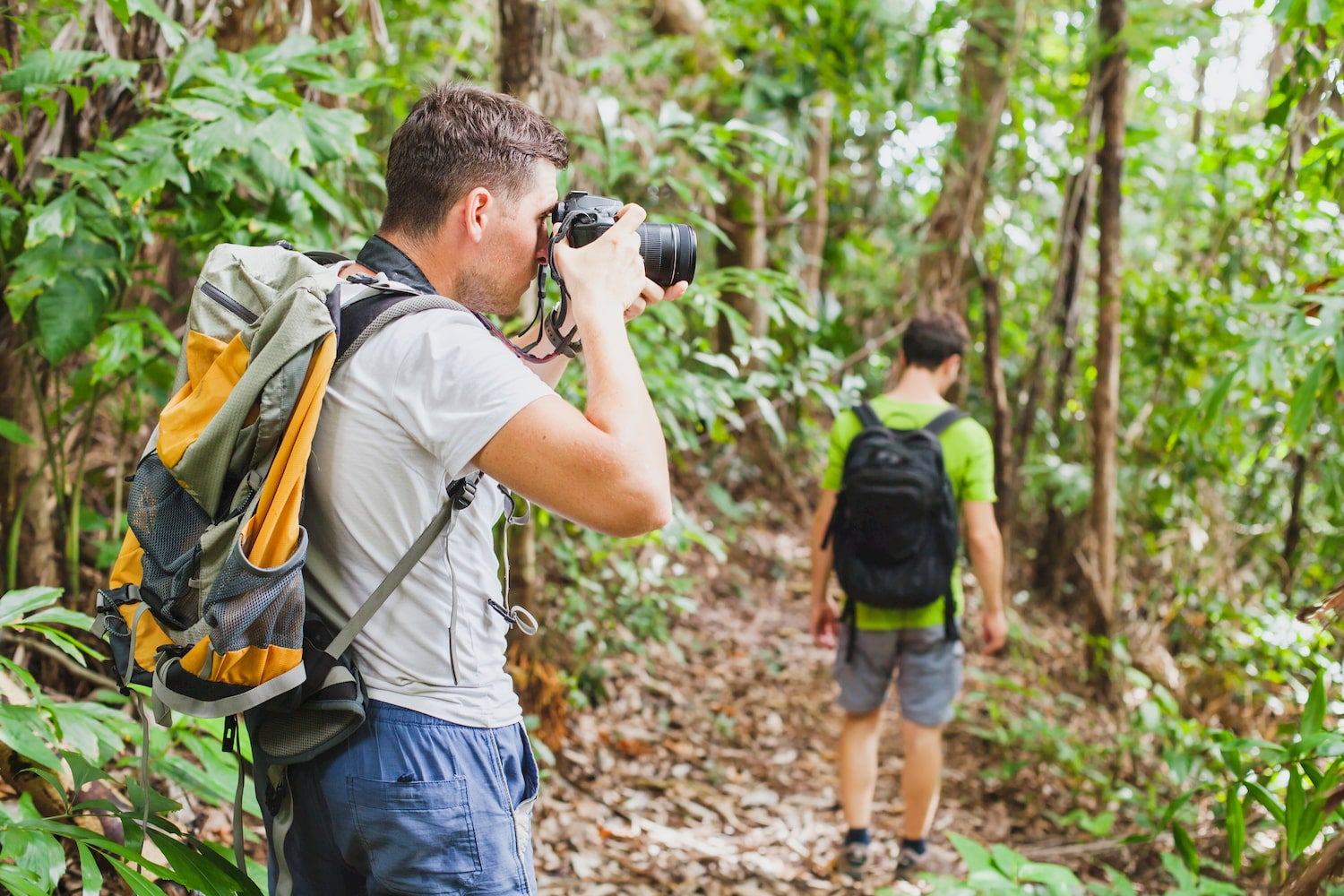 This is a great landscape photography tip for anyone who is looking to improve their skills fast. A seasoned landscape photographer can show you how to efficiently use specific settings and controls such as shutter-speed, aperture, ISO, and more.
Having a photography companion will also motivate you to try new techniques and strategies based on the surrounding lighting, scenery, and type of camera.
Having a photography companion is fun and for many, the ultimate way to enjoy photography. Ask your friend to throw snow in the air mid photograph or having them stand within a landscape to display how truly vast it is can completely change your image. Shooting with a friend helps motivate each other to take better shots as well as sharing in the appreciation of a journey into the outdoors together.
6. Get a camera-worthy bag and get out there
Combining these landscape photography tips may require a good bag for extra cameras, lenses, and a tripod. Use a padded pack with various pockets and compartments to prevent camera supplies from rummaging together.
Overall, these landscape photography tips are a good foundation for taking some good shots while enjoying the outdoors. Each of these elements can be implemented whether the photographer is using a DSLR, a film camera, a camera phone, or even a point-and-shoot camera.
Even if you're unable to head to the best landscapes or cannot lug around a tripod, it can really help to keep a camera on hand wherever you go (even your Iphone camera). Shooting difficult landscapes with poor lighting and awkward angles provides adequate practice for when you're able to get out there and implement all of the landscape photography tips provided above.
---
This collection of landscape photography tips is brought to you by AfterShokz.


Try their waterproof headphones next time you're outdoors flexing your photo skills.
Popular Articles: