Save these highly recommended campgrounds for your 2018 camping plans. 
It's hard to believe that 2017 is almost over. But when we look back at all the camping experiences shared here on The Dyrt, we think it was a year done right!
Campfires were built, tents were pitched, and favorite campgrounds were discovered all over the country in the past 12 months. And the campers who shared photos and reviews of those campgrounds here on The Dyrt helped even more people get outside and embrace the joys of camping.
The Dyrt Campers LOVED These Campgrounds and You Will, Too
The 2018 camping season will be here before you know it. Browse through these 21 highly recommended campgrounds and start filling the calendar with your next camping trips!
1. Silver Falls State Park, OR
"Truly awesome site in every sense of the word. There is a gorgeous 14 mile trail from the campsite through a deep green canyon that takes you by 10+ waterfalls. This place is straight out of Jurassic park. The hike itself is easy to moderate and takes you behind a couple falls as well." — The Dyrt camper Tj B.
Read more about campgrounds at Silver Falls State Park.
2. Kalaloch Campground, WA
"Right in the Olympic National Park this place is classic. It always has a bit of a gloomy haze even when the sun is shinning. It's stunning and mysteriously beautiful." — The Dyrt camper Kayko S.

Read more about camping at Kalaloch Campgrounds.
3. Ryan Campground, Joshua Tree National Park, CA
"This campsite is first come first serve and the campground is at 4,300 feet (1,310 m) in elevation. It only has 31 sites and make sure you bring plenty of water since there isn't a single potable water in this site. It's a must for anyone who enjoys being away from big crowds but loves to take a hike, boulder or rock climbing." — The Dyrt camper Roland B.
Read more about Ryan Campgrounds.
---

---
4. Jemez Falls Campground, NM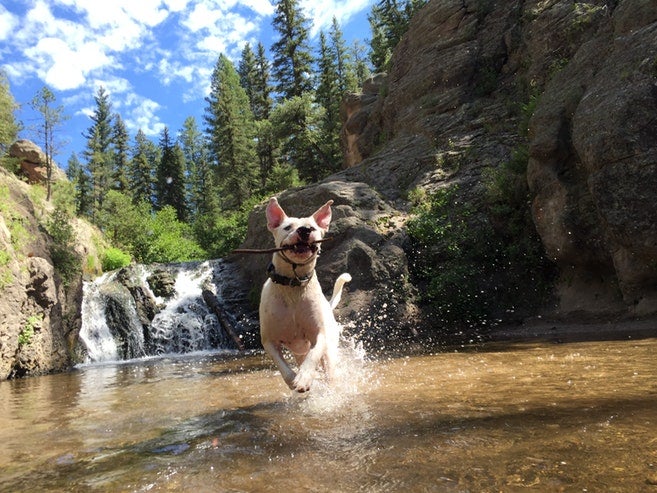 "The views at this campground are breathtaking. The camp host is wonderful and super funny. The sites are very clean and so are the restrooms. There are lots of hiking trails around so go check it out." — The Dyrt camper Megan C.
Read more about camping at Jemez Falls Campground.
5. Alta Lakes Campground, CO
"Alta Lakes is amazing! First off, make sure you have 4WD if you're going to attempt it. The drive is tough and has some water crossings too. You'll pass an abandoned mining town and continue of the road for a while before you reach the lake. It took us about 30 mins to get up and down the mountain. The lake is beautifully blue with gray snow covered stunning peaks surrounding it." — The Dyrt camper Madison G.
Read more about Alta Lakes Campgrounds.
6. Kirkham Campground, ID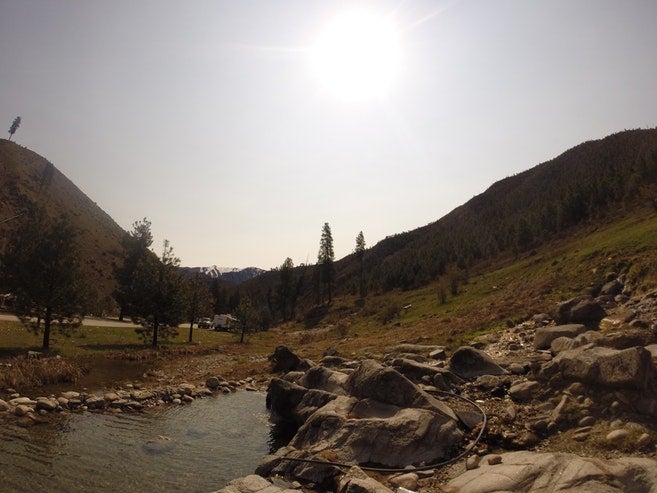 "Kirkham Hot Springs / Campground is one of our favorite places to camp. Although I wish there were more trees (it gets pretty hot when the sun is out), this is an excellent spot for camping in the fall. It's a somewhat small campground, and the best part about it is it has easy access to hot springs." — The Dyrt camper Katie F.
Read more about Kirkham Campground.
7. Bowman Lake Campground, MT
"There is no better place to camp in Glacier than Bowman Lake. Great access to everything, usually can find a spot pretty easy, and beautiful! Cannot fail here!" — The Dyrt camper Tarah W.
Read more about camping at Bowman Lake Campground.
8. Dead Horse Point State Park Campground, UT
"This place is secluded, quiet, beautiful and connected to awesome mountain bike trails that sometimes rival the popular trails in Moab. I will camp here for longer next time I visit Moab! The views from the hiking and biking trails are amazing. Sunsets, amazing. Can't say enough good things."
Read more about Dead Horse State Park Campground.
9. Elk Mountain Campground, SD
"The biggest thing we learned about this campground is the fact that it has rarely ever filled up, even though people fight for campsites in the Rapid City area during the busy season. Elk Mountain must not be on the tourist radar, which was perfectly fine with us." — The Dyrt campers the SwitchbackKids
Read more about campgrounds at Elk Mountain.
10. Tyler State Park Campground, TX
"The park is always clean. The staff are the best of any parks in the area. The little lake in the park is spring feed and clean. It is the best for kayaking or catching some fish. In the warmer weather, the park is a great place for a nice cool swim." — The Dyrt Camper Dianne C.
Read more about camping at Tyler State Park Campground.
11. Gooseberry Falls State Park, Minnesota
"Gooseberry Falls is a spectacular but heavily visted state park. The large campground is very busy and fills quickly throughout the summer and on fall weekends, so reserve ahead…or, if you like a more adventurous camping experience (we did!) you can reseve a paddle-in site accessible by kayak at a spot where the Gooseberry River fkows into Lake Superior."
Read more about Gooseberry Falls State Park Campgrounds.
12. Anastasia State Park, FL
"Anastasia State Park is one of my favorite spots in Florida. You are in the woods with great trees but you can hear the ocean. There is so much to do! Beach, kayaking, fishing, bike riding, hikes and if somehow you get bored you can cross the bridge into St. Augustine and have a blast there too." — The Dyrt camper Laura F.
Read more about Anastasia State Park.
13. Roan Mountain State Park, TN
"Nice big park with a lot for everyone to enjoy, from the pool and fishing to mountain biking. Amazing plants and views everywhere. Tons of hiking trails (including the Appalachian Trail)– our favorites were the grassy hills with 360 views of rolling mountains." — The Dyrt camper Lynn G.
Read more about Roan Mountain State Park campgrounds.
14. Carolina Beach State Park Campground, NC
"Love visiting this park. The rangers do such a great job with the sites! And the location is awesomeness. Tons to do! I try to get back as often as possible!" — The Dyrt camper Frankie M.
Read more about Carolina Beach State Park Campground.
15. Lewis Mountain Campground, VA
"Shenandoah is my favorite place to go for a quick little reset in the mountains. Lewis Mountain is my favorite of the campgrounds up there. It has a nice communal feel, doesn't get rowdy, has water and bathrooms, and isn't too crowded. The sites are adequate and spaced enough apart to not be sleeping on top of your neighbors. It's a lovely spot." — The Dyrt camper Leslie B.
Read more about Lewis Mountain Campgrounds.
16. Woodland Valley Campground, NY
"Large campsite, clean facilities, fire pit, friendly and knowledgeable staff. This is an excellent site if you're looking to explore the Slide Mountain Wilderness and a great place to prep if you're planning to go backpacking as well." — The Dyrt camper Derek W.
Read more about Woodland Valley Campground.
17. Hancock Campground, NH
"The best part of this camping ground is its views. On a clear night, you can see a ton of stars encompassing around you- the only light pollution coming from you and your fellow campers fire. The river flows right through the campground and makes for some excellent ambiance." — The Dyrt camper Molly G.
Read more about Hancock Campground.
18. Burlingame State Park Campground, RI
"My mom and I were having some camp withdrawals. It was Midweek and we couldn't go far because of work- but we just wanted to cook a meal over a fire and sleep on the ground for a night. That's when we found this place. It's about an hour away from us– but it felt like a different place. We loved how close this camp was to the beach- and to Iggys (nothing better than some clam chowder and doughboys after fire cooked hot dogs!)"
Read more about Burlingame State Park Campground.
19. Smugglers Notch Campground, VT
"The whole place has a real wilderness feel, but it is very close to lots of hiking and the attractions in Stowe. You can easily walk to Bingham Falls across the street, which I think is one of the most lovely waterfalls in the whole state." — The Dyrt camper Tara S.
Read more about camping at Smuggler's Notch Campground.
20. Schoodic Woods Campground, ME
"This campground is a gem! It is located on the Schoodic Peninsula which is the quieter side section of Acadia National Park but no less breathtaking. Here you get to enjoy the hiking and biking trails, amazing coastal scenery, quaint towns, and a peaceful campground in one of America's top 10 parks without the crowds and craziness of Bar Harbor and Acadia NP located on Mt. Desert Island (which is only an hour away). I absolutely love the Schoodic Peninsula and the town of Winter Harbor which has such a "Downeast" Maine feel." — The Dyrt camper Nancy W.
Read more about Schoodic Woods Campground.
21. Raccoon Creek State Park, PA
"Heard about this place from Backpacker Magazine, I was passing through the area and decided to stop by, I was not disappointed! This place had such beautiful water and scenery, everyone that i had talked to that day were so stoked to be there as well, Just a great atmosphere all around!" — The Dyrt camper Jill L.
Read more about Raccoon Creek State Park Campgrounds.
---
The Dyrt is a FREE app solving the pain of finding campsites online. Like Yelp for camping, you can find the perfect campsite for you with photos and reviews from real campers across the country. And if you write reviews, you can WIN free outdoor gear all summer long.
Related Campgrounds:
Popular Articles: