This list of best camping in Texas was brought to you by RovR, the makers of our favorite rolling cooler that can carry all of your snacks and drinks for your southwestern expeditions.
---
If you're looking for an epic place for experiencing Texas's natural charm, we've got you covered with our list of best camping in Texas.
Whether you're from the Lone Star State or just a greenhorn passing through, you'll find Texas camping destinations surrounded by wild activities and scenic views, giving outdoor enthusiasts the chance to hike, swim, raft, climb and camp their western hearts out.
Check Out These 7 Texas Adventure Spots to Experience the Best Camping in Texas
We've listed our top seven Texas adventure spots that represent the vast geographic diversity of the southwestern state. Channel the zeal of a cowboy and explore the expansive, wide-open landscapes of Texas with your family or friends. We've paired each Texas adventure spot with a campground for easy adventure access from your campsite.
1. Jacob's Well
Jacob's Well, located just an hour southwest of Austin, is an ideal summer spot for a family swim in a natural spring. This well-known limestone swimming hole is fed by the Trinity Aquifer, located 140 feet below the surface, and eventually feeds into Cypress Creek. It's blue-green water and surrounding limestone mimics cenotes in the Yucatan peninsula in Mexico. Thanks to the Jacob's Well Exploration Project, this well has been researched, surveyed and mapped—making it a safe option among swimming holes in nature. There are two major passageways below the surface of the well, the deepest of which extends 4,500 feet. Enjoy a picnic in between swims or try a cliff jumping into the well, but practice care with the latter.
This family-friendly RV park is situated in the rolling hills of central Texas on five acres of land and just 4 miles southeast of the well. The historic village of Wimberley is near the campground to enjoy a meal with the family after a long day of hiking, biking or swimming. While camping at Wimberley RV Park, campers also have the option to visit a local farmers market, lavender fields, and the nearby Driftwood Vineyards.
2. Palo Duro Canyon State Park
Located in the Panhandle Plains of Texas, Palo Duro Canyon is the second-largest canyon in the U.S., just behind none other than the Grand Canyon in Arizona. Visitors find Palo Duro to be a less-crowded alternative to the Grand Canyon, but still offers prime opportunities to hike, camp and mountain bike around one of the best Texas adventure spots. Campers can even enjoy a musical at the natural amphitheater located within the state park. The floor of the canyon is only 800 feet deep, so take a hike down and enjoy lunch along the Red River while looking up at massive, artist's palette-colored canyon walls. Georgia O'Keeffe painted these canyon walls, noting that Palo Duro is a "…burning, seething cauldron, filled with dramatic light and color."
Hackberry Campground is located centrally in Palo Duro State Park, and is best suited for groups that are car camping. There are plenty of amenities at this campground, including picnic tables, water and electric hookups and fire rings at each site. At Hackberry Campground, visitors have easy access to the amphitheater, as well as the longest trail in the park, an 11-mile hiking and biking trail known as "Givens, Spicer & Lowry."
3. Big Bend National Park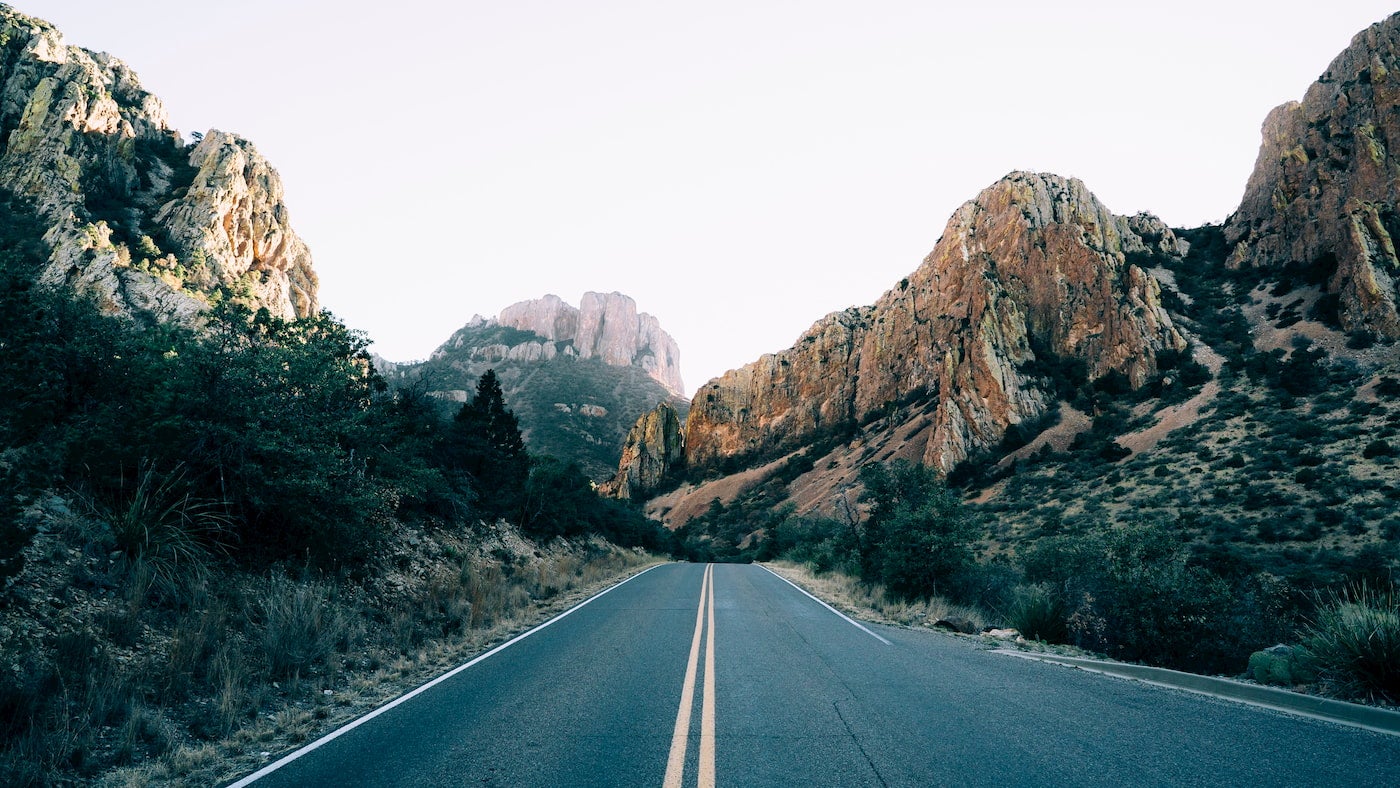 Nestled against the Rio Grande River, Big Bend National Park is located in far-west Texas on the border of the Mexican states of Chihuahua and Coahuila. Big Bend is one of the least-visited national parks in the U.S., due in part to its remoteness (290 miles south of El Paso and 413 miles west of San Antonio,) and extreme weather conditions. Although difficult to reach, the splendid isolation of this national park protects its natural beauty that much more, and makes stargazing from just about anywhere in the park remarkable. Rivers carve through towering limestone canyon walls, cacti bloom along desert valleys, and a diverse range of wildlife make their home here, including javelina and coyote.
There are four designated campgrounds in the park, with a total of 187 sites available, so finding a homebase for your adventures is typically easy. The campgrounds use self-registration and the majority of the sites operate on a first-come, first-served basis. Additionally, there are a number of backcountry sites available along backcountry roads in the park. Most of these sites require four wheel drive, so be wary when deciding on a campground.
To compliment your camping trip, there are also plenty of opportunities for hiking and backpacking. When hiking or camping, it's important to be aware of weather conditions and be prepared for desert conditions in Big Bend. Make sure to have a gallon of water per day per hiker while backpacking. Beyond hitting the dusty trails on two feet, park visitors can enjoy rafting, cycling, fishing and horseback riding in the park as well.
For steller access to backcountry trails and unbeatable solitude, The Paint Gap is a favorite primitive campground within Big Bend National Park. There are several sites along the road. Beyond the third site, it is recommended that visitors have four-wheel drive. In addition to camping, check out the town of Terlingua, a former ghost town now revitalized into an artsy, cultural center.
"Big bend is an amazing NP. You can find yourself in the park alone surrounded by beautiful views. The parks primitive roadside camping can bring you into remote areas where your only company are the amazing sunsets and serenity of big bend. Paint gap is one of these sites. I've spent several weeks exploring big bend and although a campground with amenities is occasionally necessary, the primitive sites are where it's at!" —The Dyrt camper Daniel S.
4. Hamilton Pool Preserve
This picturesque grotto and preserve is located just 45 minutes from Austin, and is perfect for a family swimming adventure. This clear, natural pool and its amphitheater-esque curved walls invokes wonder. This Texas adventure spot is a perfect place to escape the hot Texan sun with opportunity to swim in the pool and feel the mist of the 50-foot waterfall nearby. Visitors hike a short distance from the parking lot through a wooded forest. Enjoy sunbathing or picnicking in between soaks. The parking lot fills up quickly, so be sure to get there early. The pool is surrounded by slabs of limestone, causing the water to be a brilliant, jade-green. Keep an eye out for chatterbox orchids that are sprinkled throughout the preserve.
Pedernales Falls State Park is 21 miles west of the Hamilton Pool Preserve, but is one of the closest campgrounds to the pool. The state park offers a myriad of camping options, many with amenities, but some primitive campsites for those looking to truly disconnect. There are 69 campsites with electricity that offer picnic tables, water hookups, fire rings, and nearby restrooms and showers. The 4 primitive campsites require a minimum of a two-mile hike in, but have shade and a great deal of solitude. There are plenty of places to swim, fish and paddle near the campsites. Don't forget your RovR cooler to enjoy at Pedernales or at Hamilton.
"Pedernales Falls is my favorite state park to visit in my area. It has fishing and swimming spots, and of course camping grounds. Sometimes I just sit down to marvel at nature's beauty." — The Dyrt camper Caleb F.
5. Caddo Lake
Caddo Lake is among the best Texas adventure spots for canoeing or kayaking with family or friends. Located on the border of Louisiana, this canoe trail greets visitors with massive Cypress Trees draped in Spanish Moss along a lengthy bayou. Canoe aficionadas frequent this area, as it offers a serene, peaceful landscape among iconic southern flora. Don't worry about needing to get your own on the way out there—the park rents canoes and kayaks to visitors. Enter at Saw Mill Pond and paddlers have the opportunity to explore up to 50 miles or go any length they desire. Families have the chance to fish and hike in addition to paddling along the bayou. There are 46 different campsites along the entire lake.
Camp among majestic cypress trees against the water at the newly-renovated facilities in Caddo Lake State Park. The park offers 46 campsites with a variety of amenities, with scenic views of the surrounding waterways. There are also five historic cabins available to rent that fit 2-8 people, depending on the site. In addition, visitors to the park can rent one of seven screened shelters that fit up to eight people. The shelters come with picnic tables and outdoor grills so make sure to bring a RovR cooler and grillable foods for a barbeque with the whole family.
"Kayaking this area was BEAUTIFUL and just unforgettable from our trip to this part of the state. You get to camp among the trees and spanish moss and water . . . The bugs are awful, the gators are a little scary, but that's the price you pay for the beauty." —The Dyrt camper Kim B.
6. Gorman Falls
Located in Colorado Bend State Park, Gorman Falls is an oasis, filled by 70-foot waterfalls each dripping with lush moss and maidenhair ferns. The hike to the falls is only 3 miles round-trip, making it an accessible trail for children and older adults. The hike to the falls is arid and hot with hundred of cacti growing nearby, so make sure to carry lots of water to stay hydrated and a camera for blooming desert flora. While Gorman Falls is the park's crown jewel, Colorado Bend State Park is worth exploring on its own, as one of the most ecologically diverse Texas adventure spots. Beyond Gorman Falls, the state park also offers the opportunity for cave touring, paddling, hiking and biking.
With such diversity and natural beauty, it's no wonder this park is one of the most popular destinations in central Texas. There are 15 drive-in campsites, which are RV friendly. The other 28 sites are walk-in and 2 are primitive for visitors that want more solitude and have views of the river. For those hikers willing to work for more peace and quiet, hikers can trek a mile to Backcountry Windmill area where there are designated backcountry sites.
"Beautiful springtime camping spot. Wildflowers were spectacular the whole drive to the park in early May. The walk-in campsites are a quick jaunt from the parking area. No need to rough it – lots of people were carrying air mattresses down the hill from the parking lot. The sites are along the beautiful Colorado River, and aren't too close together, like some other campsites in Central Texas . . . This is my favorite family camping spot so far, and we'll be back in the fall." —The Dyrt camper Melissa G.
7. Devil's Sinkhole
Devil's Sinkhole is famous for being a National Natural Landmark that houses one of the largest colonies of Mexican free-tailed bats in the state. This opening of the cavern is 50 feet wide and drops 140 feet deep to the bottom. From spring until fall, visitors can witness over 3 million bats ascend into the night sky from the mouth of the hole. The best way to see this Texas adventure spot is through a guided tour of the area. Visitors can peer into the sinkhole, but because it is protected, tourists can not enter its chambers. If that's not enough excitement for you, there are also plenty of hiking trails in the 1,860-acre natural area surrounding the sinkhole.
Lost Maples State Natural Area is famous for its fall hues, but is scenic year round. There are 30 campsites with electricity and six primitive campsites. The backcountry campsites offer the opportunity to backpack with the whole family or relax at the sites with more creature comforts.
"Went here on a short backpacking trip with about 10 other ladies and primitive camped about a mile or into the area. It was a GREAT area for all of our tents and a great area for comradery! We had a blast and will return! The hike out to the primitive camping area was moderate and fairly flat. You do cross a creek bed so be prepared to get wet if the flow is good. Plenty of flat spaces for tents and plenty of space away from your neighbors. Star gazing was good!" —The Dyrt camper Tori M.
---
This article was brought to you by RovR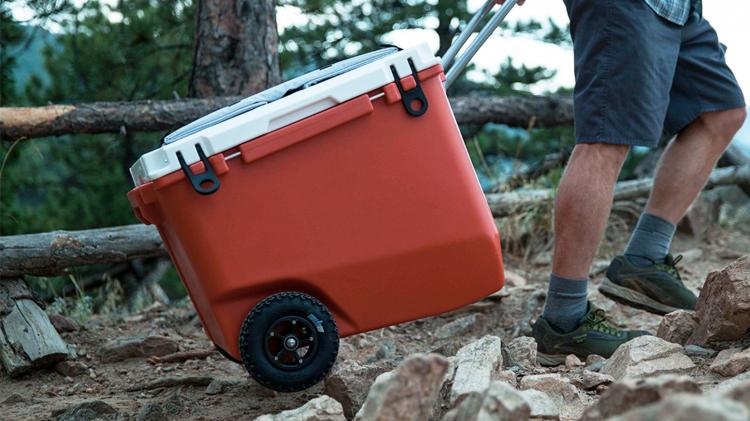 Bring a RovR ice chest along on your trip to any of these best camping in Texas spots—it'll help you cool off and stay comfortable after a long and extreme day in the Lone Star state.
---
Related Articles:
---
Related Campgrounds:
Popular Articles:
---

---