This article about camping in Big Sur is brought to you by Tentrr. With 40+ unique sites across the state, you'll be spoiled for choice. And if glamping isn't your thing, Tentrr also offers plenty of backcountry sites where you can pitch a tent and enjoy some quiet, secluded camping in California.
---
California offers some of the most beautiful landscapes in North America. Home to picturesque mountains covered in redwoods, and the crashing of waves on seemingly endless coastlines—the California sun brightens these already stunning landscapes.
From rustic lodges to unique Big Sur camping destinations, there are many wonderful places to spend a few days in Big Sur. Each of these options give you easy access to outdoor adventures around Big Sur; one of the most beautiful areas of North America. Traveling from San Simeon to Carmel, here are some of the best places to stay for a truly unique experience.
Why Big Sur?
The scenic drive through Big Sur, along winding Highway 1, is full of postcard moments that almost beg you to stop for a photo, hike, or bite to eat. On a lucky day, you may see whales, dolphins, or even the nearly-extinct California condor in the sky.
In addition to restaurants, inns, and sights for days, Big Sur offers several campgrounds that will suit all kinds of travelers. Big Sur glamping and camping provides traditional campsites for tent and RV camping, as well as some glamping options for the more luxury-oriented camper.
Treebones
Treebones is the southernmost stop in Big Sur, located just south of Cape San Martin. It is one of the more unique places to stay on this road trip adventure. It is a fully functioning farm that curates hikes, kayaking tours, and gardening lessons for their guests.
Providing a hands-on nature experience, Treebones is excellent for guests seeking a therapeutic nature experience. Visitors can choose to stay in tents, yurts, as well as two even more unique lodging options. If you are planning to pitch a tent, walk-in campsites start at $95 and include access to resort amenities, as well as a self-serve breakfast.
The Human Nest is as much a handwoven piece of wood art as it is an overnight abode. Guests are able to access the nest via a wooden ladder, and prices start at $175 per night. The inside cradles a comfortable full-size bed, perfect for two adults, and offers breathtaking views.
The Twig Hut is a two-story hut that features a bed and an outdoor nook for enjoying the impressive coastline views. Starting at $215, this unique space can host two people.
For those seeking a more luxurious stay, Treebones offers fully stocked yurts starting at $320. These yurts feature king-sized beds, linens, running water, and lights. Each yurt has a deck with chairs for relaxation and to take in the magnificent view.
One opulent cocoon tent offers the most luxurious and secluded stay of all. Features include an expansive private deck, fire pit, solar power, a shower, and private toilet. The 500-square foot grand tent starts at $595 and offers one of the most unique stays in Big Sur.
Kirk Creek Campground
Just a few miles from Big Sur's popular Sand Dollar Beach, Kirk Creek Campground offers beautiful beachside camping. Set on a 100-foot high bluff, the campsite provides terrific views and is convenient for hikers, swimmers, surfers, and sunbathers, with plenty to do just minutes from the campsite. The beach is even dog-friendly for those traveling with pets.
This campground is great for those who really want to spend their time outdoors, doing activities. The campground has 32 sites for tent camping as well as RVs, but offers no hookups. Each campsite has a table and a firepit with a grill, plus there are toilets located around the campground. Camping here costs $35 per vehicle, with a max of six people per car.
Julia Pfeiffer Burns State Park
Another spot for activities and some of the best sights on your trip is the Julia Pfeiffer Burns State Park. There are two tent campsites available with picnic spots and restrooms. This is definitely a place to stop and enjoy the day.
A premier spot for scuba diving and whale watching, Julia Pfeiffer Burns State Park is home to popular hiking trails, a beautiful cove, the majestic McWay Falls, and an 80-foot freshwater waterfall that empties right on the beach.
There are no fees for this park, making it a great destination to stop and enjoy the day. For overnight camping, the fee is $30 per night.
Ventana
Ventana is one of the most popular luxury glamping spots to stay in Big Sur. Nestled deep within the redwoods of Big Sur, the 40-acre campground offers tent-only camping but can accommodate vehicles such as camper vans or trucks shorter than 22 feet.
Each campsite includes a safari-style tent with comfortable bedding, a fire pit complete with the makings for s'mores, and access to full bathrooms. In addition to exploring the beautiful nature, Ventana is located near many spots for dining, drinking, shopping, and more.
The campground offers two camping areas, the Redwood and Canyon Glampsites. The Redwood Glampsites are located near the main lodge and other nearby attractions. For those seeking a more isolated camping trip, the Canyon Glampsites are only accessible only by hiking in. However, those willing to venture in on-foot will be handsomely rewarded with an exclusive and private nature experience. Camping is $85 per night.
Post Ranch Inn
The Post Ranch Inn is another destination offering guests a very luxurious experience at their opulent rooms, guest houses, and treehouses. The inn sits high above the Pacific Ocean on 100 acres of private land, providing beautiful views of the ocean and night sky. The Post Ranch Inn has two entire guest houses, complete with all the amenities you'll need, including spas, showers, appliances, and a wood-burning fireplace.
Guest suites provide a luxury hotel experience, adapted to nature. Amenities include in-room dining, mini-bar, heated floors, and turndown service. The more nature-oriented visitors can stay in a treehouse that sits on nine-foot-high stilts, with private stairway access.
The treehouses include all the amenities of the guest houses or suites, including breakfast, access to the pool, and complimentary access to activities like daily yoga classes. The resort offers spa treatments, fine dining, and honeymoon packages, making this an excellent spot for a romantic nature getaway. Made for the more extravagant traveler, accommodation at the Post Ranch Inn starts at about $1,000 per night.
Big Sur Lodge
One of the most well-known places to stay in this area is the Big Sur Lodge, which lies within the Pfeiffer Big Sur campground. Big Sur Lodge has been a getaway for many writers and artists, bringing in notable figures such as Jack Kerouac and Henry Miller, who each spent long periods here.
Pfeiffer Big Sur State Park offers unrivaled sights and beauty, and its massive redwood forest provides serenity for all visitors. And the Big Sur Lodge itself is tucked neatly in the middle of this oasis.
Rooms at this iconic getaway start at about $200 per night. The hotel has a pool, restaurant and bar, as well as access to several great hiking trails. The Pfeiffer Big Sur State Park is a beautiful place to spend the day before returning to your cozy home in the woods.
Fernwood Campground & Resorts
The last stop on this Big Sur camping list is Fernwood Campground & Resorts, which includes a range of camping and glamping options. The campground features tent camping, RV camping, cabin rental, and motel stays—making it an excellent destination for all kinds of travelers.
Camping rates start at $70 per campsite, $85 for RV camping, and $130 for canvas tent cabins. Motel rooms start at $180 and entire cabins start at $290. Cabins and motel rooms include kitchens and bathrooms.
There are plenty of hikes, local shops and restaurants nearby. Plus, there is a calendar of events for visitors to enjoy a diverse selection of the culture and beauty of Big Sur.
---
This article about Big Sur camping was brought to you by Tentrr.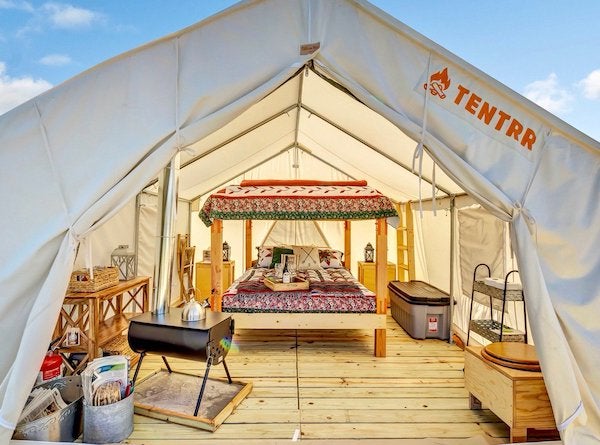 Popular Articles: