This article is brought to you by Banner and Oak. Banner and Oak makes high-quality snapback trucker hats that are stylish and breathable—a perfect accessory for outdoor excursions this summer.
---
10 Waterfall Hikes in the U.S. to Start your Summer Wanderlust
There's something magical and soothing about watching water pour over a cliff. And what better way to kick off your summer vacation than by spending some time recharging alongside some of the most gorgeous waterfalls in the U.S. Many of these waterfall hikes are easily accessible to all ability levels. However, a few, like Havasu Falls, require an overnight hike, making the waterfall payoff even more special and rewarding.
Cumberland Falls, Kentucky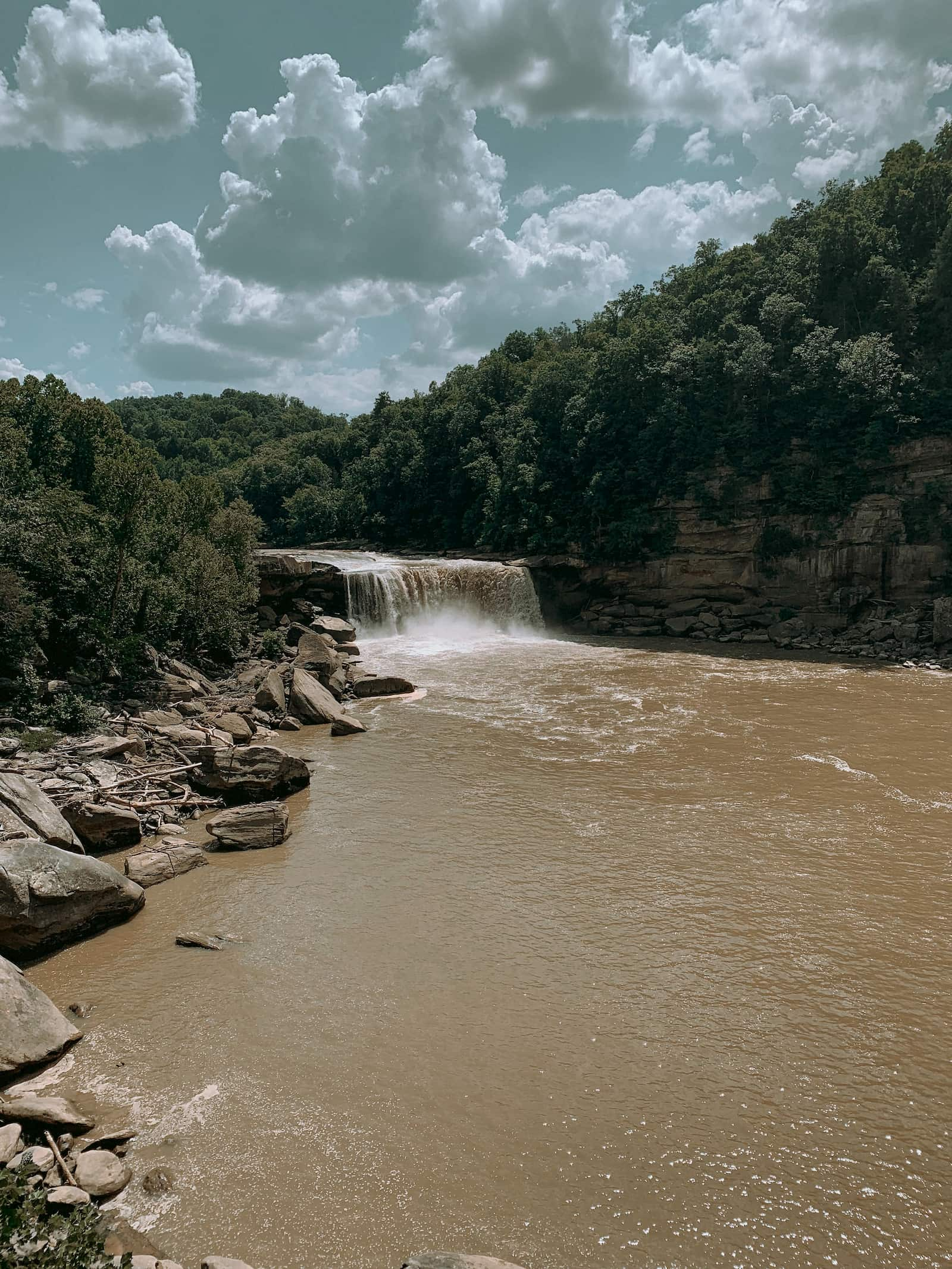 Often referred to as The Niagara of the South, Kentucky's Cumberland Falls is one of the few places in the world where you can see a "moonbow". A "moonbow" is a rainbow formed by the water of the falls, but is only visible on clear nights, two days before and after a full moon. From the parking lot, several viewpoints at the top, base, and downstream of the falls are easily accessible. Cumberland Falls State Park also features 50 campsites, 17 miles of hiking trails, and a full-service restaurant and lodge.
Bond Falls, Michigan
Located 10 miles north of Watersmeet in Michigan's Upper Peninsula, Bond Falls is a waterfall on the middle branch of the Ontonagon River. The falls tumble 50 feet over a wide expanse of ancient volcanic rock. The Bond Falls are especially gorgeous in winter, when the water freezes over into momentary ice sculptures. A level boardwalk takes you to a great viewpoint of the falls directly from the parking area. Then, a short—yet rocky and steep—hiking trail on the west side of the waterfall, leads to an awe-inspiring up-close view of the falls. Camping can be found nearby at Imp Lake and the Stannard Town Campground.
Havasu Falls, Arizona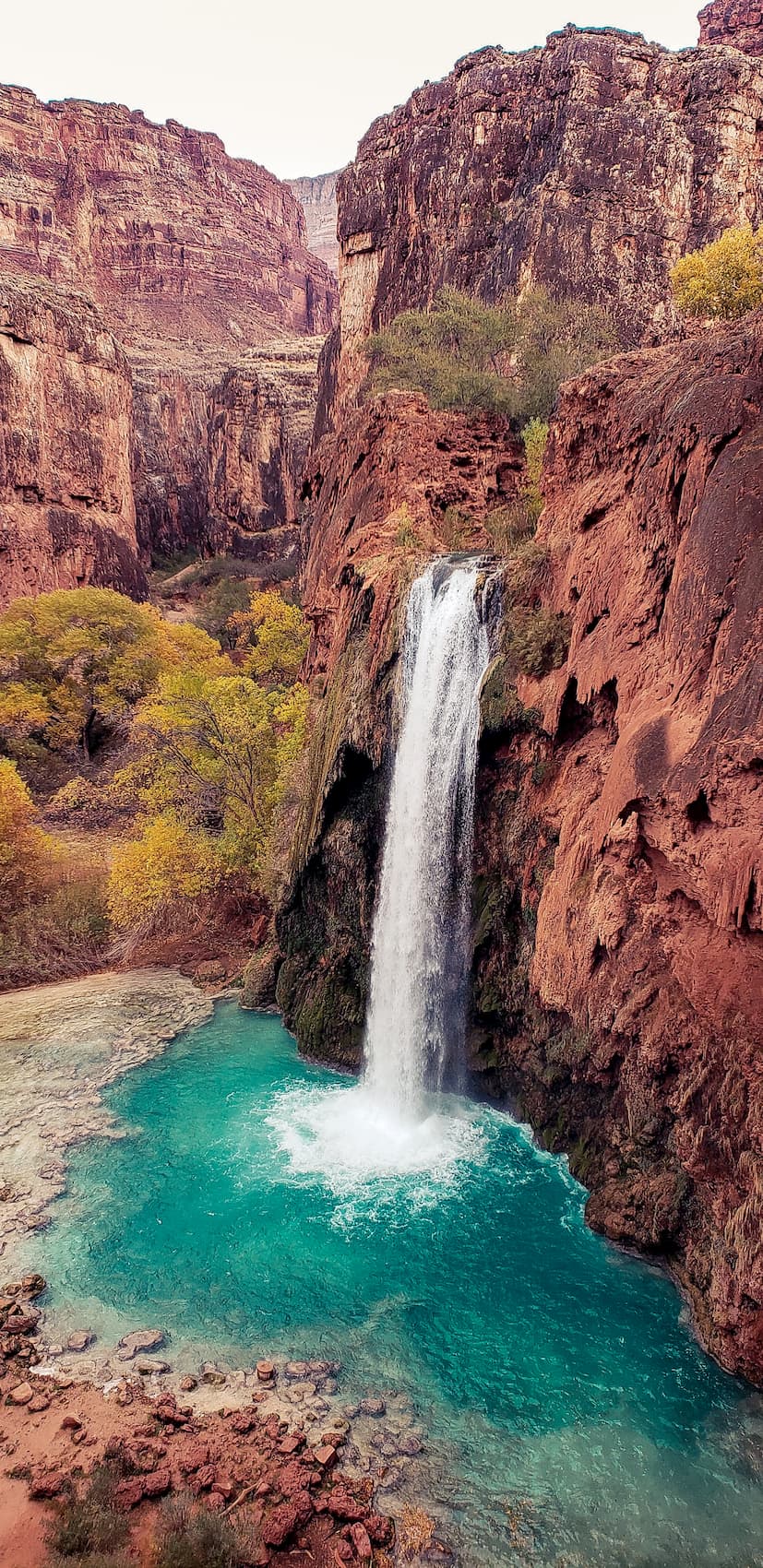 Seeing the turquoise waters of Havasu Falls tumbling over red rock cliffs, draped with greenery, deep inside the Grand Canyon, is the stuff dreams are made of. Dropping 90 feet into a clear blue pool below, Havasu Fall is the largest of several falls on Havasu Creek. Havasu Creek itself is a tributary of the Colorado River. The creek, the falls, and the stunning landscapes make this one of the most lusted-after waterfall hikes in the world!

Importantly, Havasu Falls is located on the Havasupai Indian Reservation, which is an area of great spiritual importance to the Havasupai people. Please be respectful at all times when visiting this area. The falls can only be visited with a permit, and those permits are notoriously challenging to obtain. Camping is allowed at the Havasupai Campground, which is ten miles (by foot) from the reservation entrance.
Multnomah Falls, Oregon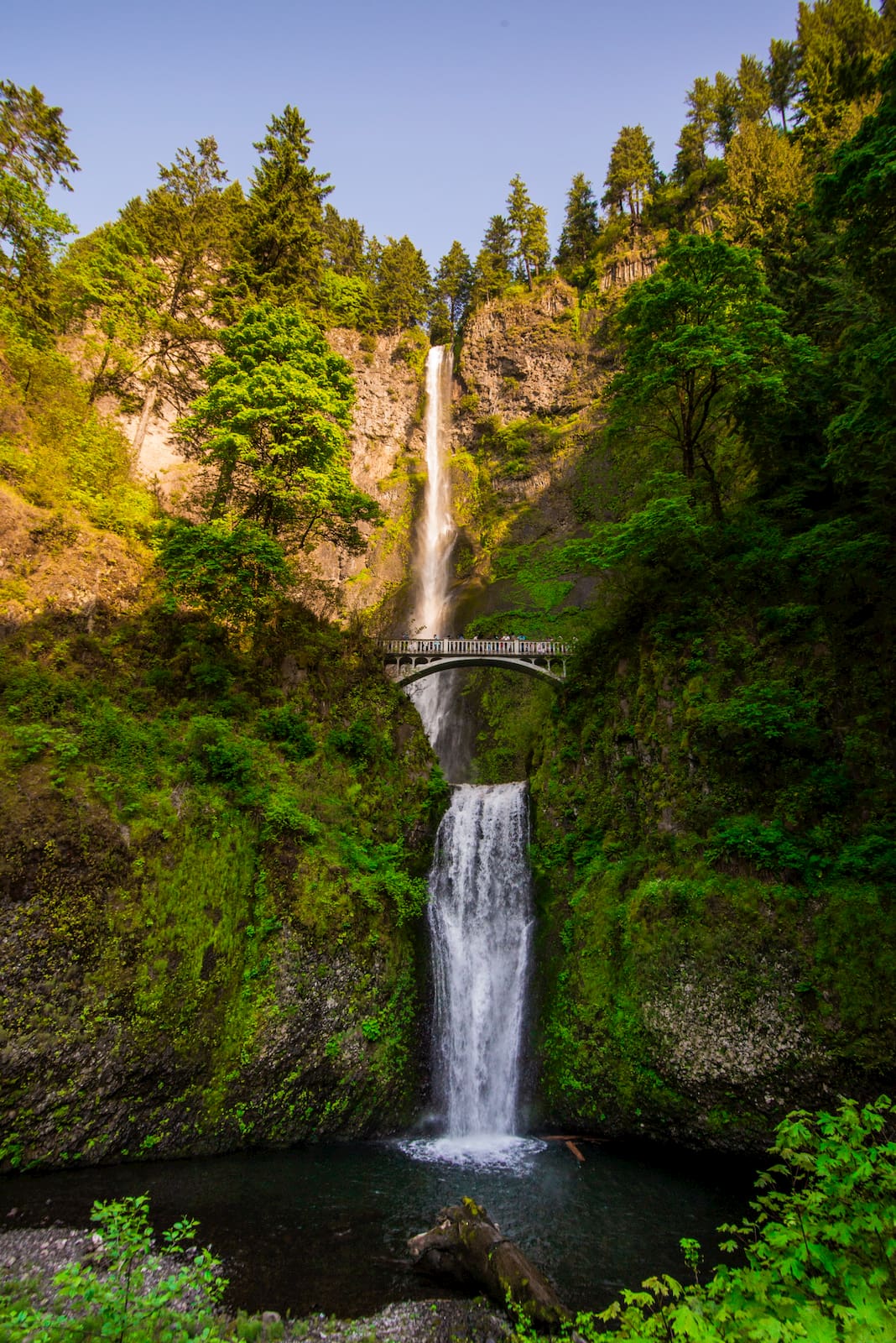 Just 30 minutes outside of Portland, Oregon, in the Columbia River Gorge, Multnomah Falls drops an awe-inspiring 620 feet down two tiers of basalt cliffs. The falls are just a 5-minute walk from the parking area, and there's a paved path that leads visitors to a viewing platform and a bridge. The picturesque bridge spans the falls, stretching between the two tiers of this epic waterfall. A quick, steep ascent gets you to the top of the falls, or you can do the entire Multnomah Falls Loop trail and visit five more falls along the way. Camping is found nearby at Ainsworth State Park.
Lower Calf Creek Falls, Utah
Named for its original use, a natural corral for calves during the early pioneer days, Lower Calf Creek Falls is a surprising oasis amidst the red rock and sagebrush of the southern Utah desert. This 126-foot high waterfall and deep natural swimming hole is one of the most popular destinations in Grand Staircase-Escalante National Monument, and one of the best waterfall hikes in the southwest.
The 5.5-mile round trip hike begins at the Calf Creek Recreation Area, which is located just off of Scenic Byway 12, halfway between Escalante and Boulder, Utah. Hikers are charged a small day use fee of $5 per vehicle. For an additional $10 per night, you can stay nearby at the small, 13-site Calf Creek Campground. All sites are available on a first-come, first-served basis.
Vernal and Nevada Falls, California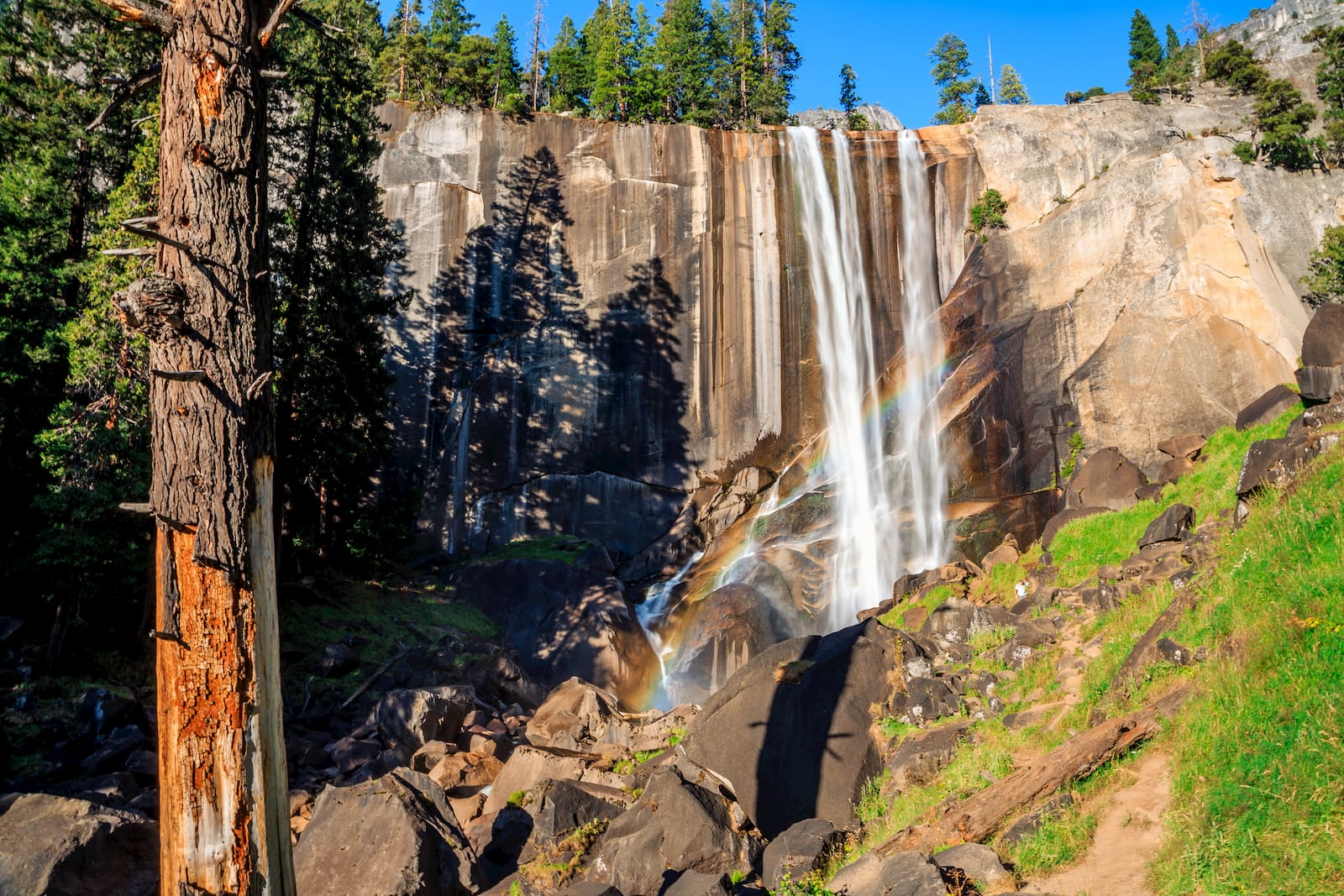 Hiking Yosemite National Park's Mist Trail is an unforgettable experience, especially during peak spring run-off. This steep hike leaves the Yosemite Valley and gets you up close and personal with two spectacular waterfalls. You'll climb to the top of Vernal Fall, via a steep granite stairway, all the while being doused in mist from the water raging beside you. From the top of Vernal Fall, you can return to where you started or continue another 1.5 miles to the top of Nevada Fall. The entire Vernal and Nevada Falls loop is 6.2 miles in total. Plus, visitors can stay at nearby Upper Pines Campground, which has easy access to the trailhead and is within walking distance.
Shoshone Falls (Idaho)
Located on the Snake River just outside of Twin Falls, Idaho, Shoshone Falls is one of the largest natural waterfalls in the U.S. The 212-foot vertical drop over basalt cliffs is impressive on its own. However, what makes Shoshone Falls so dramatic is that it is nearly 1,000 feet wide! The falls are just a short walk from the parking area and the canyon rim trail leads to several viewpoints of the falls. Shoshone Falls is also a great stopping point on the way to City of Rocks National Reserve.
Akaka Falls, Hawaii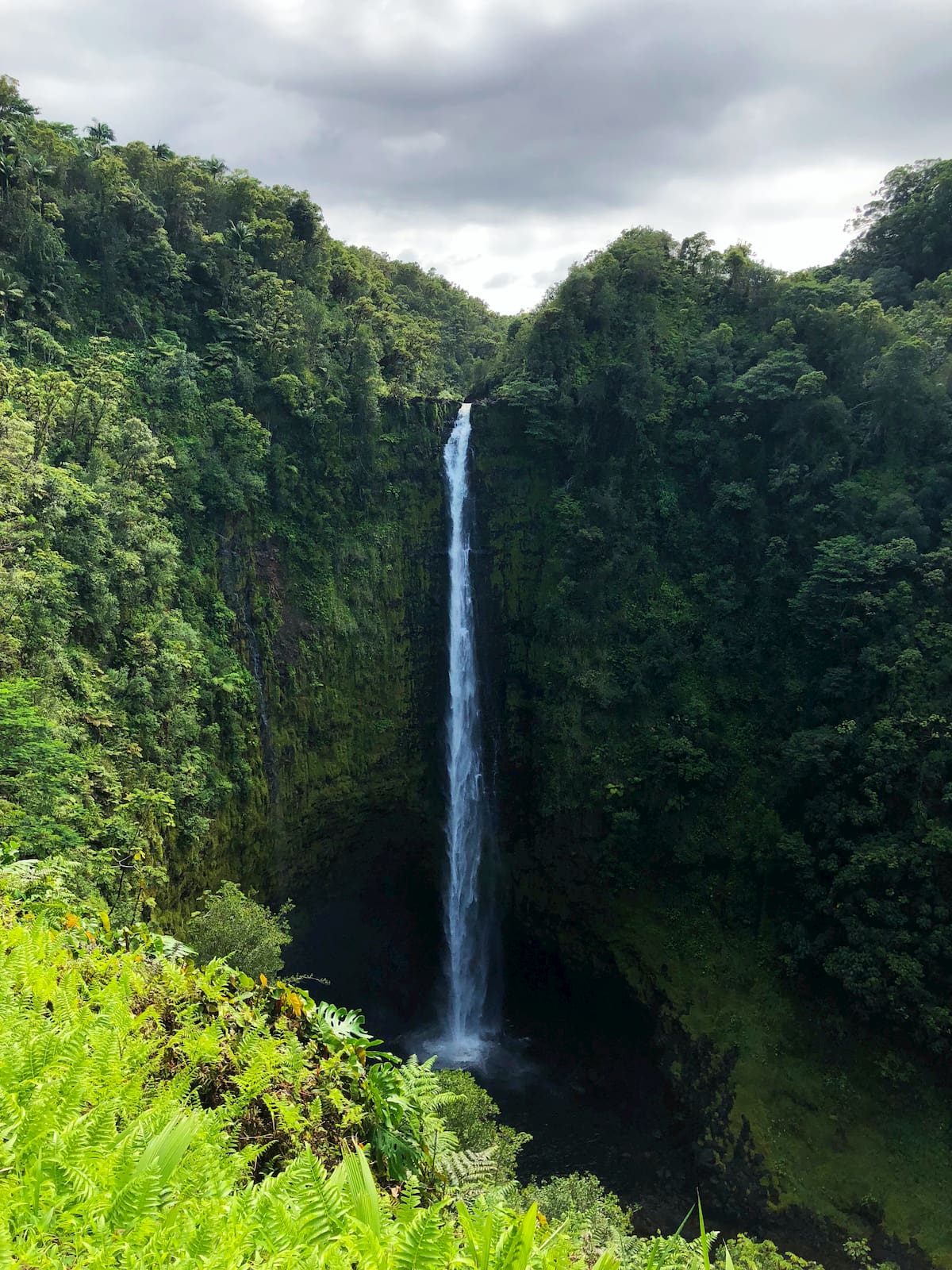 Quite possibly the most famous of Hawaii's waterfalls, Akaka Falls plunges 442 feet down a stream-eroded gorge in Akaka Falls State Park, on the Big Island. The park is located about 15 miles north of Hilo. From the parking area, there is a short paved path that leads visitors to viewpoints of both Akaka and Kahuna Falls. It's less than a half mile loop, but there are several stairs to navigate. There's no camping in Akaka Falls State Park, but you'll find plenty of seaside campsites at Onekahakaha Beach Park in Hilo.
Ruby Falls, Tennessee
At 1,120 feet below the surface of Lookout Mountain in Tennessee, hidden deep in a cave, you'll find Ruby Falls. This is guaranteed to be one of the most unique waterfall hikes in the U.S. Ruby Falls is the deepest and tallest underground waterfall that is open to the public. However, it can only be visited on a guided tour. You'll descend 26 stories by elevator, then you'll follow a series of twisted underground pathways for a half-mile. Even though this underground trail is paved, it has plenty of uneven spots along the route, so good footwear is highly recommended. Camping is available nearby at Raccoon Mountain, which has full service RV sites, water and electric tent sites, primitive sites, and everything in between.
Ramona Falls, Oregon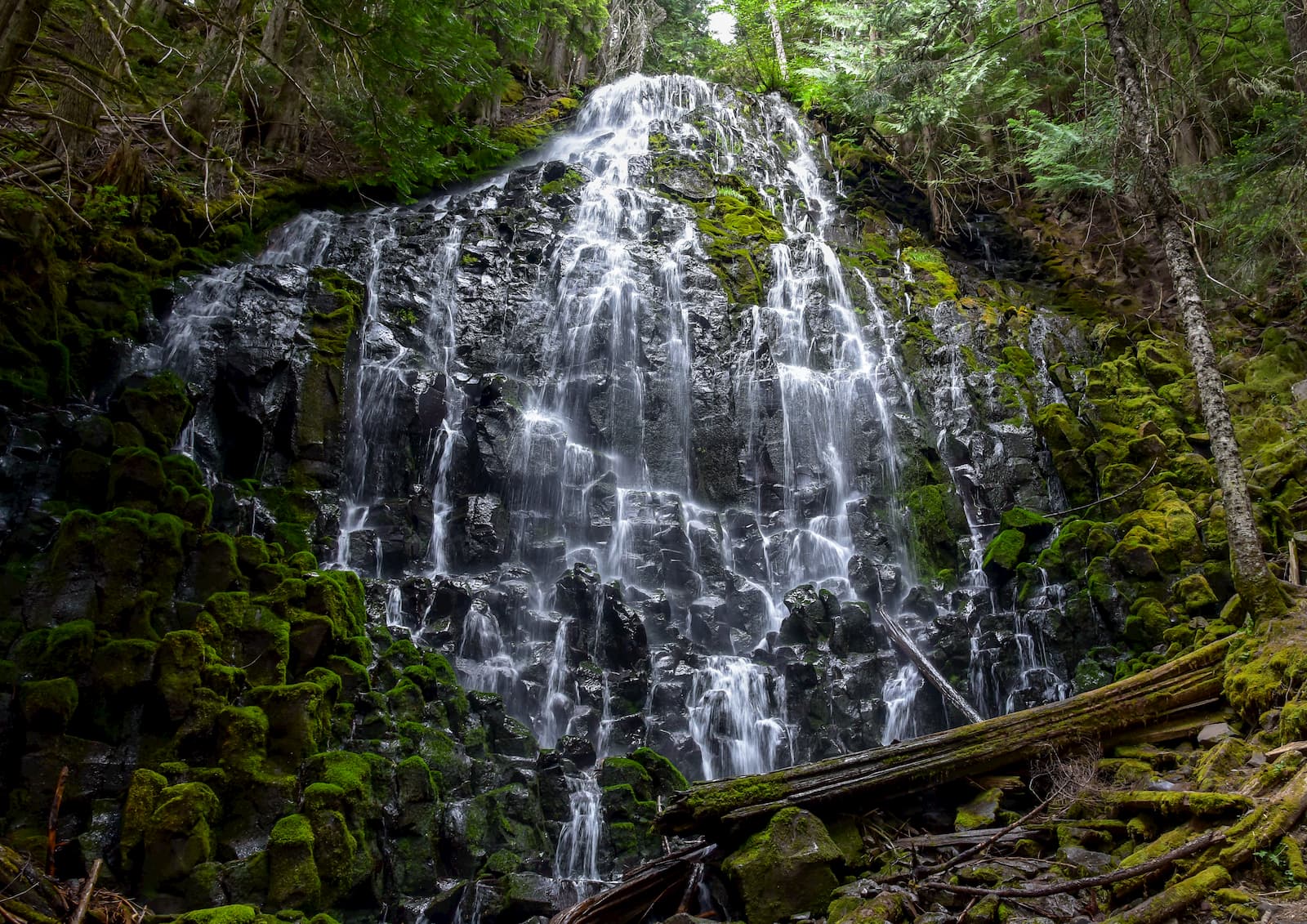 Located on the west side of Oregon's Mount Hood, Ramona Falls is one of the most popular waterfall hikes in the Pacific Northwest. The waterfall is located alongside the Pacific Crest Trail, which hikers can access via a 7-mile round trip hike from the Ramona Falls Trailhead. The trail ascends 1,035 feet and requires a river crossing, so it is safest to attempt this hike in late summer or early fall. The Ramona Falls Trailhead is less than a mile from the Lost Creek Campground, where you'll find 15 campsites with standard amenities like picnic tables, fire rings, vault toilets, and drinking water.
---
This article was brought to you by Banner & Oak.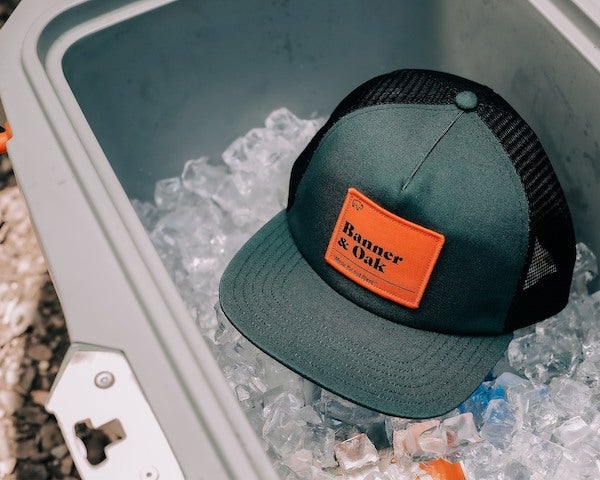 Check out their collection of awesome trucker hats now.
Popular Articles: