Camping is an opportunity to return to the basics. But those basics aren't cheap, if you're trying to take your very first camping trip.
This summer, New Yorkers who have never camped have the opportunity to try it out for free, with all the gear and instruction they need for their first camping trip. That way, they can find out if they enjoy spending the night at a campground, before they invest in the necessary gear to camp regularly.
Campsites will be stocked with a family-sized tent, sleeping bags, sleeping pads, camp chairs, stove, lantern, and firewood.
Even when it's free, that equipment won't do you much good if you don't know how to use it. That's why New York State is also providing first-time campers with camping instruction. Campers will learn how to set up their tents, build a fire, fish, hike, bird watch, and more.
We've all been there. We want to try a new activity but it's not easy to be new at something. We're afraid that our questions are silly, or we don't even know what questions to ask, or we worry that we'll do something that makes it so obvious that we've never done this before. But everyone should have the opportunity to experience the joys and challenges of camping. Which is why we think this program is so very cool. Eliminating barriers to first-time camping trips for families will surely lead to newly discovered family traditions and many memories for new campers.
New Yorkers, will you be on of the lucky first-time campers?
Enter New York State's First-Time Camping Program
The lottery to reserve a weekend in the First-Time Camper Weekend Program is open from May 10-May 13, and it is open to New York residents only. Recipients will be selected at random, and should expect to be contacted within 10 business days of the lottery to finalize reservations.
Enter the lottery here, where you can also take a virtual tour of the participating campgrounds across New York state.
Participating New York Campgrounds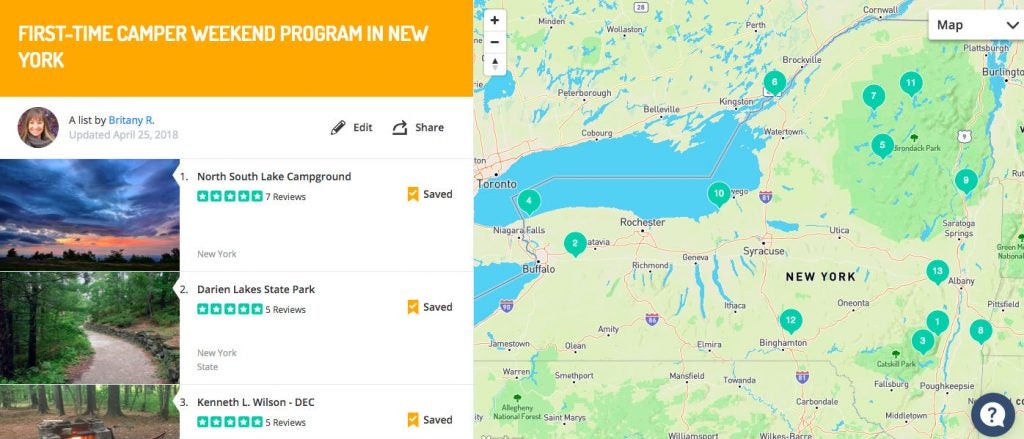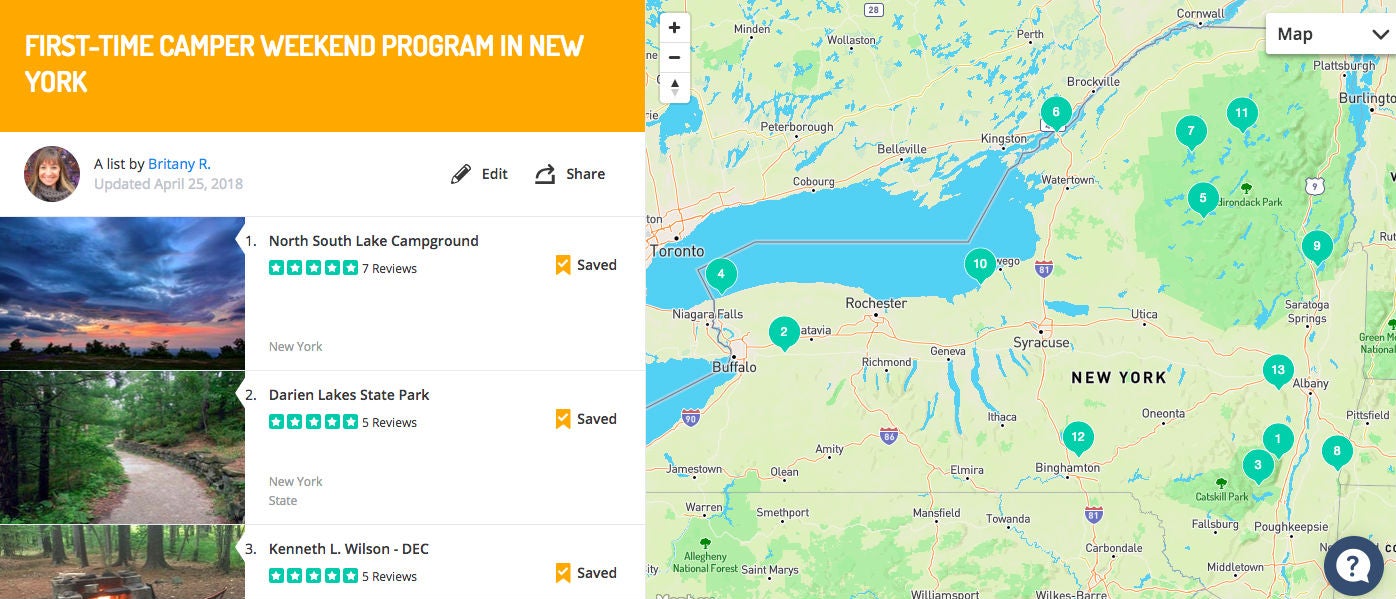 View Reviews + Photos of Participating NY Campgrounds
More Resources for First-Time Campers
We wish this New York-based program could be available to all first-time campers across the country! But here at The Dyrt, we hope to do our part in making camping more accessible by providing helpful tips, camping stories, campground reviews, and photos from campers who have been.
Whether this summer will mark your first camping trip or your fiftieth, you can use The Dyrt to make camping more convenient and more fun. Here are a few ways that we do that:
Also, stay tuned for our May issue of The Dyrt Magazine: The Beginner's Guide to Camping!
---
Related Campgrounds:
Popular Articles: