This North Country Trail article was brought to you by Brunton, the makers of navigational compasses that guide you safely through the backcountry. Brunton's reliable backcountry navigation gear is lightweight, so you don't have to saw off the end of your toothbrush just to include a compass in your thru-hiking gear.
---
The North Country Trail might not be as well known as the Appalachian Trail or Pacific Crest Trail, but it travels through equally storied country.
Picture, for a moment, walking in the footsteps of fur trappers and French explorers from the rugged, worn mountains of upstate New York, made famous in Last of the Mohicans. Next, you pass through the Rust Belt countryside, carved by ancient glaciers. You wind around the shores of the Great Lakes, slipping into the forested land from which Bob Dylan's "Girl From the North Country" hailed. Your feet carry you through the grassy, rolling lake country that inspired radio personality and author Garrison Keillor's beloved fictional town of Lake Woebegon. Eventually, you're thru-hiking the seemingly limitless prairies which in Laura Ingalls Wilder's time, were known simply as Dakota territory.
What the North Country Trail lacks in a huge number of annual hikers, it makes up for in stories— both those of midwestern authors and artists who found themselves inspired by the seven states the NCT passes through, and of the few men and women who have attempted the thru-hike themselves.
The North Country National Scenic Trail, as it's officially known, has one terminus in Crown Point, New York and another in Lake Sakakawea State Park in North Dakota. Along the way, the NCT passes through New York, Pennsylvania, Ohio, Michigan, Wisconsin, Minnesota, and North Dakota, racking up more thru-hiking miles than either the Appalachian Trail or Pacific Crest Trail.  And each and every mile takes you through places which have inspired both great art and daring physical feats.
Why the North Country Trail Is The Next Big Thing In Thru-Hiking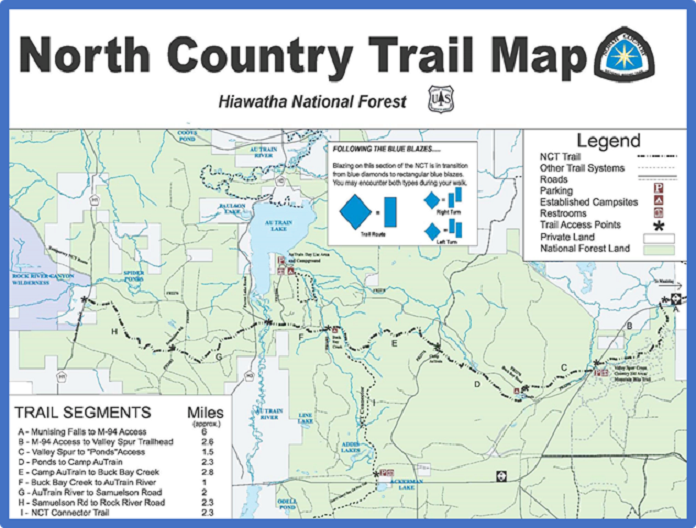 That's not bad for a trail that's less than forty years old—ground was broken on the NCT as recently as 1981. The planning phase goes back further, of course.
2018 marked the 50th anniversary of the National Trails System Act of 1968. The NTSA recognized the Appalachian Trail and Pacific Crest Trail as the first national scenic trails in the country, but set up provisions for even more NSTs to be developed for section and thru-hiking enthusiasts, including the North Country Trail.
There are several things that set the North Country Trail apart from other serious thru-hiking trails besides the length. For one, it's not totally complete yet, and there are still about 1,600 miles to add to its current 3,000 mile span. Now that a route revision bill has finally seen progress in Congress, work can continue after decades of stall-outs, budgetary considerations, and differing levels of support from the seven states the NCT passes through. Once it's complete, the NCT will not only be one of the longest trails in the country, it will also connect to numerous other systems, including the Appalachian Trail, the Ohio Buckeye Trail, and more.
Another unique quality of the NCT is that it can be enjoyed in different ways, depending on the season. In the warmer months, it makes for pleasant thru-hiking. When the fall and winter snow sets in, you can travel the NCT by cross-country skis or snowshoes.
1. New York State North Country Trail
The NCT begins in the Adirondack Mountains (which, incidentally, are still growing at a geologically rapid rate), before curving down to New York's famous Finger Lakes. If you aren't thru-hiking in a hurry or you're tackling the NCT section by section, this is a great time to reward your early progress with a trip to some of the region's great wineries like Fox Run, Damiani, Weimer, Ravines, and Konstantin Frank. You'll want to be careful about where you camp near the Finger Lakes, however, as much of this portion of the trail passes through private land thanks to special easements.
Next up is Letchworth State Park, known as The Grand Canyon of the East, just a short drive from Buffalo's lively music scene and hip Allentown neighborhood. The camping in New York is fairly easy to find, too. In New York State Forests, you're free to practice dispersed camping as long as you adhere to Leave No Trace principles and camp at least 100 feet away from any water source. You can also make use of the forest service lean-tos sprinkled throughout the Adirondacks and along the Finger Lakes Trail.
There is a mix of terrain throughout the New York portion of the NCT, from the stony mountains of the Adirondacks to the relatively easy, level paths adjacent to rivers and canals, originally cleared specifically for towing barges. Fortunately, the going generally gets easier as you work your way out of upstate New York and down towards Lake Erie.
2. Ohio North Country Trail, and Buckeye Trail
The last of the New York section works its way through the Allegheny National Forest before dipping into Pennsylvania for a stretch, then cutting over to join the Ohio Buckeye Trail. Pass through beautiful Hocking Hills, home to the John Glenn Dark Sky Park, spring mushroom foraging, Old Man's cave, and Devil's Bathtub.
The Ohio portion of NCT curves around to Cincinnati and up just short of Toledo on Lake Erie, where the trail enters Michigan. Along the way, you'll encounter the Little Miami River, the oldest National Scenic River in the United States, and even more towpaths along canals. The 919 miles of the Buckeye Trail overlapping the NCT is is a mixture of hills, flat territory and even some of the steepest climbs on the NCT.
3. Michigan North Country Trail
Once you've reached Michigan, the trail gets choppy as hikers must rely on country roads to cross the incomplete portions. You'll want to plan your mileage and camping carefully in southern Michigan. Things get easier north of Lowell, when you'll start to find more dispersed camping again in the Huron-Manistee National Forest.
Don't forget to check out the Birch Grove Schoolhouse in White Cloud, which is owned by the North Country Trail Association. You'll eventually make your way up the western edge of the Michigan mitten, hiking north into the upper peninsula across the Straits of Mackinac. Unless you've carefully timed your thru-hiking schedule to reach the Mackinac Bridge on Labor Day precisely, you'll have to contact the bridge authority to get a ride across.
Here, once you're in the Hiawatha National Forest and Tahquamenon Falls State Park, the North Country Trail begins to hug Lake Superior. This area is more remote than what you'll have just passed through, so make sure to stock up on enough supplies. A safe bet is Coffman Pro Hardware and Camp Supply, a locally-owned outfitter in Mackinac. The reward, however, comes when the NCT overlaps with the 43-mile Lakeshore Trail through Pictured Rocks, a truly picturesque array of blue waters, sandstone cliffs, gentle beaches, and thick foliage. With campsites every 2-5 miles, you can go your own pace here and soak it all in.
Enjoy that last hurrah before another challenging stretch as you push ahead into Michigan's splendid Porcupine Mountains Wilderness State Park. Not only will opportunities to resupply become more limited, the topography gets tougher, too. If you love the backcountry, however, you'll find this an improvement over the lower peninsula. Enjoy true wilderness amongst old-growth hemlocks and majestic waterfalls, not to mention the scenic Black River Harbor and Presque Isle River.
4. Wisconsin North Country Trail
The Porkies, as they are affectionately called, will carry you into Wisconsin. There's some road sections to contend with at first, though you'll certainly want to get the very latest maps before you hit this part of the NCT, as new trail portions are being incorporated regularly. Eastern Wisconsin is punctuated by Superior Falls, Potato River Falls, Foster Falls, and Wren Falls as the trail passes through the sleepy Penokee Mountain Range.
In Chequamegon National Forest you'll find the oldest portion of the North Country Trail and some of the inspiration for the whole seven state stretch. You'll also get a break from so much dispersed camping in Chequamegon with developed campgrounds in Copper Falls State Park.
By the time you reach western Wisconsin, you'll find flatter terrain and more plentiful backpackers' campsites. You'll also have more options for filtered water, and designated backpacker campsites every few miles between Bayfield A to West Mail Road. Pattison State Park also has lovely tent camping sites where you can get comfortable. Take a zero day if you need it, and make a leisurely visit to Big Manitou Falls, the highest waterfall in Wisconsin.
You'll be headed into boggier territory in western Wisconsin, a section of the NCT that necessitates boardwalks and boot liners. Those wetlands aren't without reward, however. Stop in MacQuarrie Wetland preserve to see trumpeter swans in all their glory and the historic Gibson Cabin at St. Croix National Scenic River.
5. Minnesota North Country Trail
The Minnesota North Country Tail leg starts by overlapping with the Superior Hiking Trail. The difficulty level is balanced out by 90 designated backcountry campsites along the way. If you love thru-hiking you might want to try this route through Minnesota ASAP, as there is a proposed route that would cut straight across to the rest of the NCT without cutting up to the scenic Minnesota North Shore. That's a workaround to cope with the undeveloped span between the Kekekabic Trail and the Chippewa National Forest.
Once you get onto the Mesabi Trail, the land gets a little less challenging. There will be occasional road portions for the rest of the Minnesota section, and once again you'll want to carefully check your mileage plan against designated campsites to make sure you're keeping pace to find camping.
You'll make the thrilling transition out of the mountains and lakes you've traversed so far and into the wide open prairie before crossing through Grand Rapids, Michigan. Stop here if you need to resupply or enjoy a little city time. Both REI and Moosejaw have brick and mortar locations there if you need to stock up on fresh boots or backpacking meals. Further down the trail, you'll get back into the rural groove at the Tamarac National Wildlife Refuge, which is home to bald eagles, more trumpeter swans, and golden winged warblers.
6. North Dakota North Country Trail
Minnesota gives way to the Great Plains once you cross over into North Dakota. The rolling hills and stiff winds present a different sort of beauty and rhythm than the first part of the North Country Trail. Find out for yourself why President Roosevelt once said of North Dakota, "It was here that the romance of my life began. It certainly has a desolate, grim beauty of its own, that has a curious fascination for me."
Depending on the length of time you are thru-hiking and when you began, you may need to arrange a supply drop with winter gear. The colder months here are no joke, and you'll have little shelter. Because North Dakota is so sparsely populated and remote, you will also want to plan for supplies, water, and breaks carefully. Once again, it's good to have a navigational compass on hand in case you get turned around. With that in mind, there is a lot to enjoy about this final leg to Lake Sakakawea State Park.
The sections of the North Dakota North country Trail that are friendliest for backpackers and those thru-hiking are Sheyenne National Grasslands, Lonetree Wildlife Management Area, and Lake Ashtabula. You can enjoy a welcome break under the sparse trees and next to North Dakota's lovely rivers.
While you stare up at all that big horizon, consider how close you are to the finish line, and the remarkable feat of Carolyn Hoffman who completed the NCT in 1978, before it was officially designated. She outlasted fellow woman hiker Lou Anne Fellows, as well as several male hikers who got off the trail long before the Midwestern portion. Considering the trail had hardly been established and she was sporting '70s era gear, Hoffman's accomplishment is definitely one for the history books.
7. The End of the North Country Trail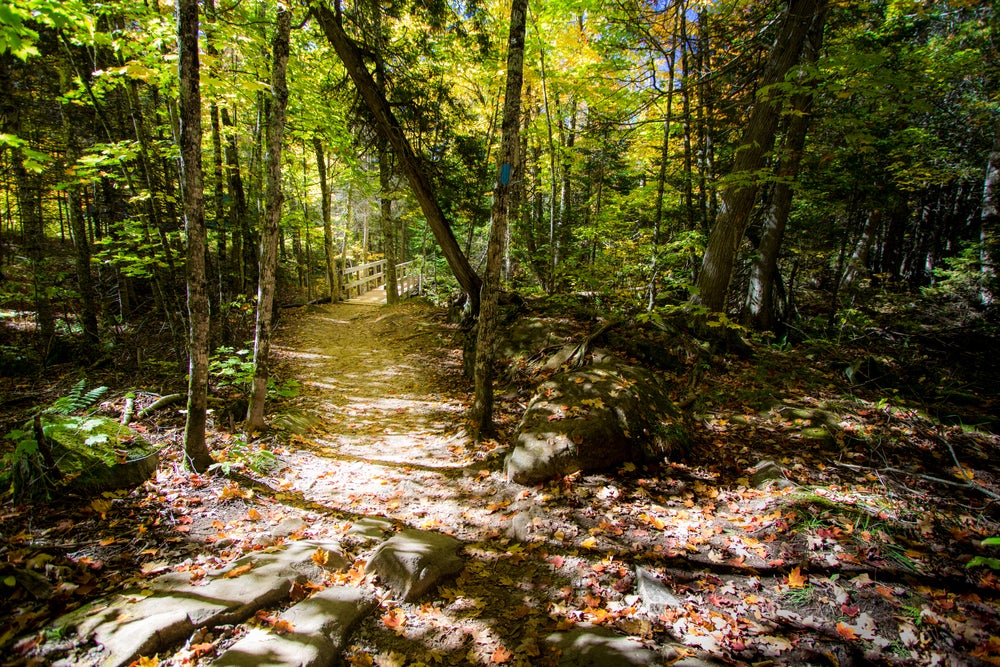 As you come to the end of your thru-hiking experience, we understand completely if you're worn out. If, however, you feel invigorated by the last 3,000 miles and are ready for more, you're in luck.
Knife River Indian Villages, which the NCT passes through just short of the finish line, is where the NCT intersects with the Lewis and Clark National Historic Trail. The Lewis and Clark Trail goes on to follow Lake Sakakawea on up to the Mandan, Hidatsa and Arikara Nation, at which point the trail turns towards Fort Union and the Montana Border.
If you want to turn your New York state to North Dakota hike into a New York to Oregon hike, the world is your Rocky Mountain oyster. You can even go the other direction and follow Lewis and Clark in reverse back to St. Louis. Between your navigational compass and the road signs, you can transition from thru-hiking to finding your way home.
If you've had enough, you can make your way up Highway 8 directly to the Amtrak Stanley Station and catch the Empire Builder. The Empire Builder will either finish Louis and Clark's trek for you by taking you to Portland, Oregon, or down to Chicago where you can return east. Either way, give yourself a pat on the back. Thru-hiking the North Country Trail is no small feat, especially when this trail is still a wild, magnificent work-in-progress.
---
Related Campgrounds
Juniper Campgrounds, Theodore Roosevelt National Park, ND
Camping Near Mackinac Island, Mackinaw City, MI
Fairhaven Camping, Fair Haven, NY
Allegany State Park Camping, Salamanca, NY
Meadowbrook Campground, Ray Brook, NY
Mongaup Pond Campground, Livingston Manor, NY
Turning Stone Campground, Oneida, NY
Buttermilk Falls State Park, Ithaca, NY
Popular Articles: