This article about surfing in Maine is brought to by OOFOS, the makers of extremely comfy slide sandals. The perfect way to help your feet recover after a long day in the water.
---
Maine is often called the last-frontier of surfing in the continental United States. It has a plethora of coastline—both explored and unexplored, as well as multiple local breaks to choose from. The popular breaks are primarily spread throughout southern Maine, while the less populated spots span the north. When surfing Maine comes up in conversation, or a documentary film headline, the first thing people often think about is how cold it is there.
The prospect of surfing Maine is as surprising to people as the idea of surfing Canada or Alaska. Getting in the water in Maine is chilling. The ocean there rarely gets above the 50s (Farenheit). Water in the low 60s is a good, summer's day. Though this is true, the cold water of Maine is a point of interest for thrill-seeking East Coasters. Let's dive deeper into this reason for visiting, among others. Then, we'll explore where to go, when to go, and what to bring on a surf trip to Maine.
Why You Should Try Cold & Beautiful Surfing in Maine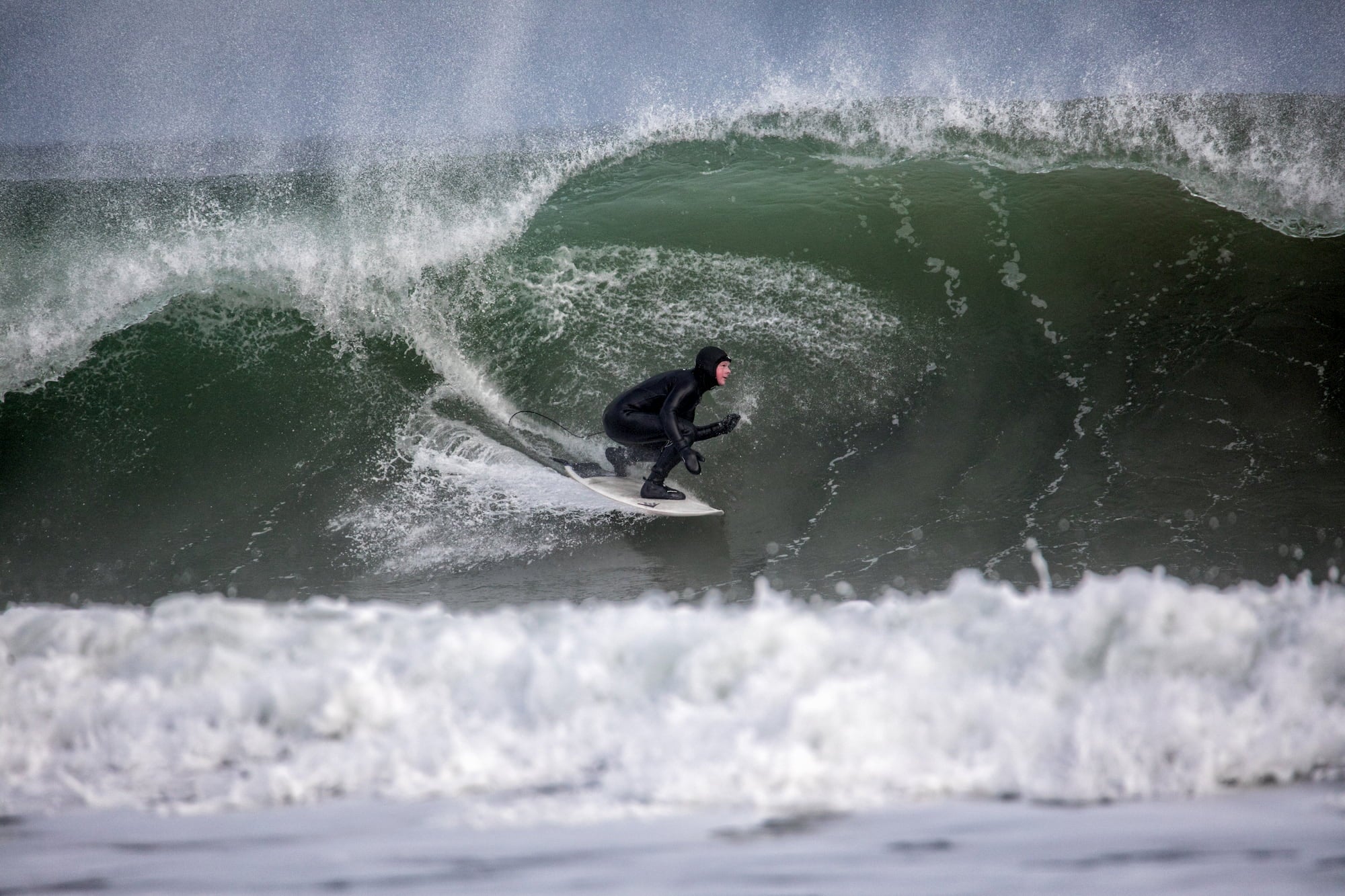 During Fall, the season of good surf in Maine, water temperatures average 48 degrees Fahrenheit, while the air is chilly at around 30-59 degrees. The winter only gets more extreme with water temperatures falling to around 39 degrees. The air is usually below freezing during this time.
In many videos of Maine surfing, there's snow on the ground. Heck, as long as the surf is up, locals can be seen paddling out even with intense winter storms raging.
This type of surfing is actually rather tempting to any thrill-seeking East Coasters out there. Riding waves during a winter storm is an entirely new level of surfing. It takes mental stamina. It takes an interest in surfing that transcends merely paddling out in the comfort of tropical waters or even the waters of Southern California.
Cold water warning aside, the beaches in Maine are very pretty. Many are wooded coves, secluded and preferred by nature-going solitude seekers. Other beaches are lightly traced with picturque homes and the occasional lighthouse. Locations such as the peninsulas of Hermit Island and Winslow Park north of Portland are prime examples showcasing the beauty of Maine.
Like most surf destinations, Maine has its good surf seasons and its flat seasons. During its good seasons, there's consistent swells. Popular spots can become quite crowded with locals keen on tucking-in to the barrel of the day. High, overhead surf is available during some parts of the year. We'll go over the specifics in the guide below.
A Short Guide To Surfing In Maine
To help surfers explore the surf-potential of Maine's coast, we've gathered info on some essential spots to check out, when to go, and some supplies to bring along to ensure a safe, high-quality trip. Let's go!
Where To Go:
Most of the popular surfing in Maine is located in southern Maine between the cities of York and Portland. There are a few specific beaches we recommend for a good surf trip.
1. Higgins Beach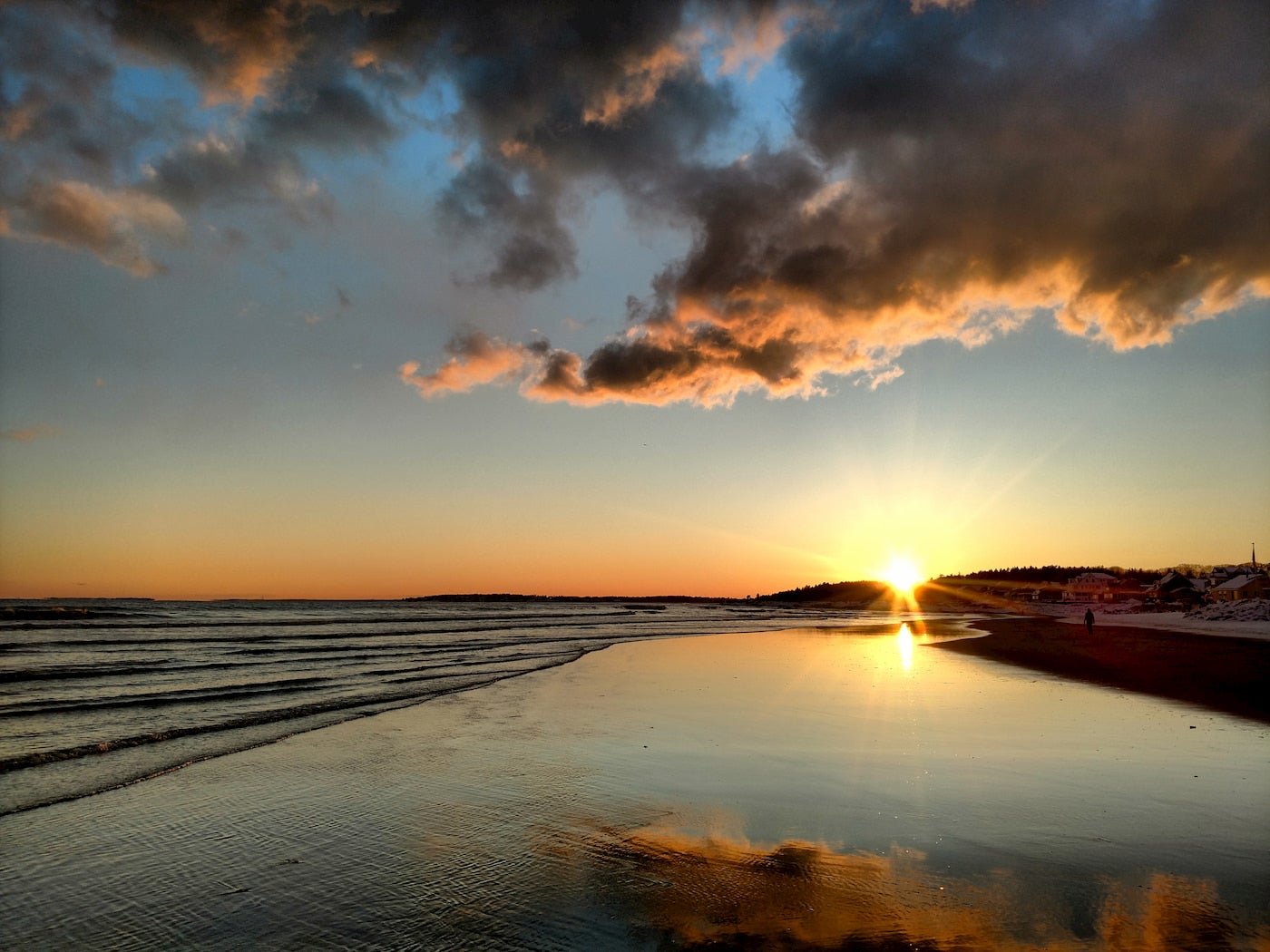 Just south of Portland, Higgins Beach is a beauty. The beach is spacious with plenty of trees and other wildlife to be seen. Being close to Portland, it's a pretty frequented local spot.
When the wind is settled, Higgins proves worthy of producing some rideable lines. Luckily, it's in a cove that protects the break from north winds. Look for south-east swell when visiting. Higgins holds these swells best and produces fairly powerful waves while under their influence. Finally, avoid high tide when visiting Higgins Beach for a surf. The high tides suck the energy from the waves, causing them to roll and flatten out before breaking.
Make sure to check out Bayley's Camping Resort for gorgeous forested camping only 10 miles away from Higgins. There, you can pitch a tent or drive in with your RV. Small cabins are also available.
Just south of Higgins beach is Old Orchard. It contains a small harbor and pier, making it popular for beach-goers of the high season, during late Spring and Summer.
It's also a popular place to surf. This spot can handle high tides a bit better than Higgins Beach, but still try to make it out during low tide. There are some options at this spot. Surfers are presented with the nearby pier to catch waves alongside, as well as a jetty with some notable peaks. It's a beach break (sand) that does best with north-east and south-east swell direction. During intense swells, Old Orchard Beach has been known to see waves of up to 10 feet in size, barreling with the right westerly wind direction.
3. Fortunes Rock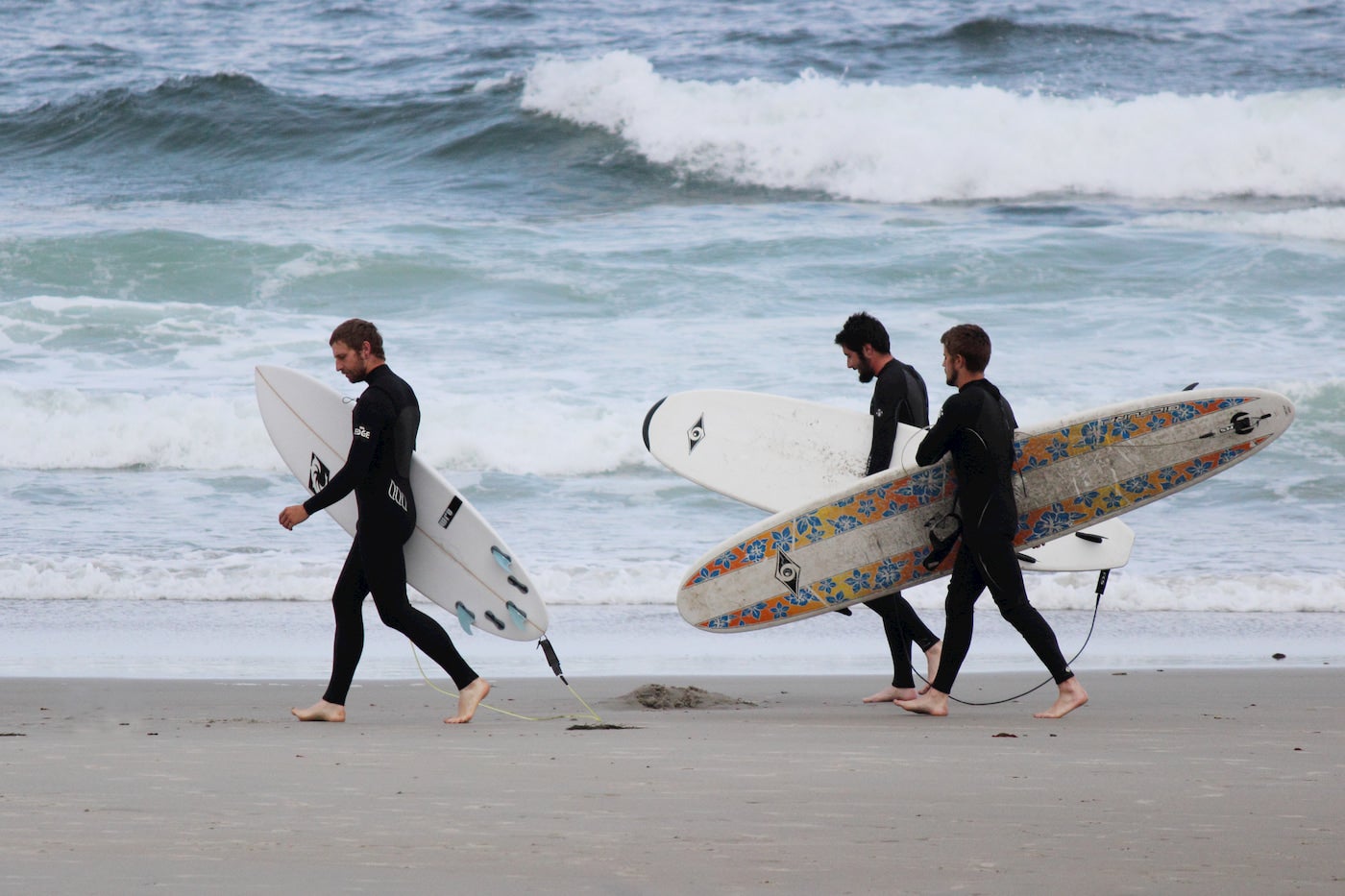 Heading down even closer to York, surfers come across Fortunes Rock. This is a beautiful beach with rocks, tidepools, and some worthy surf, depending on the time of year and swell direction.
The waves at Fortunes Rock work during both low and high tides. The break is steep and quick, barrel-savvy and prone to pounding hard onto shore. Nonetheless it can be a thrilling quick ride, akin to something like The Wedge in Newport Beach on some days. Like Old Orchard Beach, Fortunes Rock breaks peak during north-east and south-east swells. The chances of tucking into a barrel are highest during north-easterly winds, when surfers can see 5-7 foot waves during an ideal offshore swell.
Sandy Pines Campground provides absolutely stunning camping just 4 miles away from Fortunes Rock. Cabins, tent camping, and RV camping are all available.
When To Go
Fall and Winter are the best bets for scoring big, chilly, rideable surf. But we think Fall is especially ideal. It's during Fall when it's not overly cold, and the Summer dribbling waves finally lift from the northeastern swell. The water becomes more populated during this time—but with good reason. Everyone is excited to see the flat Summer burn off to be replaced by early hurricanes and those northeasterns from the Great Lakes or Carolinas. And again, it's not overly cold. Surfers can survive in a 3/2 until late-October. But soon after that, surfers will need a 4/3, booties, gloves, and a hood. More details on that later.
Spring is also an okay time to paddle out in Maine, especially early Spring. It is then when some of the heavy, warming gear begins to peel off for the inviting Spring sun. But soon enough, the waves die-off for another flat Summer. So make sure to get out there early enough!
What To Bring
Arriving prepared for cold waters is an essential aspect of surfing in Maine. In the chill of the north-eastern coast, there's risk of hypothermia and even frost-bite. Here's a short list of useful things to pack in the car for a surf trip to one of Maine's beaches.
Bring a wetsuit that's fitting for the time of year. If it's Winter, wear a 4/3 or even a 5/4.
Bring a hood, booties, and gloves to wear in the water. Wearing only a wetsuit in cold waters can seriously put hands, feet, and head at risk.
Make sure to bring cold water wax. Cool or warm water waxes harden too much and smooth out under the intensity of cold water.
Bring room temperature or warm water for after surfing. This will help warm up bodily extremities after cold exposure. Avoid putting freezing hands and feet under heat too quickly. It will hurt. Put cold extremities in room temperature first.
---
This article was brought to by OOFOS

Popular Articles: