This list of RV parks in Arizona for snowbirds is brought to you by GCI Outdoor, the industry standard for camping chairs of all kinds. From rocking chairs to stools and ultra-lightweight options, they have a camping chair for everyone.
---
It's November, and that means the sun is spending less time shining and snowbirds are flocking south to catch some southern sun to stay warm in the shoulder season. Arizona, with its 70-degree winter days, is one of the most popular snowbird destinations, meaning RV parks in Arizona expect to see a boon to attendance between October and April. But not all RV parks are created equally, and snowbirds prioritize amenities and creature comforts above all else.
The 70-degree winter days draw retirees to Arizona RV Parks. But an RV park that they can call 'home' is what keeps them coming back, year after year. Maybe you need an RV park that's dog friendly, with laundry on-site and utility hookups available. Maybe a 55-and-over RV park is more your speed. No matter what you're looking for, these RV parks in Arizona for snowbirds should have you covered.
If you need some help planning your trip, we recommend The Dyrt PRO, which allows you to downloaded maps and campgrounds to use offline.
The Best RV Parks In Arizona For Snowbirds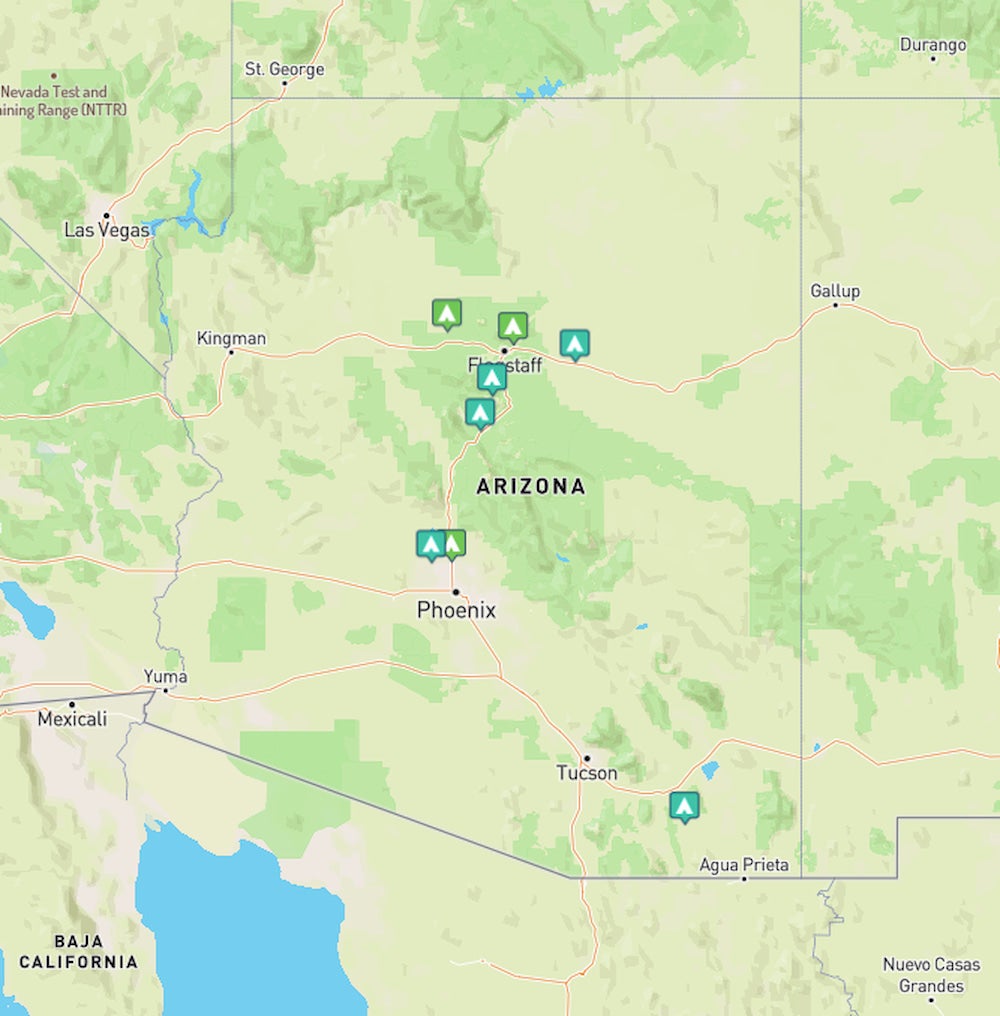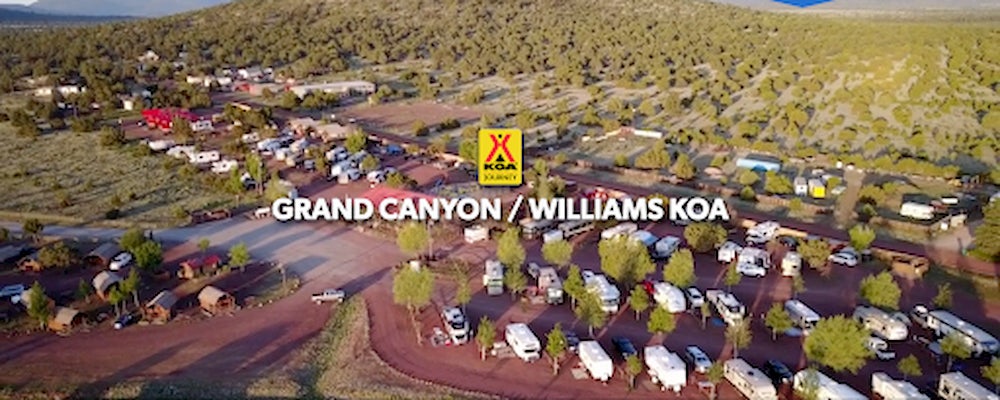 As you may have gleaned from the name, this RV park is a great spot for Grand Canyon visitors. It is actually the closest KOA park to the Grand Canyon. And as one reviewer mentioned, it's an ideal spot for RVers because "this campground is only two blocks from Route 66, right near downtown Williams, and of course, is a short distance to the Grand Canyon." Another review on The Dyrt praises the overall amenities at the park: "The store had souvenirs and basic needs…bathrooms were clean and the pool area was nice. This is a perfect stop to do everything you want at the Grand Canyon."
Amenities:
Open year-round
Vehicles up to 65 ft
30 & 50 amp hookups
Water & sewer hookups
Free cable TV
Wi-fi
Indoor swimming pool
Hot tub
Pet friendly
On-site pet 'resort'
Laundry facilities
Showers
Convenience store
Horseshoes, basketball, and volleyball courts
Long term stays:
Yes, but stays longer than 27 days require phone reservations
Prices vary based on RV size and the hookups you require
---
Want to explore even more of the southwest? The Dyrt has hundreds of campgrounds in Arizona, and with The Dyrt PRO, you can download campgrounds, maps and photos for offline use.
---
Located smack-dab in the middle of the state, Distant Drums RV Resort is a great homebase for Arizona snowbirds. The park has easy access to some of Arizona's most popular cities; just 24 miles south of Sedona, 40 miles east of Prescott, and less than a two-hour drive to downtown Phoenix. Guests at Distant Drums often praise that driveability, as well as the value for money. Your reservation price at any of the park's 157 RV sites includes full water, sewer, and electrical (30 & 50 amp) hookups, plus cable TV, and WiFi. All park guests also get free access to their heated pool, spa, exercise room, community room, and shuttle service to the nearby casino.
Amenities:
Open year-round
30 & 50 amp hookups
Water, sewer and electric hookups
Free cable TV
Free WiFi
Heated pool & spa
Fitness room
Pet friendly (& spacious dog run area on-site)
Paved Roads
Private showers
Market/convenience store
Free shuttle to nearby casino
Long term stays:
Yes, they offer weekly and monthly rates (price includes cable TV, water, sewer, electricity & WiFi Hotspot
Monthly reservations must be made over the phone
The Flagstaff KOA campground is a peaceful destination set at 7,000 feet above sea level. The park's incredible location is certainly one of it's biggest selling points. It sits right off of the Historic Route 66, about six miles outside of downtown Flagstaff. It is less than an hour drive from Sedona's famous red rock landscape, just an hour and fifteen minutes from Grand Canyon National Park, an hour and a half from the Painted Desert and the Petrified Forest National Park, and a mere 45 minutes from Meteor Crater. (Oh, and it's less than four hours from Las Vegas too.) It's an ideal homebase for snowbirds wanting easy access to sightseeing day trips.
Let's let one of The Dyrt's reviewers, in this case Tonya, tell us why she loved the time she spent at this family friendly spot. Tonya gushed that "there are a lot of good things about this campground with very few drawbacks. Staff was very friendly on check in. We loved that they named the "streets" and labeled them. It made finding our campsite very easy. It was a very clean facility and quiet as well. Access to flagstaff is great as well. Beautiful campsites. The kids loved the jumping pillow and playground."
Amenities:
Dog friendly + on-site dog park
Wi-fi
Water, sewer and electric hookups
Cable TV
Playground
Fully stocked store
Showers
Picnic tables
Wheelchair accessible
Jumping pillow (pictured above)
Long term stays:
Yes, but stays longer than 27 days require phone reservations
Prices vary based on RV size and the hookups you require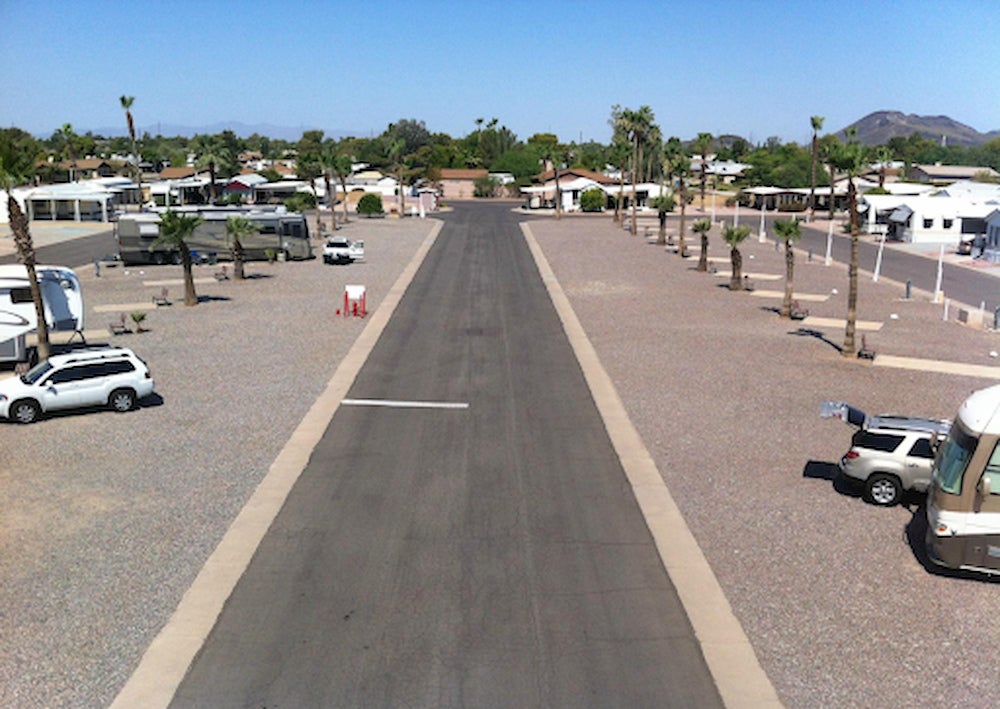 This is a powerhouse of an RV park. So much so, that they have labeled themselves an "RV resort". You'll understand why they promoted themselves to a resort after you see the sheer size of this place, and get a glimpse of their seriously impressive amenities list. This really is a snowbird paradise.
Amenities:
638 spots!
75ft pull-thru RV spaces
30 and 50 amp hookups
Indoor pool & jacuzzi spa
Multiple clubhouses
Full hookups (water, sewer and electric)
Wi-fi
8 Billiards tables
Full laundry facilities
Exercise classes
Shuffleboard courts
Horseshoes & bocci ball
Library
Long term stays:
Current winter rates (12/1/19 – 2/19/20)

38′ RV and under — $745 + tax
39′ RV to 42′ RV — $775 + tax
43′ RV and over — $805 + tax

Monthly rates depend on RV size and include water, sewer and trash. Electricity is extra.
Rancho Sedona RV Park has one characteristic that sets it apart from other RV parks in Arizona for snowbirds — a feature nearly unheard of in Arizona — it's completely shaded! Grand sycamores and cottonwood trees cover the grounds of this RV park. The trees create a cool, tranquil setting that doesn't fit with the Arizona stereotype. Plus, the park has all the creature comforts you could ask for, including a fenced dog park for your four-legged friends.
Amenities:
Open year-round
Dog friendly with fenced dog park
Free wi-fi
Cable TV
Water, sewer and electric hookups
Concrete patios
Laundry facilities
Showers
Volleyball court
Field area for recreation
Long term stays:
Yes, there are designated sites with monthly rates of $850, plus cost of electric.
Adults only policy for these monthly sites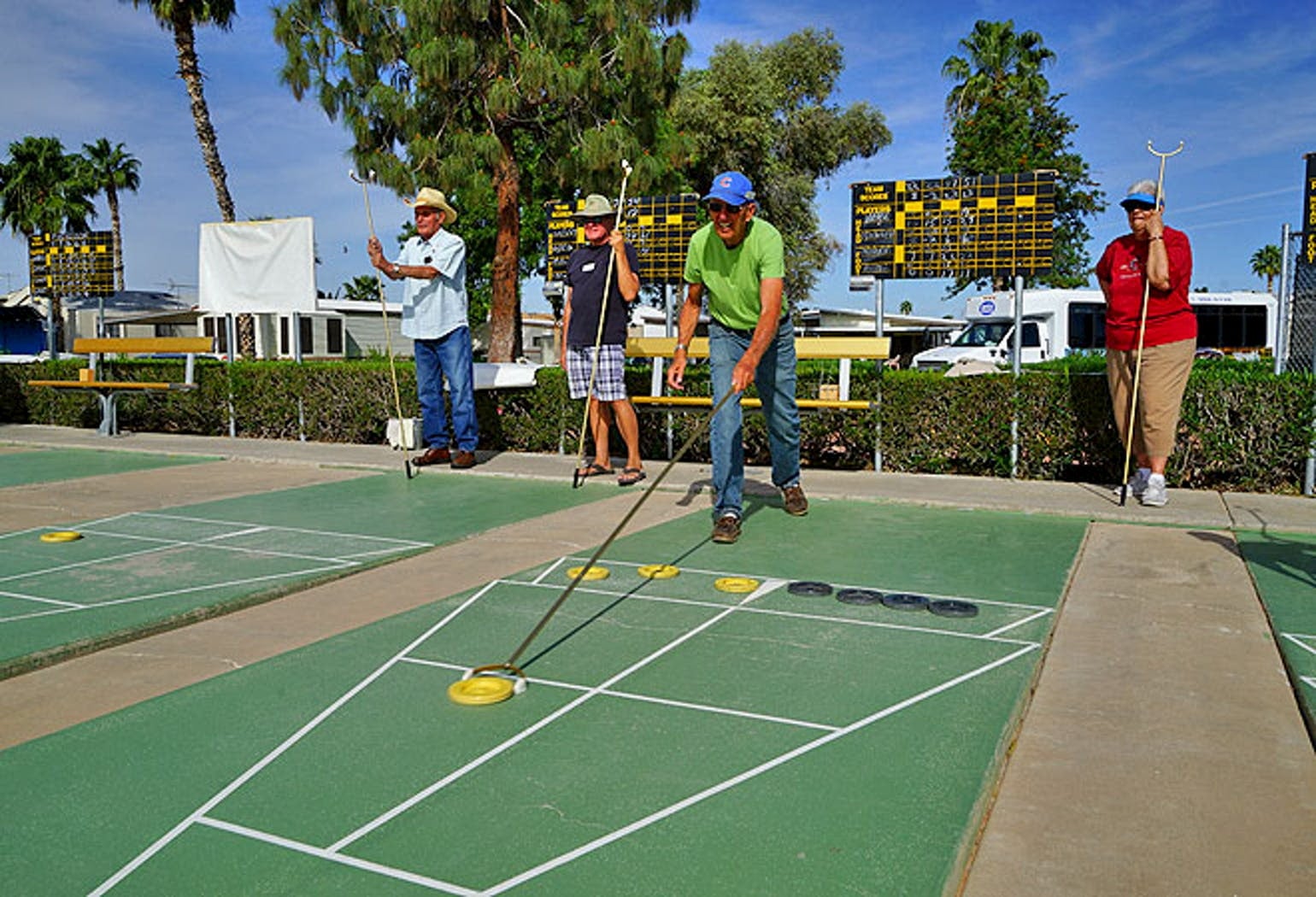 The third RV "resort" on this list certainly lives up to the name. There are nearly 1,000 RV sites in this age restricted (55+) community. There is also about 1,000 different amenities and activities available to guests. As one Dyrt reviewer puts it, "This is not a traditional campground in any way – it is a beautiful, amenity filled and active adult activity park of a five star level." So, without further ado, let's get to that amenities list.
Amenities:
55+ resort
Clubhouse
Pets allowed + Dog park
Water, sewer and electric hookups
Library
Swimming pool
Hot tub/spa
Full laundry facilities
Game/billiards room
Ballroom/banquet hall
Restaurant
Pickleball, volleyball, & tennis courts
Shuffleboard
Mailboxes/mail center
Plus a slew of different activities and clubs (exercise classes, woodcarving, silversmithing, sewing, bowling, scrapbooking, bicycle club, ceramics, golf league, and many more)
Long term stays:
Yes, monthly rates are available (~$850). Water and electric included.
Prices vary based on RV size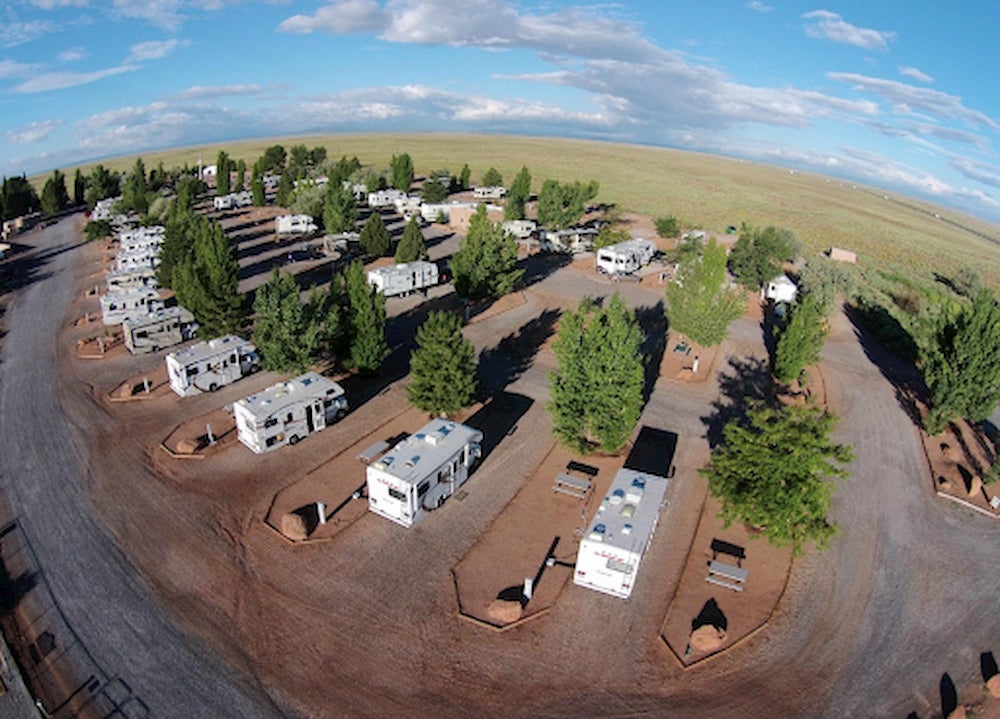 Sitting at an elevation of 5,300 feet, this is truly a mile-high campground, and one of the best RV parks in Arizona for snowbirds. The impressive elevation of this RV park, coupled with it being 40 miles from the nearest city (Flagstaff), means that guests are guaranteed to see some incredible night skies during their stay. Plus, it is just a 5-mile drive to the Meteor Crater visitor center, which claims to be the best preserved meteor impact site on Earth. Kathi's review on The Dyrt covers the park's overall highlights and it's great location. "We wanted to see Meteor Crater, so this was the perfect stop. We were very pleased with the campground. It was literally right off the I 40, but you can't really hear the freeway. The grounds are spotless, as were the showers and laundry area. There are two dog runs right on site too. The store has the basics and souvenirs. The owners run a tight ship, so it was quiet all night and day."
Amenities:
Open year-round
Water, sewer & electric hookups
Child & pet friendly
Two dog areas
Convenience store
Gas & diesel available on-site
Free wi-fi
Free coffee
Picnic tables
Recreation/game room
60ft RV length limit
Laundry facilities
Showers & restrooms
Long term stays:
Yes, long term stays are available on demand
Call or fill out a form on their site for exact pricing
Tombstone RV Park sits just half a mile outside the city of Tombstone, in the southeast corner of Arizona. Tombstone is a well-known frontier town that is most famous for being the site of the fabled "Gunfight at the O.K. Corral". Guests at Tombstone RV Park can take a free shuttle into town to watch the historic reenactment performances that occur multiple times each day. The RV park also offers easy access for day trips into Mexico, with two border crossing options within an hour drive. The park itself has an impressive list of amenities that make it a comfortable long-term destination for those snowbirds that are flying as far south as they can.
Amenities:
Open year-round
30 and 50 amp hookups
Water, sewer and electric hookups
Heated pool
Rec hall with ping-pong table and full kitchen for group use
Free WiFi
Pet friendly (with fenced dog run area)
Ice and propane available on-site
Picnic tables & grills
Horse corrals available for rent
Free shuttle to and from Tombstone
Long term stays:
Yes, the $330 monthly rate for two adults, includes water and septic use (electricity is billed per kilowatt hour)
Always call ahead for long-term reservations
---
This article was brought to you by our friends at GCI Outdoor.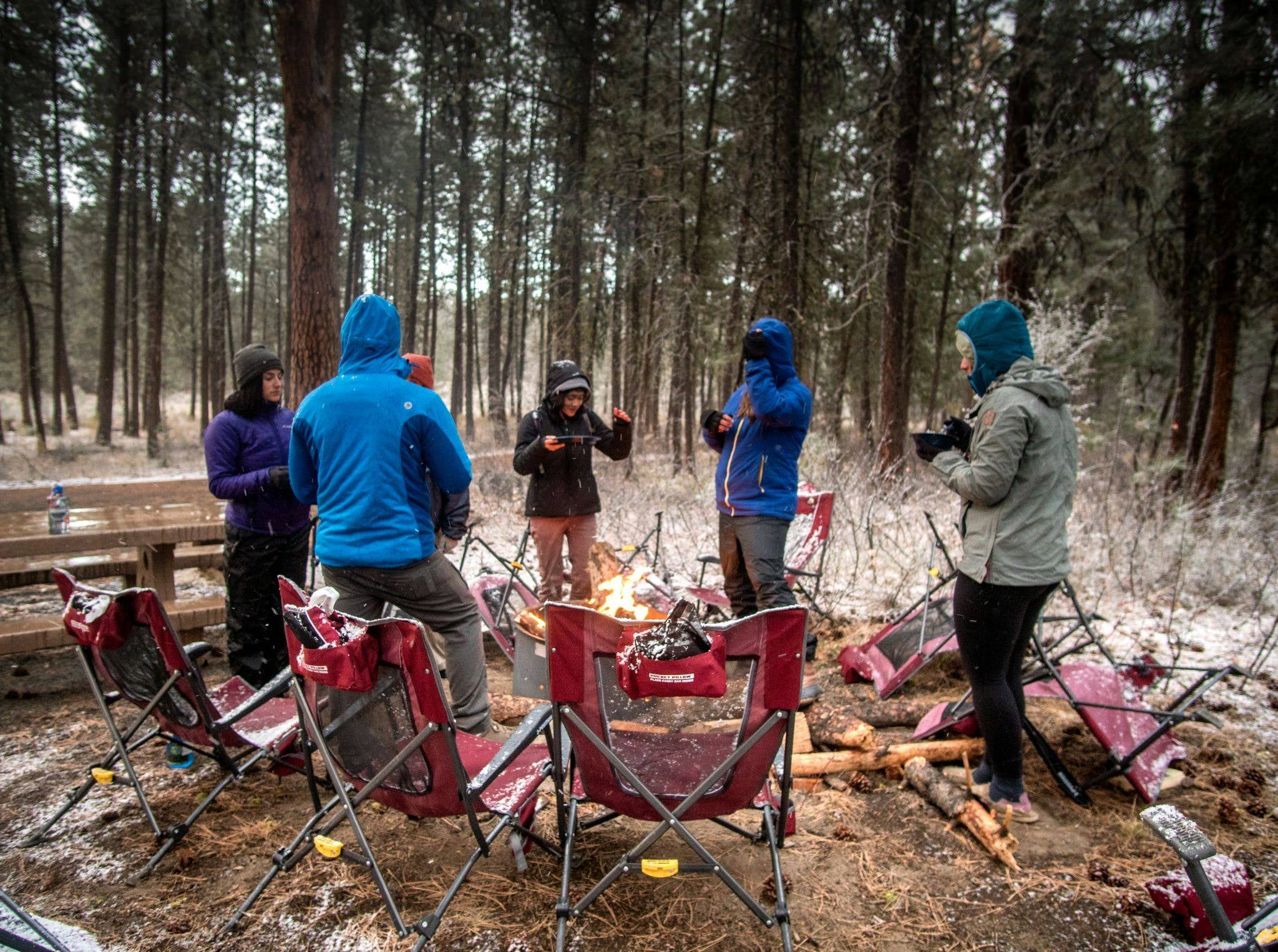 Check out their camp chairs before your next RV Adventure!
---
Related Articles:
Popular Articles: