Every type of camper can find their perfect getaway in North Dakota state parks. Here are 13 to help you discover how much there is to love about The Peace Garden State. 
---
Theodore "Teddy" Roosevelt once said, "I never would have been President if it had not been for my experiences in North Dakota."
His love of the virtuous character and rugged terrain of the state shaped his commitment to preserving the wild places of the United States. Indeed, North Dakota today is home to a National Park Service (NPS) site named in Teddy's honor—Theodore Roosevelt National Park. And, while the state has just one national park, North Dakota state parks span the land from top to bottom.
13 North Dakota State Parks You Must Visit
Each of the 13 North Dakota state parks offers a unique reason to plan your next camping trip. North Dakota state parks provide an array of opportunities depending on what campers are looking for—from journeys through history to a long day on the lake.
The list below covers North Dakota state parks from west to east. Use these tips to help pick which North Dakota camping destination is right for your next adventure. Discover what makes North Dakota camping legendary.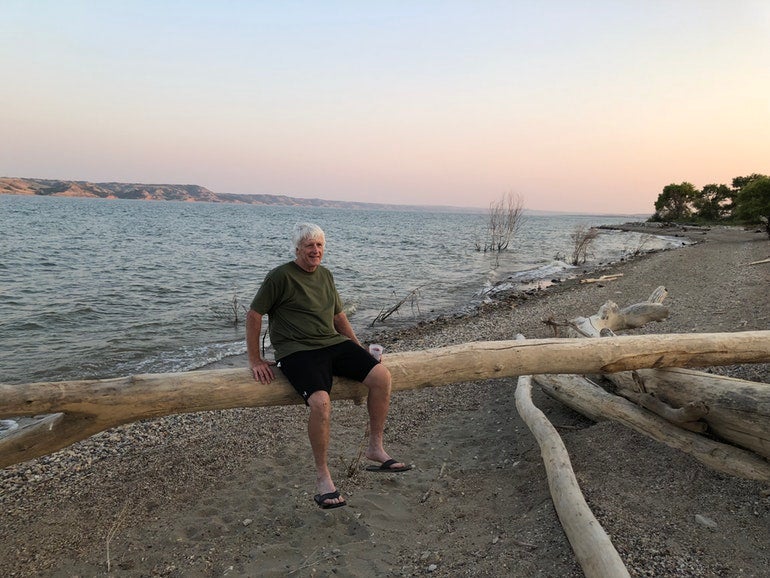 Lewis & Clark State Park is located on one of Lake Sakakawea's upper bays. Within this 490-acre park, visitors can enjoy the contrast of the lake's fluid beauty as it meets the rough surrounding buttes of the North Dakota badlands. It is known as one of the best recreation areas among the North Dakota state parks.
This park is great for campers who want to:
Hit the Water
Lake Sakakawea is 479 square miles of boating bliss. The park's marina offers fuel and septic pump out services on the water for motorboats, and kayak and canoe rentals throughout the summer. Two rare fish species, the pallid sturgeon and paddlefish, can sometimes be found in this western stretch of the lake.
Play Birder or Botanist for the Day
From spring through fall, wildflowers speckle the mixed-grass prairie—white asters, bluebells, blazing stars, and torch flowers, just to name a few. Use the park's checklist to spot as many as you can. The diversity of plants in the area also attract a variety of birds, including robins, towhees, and catbirds.
Hike through History
Trails through wooded ravines, badlands, and prairie communities are available in this park where Meriwether Lewis and William Clark camped with their Corps of Discovery expedition on April 17, 1805. Visitors can find interpretive markers within the park to learn more about their journey.
Camp Here
---
Sully Creek State Park is located three miles south of Theodore Roosevelt National Park in the heart of North Dakota's badlands and alongside the 274-mile long Little Missouri River. The park is open from April 1 to November 30 each year.
This state park is perfect for campers looking to:
Travel with their Horse
The park provides corrals for campers traveling with their own horses and offers a loop in the campground called "Little Muddy Breaks" designated for horse campers only.
Embark on a Short Thru-Hike—or bike, or ride!
This North Dakota state park includes a trailhead for the 120-mile long Maah Daah Hey Trail, which travels through the Little Missouri National Grassland. The trail is open for hikers, mountain bikers, and horseback riders.
Explore a Historic Western Town
This park is just over two miles south of the historic town of Medora, North Dakota. French nobleman, Marquis de Mores, founded the town in 1883 along the transcontinental railroad. Today, the town includes shops, museums, carriage rides, and even the North Dakota Cowboy Hall of Fame.
Camp Here
---
Also located in the western badlands area of North Dakota, Little Missouri State Park offers a picturesque view of the mouth of the Little Missouri River meeting Lake Sakakawea. It's located 19 miles north of Killdeer, North Dakota.
This is the right park for campers interested in:
Getting Away From it All
The park offers primitive facilities and the majority of the land is accessible only by foot or horseback. Over 47 miles of trails allow hikers to see what the Sioux refer to as Mako Shika, meaning "where the land breaks," at some of the most beautiful portions of the North Dakota badlands.
Spotting Wildlife
Given its more remote nature, the park offers frequent wildlife sightings, including mule deer, coyotes, foxes, bobcats, and golden eagles.
Hopping on the Killdeer Mountain Four Bears Scenic Byway
This 64-mile route takes travelers through the culture and history of both the land's indigenous peoples, including the Mandan, Hidatsa, and Arikara tribes, as well as the more modern cowboy and rodeo scenes.
Camp Here
---
Located on the north shore of Lake Sakakawea, Fort Stevenson State Park is a water-focused recreation area with many amenities. The park's namesake operated in the 1800s as a supply depot for military posts in the Dakota Territory.
This is the park to be in if you're keen on:
Eating all of the Walleye
Fort Stevenson State Park is known as the "Walleye Capital of North Dakota," and is home to the North Dakota Governor's Walleye Cup, the state's premier annual fishing derby.
Celebrating those who have Caught all of the Walleye
The park is just five miles south of the North Dakota Fishing Hall of Fame, honoring those who have excelled in sportfishing within the great state.
Having an Easy Lake Day
With two marinas, Fort Stevenson State Park offers all you need for a lazy lake day all within easy reach. Amenities include: gas, sewage and pump out services, rental boats, canoes, kayaks, and SUPs, food, bait and tackle, camping gear, boat storage, fish cleaning stations, and more.
Camp Here
---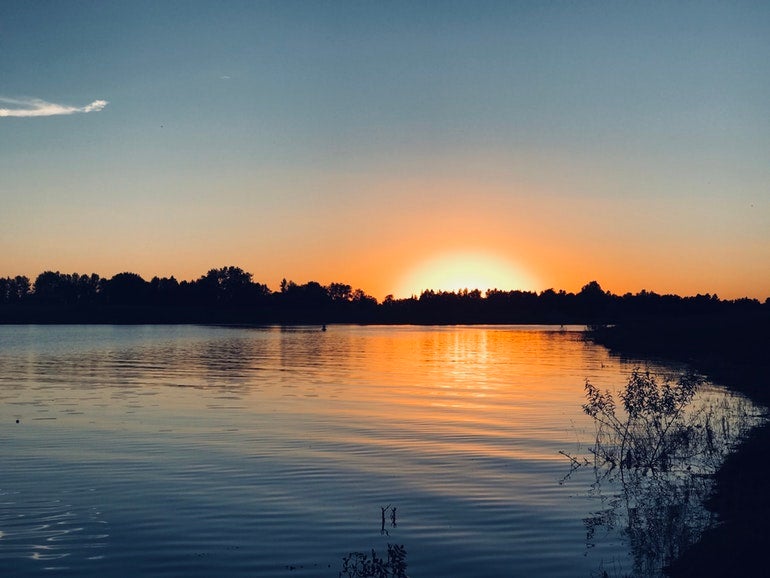 Lake Sakakawea State Park is located on the southern shore of the lake. It is named for Sakakawea (also written Sacagawea), the Lemhi Shoshone woman known for helping Lewis and Clark on their expedition into the West. It offers modern facilities, as well as breathtaking sunsets.
This state park is a good option for campers who would like to:
Go Deep Water Fishing
Two large boat ramps allow access to deep water areas for some of the best salmon fishing on the lake.
Congress authorized this long-distance trail in 1980. It travels over 4,600 miles from upstate New York to its western terminus in Lake Sakakawea State Park. It's perfect for day hikes or multi-day adventures to explore the North Dakota landscape.
See the Garrison Dam
Lake Sakakawea is the third largest man-made lake in the United States, covering a surface area of around 368,000 acres. The Garrison Dam, built by the U.S. Army Corps of Engineers in the 1950s, stretches over two miles long. It is the fifth largest earthen dam in the world.
Camp Here
---
Cross Ranch State Park was established specifically for natural beauty. This North Dakota state park is located along seven miles of some of the last free-flowing, undeveloped shoreline of the Missouri River.
Campers headed to this state park will be able to:
Get Wild
The park has a primitive campground but also allows visitors to hike into its backcountry to find a camping spot.
Embrace Winter
Extensive trail systems cover the park's 5,000-acre nature preserve and are perfect for cross-country skiing or snowshoeing. Rentals of each are available onsite.
Listen to Bluegrass
The Bluegrass Association of North Dakota holds its annual Missouri River Bluegrass Festival at the park each June, as well as a few smaller events throughout the year.
Camp Here
---
Seven miles south of Mandan, North Dakota is a slice of the American West's history. Fort Abraham Lincoln State Park was once an infantry and cavalry post, as well as home to the Mandan Native Americans from the late 1500s through the late 1700s.
This North Dakota state park that is great for:
History Fans
Visitors can tour reconstructed historic structures that were a part of the old military post, including the house of Lt. Col. George Armstrong Custer. Interpretive programs are also offered through On-A-Slant Indian Village, which includes reconstructed "earth lodges," year-round shelters used by the Mandans.
Visitors to North Dakota's State Capitol
The park is about a 20-minute drive from the state's capital of Bismarck.
Families
The park's campground has modern amenities, including picnic sites and playground equipment. It's within a close drive to Raging Rivers Waterpark and the Dakota Zoo.
Camp Here
---
This North Dakota state park, once home to several Native American tribes, gets its name from the Chippewa phrase: metigoche washegum, or "clear lake surrounded by oak trees." Lake Metigoshe State Park shares a border with Canada and has the largest acreage of wilderness out of all 13 of the North Dakota state parks.
This state park is for campers who want to find:
Year-Round Exploration
During the summer months, visitors can enjoy fishing for northern pike, walleye, and perch. Come autumn, the rolling hills and aspen forests are the perfect backdrop for outdoor photographers. With over 250 miles of groomed trails, winter brings snowmobiling, ice fishing, skiing, sledding, and skating. Spring invites hikers along the Old Oak Trail, a National Recreation Trail that runs through the park.
The Unexpected of North Dakota
While many may think of North Dakota's landscape as prairies and badlands, this state park brings another world with its wetlands, woodlands, and hillsides.
The International Peace Garden
This 2,300-acre garden crosses the U.S. and Canadian border, celebrating peace and friendship between the two countries. The garden includes over 155,000 flowers, as well as two freshwater lakes, several scenic hiking trails, and a handful of sculptures and other symbols of peace. Visitors are often moved by the tranquility they find in the garden.
Camp Here
---
Devils Lake is the largest natural lake in North Dakota. The lake is a closed drainage basin that can have large fluctuations in water levels, including a 25-foot rise over the past decade. It's also home to this 1,122-acre state park located on its western side.
Graham's Island State Park is a great option for campers who:
Love the Island Life
As the name suggests, this state park in located on a large island in the middle of the lake. It is made accessible to campers via a scenic drive over a bridge.
Enjoy Ice Fishing
The park is home to many fishing tournaments throughout the year, and is known for having some of the state's best ice fishing.
Get Excited for Fall Foliage
Shades of yellow, orange, and red are abundant in the woodlands around Devils Lake throughout autumn. Paired with a lakeside sunset, it's a scene that's tough to beat.
Camp Here
---
Beaver Lake State Park is the result of people coming together to advocate for the land being set aside for conservation and recreation. It was built in the mid-1930s as a Works Progress Administration project, which is honored with a stone monument in the park.
Today, the park is perfect for campers who want to:
Take it Easy
The park's hiking trails are ideal for leisurely strolls, and sitting lakeside offers time for peace and reflection.
Keep Their Options Open
Not sure if you want to camp in a tent, RV, or cabin? This park offers all three options, including three cabin rentals and 25 electrical sites. Those opting for time in the tent will still find comfort with the onsite hot showers.
Spot Waterfowl
The park provides habitat for around 25 species of shorebirds, wading birds, and waterfowl. You can use the park's handy guide to identify each of them.
Camp Here
---
Located in the northeast corner of the state on Lake Renwick, this North Dakota state park is part history, part recreation, and part natural beauty. Icelandic State Park offers visitors a chance to catch some shade under one of its old oak trees, or explore the Tongue River.
In particular, the park is a great option for campers looking to:
Learn about Homesteading in North Dakota
The park includes the Pioneer Heritage Center, as well as the Gunlogson Homestead and other restored historic buildings.These cultural elements give travelers an opportunity to learn about the state's pioneer spirit.
Catch a Round of Golf
Take some time to walk the greens at the nearby Cavalier Country Club, a 9-hole course overlooking Lake Renwick.
Go Swimming
The park has one of the best swimming spots in North Dakota, including a sandy beach shore. It's a perfect spot for a swimsuit-all-day kind of day.
Camp Here
---
A thirty-minute drive west from Grand Forks, North Dakota will put you in the breathtaking forested valley of this state park. Turtle River State Park was constructed in the 1930s as one of President Franklin Delano Roosevelt's New Deal programs. In tribute, the park includes Civilian Conservation Corps interpretive exhibits and displays.
Turtle River State Park offers many options for campers, including:
Fly Fishing
The Turtle River is a rainbow trout-filled, meandering river that is home to North Dakota's only fly fishing stream. Fishing gear is available for children at the park's office.
Mountain Biking
Within the park's 10 miles of trails, are scenic, but challenging singletracks designated for mountain bikers.
Geocaching
Each year, the park updates its geocaching games, making for a fun outdoor adventure for the whole family. Use your cellphone or another GPS device to go on a little treasure hunt throughout the park.
Camp Here
---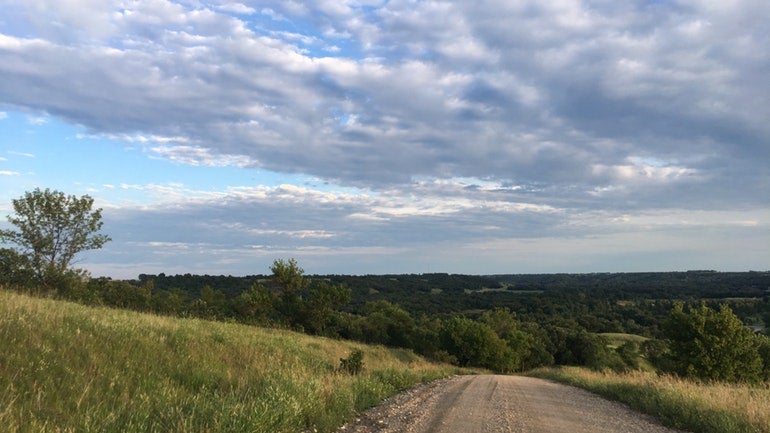 Fort Ransom State Park is located on the Sheyenne River Valley National Scenic Byway and was opened in July of 1979 as a natural and scenic area. The landscape is heavily wooded, making for a picturesque scene when combined with the winding Sheyenne River.
Campers visiting this North Dakota state park will enjoy:
Canoeing the River
Canoe rentals are offered in the park and paddling conditions are best in the spring and early summer. For a full day of paddling, canoeists can put in at Little Yellowstone Park and paddle to Fort Ransom in about 6 to 7 hours.
Celebrating Sodbuster Days
The Fort Ransom Sodbuster Association is a nonprofit with a mission "to preserve the heritage of the area by demonstrating the farming methods and the lifestyle of the past." Each July and September, the Association hosts events "where 20 teams of horses and over 150 volunteers demonstrate to the public how farming was done around the turn of the century."
Visiting Sheyenne National Grassland
This National Grassland is located just about 30 miles east of the park. The grassland is known for beautiful wildflowers, greater prairie chicken sightings, and migratory songbirds. It includes a 25-mile stretch of the North Country National Scenic Trail.
Camp Here
Ready to explore North Dakota state parks? Save this list of campgrounds on The Dyrt.
---