Whatever type of camper you are, you can find a perfect getaway at North Dakota state parks. Here are 13 state park destinations to help you discover The Peace Garden State. 
---
Theodore "Teddy" Roosevelt once said, "I never would have been President if it had not been for my experiences in North Dakota."
Roosevelt's love of the virtuous character and rugged terrain of the state shaped his commitment to preserving the wild places of the United States. Indeed, North Dakota is home to a site named in his honor: Theodore Roosevelt National Park. And, while the state has just one national park, North Dakota state parks span the land from top to bottom.
13 North Dakota State Parks You Must Visit
Each of North Dakota's state parks offers a unique reason to plan your next camping trip. They provide an array of recreational and educational opportunities for however you like to get outdoors—from lakeside camping and backcountry hiking to exploring historical sites and relaxing on the water.
The following list covers all 13 of North Dakota's state parks, from west to east. Use these tips to help pick which destination is right for your next adventure, and discover what makes North Dakota camping legendary.
Lewis and Clark State Park is about 20 miles east of Williston, in North Dakota's northwest corner. It is located on the north bank of the mighty Missouri river, at a section called Lake Sakakawea. Within this 490-acre park, which surrounds a small bay, visitors can enjoy the contrast of the lake's fluid beauty as it meets the rough buttes of the North Dakota badlands. This park is known as one of the best outdoor recreation areas in the state for its boating, birding and hiking opportunities.
"We had the time of our lives at Lewis and Clark State Park! The views are amazing! The water is like being in [the] ocean with big waves. They hold many awesome eventful weekends during season." —The Dyrt camper Stephanie W.

Hit the Water
Stretching for nearly 180 miles on the Missouri River, between Williston and Coleharbor, Lake Sakakawea offers more than 300,000 acres of fishing and boating bliss. It's the 3rd-largest manmade lake in the U.S., and boasts more than 1,300 miles of shoreline—that's more than the entire California Coast. The lake is popular for walleye, sauger and northern pike fishing, as well as swimming, paddling and water skiing. The park provides a four-lane boat ramp for easy lake access, and has parking, restrooms, a visitor center with store, and a floating gas pump.
Play Birder or Botanist for the Day
From spring through fall, Lewis and Clark State Park's mixed-grass prairie is speckled with wildflowers. White asters, bluebells, blazing stars, and torch flowers are just a few of the common varieties. The diversity of the park's flora—including chokecherries and buffaloberries—attracts a variety of birds, such as robins, towhees, and catbirds. Stop into the visitor center and pick up plant and animal guides to help you identify the many unique blooms and beasts you may encounter as you explore the park.
Hike through History
The best way to see the park's flora and fauna is to take a hike, and follow in the footsteps of the intrepid Meriwether Lewis and William Clark. With nearly 9 miles of hiking trails, you can wander among the area's wooded ravines and badland terrain, or visit a historic site that commemorates the Corps of Discovery's passage through here in 1805. Trails range from a 0.4-mile nature walk that crosses old wagon tracks, to 2.5- and 3-mile trails that explore the native prairies, wetlands, and lakeshore. Two of these trails are also open to mountain biking. Pick up a trail map at the visitor center.
Sully Creek State Park is located 3 miles south of Theodore Roosevelt National Park in the heart of North Dakota's badlands. This small, 80-acre park on the east side of the Little Missouri River, can be accessed via Belfield, just 20 miles east. The park is open from April 1 to November 30 each year, and is popular for hiking, horseback riding, mountain biking, paddling and camping.
"Gorgeous park. The Little Missouri River is right here and the trailheads for the Maah Daah Hey Trail and Maah Daah Hey II (The Deuce) are in this tiny park as well. Great views of the surrounding badlands, exceptional horse and hiking trails. Very close to Medora." —The Dyrt camper Jessica S.
Embark on a Hike, Bike, or Ride
This little North Dakota state park is located right along the 120-mile long Maah Daah Hey Trail. Translated "An area that will be around for a long time," from the native Mandan language, this multiuse path ventures through some of the state's most spectacular scenery, including high ridges, rolling prairies, deep river canyons, and rugged badlands. Open to hikers, mountain bikers, and horseback riders, you can venture north into Theodore Roosevelt National Park, or south into the Little Missouri National Grassland. Go as near or far as your wanderlust takes you.
Travel With Your Horse
The amenities at Sully Creek State Park make it quite easy for equestrians to visit the park and enjoy on horseback. The park provides corrals for campers traveling with their own horses, and the "Little Muddy Breaks" campground is designated for horse campers only. Horseback riders have access to both the Maah Daah Hey Trail, and the 50-mile Maah Daah Hey II Trail. Hay is available for purchase at the park. Equestrian day-use fees cover the the maintenance and upkeep of the horse facilities.
Explore a Historic Western Town
Just 2 miles north of the the park, the historic town of Medora, is the gateway to the badlands. Founded in 1883, by French nobleman Marquis de Mores, along the transcontinental railroad, the town combines modern-day recreation in an Old West setting. You can wander eclectic shops and museums, take a carriage ride, pull up a stool at the saloon, or visit the North Dakota Cowboy Hall of Fame. If you're packing your clubs, hit the links at the Bully Pulpit Golf Course.
Also located in North Dakota's western badlands, Little Missouri State Park is situated near the mouth of the Little Missouri River, where it empties into Lake Sakakawea. The park can be accessed by way of Killdeer, 20 miles south, or New Town, 45 miles northeast. This is where you come to get away from it all and immerse yourself in the beautiful and rugged badlands landscape.
"This park is outstanding. The horse and hiking trails are unbelievable. The campgrounds are quiet, [and] you'll experience starry skies and the howls of coyotes." —The Dyrt camper Jessica S.
See the Mako Shika
Much of Little Missouri State Park's land is accessible only by foot or horseback. Over 45 miles of trails venture deep into some of the most beautiful portions of North Dakota's badlands. This is where you can see what the Sioux refer to as the Mako Shika, meaning "where the land breaks," or "bad lands." Trails are open to hikers and horseback riders, and vary in length and difficulty so you can wander the hills and canyons as near or far as you like.
Go on a Wildlife Safari
Given its remote location and wild nature, the park offers frequent wildlife sightings. Just head out on any of the trails equipped with your nature guide and binoculars and see what you can find. Many commonly seen species include mule deer, coyotes, foxes, bobcats, and golden eagles. If you're traveling or camping with your pup, you may want to leave them behind so they don't scare away timid animals, thus improving your chances of seeing them.
Drive the Killdeer Mountain Four Bears Scenic Byway
This 64-mile route travels through the culture and history of both the land's indigenous peoples, as well as the more modern cowboy and rodeo scenes. Along the way, stop at the Crow Flies High Butte Overlook for a panoramic view over Lake Sakakawea; the Three Affiliated Tribes Museum for exhibits and artifacts preserving the history of the Mandan, Hidatsa and Arikara peoples; and the Killdeer Battlefield State Historic site, where the U.S. Army and local tribes clashed in 1864.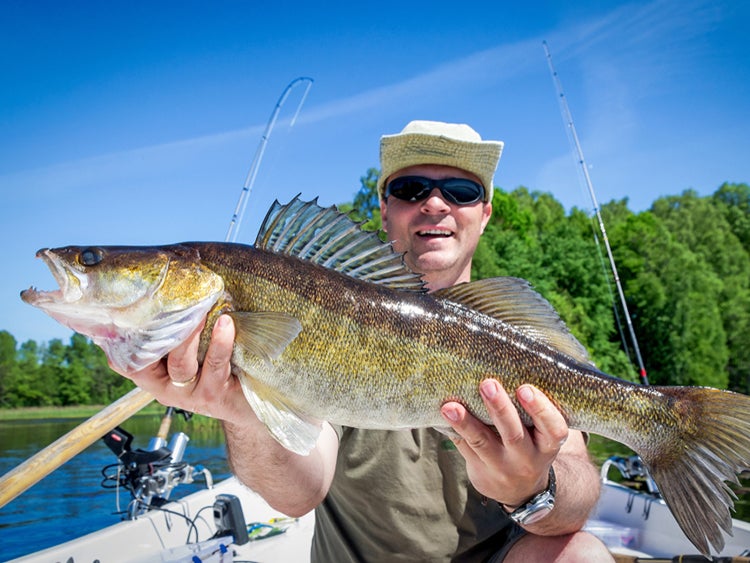 Located on a peninsula on the north shore of Lake Sakakawea, Fort Stevenson State Park is 22 miles southwest of the town of Max. Named for a military supply depot operated here in the 1800s, the site now serves as a popular water recreation area for fishers, boaters, paddlers, and anyone who wants to enjoy a lakeside day in the sun. Visitors to the park have access to camping, cabins, picnic areas, playgrounds, hiking and biking trails, and a swim beach.
Catch All of the Walleye
Fort Stevenson State Park is known as the "Walleye Capital" of North Dakota, and is home to the North Dakota Governor's Walleye Cup. This is the state's premier, annual fishing derby. The walleye is a freshwater fish, also known as a yellow pike, is native to the northern U.S. and Canada. So the local saying goes, "Walleye fishing is good, but walleye eating is better." If you're ready to land yourself some dinner, grab your gear and go for it.
Celebrate Those Who Have Caught All of the Walleye
Just 5 miles south of the park, in the town of Garrison, the North Dakota Fishing Hall of Fame honors the people and organizations who have contributed to North Dakota sportfishing, as well as those who have excelled in sportfishing within the great state. Visitors can view—and take inspiration—from a selection of historical fishing photographs and artifacts, and learn about ethical fishing practices and natural resource conservation.
Have an Easy Lake Day
With two marinas, a swim beach, a lodge and a concession stand, Fort Stevenson State Park offers all you need for a lazy lake day on the lake. At the Garrison Bay Marina, you can rent boats, canoes, kayaks, and SUPs. You can also purchase bait and tackle, camping gear, snacks and beverages so you're well-stocked for your day on the water. If you need a break from the sun, you can stretch your legs on 10 miles of hiking and biking trails that explore the park's woods, ravines, and native prairie.
Lake Sakakawea State Park is located on the southeastern shore of the lake, just outside of Pick City, and adjacent to the Garrison Dam. It is named for Sakakawea (also written Sacagawea), the Lemhi Shoshone woman known for aiding Lewis and Clark on their expedition into the West. This park is known for its fishing and water activities, including windsurfing. The large campground offers more than 200 tent and RV sites, plus a host of amenities, for enjoying a relaxing stay at the lake.
"This is my favorite campground in North Dakota! Always clean and neat. The waters are beautiful. National fish hatchery nearby, along with the Garrison dam. Breath taking views!" —The Dyrt camper Jacey B.
Go Deep Water Fishing
The park offers two large boat ramps, several docks, a marina, floating gas dock and a convenience store, putting onto the lake for a day of fishing, paddling or sailing is a breeze. And with its close access to some of Lake Sakakawea's deep-water areas, anglers can go for some of the lake's best salmon, as well as walleye, northern pike and smallmouth bass. If you're in need of fishing tackle, snacks or drinks for your day on the lake, just drop into the convenience store and stock up.
Hike the North Country National Scenic Trail
If you're up for stretching your legs, take a hike on the North Country National Scenic Trail. Designated in 1980, it stretches for more than 4,600 miles, from upstate New York to its western terminus in Lake Sakakawea State Park. The first 6 miles of trail are a pleasant stroll that traverses the park through rolling prairies and woodlands, crosses the Garrison Dam, with great views over Lake Sakakawea, then heads down the Missouri River to the historic town of Riverdale.
See the Garrison Dam
Lake Sakakawea is the third-largest man-made lake in the United States, covering a surface area of more than 350,000 acres. The Garrison Dam, built by the U.S. Army Corps of Engineers in the 1950s, is the fifth-largest earthen dam in the world. It stretches for more than 2 miles across the Missouri River, and serves as flood control and a source of hydroelectric power. Free tours of the dam are offered in June and July, on Thursdays, Fridays, and Saturdays.
Cross Ranch State Park showcases a North Dakota landscape as it would have appeared centuries ago, when the Lewis and Clark Expedition passed through the area. Just an hour's drive north of Bismark, this 590-acre park is situated along 7 miles of some of the last free-flowing, undeveloped shoreline of the Missouri River. More than 16 miles of trails in the park and adjacent Cross Ranch Nature Preserve are available for exploring the area's woods, prairies, and riverbanks.
"Lots of hiking paths available and major views of the Missouri River. Option to camp in the onsite tepee." —The Dyrt camper Erica V.
Camp in the Wild
The park offers two campground areas with 42 drive-in tent and RVs sites, as well as several yurts and fully-equipped cabins. But if you want a more "authentic" visit to this land or rolling prairies and roaming buffalo, you can opt for the primitive, walk-in camp area. Here, you can choose from 20 sites to pitch your tent under wide-open skies along the bank of the Missouri River, and finish your day of exploration with tall tales around your campfire.
Embrace Winter
Combined, the Cross Ranch State Park and adjacent Nature Preserve offer five named, multiuse trails, ranging from a 2-mile self-guided nature trail to a 5.4-mile loop through bottomland forest and a scientific study area. Open to hiking and mountain biking in summer, they're also accessible in winter months for snowshoeing and cross-country skiing. If you need winter gear, an onsite concessionnaire rents snowshoes and skis.
Listen to Bluegrass
Every June, the Bluegrass Association of North Dakota holds its annual Missouri River Bluegrass Festival at Cross Ranch State Park. This free, family-friendly event hosts bluegrass artists from all over the Midwest. Kick back on the lawn and enjoy the music under shady cottonwoods, while chowing down on tasty food. Other park events include Bluegrass Goes Pink, a music and trail run to raise funds for fighting cancer, and the Bison Stampede Run, where you can join in a 5K, 10K, or 15K run.
Seven miles south of Mandan, Fort Abraham Lincoln State Park is a slice of the American West's history. For centuries, these grassy plains near the confluence of the Missouri and Heart rivers were home to the Mandan Indian tribe. By the late 1700s, a military outpost was established on the site to support the expansion of the Northern Pacific Railway. In 1907, President Theodore Roosevelt signed the land over to serve as a state park commemorating the area's history.
"The park has a nice visitor center with terrific displays, a reconstructed Mandan encampment, plus the home and barracks of Custer and his cavalry. Running through the park is a cool trolley that takes you to historic points within the park, then into the town of Mandan 6 miles away." —The Dyrt camper Janet R.
Travel Into the Past
Fort Abraham Lincoln State Park features two historical and cultural areas that invite exploration. In the center of the park, near the campground, you can tour a Mandan On-a-Slant Village. Named simply for the sloping land on which it rests, this area showcases six reconstructed "Earthlodges" that served as homes and meeting places. In the south end of the park, you can explore replicas of Lieutenant Colonel George Custer's home, a barracks building, stable and several blockhouses.
Visit North Dakota's State Capital
To get a complete picture of North Dakota's natural and cultural history, then spend a day at the North Dakota Heritage Center and State Museum in the capital city, Bismarck. This modern museum traces the history of the Dakota Territory from early geologic time and the age of dinosaurs, through the Ice Ages and Early Peoples, to the land's settlement and development. For more Bismarck history, you can also visit the Former Governor's Mansion State Historic Site.
Have Some Family Fun
For fun in Abraham Lincoln State Park, there are 7 miles of interconnected hiking and riding trails, as well as picnic areas, a playground, and a trolley ride. The park is also near several attractions in the Bismarck area. The SuperSlide Amusement Park has rides, waterslides, put-put golf, and a climbing wall; the Dakota Zoo features more than 150 species of animals, birds and reptiles from near and far, including bison, bighorn sheep, grizzly bears, bald eagles, otters, foxes and more.
Sharing a border with Canada, Lake Metigoshe State Park is the largest of North Dakota's state parks. Its name, Metigoshe, comes from the Chippewa phrase metigoche washegum, or "clear lake surrounded by oak trees." Unlike the prairies and badlands across much of North Dakota, this area is a dramatic landscape of wooded hills, wetlands, and small lakes. The area has a long history of Native American presence, including the Blackfoot, Hidatsa, and Assiniboine peoples. The park is located approximately 26 miles northwest of Dunseith.
"This four-season playground [has] a ski park nearby, public beach access, hiking trails, snowmobile trails, and the International Peace Gardens located not too far away either!" —The Dyrt camper Katie A.
Enjoy Year-Round Recreation
No matter what time of year you visit Lake Metigoshe State Park, you'll find plenty of outdoor recreation waiting for you. In summer, explore the park's woods and watch for wildlife on more than 8 miles of hiking an biking trails. If you're up for some paddling, put into School Section Lake and explore its many bays and wetlands. In fall, practice your photography skills by capturing some of the park's spectacular autumn color. When winter comes, get out your snow toys and wander among more than 250 miles of trails in the park and adjacent Turtle Mountains.
Fish the Lakes
Fishing is also a year-round pastime at Lake Metigoshe State Park. The park offers a boat launch for putting onto the lake, and several fishing piers, where you can cast for northern pike, walleye, sunfish and bass. When winter settles over the park, and the lakes freeze over, try your hand at some ice fishing for bluegill, crappie and perch. If you need information or assistance on fishing the lakes, visit the park's Outdoor Learning Center, which offers info on the park's history, nature and recreation opportunities.
The International Peace Garden
Just a 30-minute drive east of Lake Metigoshe State Park, the International Peace Garden celebrates the lasting peace and friendship between the United States and Canada. This 2,300-acre garden features more than 150,000 flowers—which are planted every summer—as well as two freshwater lakes, several scenic hiking and biking trails, picnic areas, campgrounds, and a wildlife refuge. The park also contains several peace-inspired sculptures, a 9/11 memorial, and natural displays intended to invoke feelings of peace and friendship.
Devils Lake is the largest natural lake in North Dakota. The lake lies in a closed drainage basin, with no natural drainage of its own, so it can experience large fluctuations in water levels. This can dramatically change Devils Lake's surface area and shoreline from one season to the next. Situated near the center of the lake, and accessible by bridge, Grahams Island is approximately 9 miles of woods and farmland surrounded by water. In the southeast corner of the island, Grahams Island State Park gives locals and visitors a place to relax and play on the water.
"This park is on an island in the middle of a beautiful huge lake. If you don't want to camp, you can use it just to launch your boat for a day of fishing, or use their very easy hiking trails. Close to the reservation and various Native American cultural areas." —The Dyrt camper Lynn G.
Enjoy the Island Life
Whenever you're on an island, things just seem to slow down. And that's just what you can do at Grahams Island State Park. Soak up some rays at the swim beach, head out onto the lake for some fishing, or wander the short hiking trails and spy some of the local birds and wildflowers. Or, just lay back in your hammock under shady oaks with a good book. Grahams Island is one of North Dakota's few state parks with year-round camping, so that give you plenty of opportunity to get away for a little "island time."
Play on the Water
Grahams Island in Devils Lake is home to many fishing tournaments throughout the year, and is known for having some of the state's best ice fishing. Anglers have plenty of resources in the park, including large boat ramps, a bait shop and a fish cleaning station. If fishing isn't your cup o' joe, put in your kayak or SUP and go for a paddle around the lake and explore some of its ever-changing bays and smaller islands. Or, take a sail or cruise around the lake and try to spot bison, elk and migratory birds at Sullys Hill National Game Preserve.
Get Excited for Fall and Winter
Open for year-round camping and recreating, you have plenty of opportunities to experience the many seasonal sides of Grahams Island. Visit in fall when the oaks and ash trees are turning vibrant shades of yellow, orange, and red. Paired with a lakeside sunset, it's a scene that's tough to beat. Pack your warm clothes and your skis or snowshoes and visit in winter, when you can tromp and swish around 3 miles of groomed trails. Or try your hand at ice fishing. Some campground facilities may be closed in winter, so check before you go.
Beaver Lake State Park is one of North Dakota's smaller state parks, encompassing just 280 acres on the west shore of Beaver Lake. The park is located about 30 minutes northwest of Wishek, or 30 minutes southeast of Napolean. It was established in 1932, when local residents came together to advocate for setting the land aside for conservation and recreation. A large, stone monument in the park memorializes their efforts. The park's secluded prairie and wooded shoreline setting provides a nice place to fish, hike, bike or just kick back by the water.
Take it Easy
When you come to Beaver Lake State Park, come with a head for relaxation. You're out in the middle of prairie country, so you don't have to be in a hurry to go anywhere, or get anything done. Enjoy an afternoon lunch or barbecue dinner in one of the campground's picnic areas or shelters. Go for a dip or a paddle in the lake, then dry off in the sun at the swim beach. Take a stroll on any of the park's 5 miles of nature paths and hiking and biking trails. Or just enjoy the wide-open sky and summer breeze from the comfort of your camp chair—no pressure.
Go on a Wildflower Safari
The gently rolling terrain and low rocky ridges around Beaver Lake is actually the result of ice age glaciation. You can witness some of this on the 2.3-mile Moraine Loop Trail. As you're wandering, watch for some of the common prairie wildflowers in the area: Missouri goldenrod, purple vetch, scarlet gaura, silver scurfpea, yellow coneflower, and white milkwort. If you're not familiar with these flower varieties, pick up a prairie country nature guide to help you identify them—then see how many you can check off the list.
Spot Waterfowl and Wildlife
Beaver Lake State Park provides habitat for 25 species of shorebirds, wading birds, and waterfowl, as well as kingbirds, meadowlarks, woodpeckers, warblers, and chickadees. The nearby woods are home to beavers, raccoons, rabbits and deer. For spotting songbirds and woodpeckers, take a walk on the 0.7-mile Woodland Trail. To spy waterfowl and landlocked critters, hike through the east side of the Moraine Trail, then take the easy, 0.4-mile Lake View Loop Trail. You may spot even more by adding the 1-mile Rolling Prairie Loop Trail.
Approximately 90 miles northwest of Grand Forks, and just a few miles from the Canadian border, Icelandic State Park, on Lake Renwick, is part history, part recreation, and part natural beauty. This park commemorates the days of homesteading, when North Dakota was still wide-open country. It also serves to protect many rare and unique species of woodland plants, birds and animals. There's plenty of outdoor recreation to be enjoyed, from swimming, boating, and fishing to hiking, mountain biking and winter activities.
"There [are] several things available, from kayak rental to paddle boarding, [and] there's a nice area for families to swim at and an area for those who want to fish. Many historical sites can be found in the area." —The Dyrt camper Rudy W.
Learn about Homesteading in North Dakota
Inside the park, visit the Pioneer Heritage Center. Here you'll find exhibits and interpretive programs that showcase what life was like as an early North Dakota settler. You can also tour the Gunlogson Homestead and other restored historic buildings. Pick up a trail map and nature guide for a stroll on the 0.5-mile Wildwood Trail. This family-friendly interpretive path winds through the Gunlogson Nature Preserve, where you can observe many native plants. Detour to the bridge over the Tongue River and try to spot otters and beavers.
Catch a Round of Golf
If you want to unwind on the greens, head over to Cavalier Country Club, just west of the park. This 9-hole course overlooks scenic Lake Renwick. Established in 1925, this course's prior life was as a horse pasture. Through the 1950s, the course saw several major improvements, including the construction of its first clubhouse; in 2014, a new clubhouse was constructed. This friendly course welcomes visitors to enjoy the greens, and spectacular lake views, no tee times required.
Hit the Water
No matter how you like to play on, in or near the water, there's a place for you at Icelandic State Park. For soaking up the sun, and cooling off with a dip in the lake, spend your day at the park's swim beach. Nearby, there's a playground for the kids, and a concession stand with snacks and beverages. For a pleasant paddle, bring your kayak, canoe or SUP, or rent one at the park. Or take advantage of some of the lake's great walleye, pike and bullhead fishing. Cast your line from your boat on the lake, or one of the shoreline fishing docks.
Constructed in the 1930s as one of President Roosevelt's New Deal programs, Turtle River State Park is situated in a scenic, wooded river valley, and pays tribute to the Civilian Conservation Corps, who built many of the United States' parks, trails and recreational areas. Located just 30 minutes east of Grand Forks, it's where locals and visitors go for year-round outdoor recreation. From summer hiking and biking, fly fishing and camping, to winter snowshoeing, sledding and cross-country skiing, there's outdoor fun for all.
"TRSP is a great location for families. Tons of hiking and biking trails. Cross country skiing and sledding in the winter. Beautiful scenery along the Turtle River." —The Dyrt camper Marcy D.
Try Fly Fishing
Stocked in the spring and fall with rainbow trout (not native), the meandering Turtle River is North Dakota's only fly fishing stream. Pack your rod and your waders and come on out and cast your fly for some of the elusive rainbows, or for native northern pike. Spring catches are usually smaller, but fall catches often range in the 1 1/2- to 2-pound range—perfect for a tasty dinner!
Ride the Park
With 13 miles of mountain biking trails, bringing your wheels is a must. Trails vary in difficulty and distance as they loop, twist and turn through the prairies and the woods alongside the Turtle River. Primary mountain biking trailheads are located near the Visitor Center, the Woodland Lodge, and the CCC Shelter loop. If you don't bring your bike, you can still enjoy these trails on foot. In winter months, the trails turn into snow routes for snowshoeing and cross-country skiing.
Go On a Geocaching Hunt
Are you a geocacher? Bring your device and go on the hunt in Turtle River State Park. Each year, the park updates its geocaching locations, making for a fun outdoor adventure for the whole family. If you're not familiar with geocaching, it's a game played using a GPS device (or smartphone). You're given a set of coordinates and you have to search for the treasure hidden in the area. It is usually in for form of a small box or container. Inside is a log and a collection of trinkets. Sign the log, take a trinket, leave one behind, and go find the next one!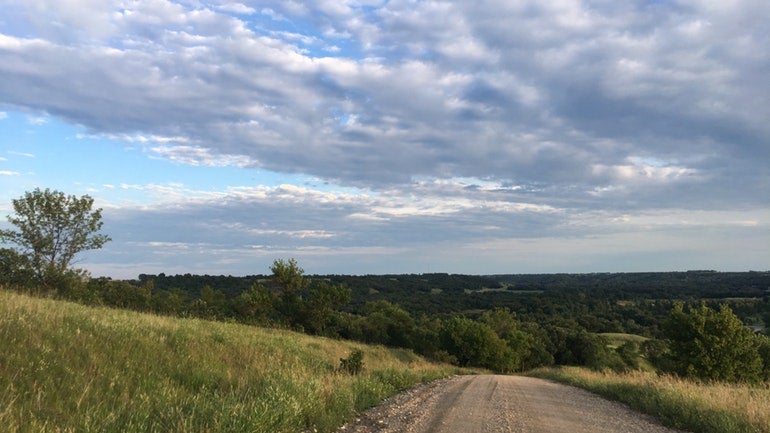 Rounding out our list of North Dakota state parks, now in the opposite corner of the state, Fort Ransom State Park is about 65 miles southeast of Jamestown. The park is located in the wooded Sheyenne River Valley, and named for the military establishment that used to occupy the site. This scenic natural area pays tribute to North Dakota's settlers, from ancient mound builders to early homesteaders. Activities in the area include floating the river, hiking, biking and horseback riding on 20 miles of local trails, or attending one of the park's fun and historical events.
"There's almost 20 miles of trails to walk on, and the scenery at night is beautiful! Sodbuster Days, Halloween in June, and Christmas in July is a must. The historical building in the area is a cool thing to see!" —The Dyrt camper Rudy W.
Paddle the River
The Sheyenne River flows for nearly 600 miles through much of eastern North Dakota before merging with the Red River of the North. For a relaxing day on the river, you can put your canoe or kayak in at Little Yellowstone Park and paddle 22 miles downstream to Fort Ransom. The trip takes about 6 to 7 hours, and offers plenty of wildlife and bird watching. Canoe rentals are offered in the park, and they will shuttle you to the launch point. Then you just float back to the park. River conditions are best in spring and early summer.
Celebrate the Sodbuster Days
First, what is a sodbuster? It's an old homesteader term for a farmer who needed to "bust the sod" in order to farm the land. Oftentimes, due to a shortage of timber in the area, this sod was used to build their homes. Each July, the Fort Ransom Sodbuster Association hosts Sodbuster Days where park visitors can experience what this 19th century farming and homesteading would have been like. Enjoy a variety of demonstrations, old-time music, art and crafts, food and beverages. You can also take in the spectacle of the Sodbuster Days rodeo.
Visit Sheyenne National Grassland
Located about 30 miles east of Fort Ransom, the Sheyenne National Grassland is 70,000 acres of windswept prairie and sand dunes teeming with wildflowers and greater prairie chickens. A vacation destination unto itself, the preserve has its own campground and permits dispersed camping in some areas. On your visit, take some time to enjoy the diverse scenery, which includes deltaic plains, open prairies and wooded savannas. Grassland activities include hiking and backpacking, horseback riding, wildlife watching, geocaching and hunting.
Ready to explore North Dakota state parks? Save this list of campgrounds on The Dyrt.
---
Related Articles:
---
Related Campgrounds:
Popular Articles: