Louisiana's only national forest is no small place. Spanning 604,000 acres over seven central and northern parishes of the state, Kisatchie National Forest is one of the largest natural landscapes in Louisiana. In fact, Kisatchie takes up about the same acreage as all the land for sale in the nearby state of Alabama— but preserves it for future generations.
That's extra important for the longleaf pine, which plays an important ecological role in Kisatchie National Forest. Longleaf pines have declined significantly in the past 100 years, but can still be found in abundance throughout Kisatchie National Forest. That's not the only plant or animal species to call the park home, either. Rarities like the Louisiana pine snake and the Louisiana black bear live here, as do 155 species of breeding or overwintering birds, 48 mammal species, 56 reptile species and 30 amphibian species.
Kisatchie National Forest forest also houses rare habitat, such as hillside seepage bogs and calcareous prairies—of which less than one thousand acres remain in the entire state. The forest's protections for its unique features makes this a scenic, peaceful, and downright fun place for campers and outdoors enthusiasts alike.
Why The Kisatchie National Forest Should Be Your Go-To Getaway in Louisiana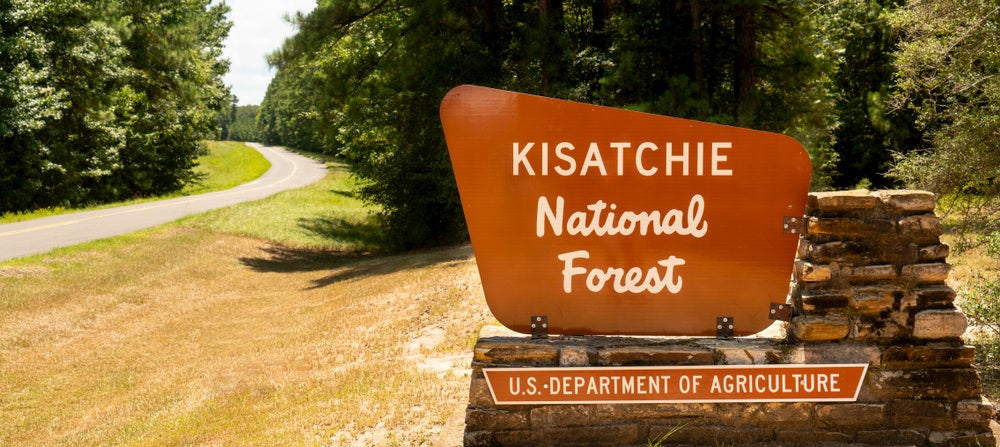 Explore the Park Through Outdoor Activities
People flock to Kisatchie National Forest to spend time camping, hiking, cycling, paddling, fishing, bird watching and horseback riding. Here's how you can get in on the action, too.
Hiking and Backpacking
There are a number of multi-use trails in Kisatchie National Forest that range in distance from ½ mile to over 30 miles. Most of the terrain in the forest is moderate, taking hikers along rolling hills and down rocky trails past pine trees and bubbling streams. The hiking trails are a great place to spot some of the many species of birds that call Kisatchie National Forest home, so if birding is your thing, make sure to pack the binoculars.
The Backbone Trail
Considered by some to be the most scenic hiking trail in Louisiana, the Backbone Trail's high ridges offer hikers good views. Just make sure to wear sturdy hiking boots, because although this 9.9 trail is rated moderate, it is quite rocky. The best time to hike is in the spring or fall months when the weather is cooler, as there isn't much shade along the trail.
The Caroline Dorman Trail
If you're seeking solitude, you'll love this lightly-trafficked trail that passes through pine forests and wetland bottoms. The Caroline Dorman Trail makes an excellent day hike or easy overnighter at 10.1 miles one-way. There are several campgrounds along the way, and the trail is easily accessed from the Kisatchie Bayou Campground. Because of the multi-use nature of the trail, which is enjoyed by hikers, cyclists, and equestrians, it can be quite muddy after a heavy rain.
The Wild Azalea Trail

The Wild Azalea Trail is best for backpacking at a whopping 31 miles one-way, but can also be broken up into smaller sections for day hikers. The trail is moderate but has some challenging hilly sections. The Wild Azalea Trail is well-marked and also highly trafficked. Bugs and humidity can be a challenge during the warmest months of the year.
For an easier hike, try the Sugar Cane Trail, a well-marked, easy 6.4-mile loop. The trail roughly follows the outline of Upper Caney lake and is primarily wooded, providing good shade. In the spring and summer, wildflowers are easy to spot, while stands of pine trees keep it shady year round.
Kincaid Loop Trail
The Kincaid Loop Trail is a moderately difficult 9.3-mile loop that offers great views of Kincaid Lake. The trail is well marked and can be accessed from the Lake Kincaid campground. Just don't forget a stick to catch the spider webs in front of you— Charlotte and her friends are busy spinning silk night after night here.
Mountain Biking

There are 19 mountain biking trails in Kisatchie National Forest, but the Calcasieu Ranger District is home to a majority of the trails, with all but eight in the district. All of the mountain biking trails are shared with hikers, and some of the trails are open to equestrians as well. Because the trails are shared, make sure to follow proper trail etiquette: hikers yield to equestrians and mountain bikers yield to both hikers and those on a horse.
Paddling
Kisatchie National Forest is a haven for paddlers. The Kisatchie Bayou is one of the most popular places for canoeist and kayakers, offering whitewater runs in the winter months when the rains turn the usually sleepy river into class II to class III rapids. The rapids can be accessed from the Kisatchie Bayou Campground. For calmer water, put your boat in a few miles up river. The Caroline Dorman Trail has good river access.
Motorized Trails
There are more than 200 motorized trails in Kisatchie National Forest, the most in Louisiana. The Calcasieu Ranger District has the most trails, and there are even designated campgrounds for off highway vehicle (OHV) riders (Boy Scout Camp, Loran/Claiborne Camp, and Lotus Camp are all specifically for OHV riders). Popular OHV trails include the Claiborne Multi-Use Trail and the Sandstone Multi-Use Trail.
---
Where to Camp in the Kisatchie National Forest
There are over 40 established campgrounds spread among five ranger districts in Kisatchie National Forest. Many, but not all, of the campgrounds are primitive and/or are specially designated for hunters. Here are a few popular campgrounds that are available to all kinds of campers in each district:
Calcasieu Ranger District
Subdivided into the Evangeline Unit and the Vernon Unit, the Calcasieu Ranger District is full of fun things to do. There are over 30 miles of designated ORV paths, including the Vernon Enduro Multiple-Use Trail, as well as the Ouiska Chitto Trail, Whisky Chitto Trail, and Big Branch Trail for hikers, mountain bikes, and equestrians. You can even see the ruins of a vast old saw mill on the 1.6-mile Fullerton Mill Trail.
One of the largest, and most modern, campgrounds in Kisatchie National Forest, Kincaid Lake Recreation Area combines two campgrounds, a group picnic area and a primitive camping area. The campgrounds can accommodate RV, trailer and tent campers and has electricity, dump stations, water hookups, drinking water and flush toilets. Families will appreciate the nicely updated, safe play area for kids, too.
Kincaid Lake is a prime destination for anglers, and some of the campsites here even have their own piers. Bring along your cast iron skillet and cook up your catch into your favorite Louisiana recipes. There's nothing like fresh, open-fire jambalaya and smoky cornbread to complete your Kisatchie National Forest camping trip.
Valentine Lake Northshore Campground is set in a peaceful and secluded part of Kisatchie National Forest surrounded by old growth pines and hardwoods. You'll have access to the Wild Azalea National Recreation Trail, a 24 mile backcountry hiking trail that passes by some of the best scenery in Kisatchie National Forest. You'll see a Depression-era fire tower, rare swamp orchids, loblolly pines, and even might spy wild horses, bald eagles, and red-cockaded woodpeckers.
Valentine Lake Northshore campground has 14 campsites, six of which are situated along the shores of the titular 46 acre lake. Each campsite has a picnic table, lantern post and fire ring. Campsites have access to bathrooms with vault toilets, trash containers and potable water.You don't have to worry about a bunch of boat motors interrupting your R&R, either, as Valentine Lake does not allow motorized watercraft. Instead, you'll see kayakers and canoers getting out for a mellow paddle.
Caney Ranger District
A great way to beat the Louisiana heat is to get into the water. That's easy to do at Caney Ranger District, home to two lakes and miles and miles of trails. This part of the Kisatchie National Forest is popular with fishers, boaters, and outdoor enthusiasts thanks to its proximity to Shreveport, and ample room to try everything from swimming to water skiing to kayaking and stand up paddle boarding.
Campers at Beaver Dam Campground enjoy swimming, boating, fishing and water skiing. Two hiking and mountain biking trails are accessible from camp, including the almost 6 mile Sugar Cane National Recreation Trail and the 2 mile Lost Man Loop. You'll have plenty of opportunity to explore Kisatchie's unique ecosystems here close to Upper Caney Lake to Lower Caney Lake. In springtime, the area is blanketed in dogwood and wild azalea blossoms.
Beaver Dam Campground has 28 campsites that can accommodate tent, trailer and RV campers. Campsites come with electric and water hookups. There's also a sanitary dump station, potable water and restrooms with flush toilets. Reservations can be made up to six months in advance.
Turtle Slide Campground is wooded and is popular in the fall when the leaves start to change color. At any time of year, however, hikers will enjoy the 7.6-mile Sugar Cane Loop, which is accessible from Turtle Slide, too, and connected to other campgrounds on the Sugar Cane trail like Beaver Dam Campground.
This scenic campground overlooks the spillway between Upper Caney Lake and Lower Caney Lake, and some of the 20 campsites boast direct views of the water. Turtle Slide's sites are suitable for tents or RVs, though there aren't any pull-through RV campsites. The campground has a waste station, flush toilets and hot showers.
Catahoula District
Here's a fun fact for you— the Catahoula District is where Louisiana's state dog breed hales from. French settlers bred dogs especially for hunting boar and cattle driving in the parish swamps throughout the 1800s. Their efforts were so successful that Catahoula hounds were a favorite of James Bowie, the inventor of the famous Bowie knife who died fighting at the Alamo, as well as President Teddy Roosevelt. One of our office #DyrtDogs, Olive, is a catahoula hound, too, so we have an extra soft spot for these leopard-spotted pups.
Stuart Lake Campground is small, with just eight primitive sites. The campground provides composting toilets and potable drinking water, however, and flush toilets are available in the day use area. For campers looking for a retreat from modern life, Stuart Lake Campground is a great place to relax and unwind beneath the treetops while you spend your days swimming, fishing, or kayaking in the lake.
Kisatchie District
Louisiana gets a lot of attention for its low elevations, but it's not entirely flat here. Locals call the Kisatchie Ranger District the Little Grand Canyon of Louisiana, thanks to the sandstone bluffs overlooking the Kisatchie National Forest and bayous. You can explore the district several different ways— by hiking the 17-mile Longleaf Trail Scenic Byway; taking your quad off road on the Sandstone Multi-Use Trail, or from horseback on the Caroline Dormon equestrian trail.
Dogwood Camp is a lovely Kisatchie district home base with 16 campsites accessible to small RV's as well as travel trailers or tents. Campers love this campground for it's centralized location, which provides access to much of the Kisatchie District. Drinking water, flush toilets and trash disposal are available at the campground. Dogwood Campground is especially popular in the spring when the Dogwood trees bloom.
The Kisatchie Bayou Campground is situated in a heavily wooded area adjacent to Kisatchie Bayou. It's more primitive than Dogwood Camp, with 16 walk-in, tent-only campsites and vault toilets, but no running water. Kayaking, canoeing and floating are all popular activities when the Kisatchie Bayou River is running high, and mountain bikers appreciate the area trails. Campsites are available on a first come, first served basis.
Winn District
Popular with horseback riders, the Winn District has a wealth of equestrian trails weaving through its prairies and wildflower fields. The Gum Springs Horse Trail is a network of 20 miles of equestrian and mountain bike trails that is currently being expanded. Hikers will enjoy the Dogwood Interpretive Trail, too, as well as the Saline Bayou Hiking Trail and trails Cloud Crossing.
Cloud Crossing Campground has 13 primitive tent or dry RV sites. The campground has vault toilets but no running water or hookups. Cloud Crossing Campground is adjacent to the Saline Bayou National River Corridor—a floatable river in the summer months.
This Kisatchie National Forest river corridor is 21 miles long, making it an ideal spot for kayak camping and overnight paddle trips, and the campground is a convenient place to put in and take out. A small boat launch is available for use at the campground. Cloud Crossing is open year-round and available on a first-come, first-served basis.
---
Related Campgrounds:
Popular Articles:
---

---